An NFT marketplace allows you to deal with virtual tokens called non-fungible tokens. It also allows you to convert digital artwork, soundtracks, gaming properties and to an extent even real estate, into NFTs and then trade in them. When you own an NFT marketplace, whenever transactions happen, a small portion of the token value is added to your account. It is a great passive income source. It is very important that your partner with an experienced and trustworthy NFT marketplace development company.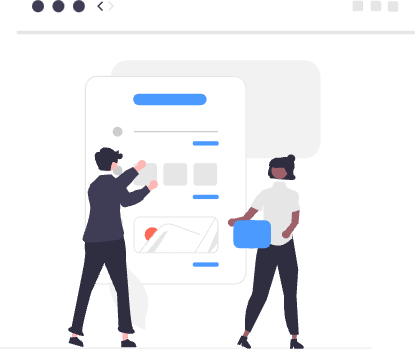 Why should you start

NFT Marketplace?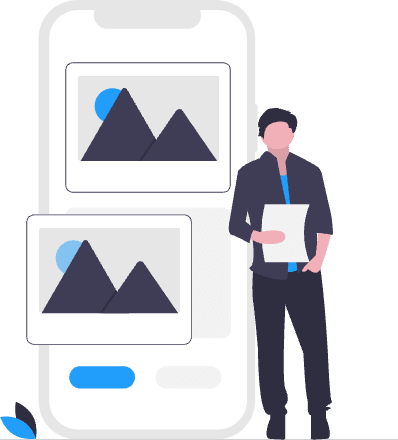 An NFT marketplace is an online platform that allows you to store and trade non-fungible tokens
These tokens can be purchased at a fixed price, or they can be auctioned (like art pieces).
The benefit of creating an NFT marketplace is that it can become a great source of passive income for you.
When people trade in these tokens, a small portion of these tokens is deposited into your account, and this increases your cryptocurrency wealth.
Top Features

Of our NFT Marketplace
Bid and Buy
It is a ready to launch smart contract audited NFT marketplace that executes effective buying, selling, and auctioning of digital Collectibles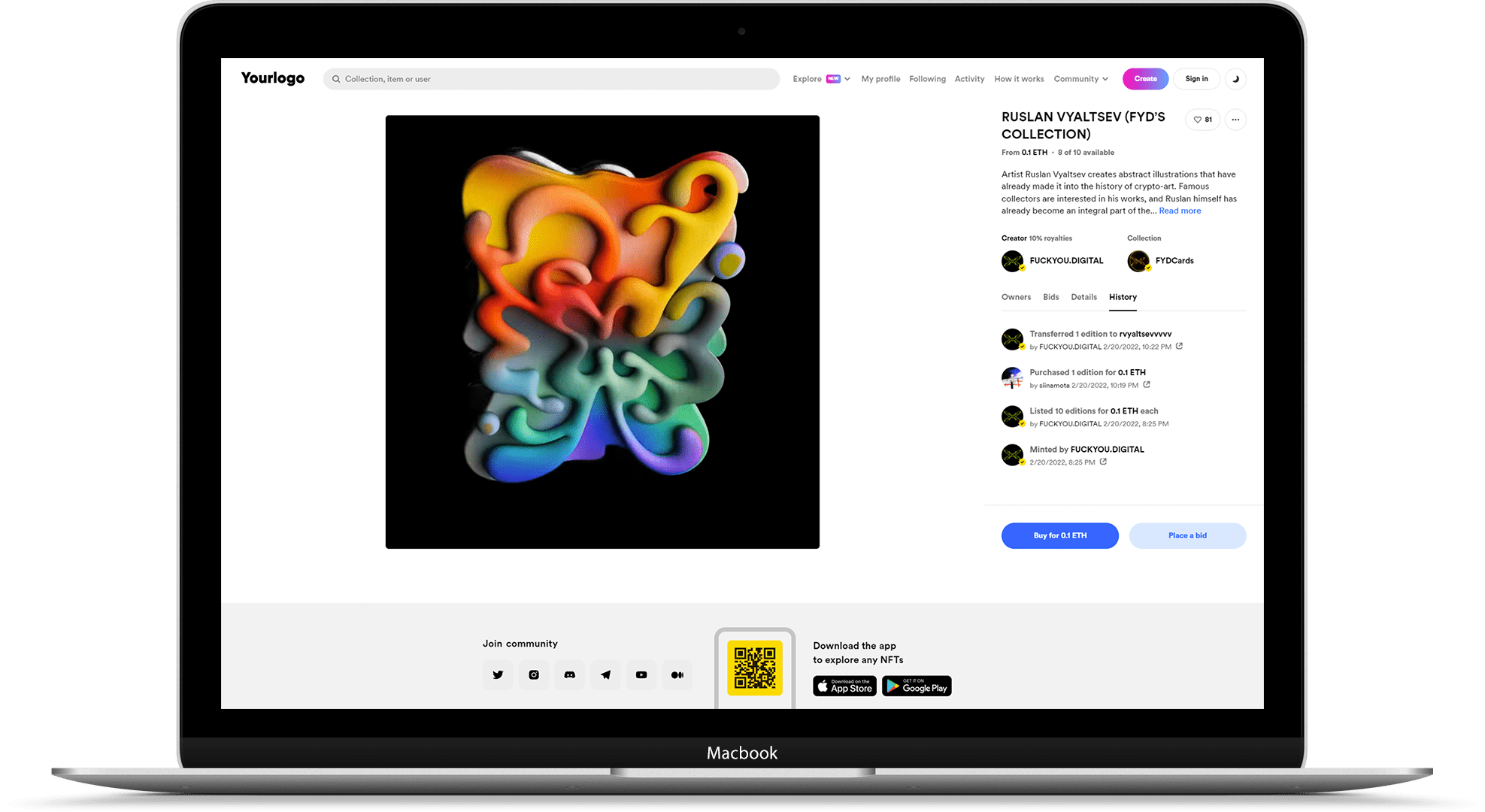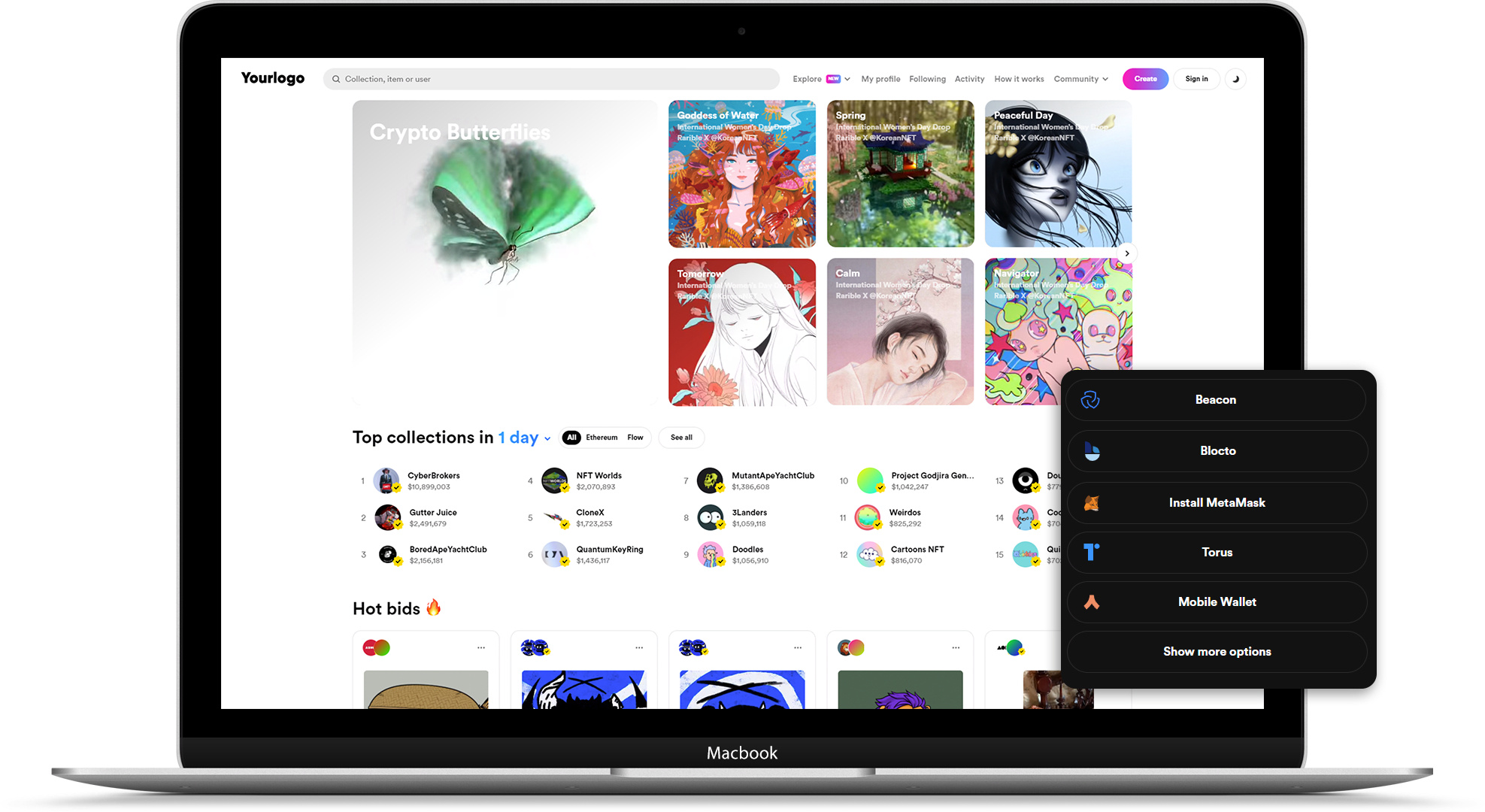 Proven Security
We don't compromise in any part of the security features is a security audit and have successfully passed many advanced security tests to ensure the safety of the customer funds.
Flawless Trading
Our NFT marketplace development makes sure to provide flawless experience to the participants from step one so that they are connected with the system in a hassle-free manner!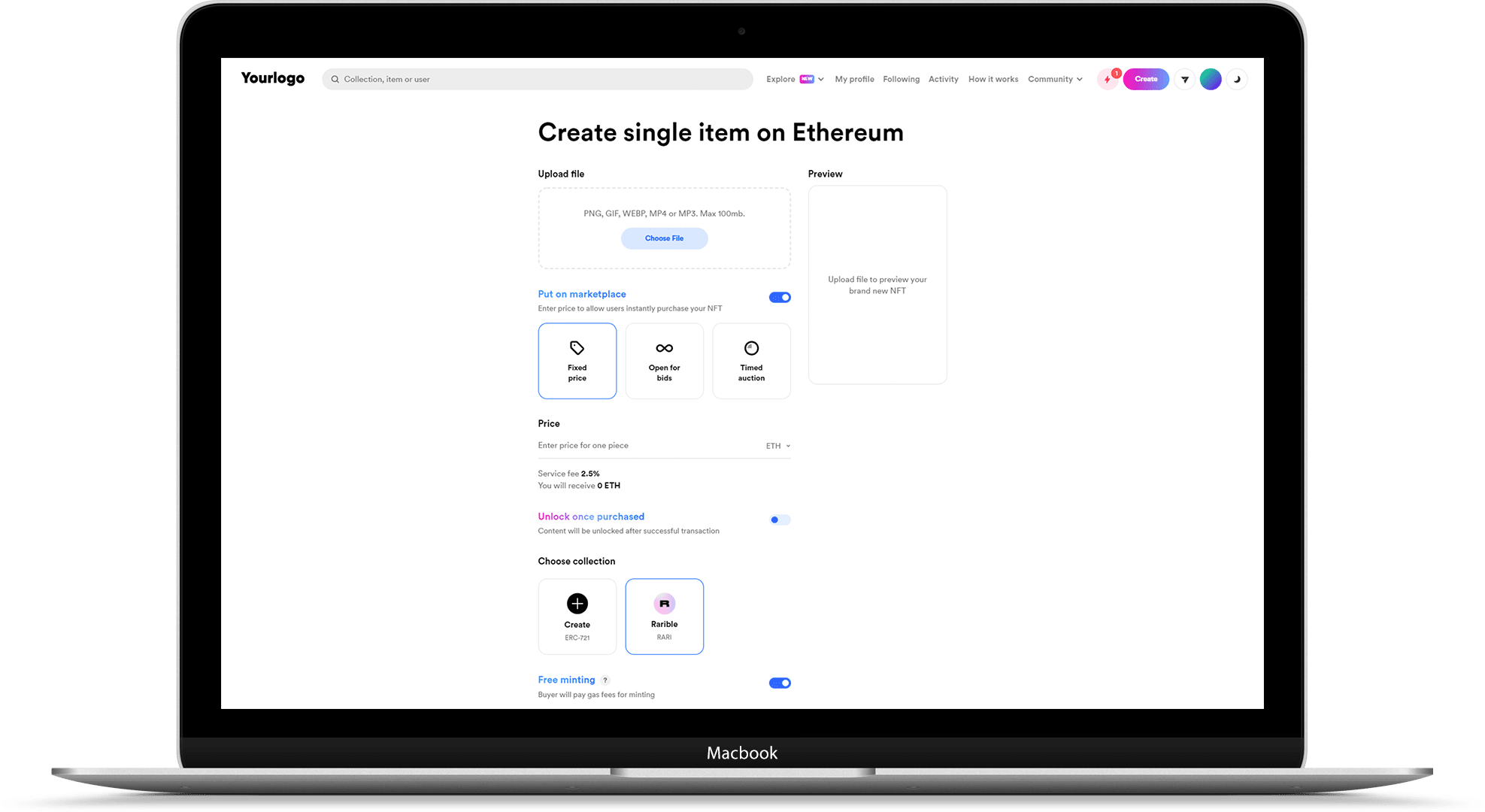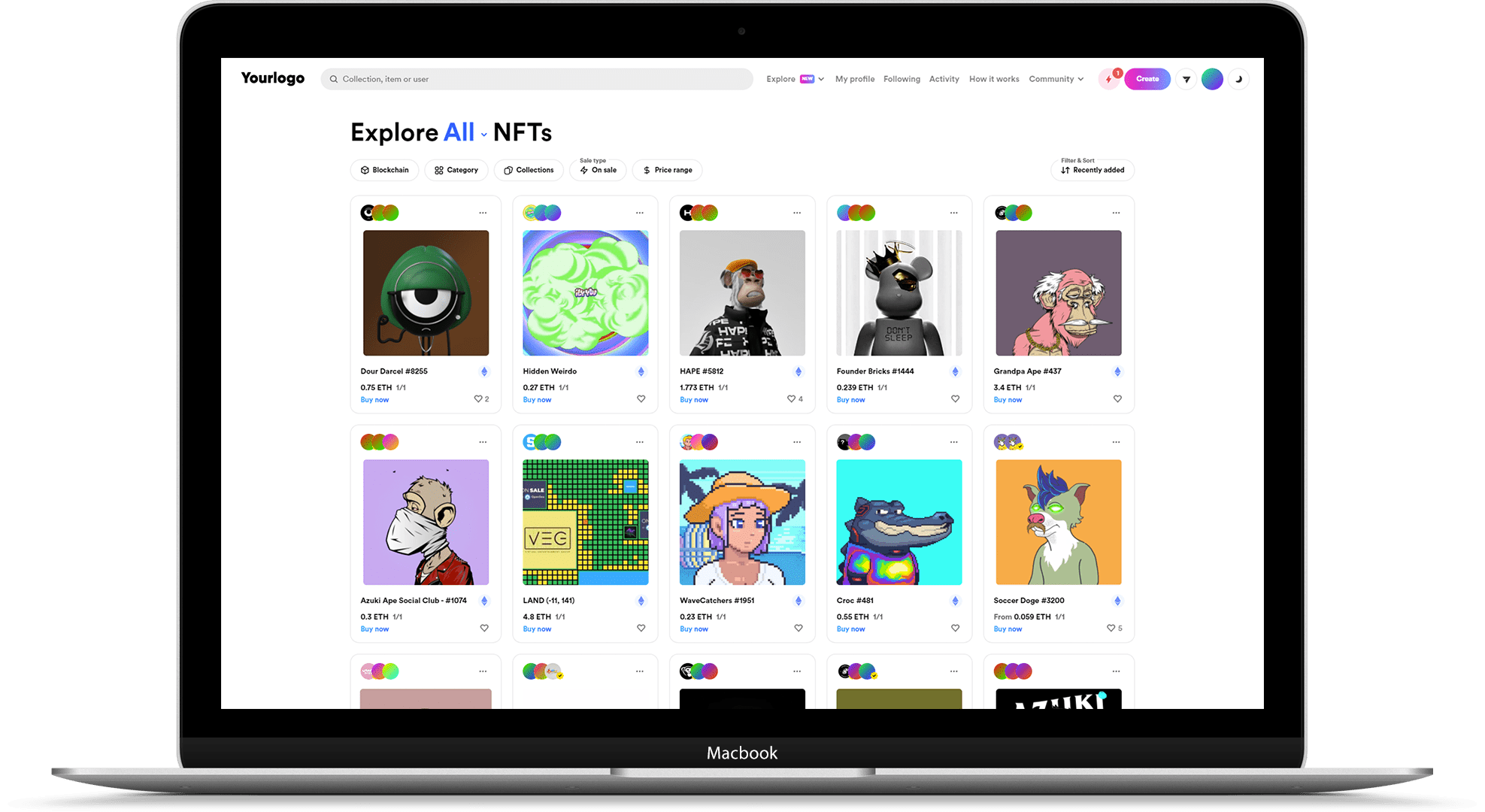 Stunning Dashboard
Our NFT marketplace user dashboard is easy to use and manage. Users will be drawn to the game-like features and abilities to level up, gain points, and receive awards, by joining in on the discussion.
Custom UI/UX
Our software has a complete and user-friendly dashboard so that your users can get the best user experience on the platform and explore more.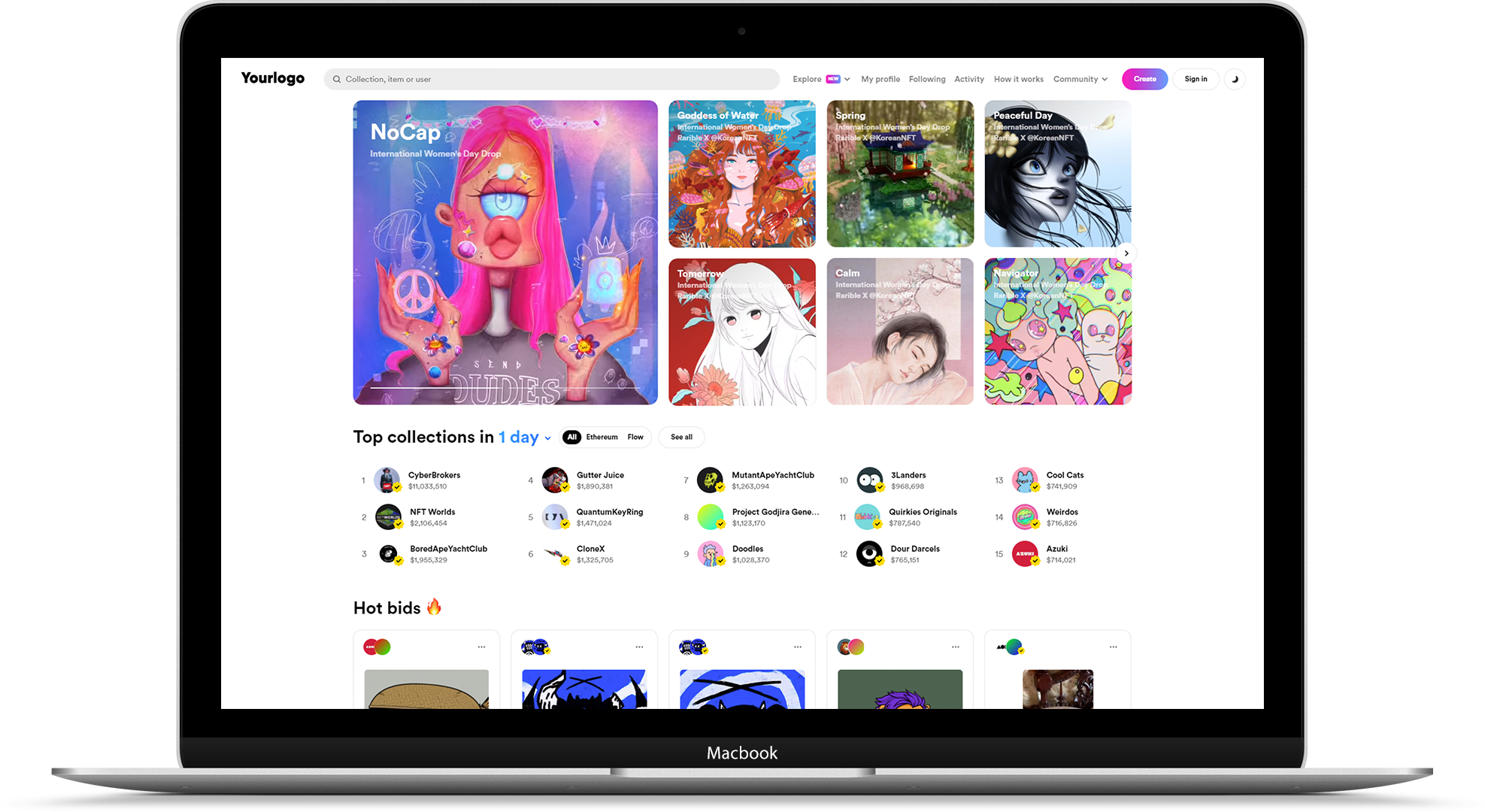 How Does our

NFT Marketplace Software Work?
Core Features

of ourNFT Marketplace
Instant Information
Trending Collections
Ownership Transfer
Customer Service
Blogs and Announcements
Different Blockchain Network
QR Scanner
Efficient Listing
Features Request
Search and Filter
NFT's for Everyone
Store Front
Minting NFT's
Itemize and Trade NFT's
Instant Information
Get swift notifications for every deposit, withdrawal, buy/sell, market trends and other platform related announcements.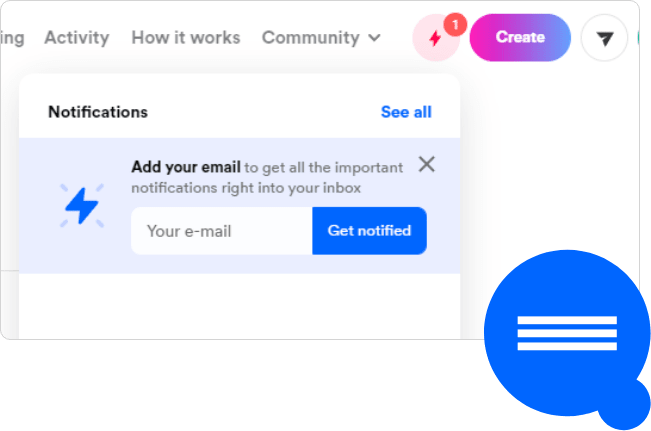 Trending Collections
Using our NFT Marketplace, users will be able to stay updated with the recent and trending digital collectibles in all the available categories.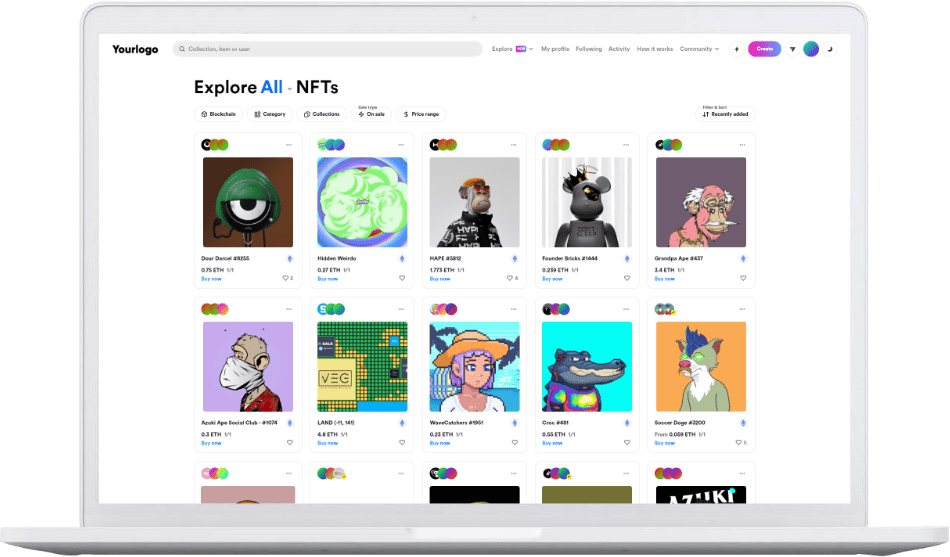 Ownership Transfer
Our software is developed in a way where the creators will get their royalty payment support and ownership proof for creating new NFTs.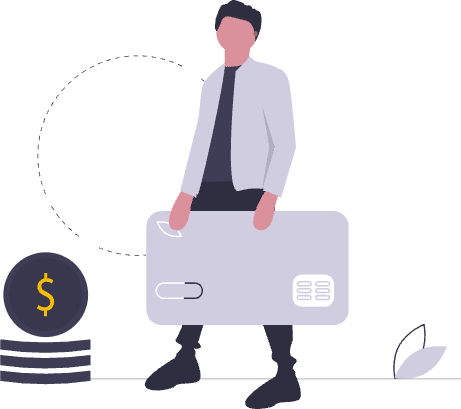 Customer Service
Our NFT marketplace provides live chat support, where your users can initiate a chat with admin. Even when admin is not available our chatbots can provide automated responses.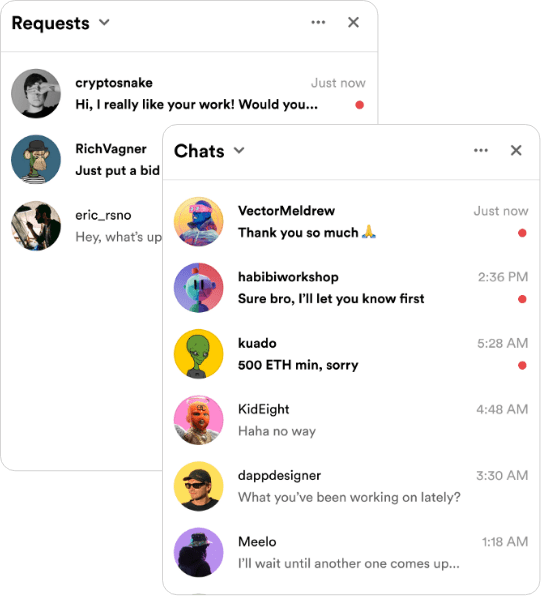 Blogs and Announcements
Engage your users by posting latest news, articles related to crypto markets. Also as an admin you can notify users with important announcements such as a new feature integration, upcoming server maintenance and much more.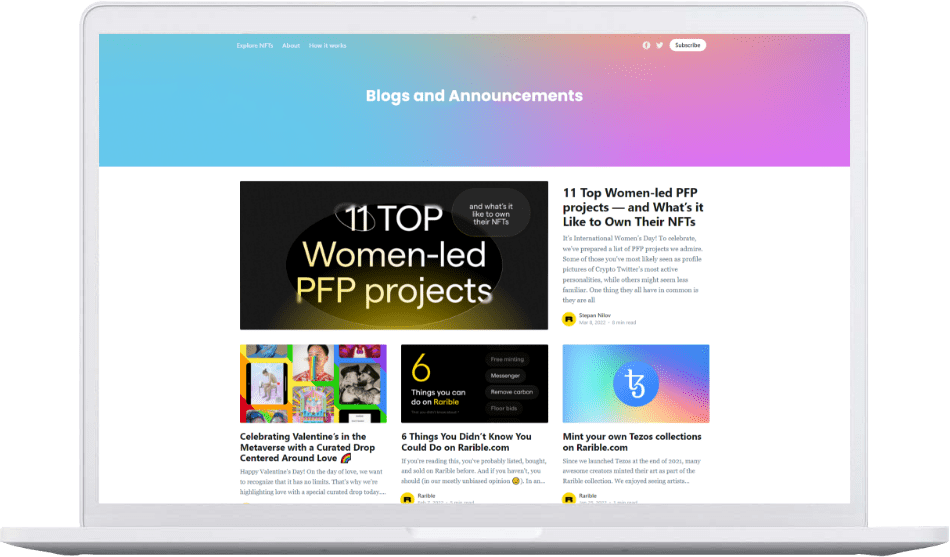 Different Blockchain Network
Our NFT Marketplace software is capable of supporting dynamic networks like tron, polygon, polkadot etc..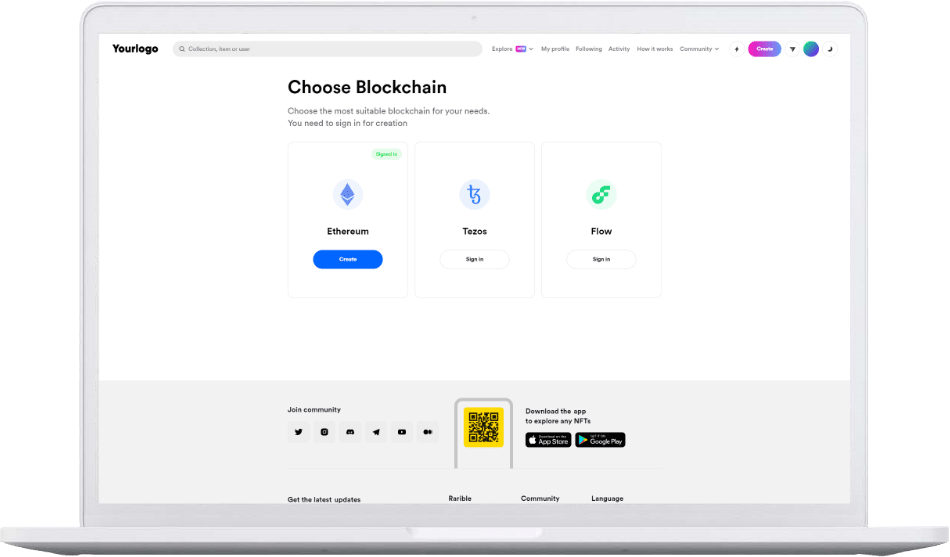 QR Scanner
New users can scan the QR code and install apps in android & iOS. Once installed, free NFT will be rewarded! Using that, new users can list them on the marketplace for bid. This helps the newbies to get an idea about the NFTs.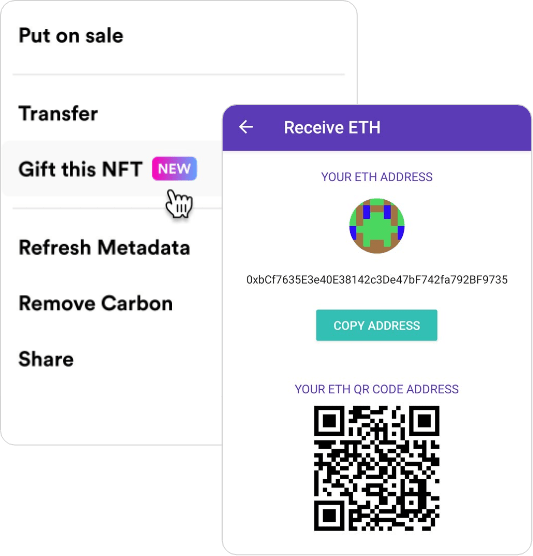 Efficient Listing
Artists can list any of their digital collectibles with files, description, plugin name and tags.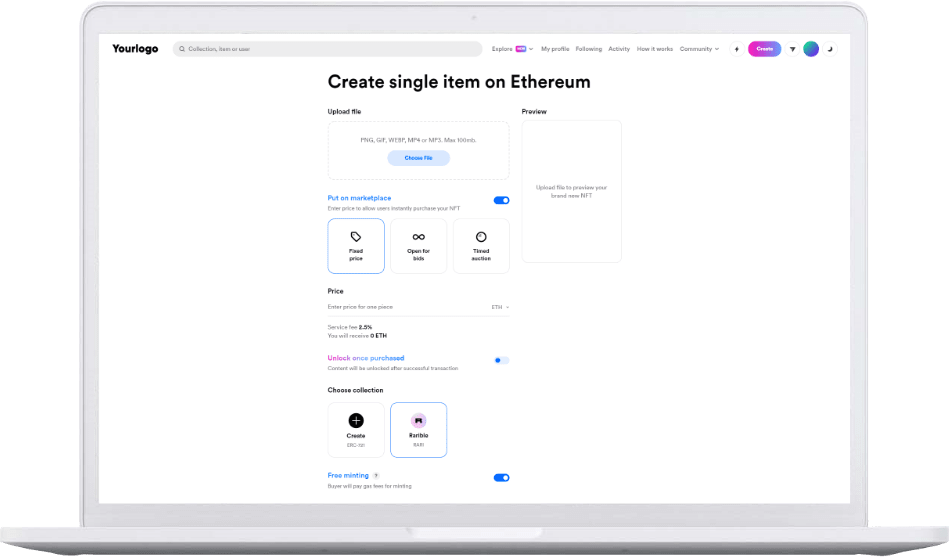 Features Request
Users can suggest to the admin/site owner what features can be added or improved in the current system. Admin can view them and include it if they're suitable. Innovative ideas will be welcomed and rewarded.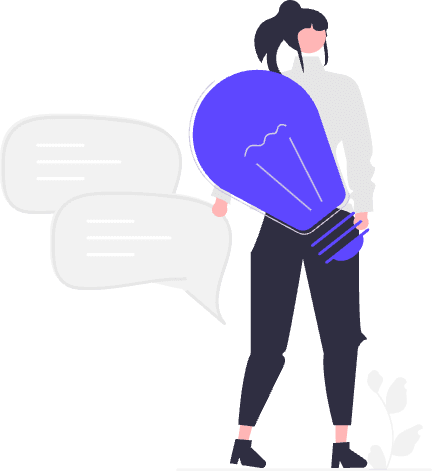 Search and Filter
Our software allows your users to slide through millions of NFTs to filter and search options in order to buy their desired digital collectible.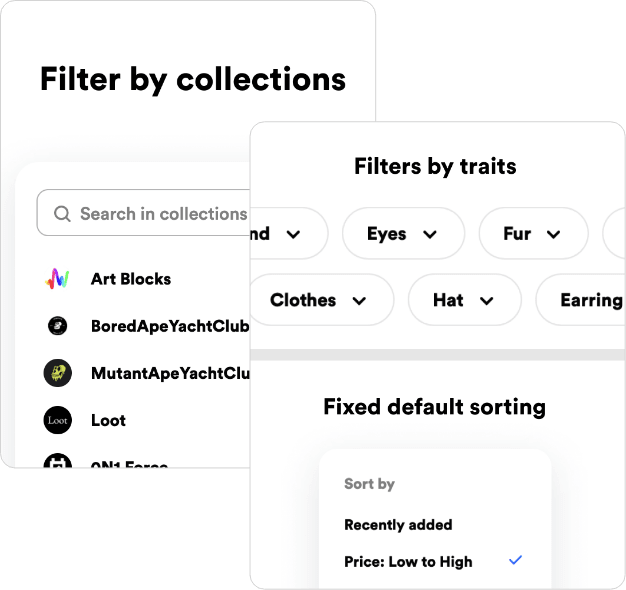 NFT's for Everyone
The use cases of our NFT Marketplace development software is open to all the industries like arts, sports, music, real-world, digital collectibles, gaming, etc..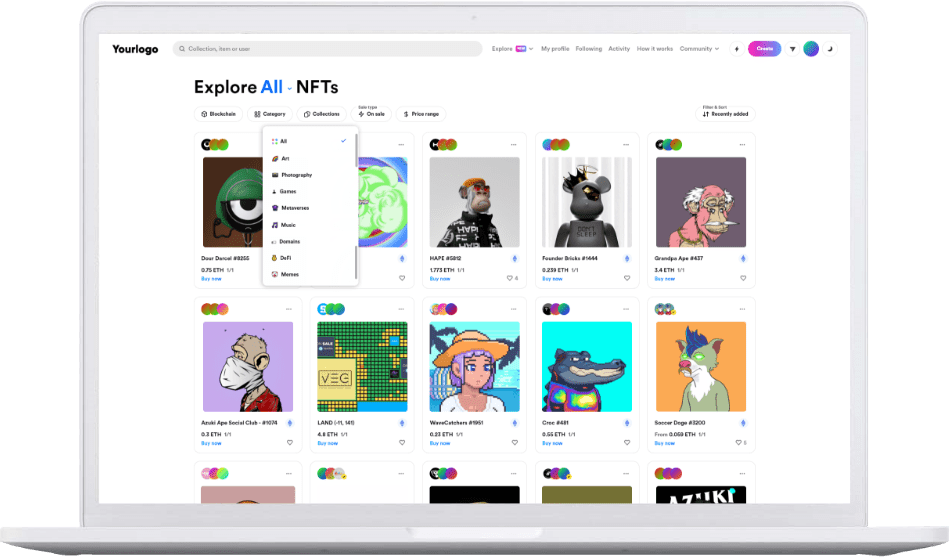 Store Front
Our software comes with innovative storefront design to showcase the listed NFTs so that the users can easily explore the system.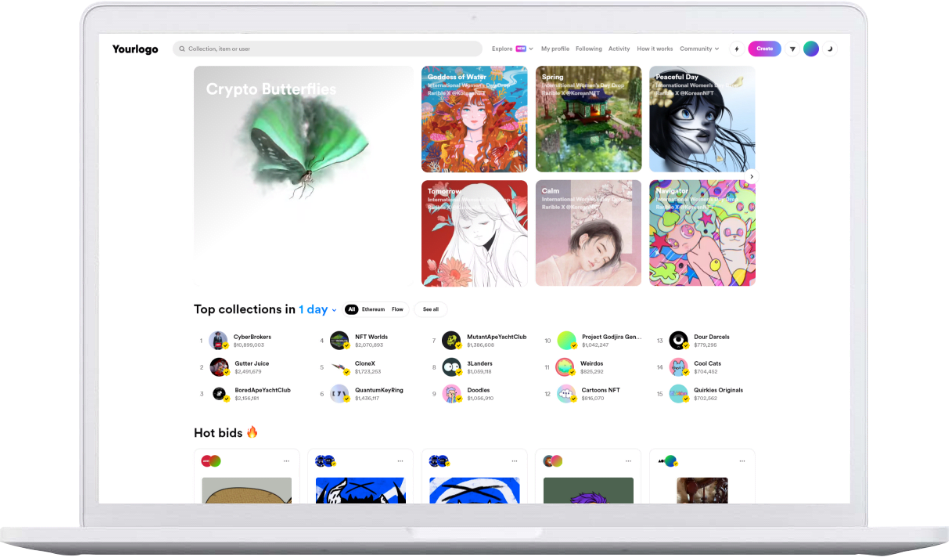 Minting NFT's
A Beginner to the market can create their own NFT with our software by paying the network fee to the respective blockchain which is also known as gas fee. In other words Creating own NFT is also defined as Minting NFTs and this minting is available to establish a digital ownership to the collectibles and art works by the users.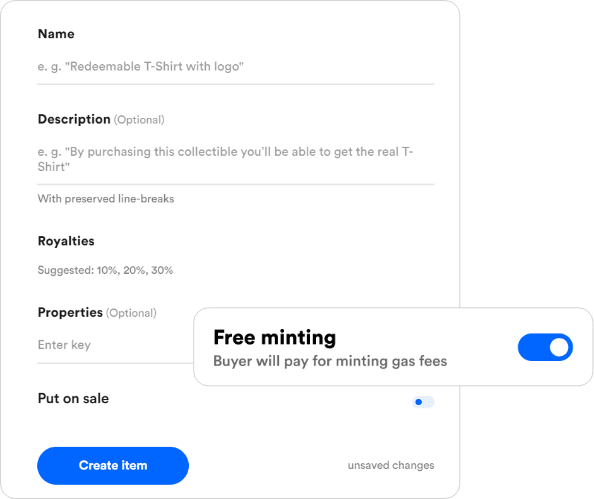 Itemize and Trade NFT's
The created or deposited NFTs can be listed in the marketplace for auction or a fixed price for sale with the details of the NFT to sell instantly for a better deal.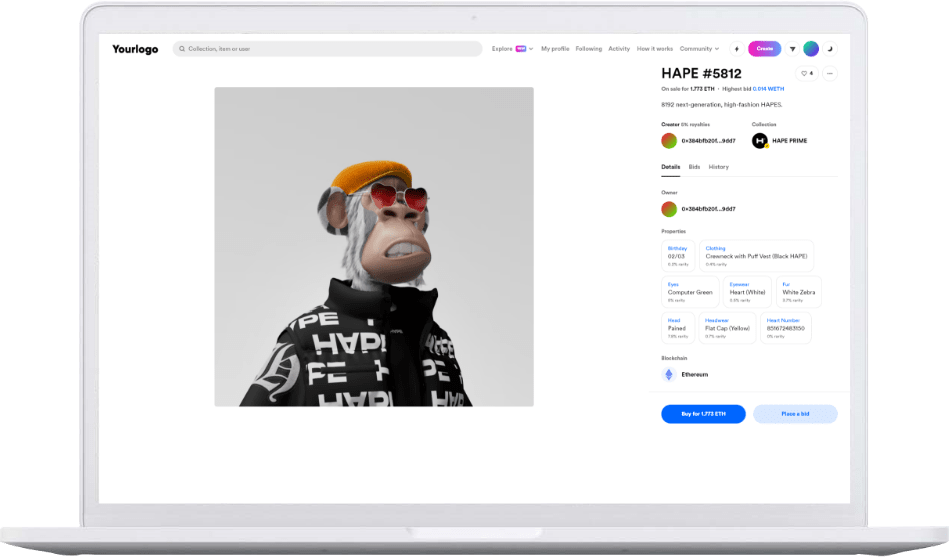 Security Features

of ourNFT Marketplace
Coinsclone always gives priority to security features. We incorporate robust security features to deliver a highly secure NFT Marketplace
Multilayered Authentication
Ethereum-Based Smart Contracts
Use Case

of ourNFT Marketplace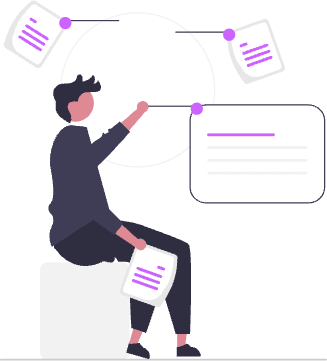 Easy portability - Digital and real-world assets can be mined into non-fungible tokens and traded using the platform.
Massive income potential - Your income can be on autopilot as the members of your NFT marketplace increase and they trade in non-fungible tokens with greater frequency.
Transforming digital art - The greatest impact of NFT marketplace has been felt in the arena of digital art may it be graphics, gaming elements, videos and documents. Art can be sold, bought and curated in the form of NFTs.
Music and audio - The NFT marketplaces have had a huge impact on the music industry with various artists directly selling their creations through non-fungible tokens.
NFT marketplace for fintech - With micro-payments and smart contracts the fintech industry has made long strides in NFT-based financing and loans.
Why Choose

us forNFT Marketplace?

World-class experience
When you work with our developers for your NFT marketplace development you get unparalleled experience because we have worked on multiple marketplace development projects.

Customizable code
Our code will be easy to customize. Once we have deployed your marketplace on the server, you can always modify it through us, or by yourself.

Full support
From programming to design to deployment and ongoing support, you get everything under the same roof.

Auctions and trading
Your NFT marketplace users will be able to use multiple forms of transactions in tokens, including auctions and direct trading.

Predefined costing
We don't believe in catching you by surprise. All our estimates and costing are over the table.

Scalable solutions
You may be a lone entrepreneur working from your basement or a multinational company, we can easily scale our NFT marketplace development services according to your needs and budget.
Our Customers

Love what we do

Customer feedback and reviews are our major concerns! Here we have shared a few feedbacks of our reputed clients.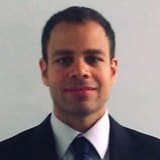 Project Name
P2P TRADING
I have been working with Coinsclone for the past two years. I am really satisfied with their development and technical support as well. I hope to work with them for a long time.
Our Portfolio Powers

more than 350

Crypto Startups Globally
Development Approach

of ourNFT Marketplace
Coinsclone follows some standard procedures to create and deploy an NFT Marketplace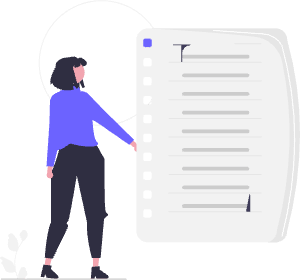 Requirement Gathering
In the initial stage, we would gather the requirements from clients and analyze them with the current crypto market. After the research, we will provide the right solution for starting an NFT Marketplace business.
Planning
Our experts will derive a rough plan for NFT Marketplace development based on the business requirements of clients.
Designing
Each design that is implemented in the NFT Marketplace will be moved to the next stage after the confirmation from both the client-side and the designer team.
Development
In this stage, we would develop and customize the entire crypto exchange as per the client's needs.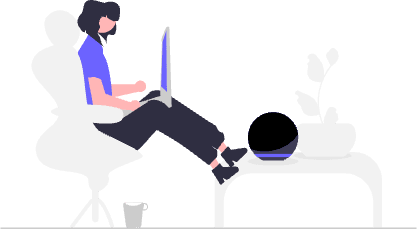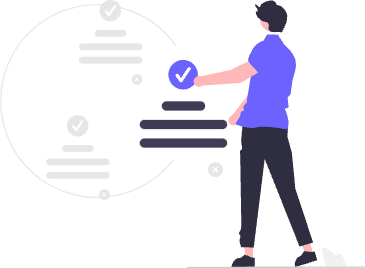 Testing
After the development stage, our testing team will check the quality of the NFT Marketplace by conducting various tests. If any functionality doesn't work properly, then our team will rectify the issue immediately.
Deployment
Our development team will deploy the superfine NFT Marketplace to the server as per the client's request.
Technologies Used in

Our NFT Marketplace

We at coinsclone use a set of advanced technologies for creating and deploying an error-free NFT Marketplace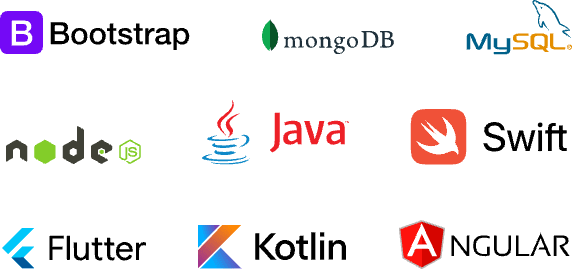 FAQ

Frequently Asked Questions
We are an experienced NFT marketplace development company that has been developing tokens for individuals and organizations for a few years now. We have an extensive set of libraries. We can build code from scratch. We can build a user interface that looks awesome on all contemporary devices and web browsers. How much time it takes depends on the length and breadth of your expectations, but a typical NFT marketplace can be deployed in a week or two.
A massive potential for passive income. Once you have deployed an NFT marketplace your users can create/mint non-fungible tokens through digital art and other collectibles and then trade in them. The more people trade in these tokens, the more money you make. Whenever a trade takes place, a small portion of the token is added into your account as the marketplace owner.
You can mint the video recordings of the major sports events, fantasy supports, digital accessories, real estate, domain names, popular videos, chart busting music and digital art.
Based on your budget, we can surely build you a compatible marketplace to trade in NFTs. Such an NFT marketplace can be used on web browsers as well as mobile apps and tablets.
We will be deploying a purely white label NFT marketplace. Afterwards you can make your own changes and customize it in whichever manner you feel like. You can also partner with us, and we can make those changes for you.
Based on your performance, we can use multiple technologies including Ethereum, Polygon, Hyperledger, Tron, and many more.
Do you have more queries ? Feel Free to Discuss With Our Team.
We are here to Answer your queries
Talk To Our Experts