What is

White Label Rarible Clone Script?
Rarible clone script is the ready-to-deploy NFT Marketplace software that holds all the vital features to run an NFT Marketplace. In other words, we can say it is an instant solution to kickstart a flourishing NFT Marketplace business in the NFT sphere. This script is crafted over blockchain technology that allows your users to buy and sell digital collectibles in the form of NFTs. The rarible clone scripts help you to launch a profit-making NFT Marketplace where digital artists can showcase their creations, hold exhibitions, and sell them.
The white label rarible clone script allows your users to manage their digital assets as well as non-fungible tokens securely. Digital art or virtual art can be sold, bought, and preserved using your NFT Marketplace that is based on our Rarible clone software. This clone script can be optimized as per your desire and business concepts. Therefore, our premium Rarible clone script is the one-stop solution for people who are planning to set their foot in the NFT world by launching an NFT Marketplace similar to Rarible.
Quick View

of Our Rarible Clone Script
How our

Rarible Clone Script work?
Why should

you Build anNFT Marketplace using Rarible Clone Script?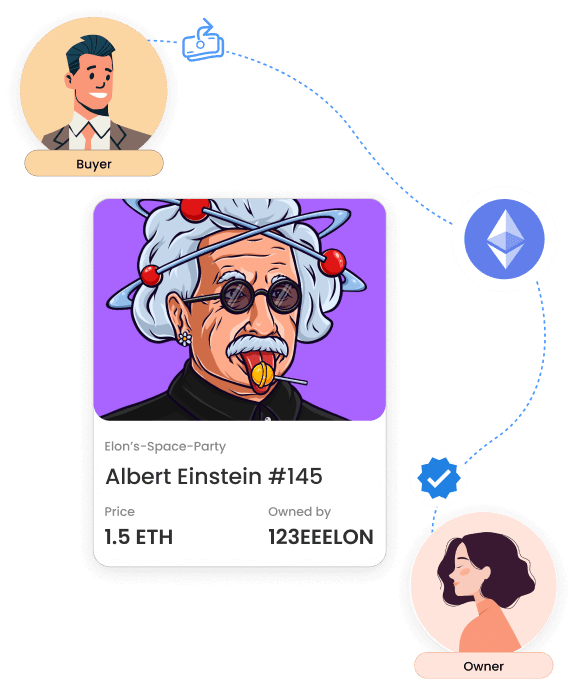 It lets your users trade and bid on different digital collectibles & assets in the name of non-fungible tokens. Such as Artwork, in-game components, video, audio, GIFs, and more.
You can develop and deploy a fully functional NFT Marketplace like Rarible within a week.
The architecture and other functions are completely based on the Ethereum network
As a proprietor of the platform, you can modify the theme, color, components functionalities, and other add-ons according to your wish and business concepts.
By connecting the wallet on the platform, users can showcase trending digital collectible assets and list them for trading.
Comes with astounding admin and user dashboard
You can generate high ROI by making commissions on direct selling, bidding, and buying of NFTs.
Completely decentralized and 1005 error-free NFT Marketplace clone script.
No need for any technical expertise
Highly secure transactions based on smart contracts.
Top Features

of Our Rarible Clone Script
NFT Marketplace
Our Rarible Clone script is an Ethereum based platform that enables users to Create, Buy and sell the ownership rights to digital works of art via Non- Fungible Tokens (NFTs).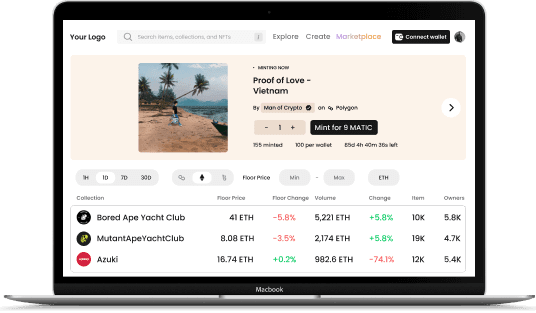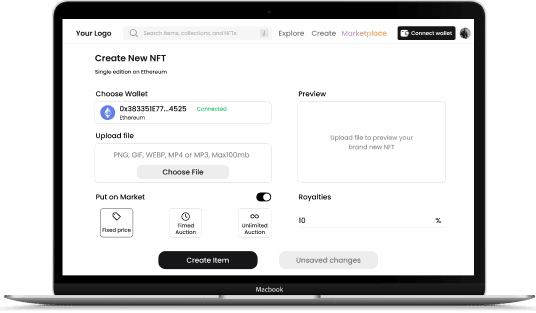 Minting NFTs
A Beginner to the market can create their own NFT with our Rarible Clone script by paying the network fee to the respective blockchain which is also known as gas fee. In other words Creating own NFT is also defined as Minting NFTs and this minting is available to establish a digital ownership to the collectibles and art works by the users.