What is a

Binance Clone Script?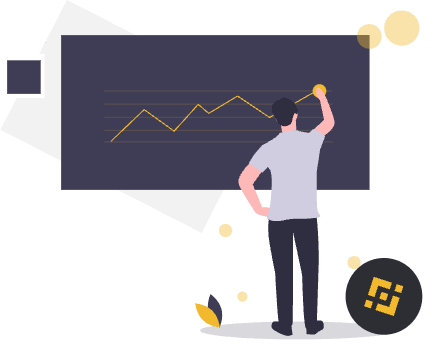 Binance clone script is a pre-designed white label exchange software that holds all the current trading modules and specialized functions of the world's largest crypto exchange app - Binance. Using this binance clone, you can create and launch a feature-rich crypto exchange platform similar to binance within a few days. Our binance clone software is fully designed, developed, verified by experts, tested, and ready for deployment. The premium binance app clone software is completely developed using cutting-edge technologies and the state of the art infrastructure. With our binance clone software, you can gain a massive count of users to your crypto exchange platform and reap a huge amount of revenue.
We, at Coinsclone, offer a premium white label binance clone script and we use the latest technology tools to develop our binance exchange clone. Our ultra-modern binance clone is specially built for crypto startups and entrepreneurs who want to launch a stunning crypto trading platform like binance. Our binance clone software is open to customizations, so you can make desired changes in features, themes, designs, or whatever as per your business concepts. Our white label binance clone script comes with an extraordinary UI and remarkable API. Also, our script holds military-grade security features to avoid fraudulent activities in your exchange platform.
Why should you start a

Crypto Exchange like binance using a ready made Binance clone script?

As a proprietor of the binance exchange clone, you can yield the following benefits by using our ready made binance clone software.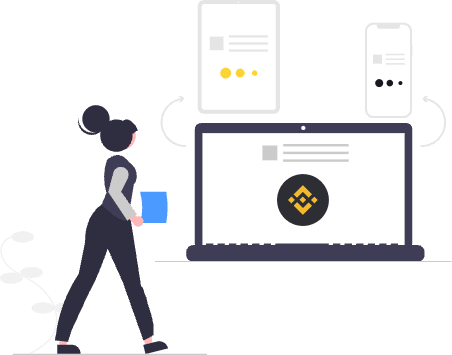 High scalability
Cost-effective
Faster deployment
Users can get a scintillating trading experience
High Customization Scope
Huge ROI
No need for technical expertise
Comes with Live Order Book System
Highly secure and Trustworthy
Top Features

of Our Binance Clone Script
High Performance Matching Engine
We enabled a high-performance matching engine in our binance clone script so that your users can perform faster and responsive trades.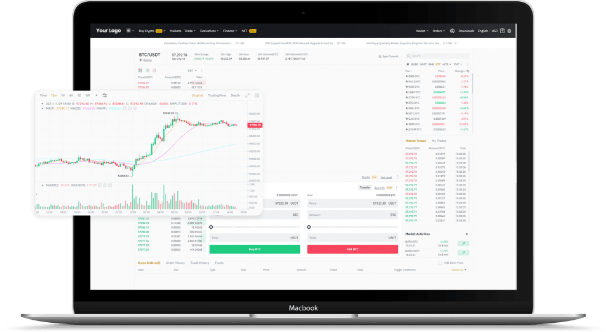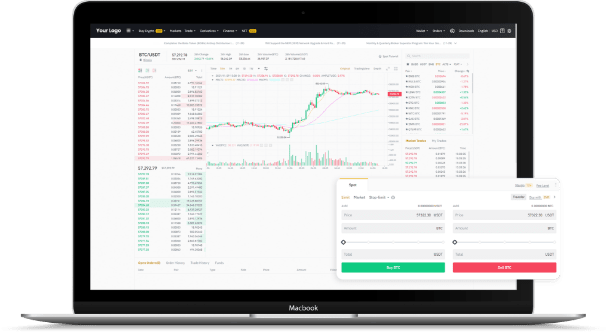 Spot Trading
Spot trading is one of the top features of our binance clone software. By using this feature, instant crypto trading can be done securely between the buyer and seller by posting buy/sell orders which will be matched by the ultra fast matching engine.
Margin Trading
Margin trading allows your users to borrow funds from the admin to trade the crypto assets in a risk-free manner. Therefore, your users can increase the profit by leveraging the investment.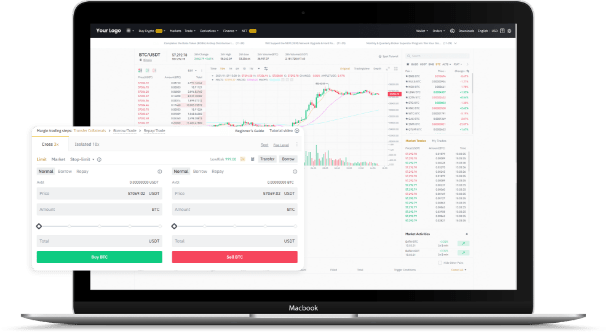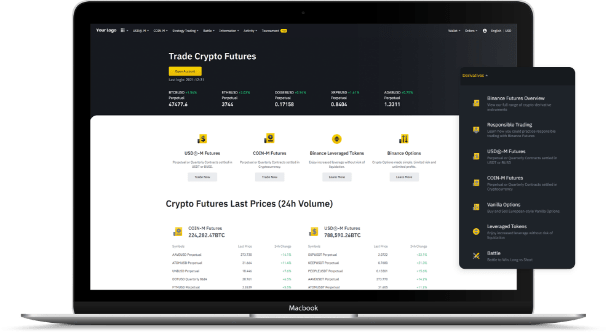 Futures Trading
The advanced and key feature in our binance website clone script helps your users to buy/sell assets at a predetermined price on a specific date or without any expiry date. Our software comes with perpetual (no expiry date) and quarterly contracts (expires every quarter) where users can hold their position accordingly by speculating the cryptocurrency's future price.
P2P Trading
Most crypto traders prefer p2p trading, so we enabled p2p crypto trading in our software to provide the best trading experience. Your users can perform secure and instant crypto trading by selecting the preferred buy/sell advertisements or by posting buy/sell ads based on their preference.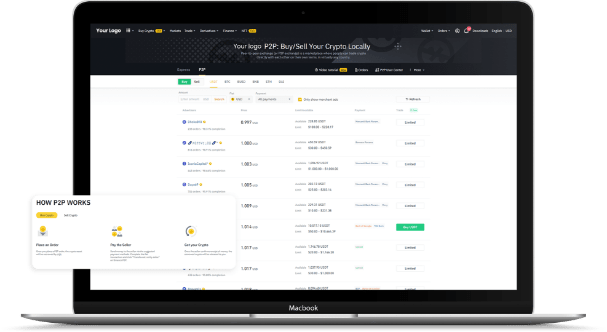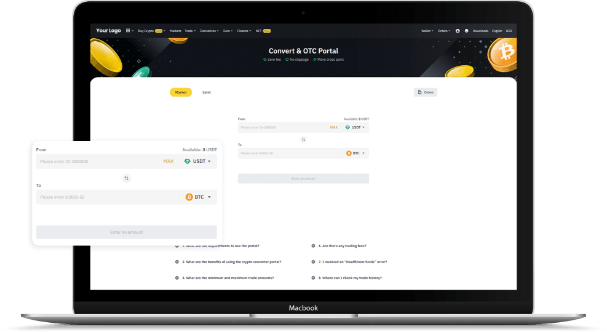 OTC Trading
Our binance website clone helps your users to trade cryptocurrencies right away by eliminating the need to visit the order book. It is an instant buy/sell feature where users can trade cryptos with their convenient payment methods.
How our

Binance Clone Script work?
Quick View

of our Readymade Binance Clone Script
Core Features

of Our Binance Clone Script
User Dashboard
Admin Dashboard
Order Book
Order Types
Extended Trade View
Live Price Ticker
KYC/AML
Support System
Multi-lingual
API Documentation
Referral program
Crypto/Fiat Payment Gateway integration
User Dashboard
The user dashboard in our binance exchange clone comes with a strong user login feature that enables your users to sign in to your exchange with their credentials every time. Our stunning user dashboard lets your users trade cryptos instantly through an order book system, monitor their crypto wallet, analyze their trading performance, and much more.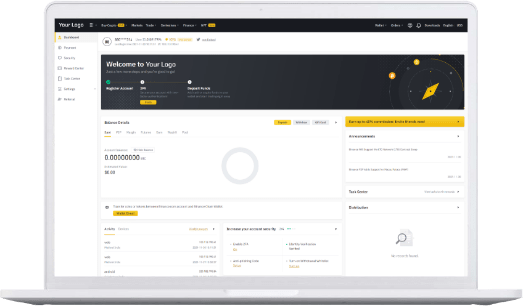 Admin Dashboard
In this panel, the admin of the exchange can control all the trading functions and security modules. As the owner, you can monitor all the user transactions, crypto wallet funds, withdrawal history, deposit history, pending transactions, and more. Our admin panel comes with a smooth and user-friendly interface.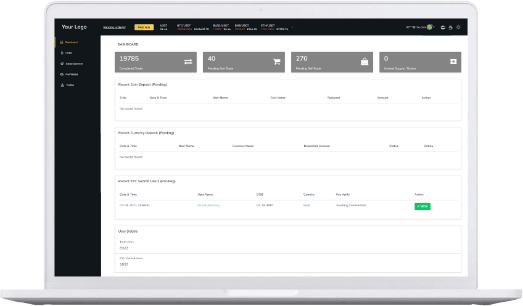 Order Book
Our white label Binance clone script is empowered with the latest and a transparent live order book system. It provides the list of all open orders that are available on your exchange for a particular crypto trading pair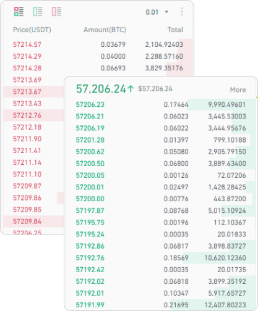 Order Types
We enable Limit Orders, Market Orders, and Stop Orders in our ready made software which helps your users to buy or sell crypto coins instantly as per their preference based on the price movement.
Extended Trade View
We provide trading view charts for your users to obtain the correct status of the market trend and price movements precisely. Lot of tools are integrated along with the chart for easy and efficient trading.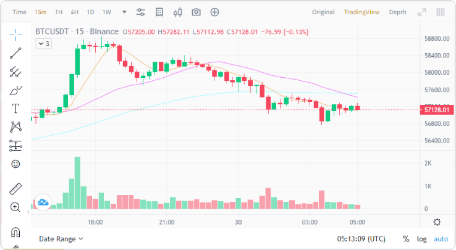 Live Price Ticker
Updated live prices of each trading pair will be displayed for users to check and trade accordingly.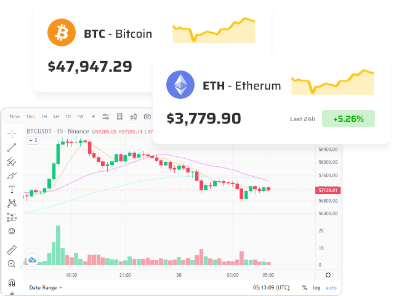 KYC/AML
Your users will submit their ID proofs and legal documents for verification before they can start trading. You can analyze those documents and give permission for trading cryptos in the binance exchange clone.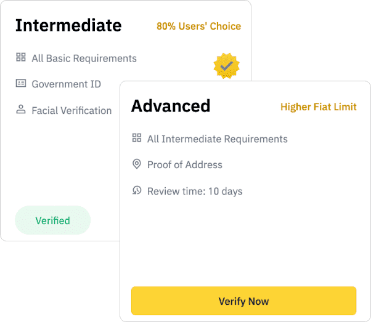 Support System
Instant support system which helps your users to raise queries and also a chat box for them to directly chat with the admin.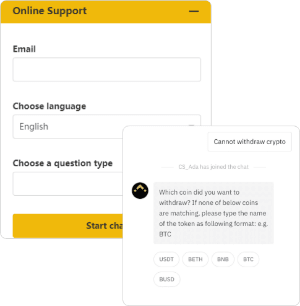 Multi-lingual
In our binance clone software, we provide Multiple languages support to make your exchange platform compete and engage with global crypto users & investors.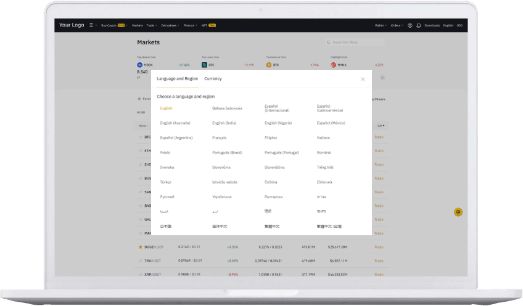 API Documentation
We provide clear API documentation which enables you to obtain real time market data, make trades easily.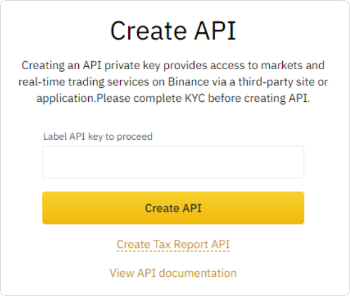 Referral program
We have integrated this core feature where your users can refer to another person and earn rewards instantly. This feature helps you in increasing the user count quickly and attract many users easily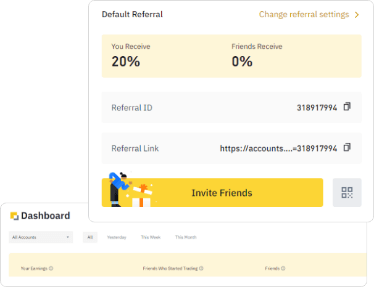 Crypto/Fiat Payment Gateway integration
We integrate multiple payment methods which help your users to buy or sell cryptocurrencies in their desired method easily.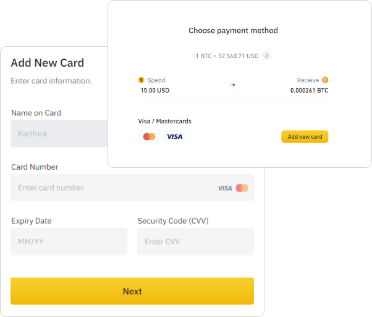 Security Features

of Our Binance Clone Software
We at coinsclone enable the tightened security modules in our white label binance clone script to protect your crypto trading platform
Verify Communication Through Email
Two-Factor Authentication
End-To-End Encryption Based SSL
Anti Denial Of Service(Dos)
Cross-Site Request Forgery Protection
Server-Side Request Forgery Protection
Anti Distributed Denial Of Service
Add on Modules

of ourreadymade Binance Clone Script
Liquidity API Integration
Stop-limit and OCO order
IEO launchpad
NFT Marketplace
Crypto Loans
Crypto Staking
Liquidity API Integration
Our Binance script can be connected with Binance order book through a secure API connection which helps in achieving high liquidity. As an admin, you will be completing the user orders in Binance under your account and the order status gets updated in the user's account after order completion.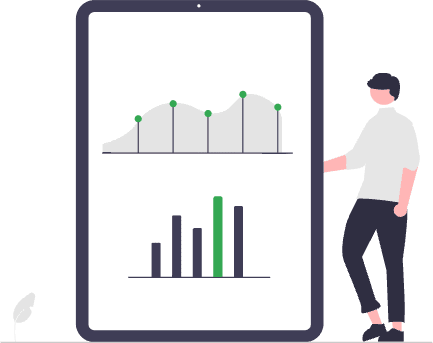 Stop-limit and OCO order
A stop limit order is a limit order restricted with a stop or trigger price. Only when the stop price is reached the order falls in the order book as a limit order. OCO (One Cancels the Other) order allows users to place two orders at the same time. But only one of the two can be executed and if any one order is partially or fully filled then the other order gets canceled automatically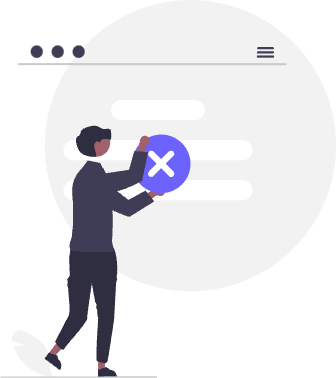 IEO launchpad
We enable an IEO launchpad in binance clone software which works similarly to the binance launchpad. The IEO launchpad in your exchange will open a portal for your users to sell their newly launched cryptocurrencies and raise capital for their business.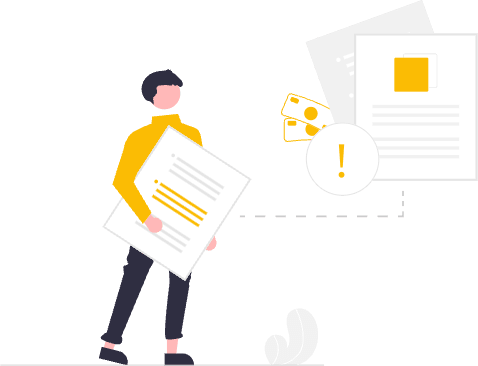 NFT Marketplace
It is one of the newest and trending module where users can create and trade top NFT's in the market. A Non Fungible Token (NFT) is a digital token that represents a real entity which can be a drawing, animated GIFs, songs, or items in video games etc.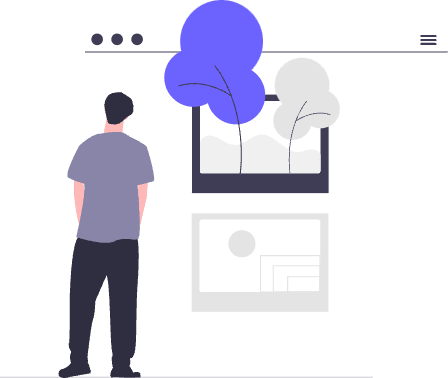 Crypto Loans
Users can get crypto loans from admin by using any other available coins as a collateral. Interest will be calculated and the user needs to pay the interest and principal within their selected time period.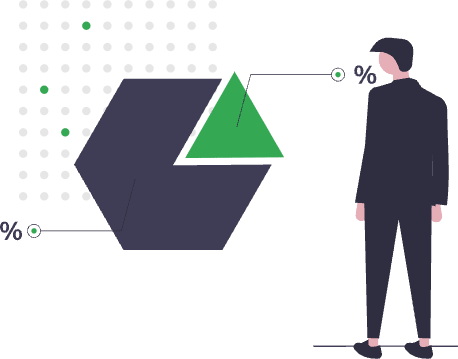 Crypto Staking
Users can earn interest over time for holding certain cryptocurrencies. Long time crypto holders can make use of staking and earn rewards. Also by staking users are strengthening the transaction power of the blockchain.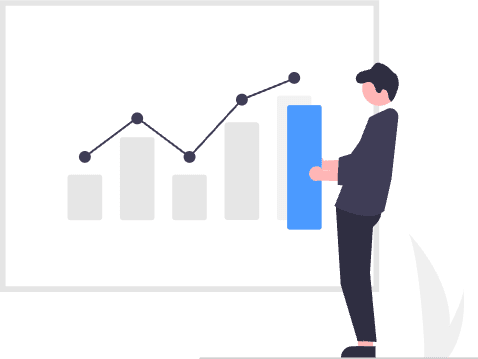 Binance DEX

Clone Script and Features
We offer a high-quality and customizable Binance DEX clone script to develop a secure crypto exchange like binance DEX. Our clone script eliminates the need for an admin to access the trade. It comes with all essential features and plug-ins similar to binance DEX. We at Coinsclone offer you a highly responsive Binance DEX clone script with extraordinary trading features as per the business necessities.
Completely Decentralized Order Book
Cryptocurrency wallet integration
Multi-cryptocurrency support
High-end blockchain security
Our

Android & iOS App

For Binance Clone App Development
Launch a user-friendly and eye-catching cryptocurrency trading mobile app like Binance
Binance has its own crypto trading mobile app for all crypto users. If you are starting a crypto exchange like binance, then launching a feature-rich crypto exchange app like binance will be beneficial for your business. If you are a new crypto startup and want to stay unique in the competition, then it is not enough only to launch the exchange website. So we are offering the finest binance clone app development services with premium outcomes. By using our service, you can launch a first-quality binance app clone with an eye-catching user interface. Our Binance clone app development service involves all the trending features along with high-end security features to make your app encrypted & secure.
As we can see the majority of the population is going towards mobile-based crypto trading. So initiating an app like binance with outstanding features is one of the best moves to stay unique in the crypto business and reap a huge amount of profits. We, at Coinsclone, have a quality team of blockchain developers, testers, and designers who carefully build a binance exchange clone with a remarkable UI/UX and the latest trading modules. Mainly, our binance clone app is compatible with both IOS and Android platforms.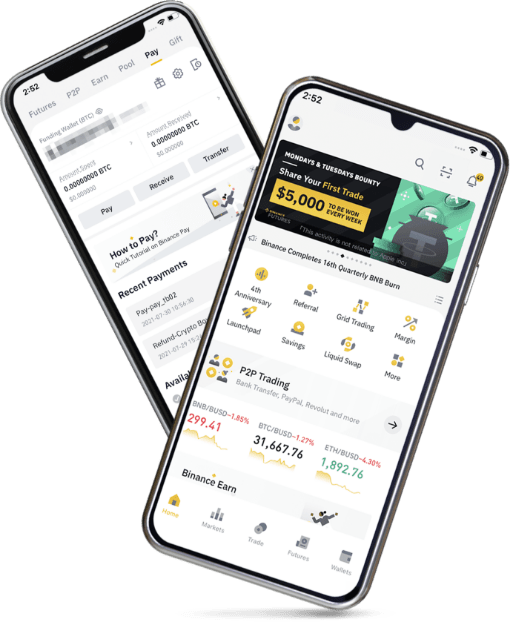 Platforms Developed

Android

ios
Why Choose

Coinsclone For Binance Clone Script?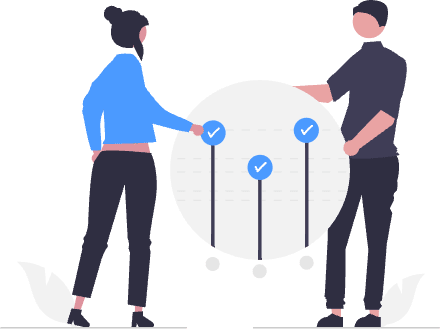 Coinsclone is a renowned white-label exchange software provider in the crypto industry. We are experts in offering all types of crypto exchange solutions with utmost perfection at the best price in the market. Besides, we are expertise in providing cryptocurrency exchange clone scripts with advanced features. We helped many young crypto startups and entrepreneurs to create and launch a function-rich crypto exchange 100% similar to binance. We have a pool of well-skilled developers who can handle any complex crypto exchange project so our developers will help to make your dream exchange real. We provide state-of-the-art binance clone software for all startups and entrepreneurs to initiate a stunning crypto exchange like binance.
Our premium Binance clone script is highly customizable and bug-free. Therefore, you can add or remove any trading features, themes, colors, designs, and other plug-ins according to the business requirements. So far we have delivered 100+ projects to our international clients across the world. We have an expert team to offer productive 24/7 customer and technical support to our global clients during any technical interruptions. If you have any technical queries, whether it is a binance clone app development process. we are always here to assist you and answer queries!
Development Approach

ofOur Binance Clone Script
We at Coinsclone undergo the following procedures for Binance clone script development.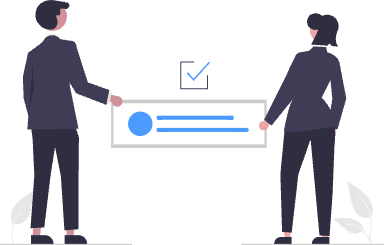 Requirement Gathering
First, we analyze our clientele's business needs, requests, and we conduct crypto research to validate your idea of binance clone exchange based on the possibilities of product development.
Planning
Our business experts will plan and provide the finest solution depending upon the client's business concept.
Designing
Our experienced blockchain developers are specialized in exceptional UI/UX design. Thus, we develop our modernistic Binance clone script software based on the latest crypto exchange trend.
Development
We carefully take the analyzed business requirements and get into action through our top-notch binance clone exchange development process.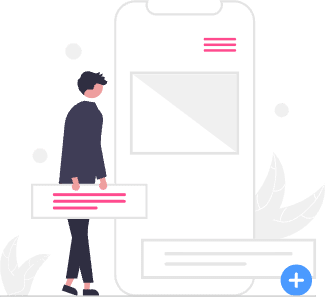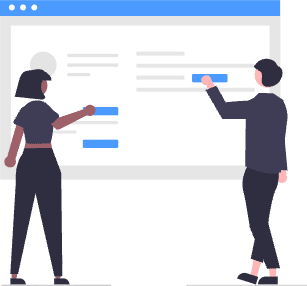 Testing
After a successful development process, we test our binance clone script software for any defects in the functioning. If we face any errors, bugs, or issues while testing, then we rectify them quickly and undergo the deployment process
Deployment
Our team experts will guide you to deploy the fully functional binance exchange clone in the server as per the client's request.
Our Customers

Love what we do

Customer feedback and reviews are our major concerns! Here we have shared a few feedbacks of our reputed clients.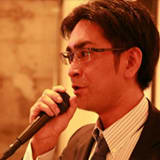 Project Name
MONTEX
The website developed by Coinsclone is user-friendly and the feedback from customers has been positive. Coinsclone met all needs, while their expertise, professionalism, and ability to deliver on promises earned them trust.
Orderbook Exchange

Clone Scripts Similar to Binance
Technologies Used

inOur Binance Clone Script
We use updated and cutting-edge technology tools for developing the binance website clone and binance app clone. Which will be compatible with all major platforms like Android, IOS, and the web.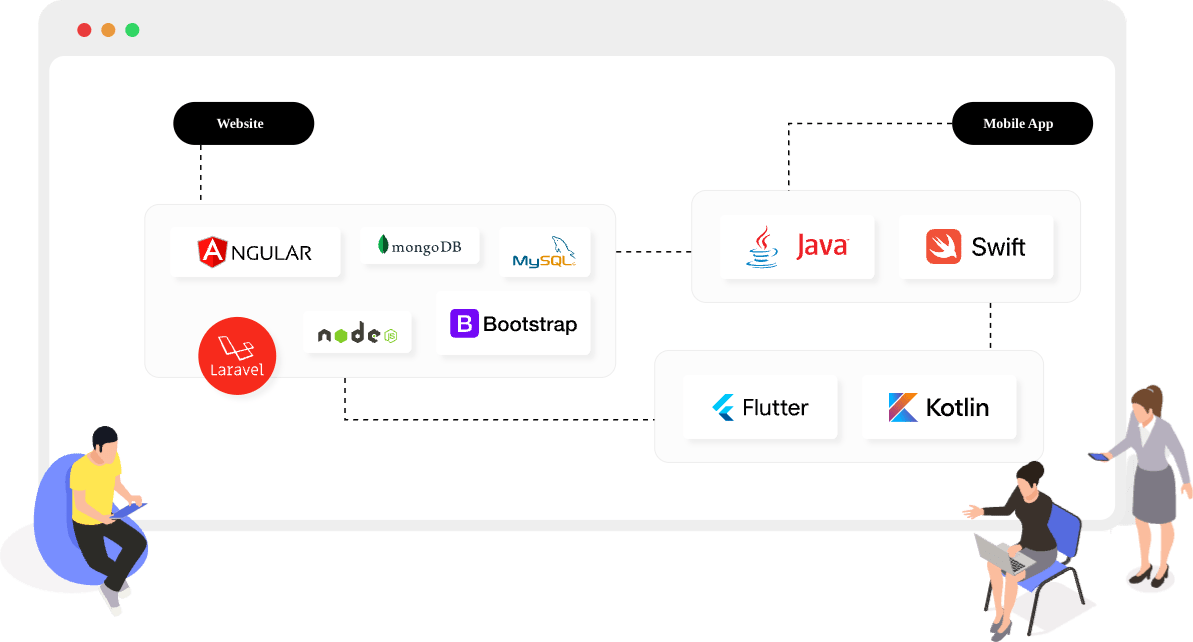 FAQ

Frequently Asked Questions
Binance is the world's largest and most popular cryptocurrency exchange platform according to the trading volume. Most of the traders prefer this exchange because it has both beginner and experienced trading modes. They have a distinguished UI and they collect low fees for trading so the user traffic will be high. Therefore, you can also collect fees for each successful transaction by creating a Binance-like Cryptocurrency exchange platform and make a lucrative income.
You can generate massive revenue by collecting trading fees, fees for freemium services, withdrawal fees, deposit fees, promotions, etc through this Binance clone software.
It will take only 7 to 10 working days for launching an ideal crypto exchange platform like binance. If you need any further customizations along with additional security and trading features, then it might take extra time depending on the customizations(design, themes, etc) and features you prefer.
Our Binance Clone script software is exceptional in all its trading modules and security features. We provide a completely customizable binance clone exchange platform with all the existing features and plug-ins of Binance.
It varies from one project to another based on the business requirements and additional features required. We provide world-class binance clone script and affordable binance clone app development services for all startups & entrepreneurs. You can get in touch with our team experts right now for further information.
Do you have more queries ? Feel Free to Discuss With Our Team.
We are here to Answer your queries
Talk To Our Experts