What is

White Label Enjin Clone Script?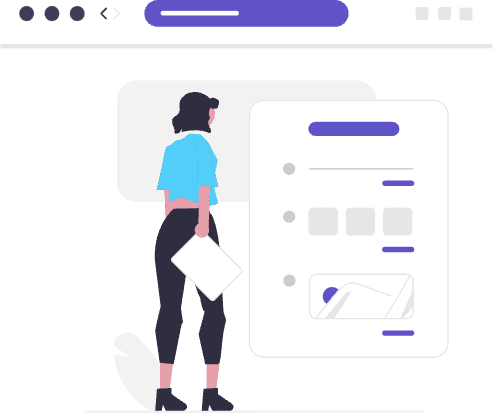 The Enjin clone script is a complete script that allows you to not just build your NFT marketplace but also incorporate all the primary features such as NFT minting of digital assets as well as real-world assets, wallet integration, integration with apps, games and websites and building complete shopping cart-like portal to trade non-fungible tokens.
Forged on the most decentralized, scalable and robust Ethereum networks, our Enjin clone script is a one-of-a-kind framework that allows you to manage digital goods on the Ethereum blockchain. This is cryptocurrency e-commerce at its best. It serves all your crypto-based needs and allows you to leverage the blockchain technology to establish a lucrative online presence.
Why should you start a

NFT Marketplace using ready to launch Enjin clone script?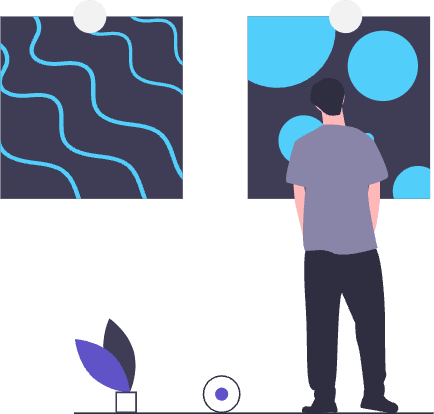 The ultimate ERC-1155 standard for non-fungible tokens.
Simple yet highly advanced incorporating all the features of a thriving NFT marketplace.
Get rid of the ads that appear in the original Enjin.io platform script.
Improved transaction speed – 30 seconds faster than the counterparts.
QR mode of scanning and processing transactions.
Optimal design suitable for desktop, smart phone, tablet, laptop and even 4K TV.
Support for local cryptocurrencies.
Security based on smart contracts inbuilt into the Enjin clone script that is further built upon the Ethereum blockchain architecture.
Day and night modes available to make it convenient for users and not to disturb their circadian cycles.
Intuitive searching that finds the paired assets and tokens extremely fast.
Direct shopping of NFTs and transfer of non-fungible tokens into crypto wallets.
Top Features

of Our Enjin Clone Script
Ads-Free
One of the unique features our Enjin clone script offers is the ads free experience to the customers which is more welcomed by all the participants. Having this feature prohibits the annoying ads popping up in regular intervals.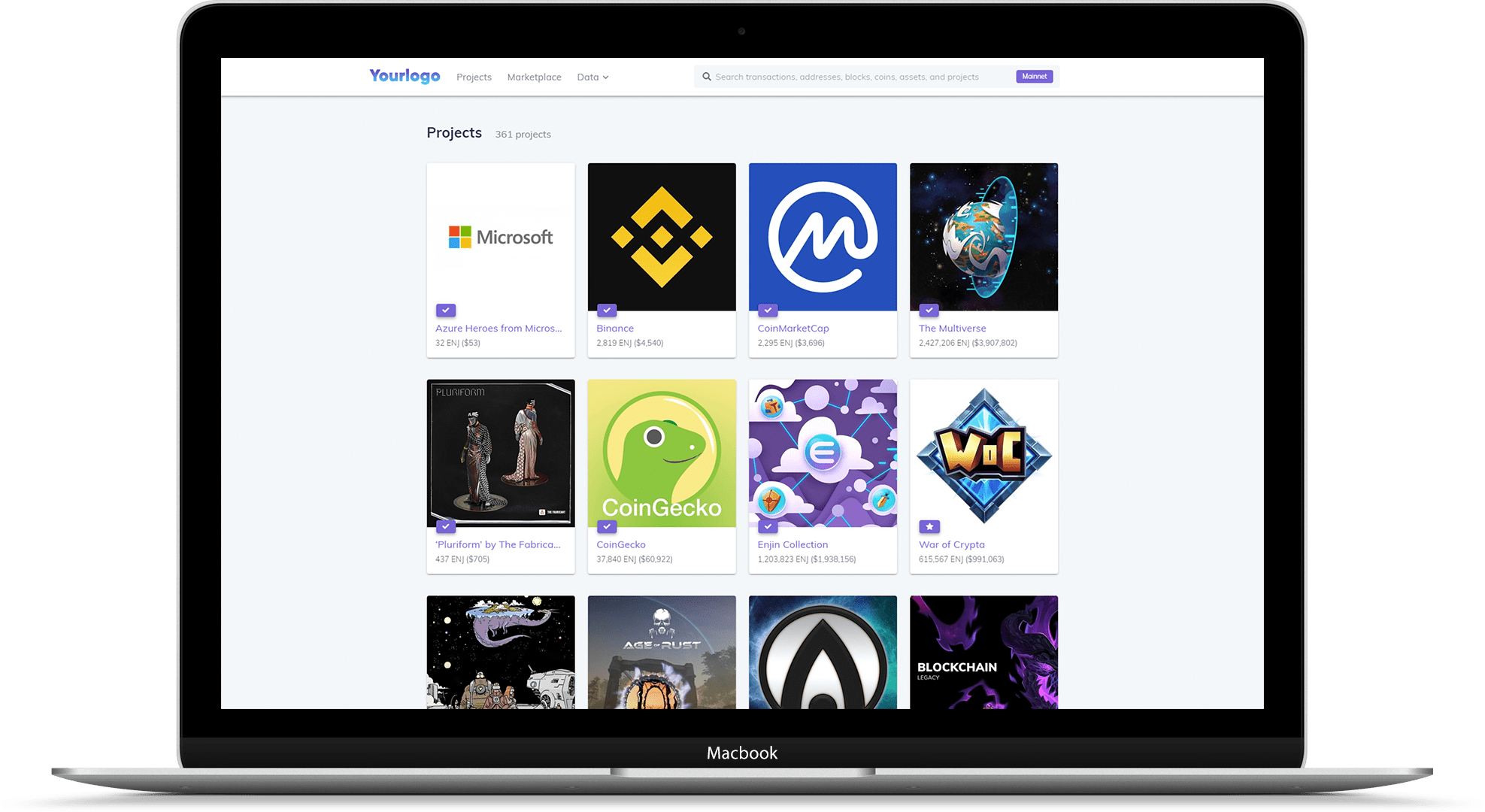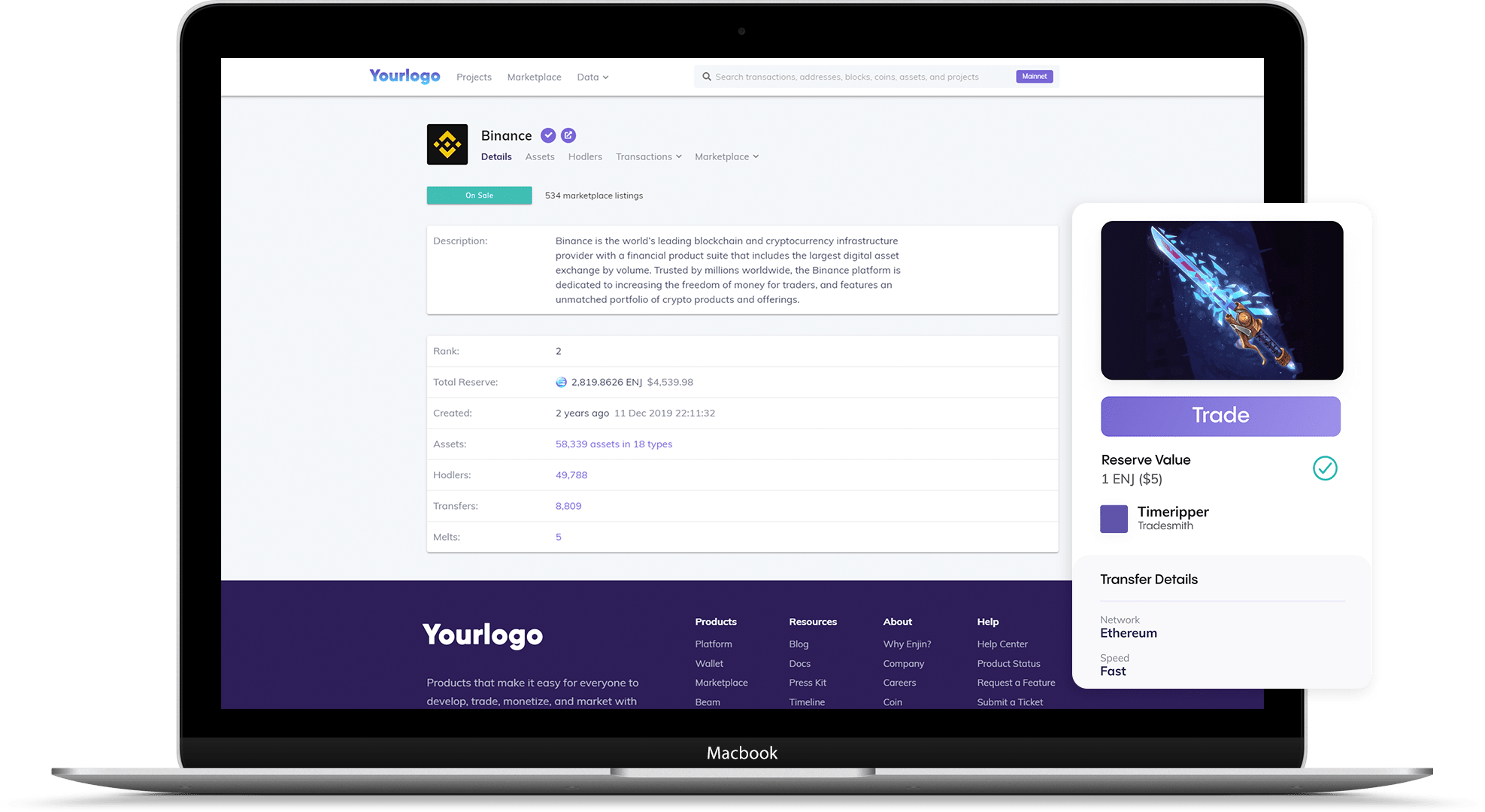 Seamless Trading
Our Enjin clone script makes sure to provide flawless experience to the participants from step one so that they are connected with the system in a hassle-free manner!
Responsible Design
Our Enjin clone script is designed in an optimal method where it can be functional in multi operating frameworks like desktop, smartphone and tablets in various resolutions including 4K.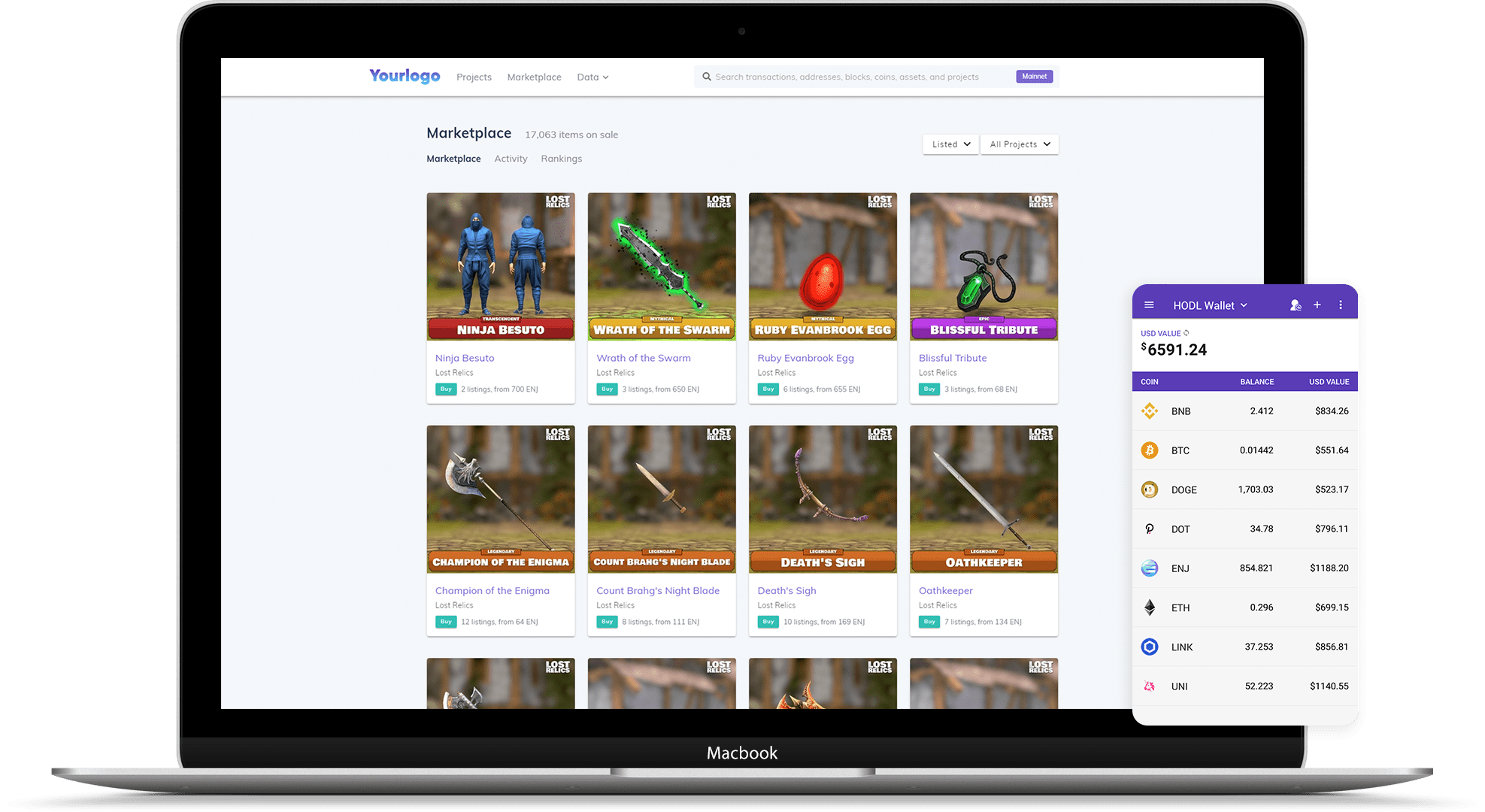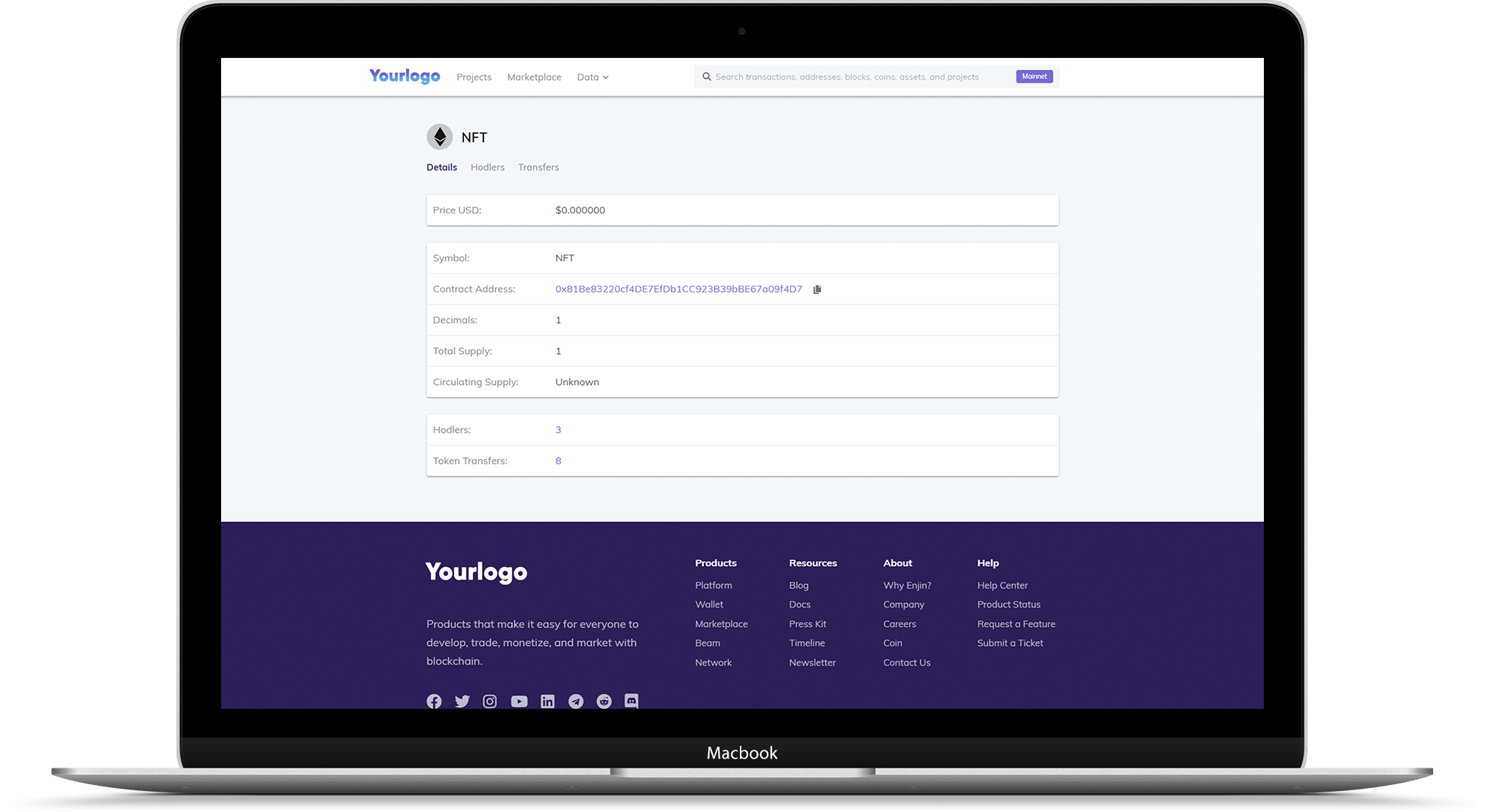 NFTs For Everyone
The use cases of our Enjin clone script is open to all the industries like arts, sports, music, real-world, digital collectibles, gaming, etc..
Prompt Search Results
Get a swift response on your filter and search option on our Enjin clone script. Our script is built in a way where it can feed the data in milliseconds in terms of transaction speed.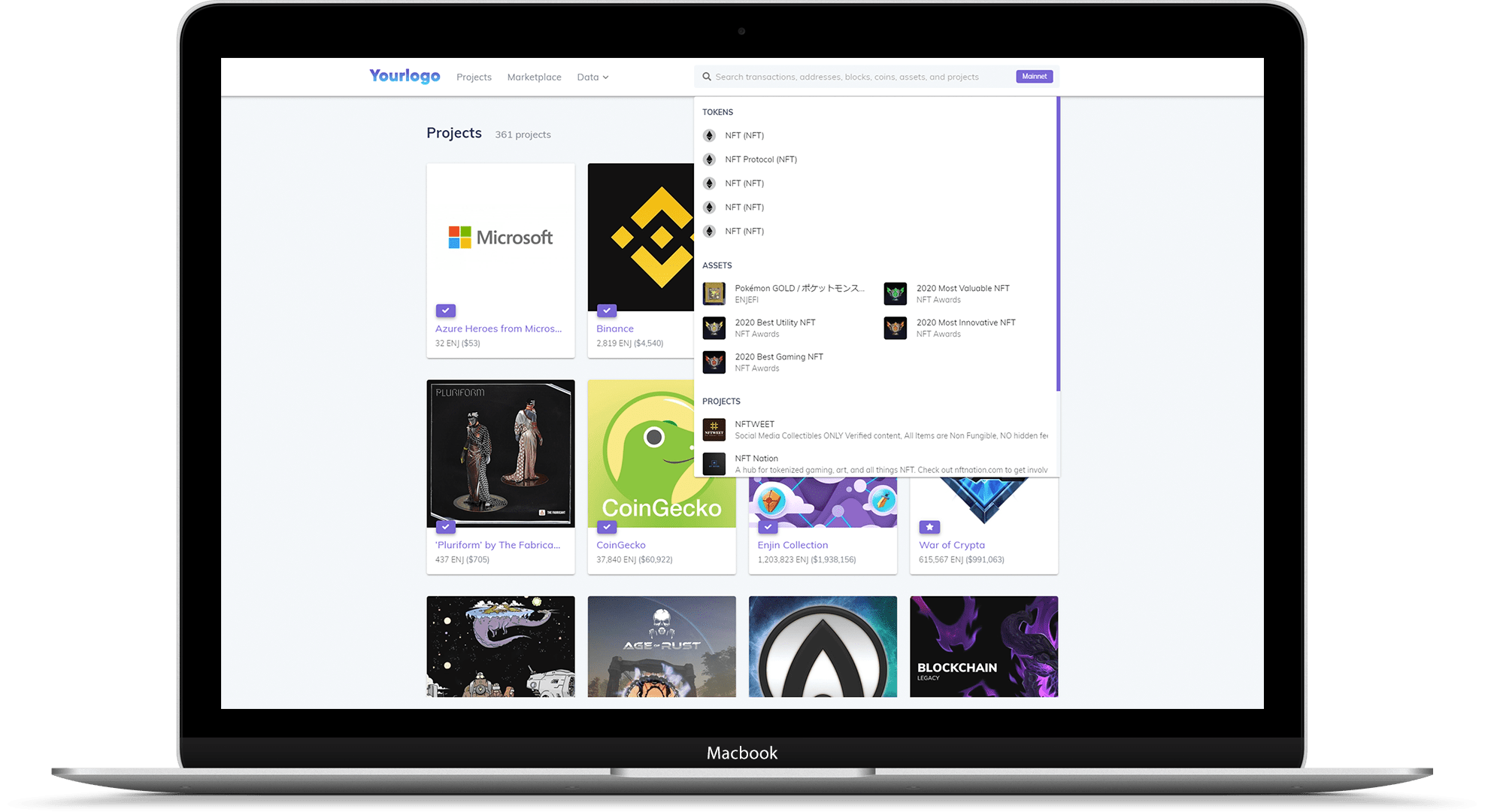 How our

Enjin Clone Script work?
Quick View

of Our Enjin Clone Script
Core Features

of Our Enjin Clone Script
QR Scan
Creator Ratings
Royalty Payments
Proven Security
Multi-Lingual
Modern Dashboard
Social Profiles & Chats
Showcase
Admin Dashboard
Features Request
QR Scan
New users can scan the QR code and install the Enjin wallet app in android & iOS. Once installed, free NFT will be rewarded! Using that, new users can list them on the marketplace for bid. This helps the newbies to get an idea about the NFTs.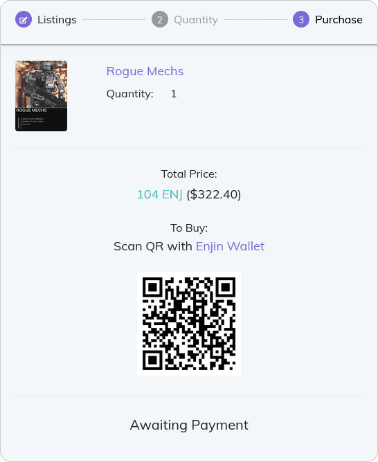 Creator Ratings
Our Enjin clone script comes with the feature of rating the creators based on their performance and creativities which helps the buyers to choose the most popular ones.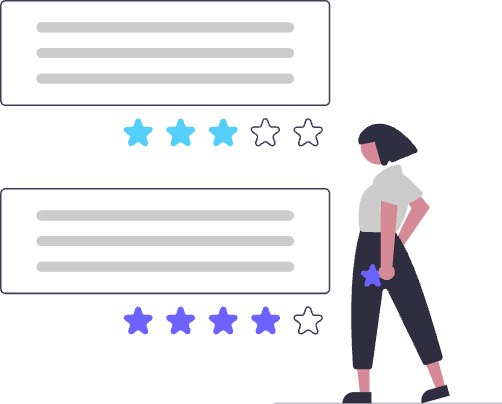 Royalty Payments
Our Enjin clone script is developed in a way where the creators will get their royalty payment support and ownership proof for creating new NFTs.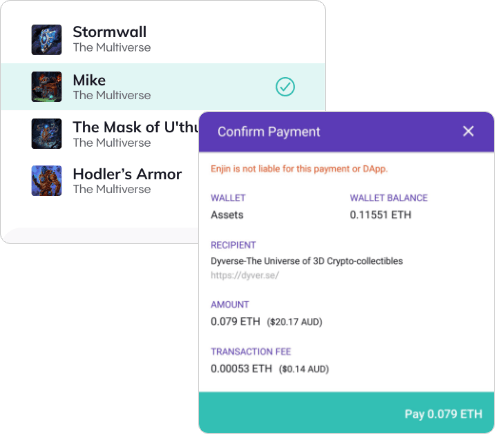 Proven Security
We don't compromise in any part of the security features and thus our Enjin clone script is a security audit and have successfully passed many advanced security tests to ensure the safety of the customer funds.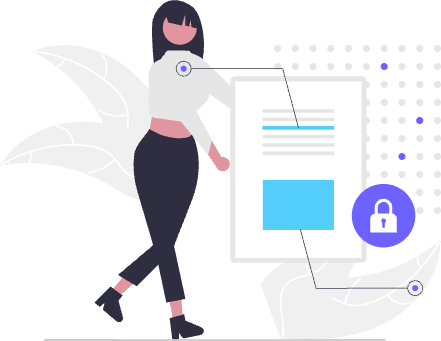 Multi-Lingual
One of the bonus features our Enjin clone script has is the support of global languages that helps to increase the platform audience participation around the world.
Modern Dashboard
Our Enjin user dashboard is easy to use and manage. Users will be drawn to the game-like features and abilities to level up, gain points, and receive awards, by joining in on the discussion.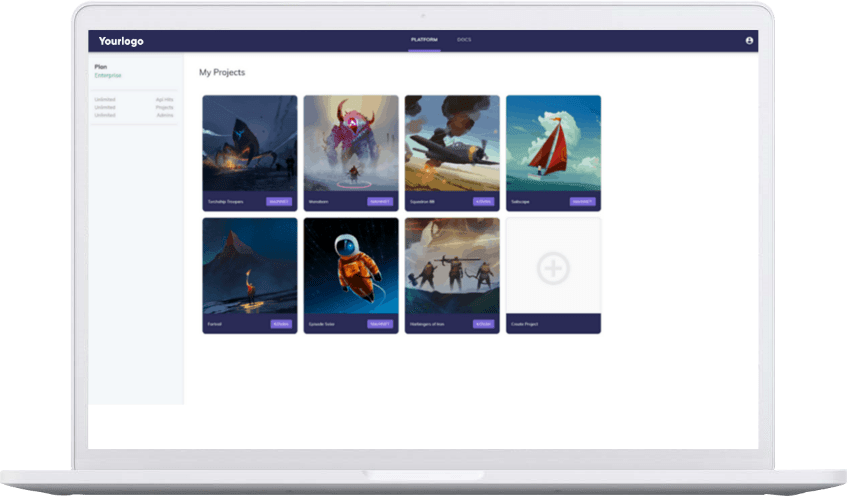 Social Profiles & Chats
Every member gets a profile, messaging system, activity wall and much more. It serves as a place where they can keep up with all their discussions, reactions, applications and points. Website awards can be proudly displayed, and much more!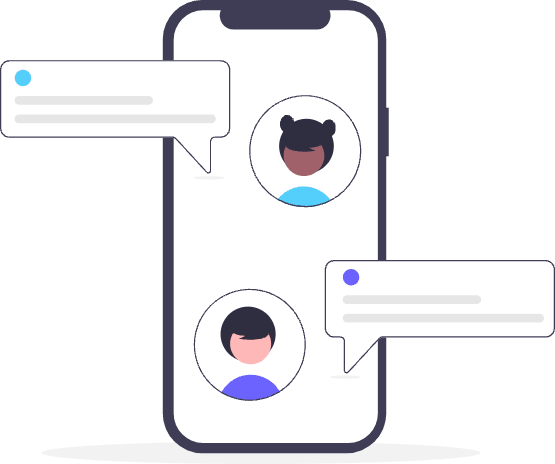 Showcase
Explore the showcase section in our Enjin clone script to take a deep dive into how businesses and developers create successful NFT-powered experiences, and learn how to follow in their footstepsExplore the showcase section in our Enjin clone script to take a deep dive into how businesses and developers create successful NFT-powered experiences, and learn how to follow in their footsteps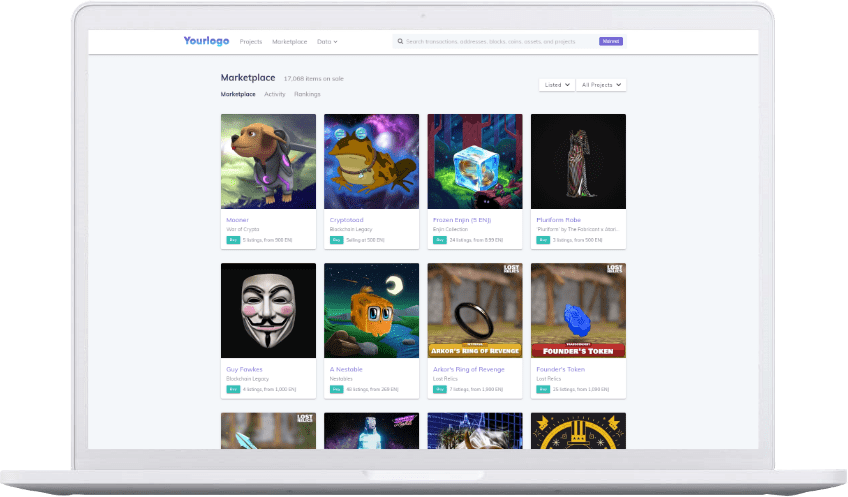 Admin Dashboard
The admin can be able to manage the entire functionalities through the powerful admin portal we provide. Using that, the admin can track the user activities, their holdings, admin commission adjustments and much more.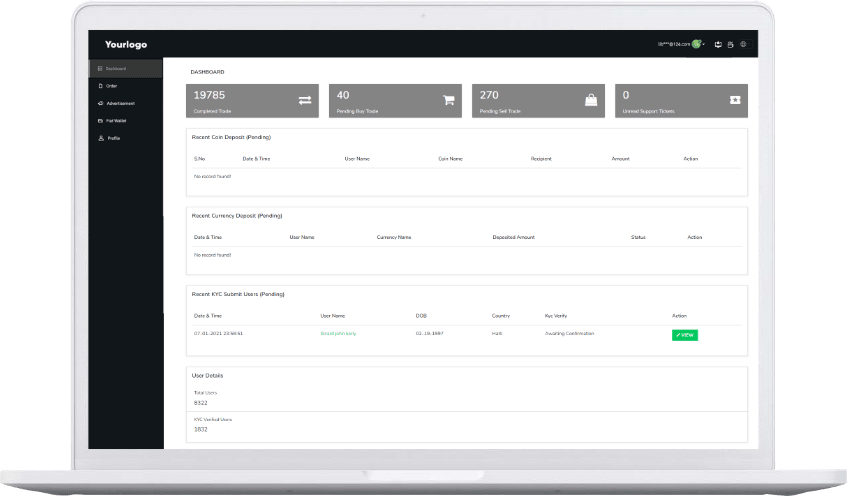 Features Request
Customers can suggest to the admin/site owner what features can be added or improved in the current system. Admin can view them and include it if they're suitable. Innovative ideas will be welcomed and rewarded.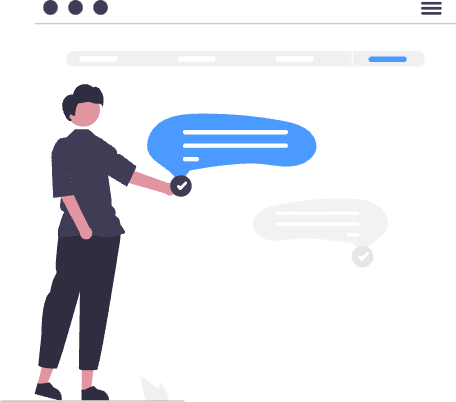 Security Features

of Our Enjin Clone Software
Being built on one of the most secure blockchain architectures, our Enjin clone script delivers unmatched security for your platform.
Security features of native
Multidirectional security
End-to-end secure transactions
Multilayered authentication
Ability to encrypt and decrypt
Add on Modules

of ourEnjin Clone Script Software
API Documentation
Day/Night Mode
Affiliate Program
NFT Gifting
Multiple Payment Options
API Documentation
Enjin clone script is for everyone! It can be built in a way where all the sectors of users can utilize it for their preferred purposes like individuals, business and developers. Every sector will get their unique rest API doc using which they can pull a set of datas through parameters that includes sales, bids, transfers and more.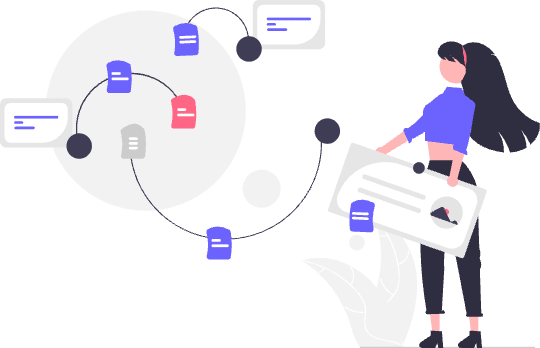 Day/Night Mode
Our Enjin clone script is scalable and expandable to offer dual mode of experience in operating the system. Users can switch to dark or light mode and enjoy the platform at their convenience.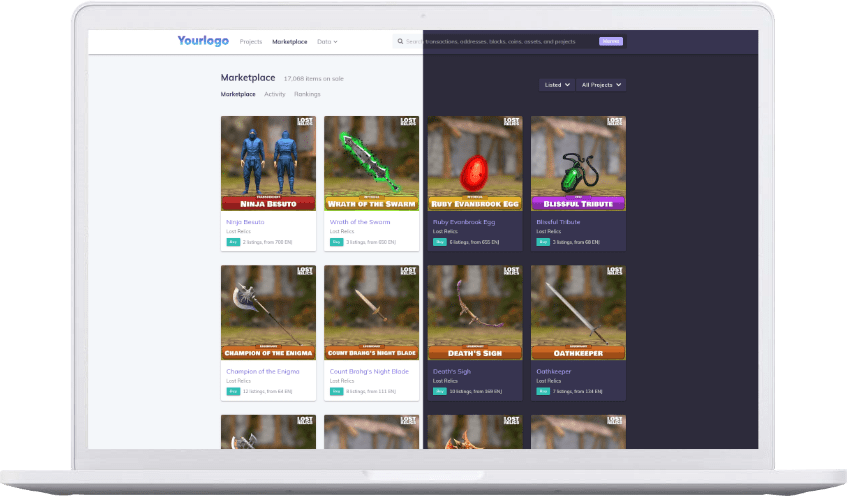 Affiliate Program
Existing users can refer their friends and surroundings using the referral link or referral code we provide for each user. When a new user joins the platform using that code, the referred person will get some rewards from the admin. This also helps in expanding the customer base and trade volume of the system.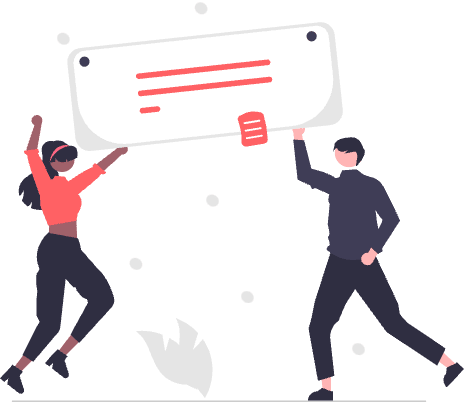 NFT Gifting
The Enjin clone script we provide allows its users to send NFTs as a gift to other users. They can also receive NFT gifts from friends on any platform. Users can send an NFT gift to their ETH address so they receive it directly in their wallet.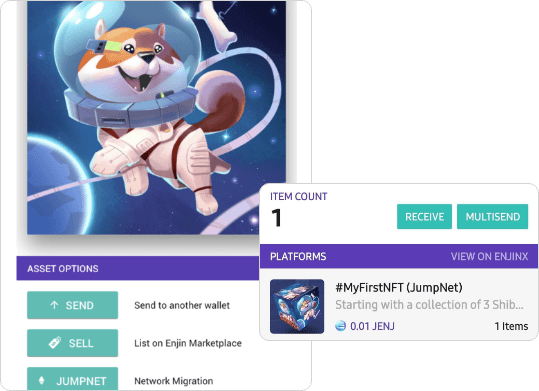 Multiple Payment Options
Users can not only bid or buy NFTs using crypto payments, but also they can do that using fiat payments that can be done through credit/debit cards, payment gateways, etc..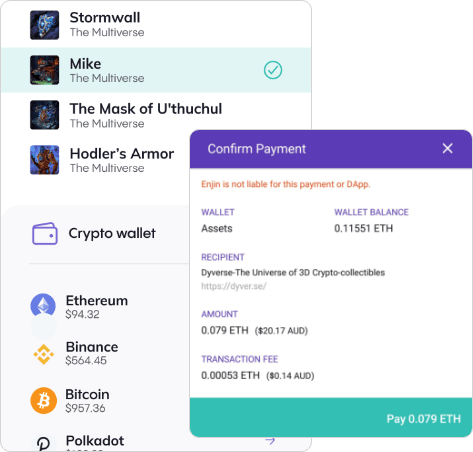 Our

Android & iOS App

For Enjin Clone App Development
Launch a user-friendly and eye-catching cryptocurrency trading mobile app like Enjin
The Enjin clone script enables you to build an exclusive NFT marketplace in the shortest possible time. It is a multi-tested customizable NFT marketplace platform that can be used to build web-based interfaces as well as mobile apps using which your traders can trade in crypto coins and tokens through a friendly interface. Users can buy and sell digital assets. For which, you need an app that is robust and user-friendly. The app should be able to accommodate currency exchange, minting of tokens and the management of digital assets.
The Enjin clone script app development also includes crypto walletl development. You can either use already existing crypto wallets or you can get a custom crypto wallet built using the clone script. Once the script begins to perform, your users can use it to create and store non-fungible tokens. The users enjoy complete ownership. Gamification is also possible through the existing features in the clone script. Most of the crypto goods can be traded using a single marketplace.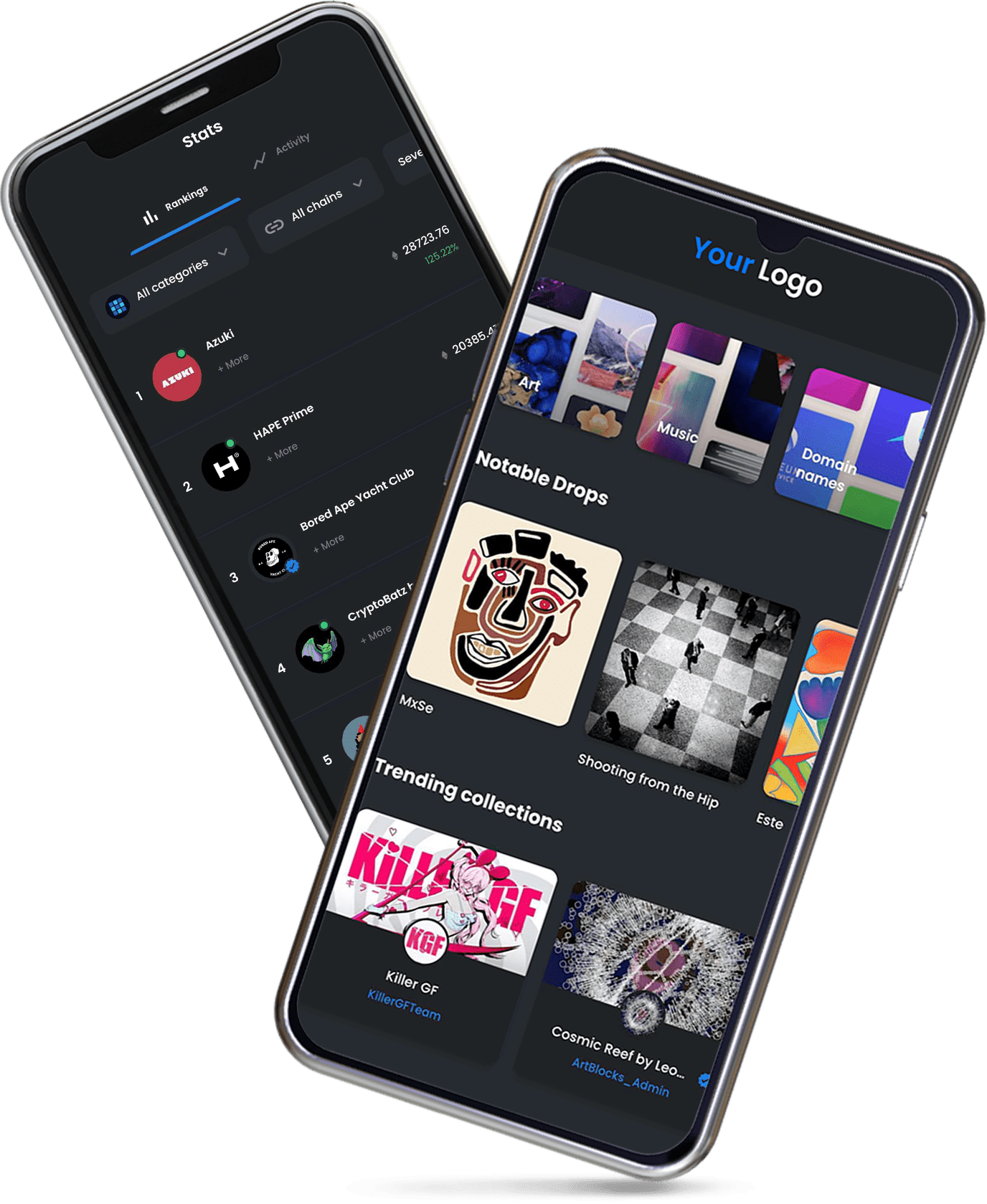 Platforms Developed

Android

ios
Why Choose

Coinsclone For Enjin Clone Script?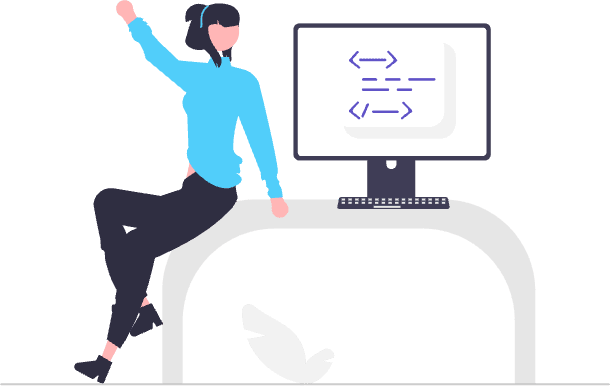 Our Enjin clone script is well documented. With little knowledge of blockchain development, you can build your own NFT marketplace that can also be used in conjunction with other thriving marketplaces. Your users will be easily able to mint virtual assets into non-fungible tokens and trade in these tokens.
The Enjin clone script is specifically built to take care of the problems existing in the original script. For example, the module that displays third-party ads has been completely done away with. Your users can trade tokens in a non-distracting environment. All the transactions take place in a completely secure environment. The interface can be easily ported from web to mobile without much fuss. The support for local currencies enables your users to quickly join your marketplace and start trading in tokens.
Development Approach

ofOur Enjin Clone Script
We at Coinsclone undergo the following procedures for Enjin clone script development.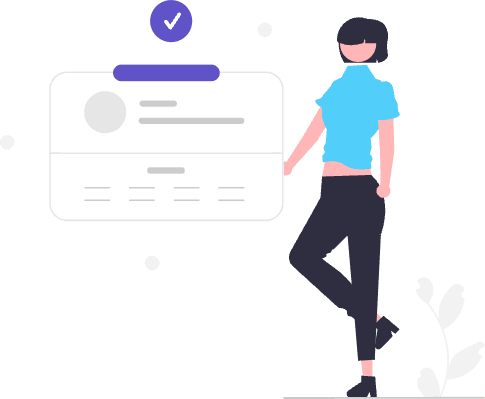 Requirement Gathering
Gathering as much information as possible about what you want to achieve with the Enjin clone script vis-à-vis the NFT marketplace. Accordingly, we will make recommendations, draw a plan, and present you with an estimate.
Planning
This is to give you a visual sense of how your marketplace is going to shape up around the Enjin clone script capabilities. We may use hand sketches or slide decks to present our ideas to you.
Designing
Based on the analysis and the approval of the prototype, we will design and develop your NFT platform using our Enjin clone script. This includes coding and UI/UX design as per your preferences and branding needs.
Development
After developing, designing and testing, we will deploy the platform on the web. In case you have an app, we will also deploy the enjin clone script powered mobile app on Apple and Google Play Stores.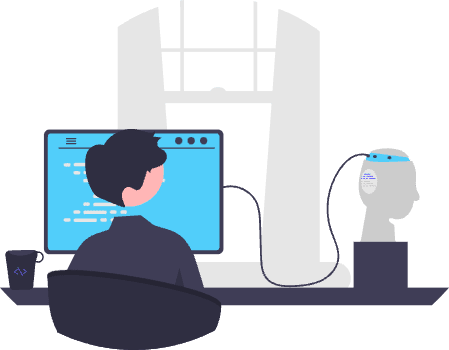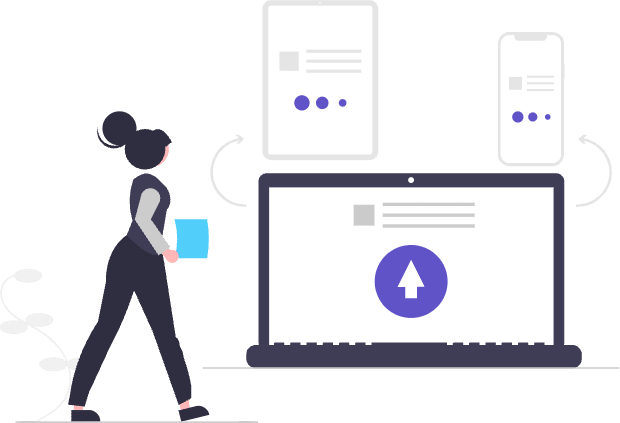 Testing
This is just to make sure that everything works the way it should and there are no kinks.
Deployment
The application will be deployed on its appropriate platform along with the Enjin clone script.
Our Customers

Love what we do

Customer feedback and reviews are our major concerns! Here we have shared a few feedbacks of our reputed clients.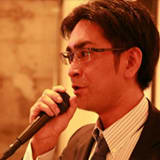 Project Name
MONTEX
The website developed by Coinsclone is user-friendly and the feedback from customers has been positive. Coinsclone met all needs, while their expertise, professionalism, and ability to deliver on promises earned them trust.
Technologies Used

inOur Enjin Clone Script
We use updated and cutting-edge technology tools for developing the enjin clone exchange website and mobile application which will be compatible with all major platforms like Android, IOS, and the web.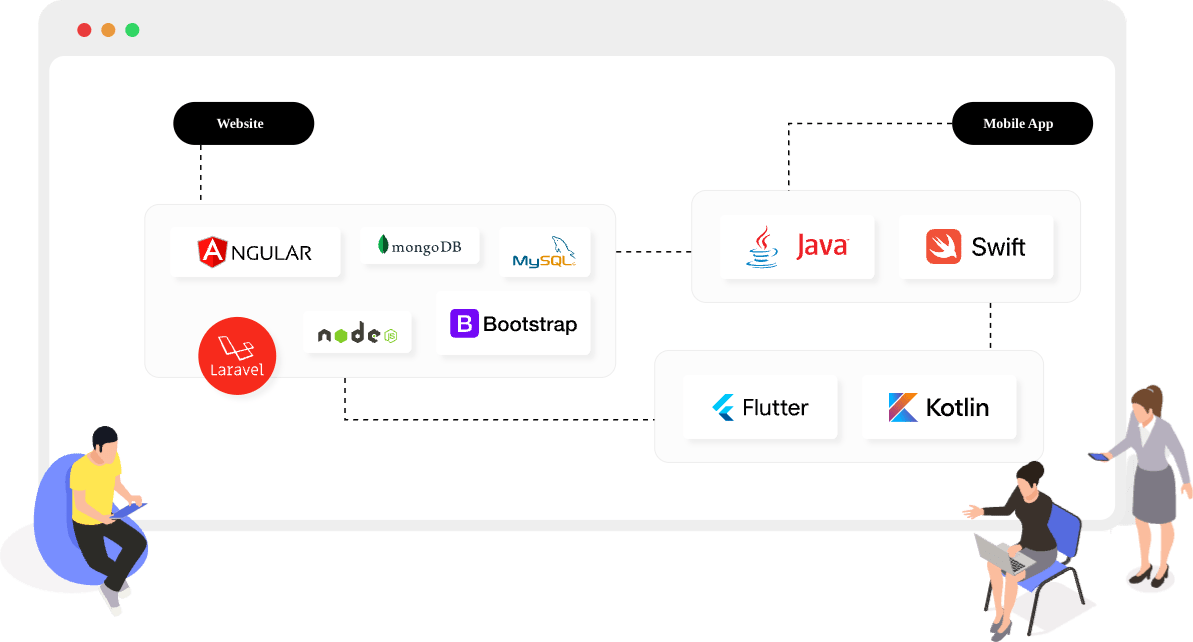 FAQ

Frequently Asked Questions
As soon as your users start trading using your NFT marketplace. You will need to be realistic. When you start making money or how much money you make depends on the number of users you can get to your decentralized marketplace. It is like, the Enjin clone script can build you the train and also make the train run from one station to another, but you will need to sell tickets and get passengers to make money.
Compared to the original Enjin.io script, our clone script is very low cost and at the same time, of a very high standard. In that regard, your cost drastically comes down. Additionally, we can offer you an economical package to build your entire marketplace using our Enjin clone script – this is a special offer that we make to our customers who buy their Enjin clone script from us.
The clone script is a collection of functions and libraries that enable you to build an NFT marketplace with ease. You don't need to reinvent the wheel. All the necessary functions that you need to create a secure marketplace are there. For example, if you want to enable your users to trade tokens, it can be a complicated process for a normal application, but with the Enjin clone script, it is just a matter of making the right API calls.
The Enjin clone script definitely has the capabilities to enable your users to mint tokens using the interface that you build using our clone script as a back-end. All the functions needed to enable your users to mint tokens are present in our script.
It may take anywhere between one week-two months; depends on the number of features you want in your marketplace. Although, there are some standard features that must be present in the marketplace, but if you need some unique, customized features, it may make more time to incorporate the Enjin clone script into your requirements.
Get an

Instant Free Demo!
Fill your valid information to get started with our software. Live Demo, Instant Launch, and Free consultation to launch your enjin clone script
Fill the following form or just
say hello@coinsclone.com