What is

White Label BakerySwap Clone Script?
The BakerySwap clone script is a pre-engineered DeFi exchange clone software that holds all the necessary features to operate a flourishing DeFi exchange in the long run. The Bakeryswap clone script enables you to start your own food-themed DeFi exchange platform over the Binance smart chain within a week or two. It is completely a DeFi-based decentralized exchange script. This clone script comes with all the essential protocols, features, and services that are available in the current prominent DeFi exchange - BakerySwap.
The premium BakerySwap clone software operates and works 100% similarly to BakerySwap. Being a white-label DeFi exchange software, you can launch a fully branded DeFi-based DEX platform instantly in a cost-effective way. Our bug-free BakerySwap clone script comes with the latest features, add liquidity capabilities, high-end security protocols, and fully secure API integration. The Automated Market Maker service is one of the most prominent features of this clone script. As the script is devised on the Binance Smart Chain (BSC) network, your users can swap all types of BEP20 tokens securely in a smooth and hassle-free way.
Quick View

of Our BakerySwap Clone Script
How our

BakerySwap Clone Script work?
Why should

you Develop aDeFi exchange using a BakerySwap Clone Script?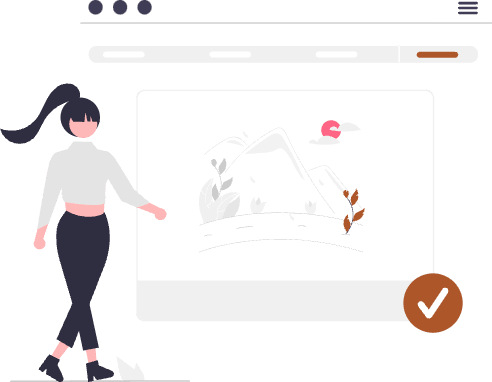 This clone script is completely based on the trustable Binance Smart Chain(BSC) network.
The BakerySwap clone script is easily manageable as it comes with the latest admin dashboard and user console.
You can create and deploy a fully-fledged DeFi exchange like Bakeryswap within a few days.
This clone script is built with upgraded functionalities as per the current market standard.
Generate high ROI in a short time with your unique money-making strategies
It is a smart and cost-effective solution.
Easily operable.
Comes with secure API integration.
One of the best and trending food-themed DeFi exchange clone scripts in the market.
It is open for customization. So you can alter the key functionalities, visuals, and other add-on modules based on your business concepts.
Top Features

of Our BakerySwap Clone Script
Swapping Mechanism
BakerySwap is the first ever project of its kind to be hosted on the Binance Smart Chain to swap BSC based tokens with the supported wallets such as Binance chain wallet, Metamask and walletconnect.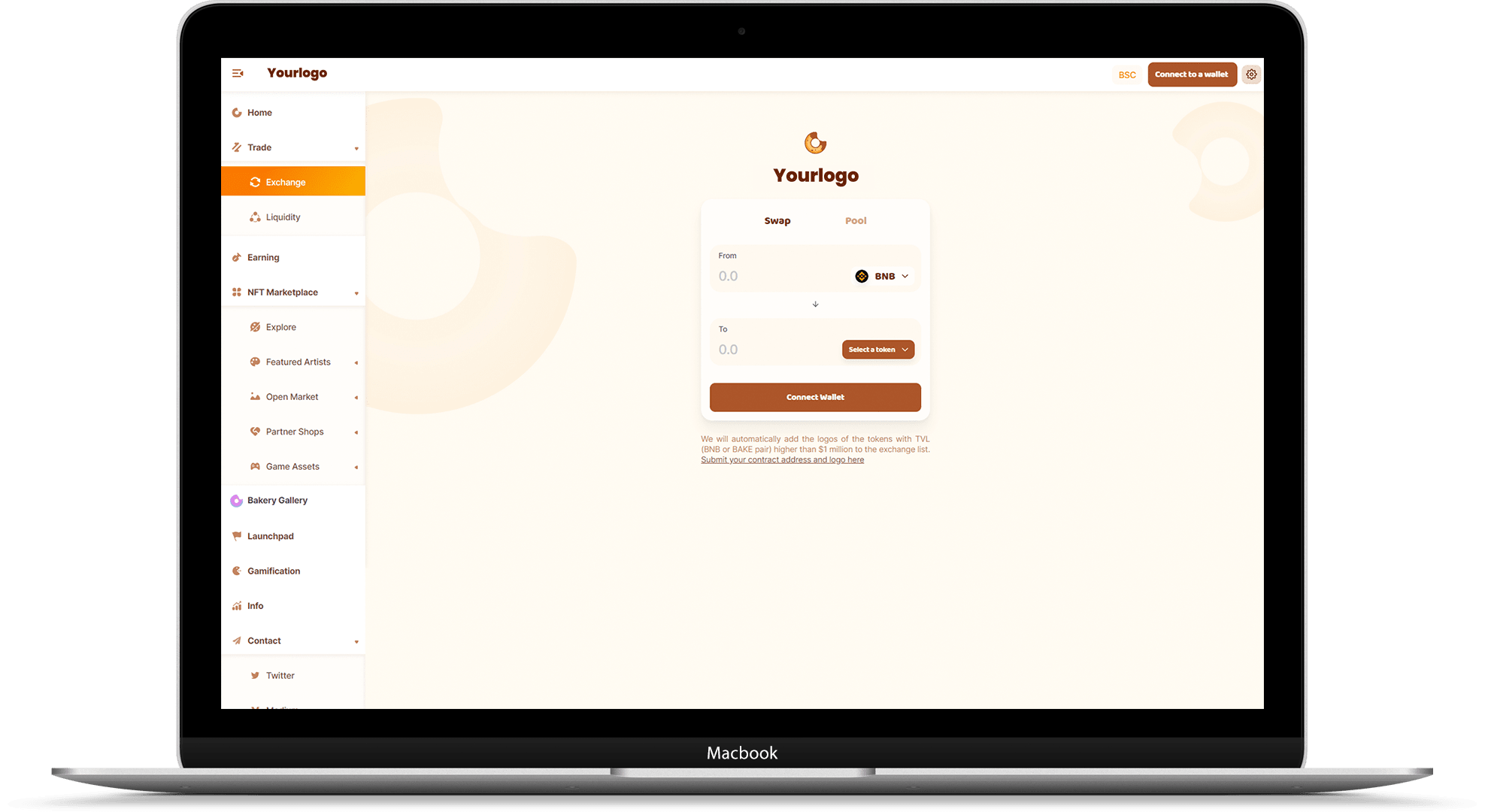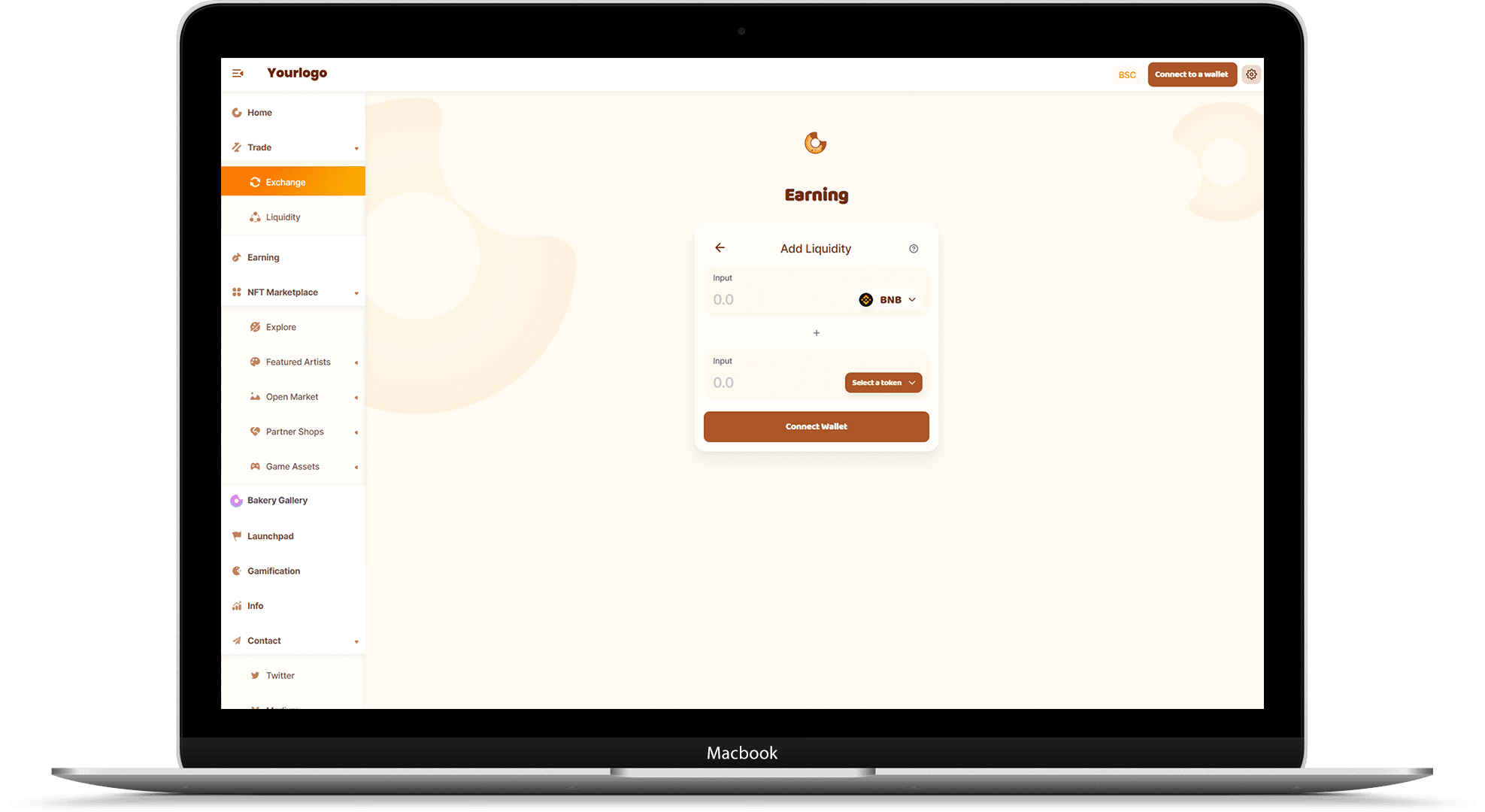 Liquidity Pool
The liquidity pool is maintained by the users who deposit funds into the pool. The users will get returns in the form of Bakeryswap Liquidity Pool (BLP) tokens along with the trade fee of all the transactions done against their liquidity pool.
Staking
The users can earn more rewards by staking the BAKE tokens or other tokens without minimum requirement or a locking period. In addition NFT's can also be earned by staking BAKE tokens.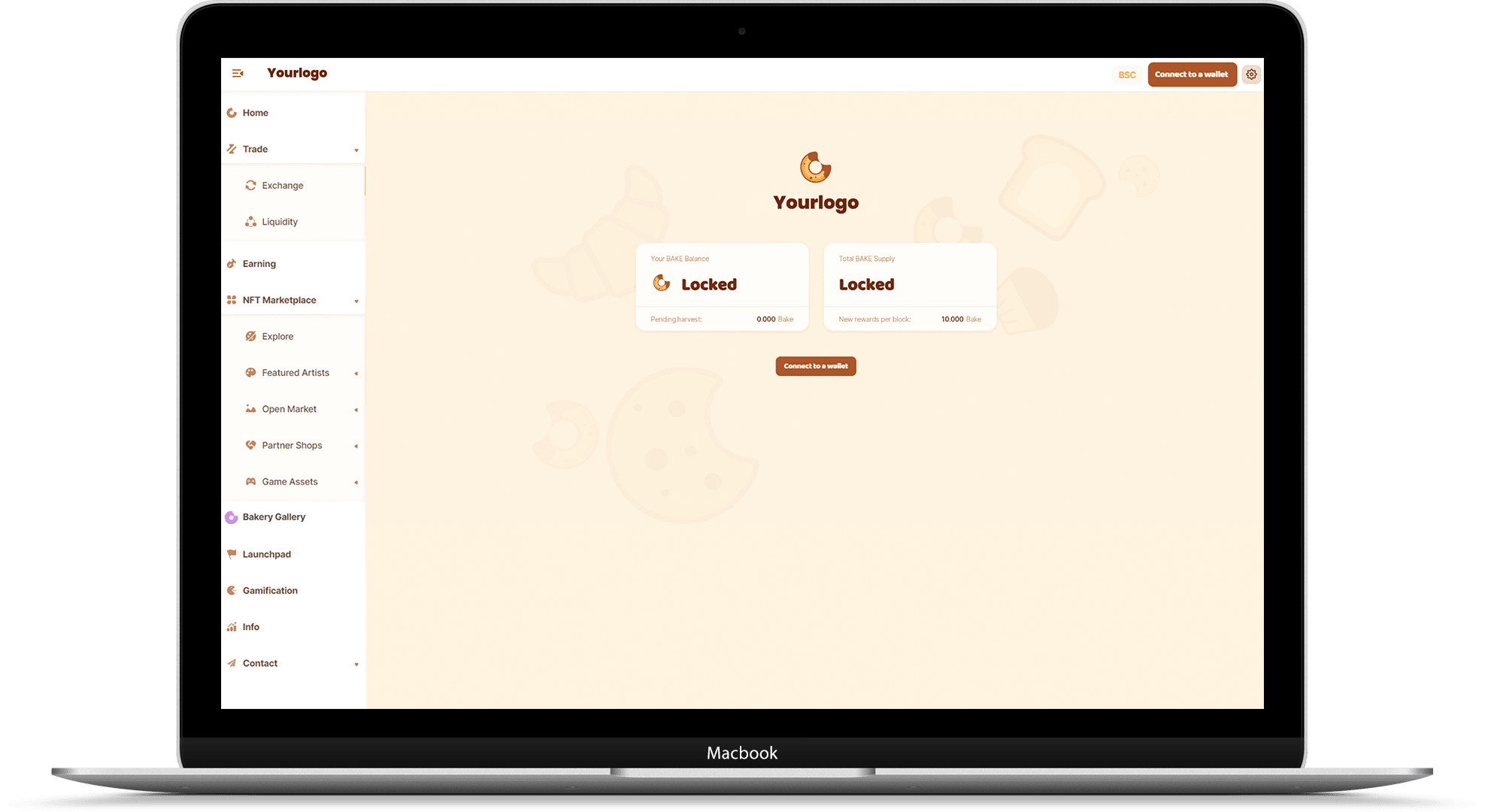 Security
An audit of the smart contract can be performed for the Bakeryswap clone script to ensure that the system is robustly built to manage user funds and investment.
Lowest fee
On all transactions that take place on BakerySwap, 0.3% of the trade is taken as a fee by the platform. 83% of the fee goes to liquidity providers and the rest goes to BAKE holders, i.e those that own the native token.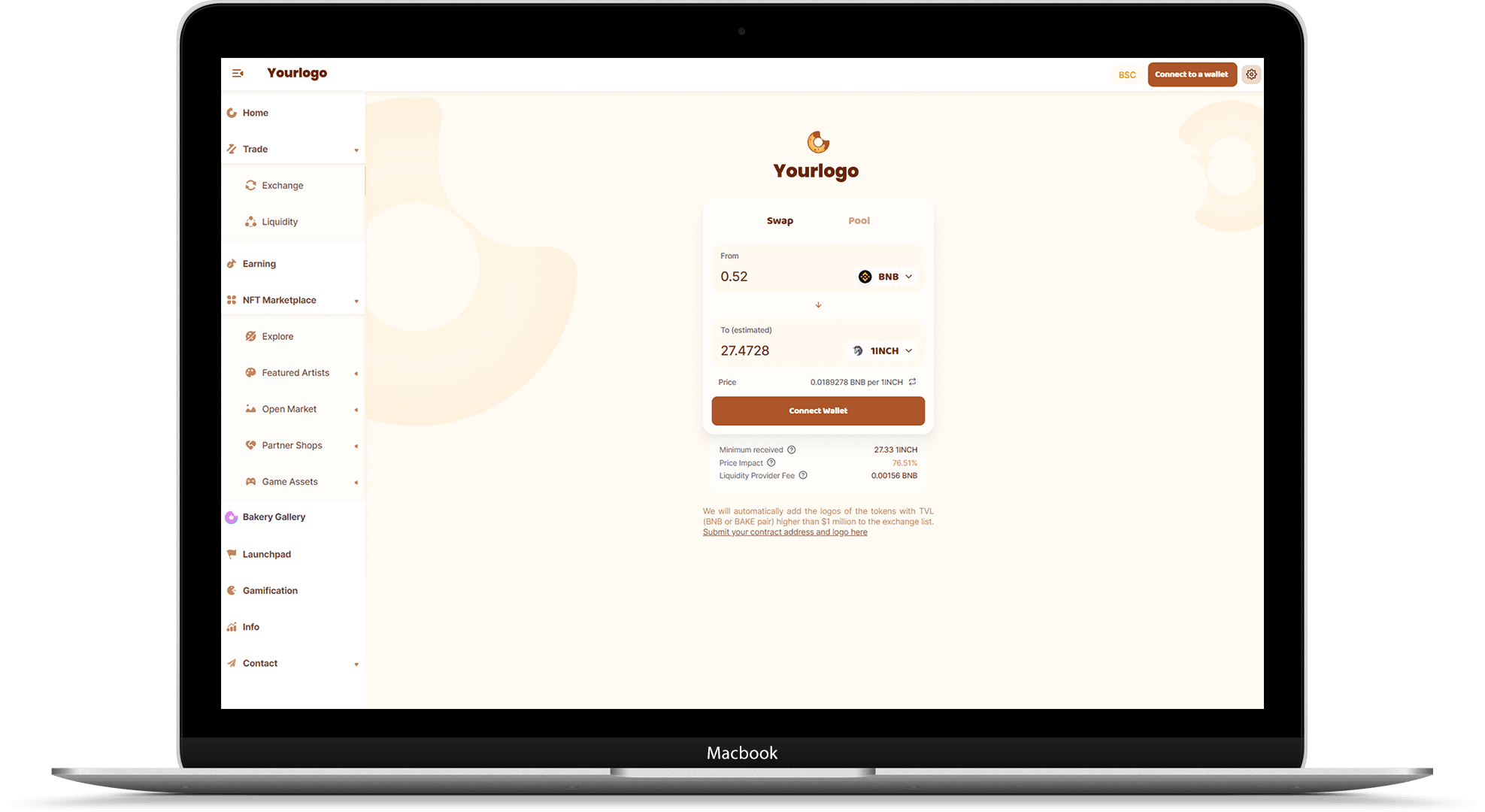 Core Features

of Our BakerySwap Clone Script
Automated Market Maker
Multi-wallet Integration
Multilingual support
Better gas fees
Transaction history
Lowest Slippage tolerance
Toggle Expert Mode
Customer Support
Customized Interface
Admin Console
Automated Market Maker
Our bakery swap clone script comes with the tool for providing liquidity to the users which can process the trade through liquidity pools and thus eliminating the need to visit the traditional order book system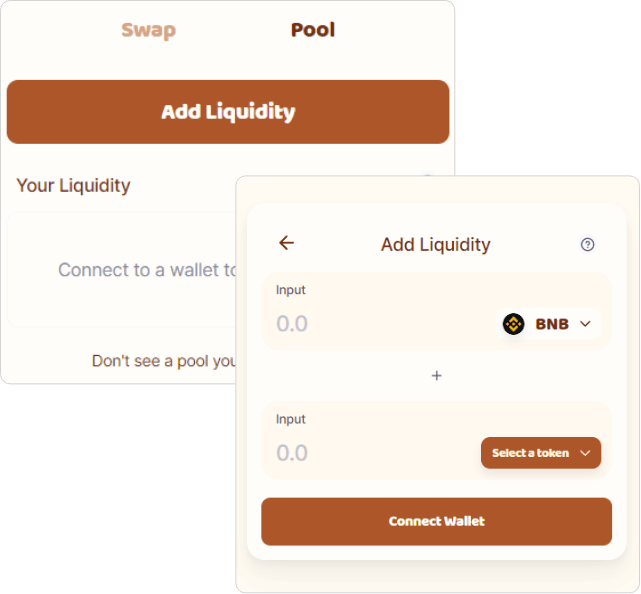 Multi-wallet Integration
Our Bakeryswap clone script supports all types of established wallets like metamask, binance chain and wallet connect.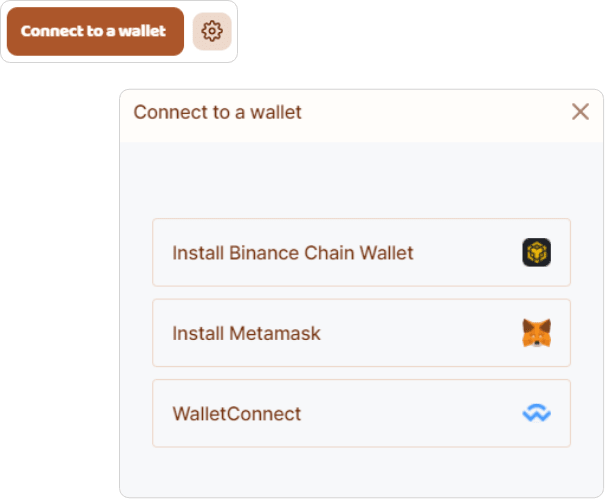 Multilingual support
Our Bakeryswap clone script comes with multilingual features so any users around the globe can switch to their desired language and access the system in the composed manner.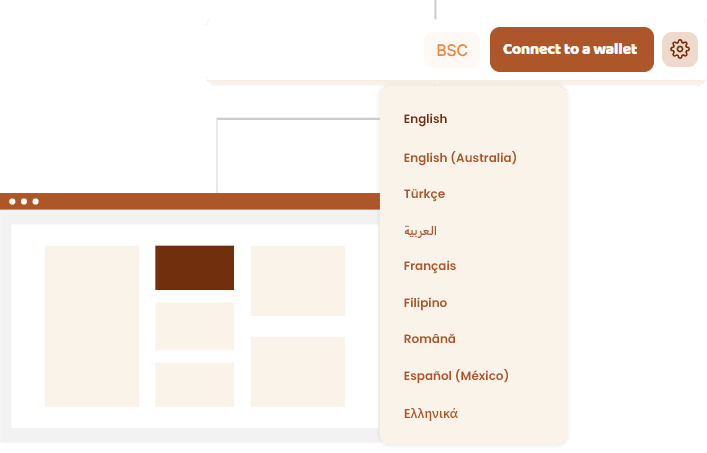 Better gas fees
The benefit of having a reduced gas fee gives the users an opportunity to spend little amount of funds to execute the transactions.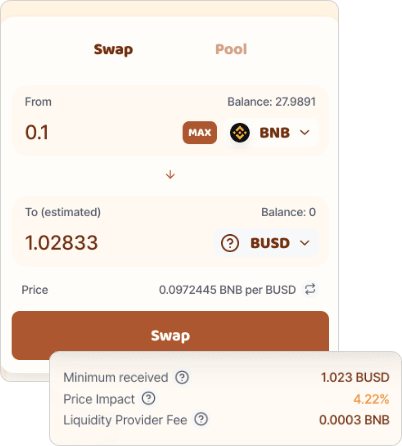 Transaction history
Using our Bakeryswap clone script, get tracked with your transaction history that includes swap, earnings, created and collected NFT's, etc..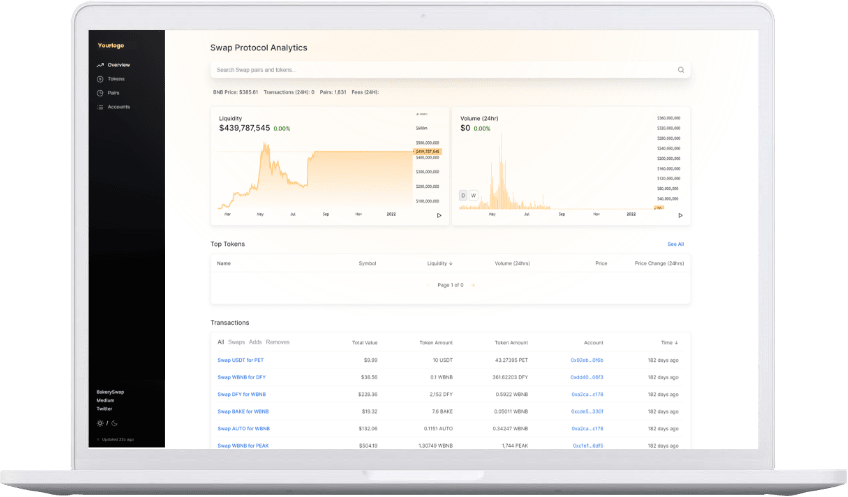 Lowest Slippage tolerance
Bakeryswap offers lowest slippage tolerance of 0.1% and most probably making the transaction successful is the key feature of the product.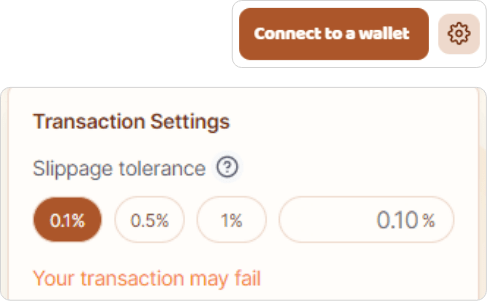 Toggle Expert Mode
The Product supports Toggle Expert mode to allow high slippage tolerances for expertised traders which can be used at their own risk.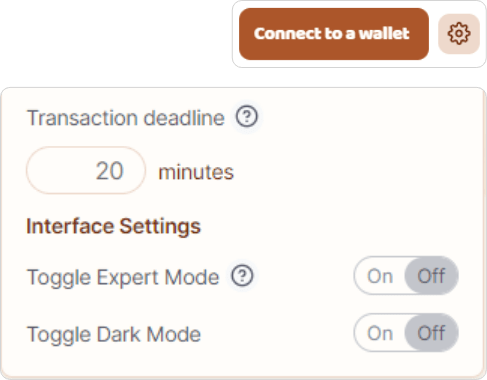 Customer Support
Bakeryswap does not offer customer support whereas our clone script overcomes this demerit by integrating a support module for the interaction between the admin and the users.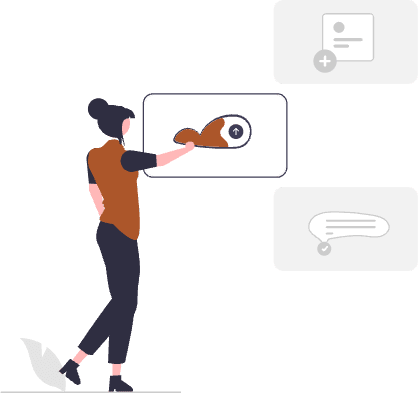 Customized Interface
The Clone script comes with a unique UI/UX with customized interface,color theme to improve brand building, consistency and Customer Acquisition.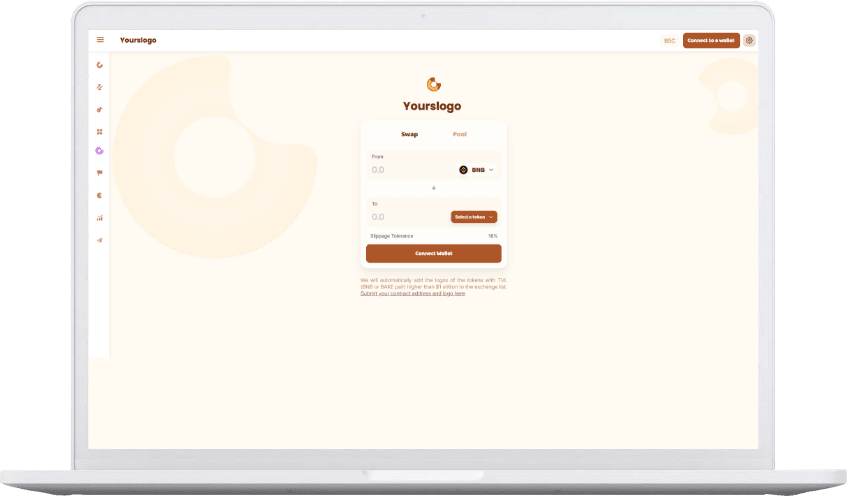 Admin Console
The admin console offers the management of the transactions taking place in the platform, commission settings and a CMS panel to update the roadmap and announcement for user engagement.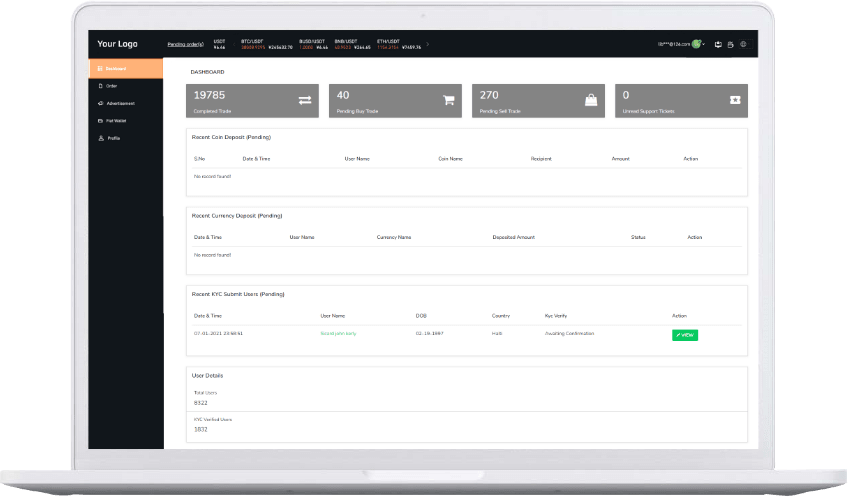 Security Features

of Our BakerySwap Clone Software
Being built on one of the most secure blockchain architectures, our Bakeryswap clone script delivers unmatched security for your platform.
Built over Binance Smart Chain
Secure wallet integration
Add on Modules

of ourBakerySwap Clone Script Software
Bakery Gallery
Gamification
NFT Supermarket
Launchpad
Analytics Info
Bakery Gallery
It is a balanced bakery environment marketplace with the motive and mission of attracting numerous artists and collectors in one place. Users can acquire any type of NFT's inside the bakery gallery.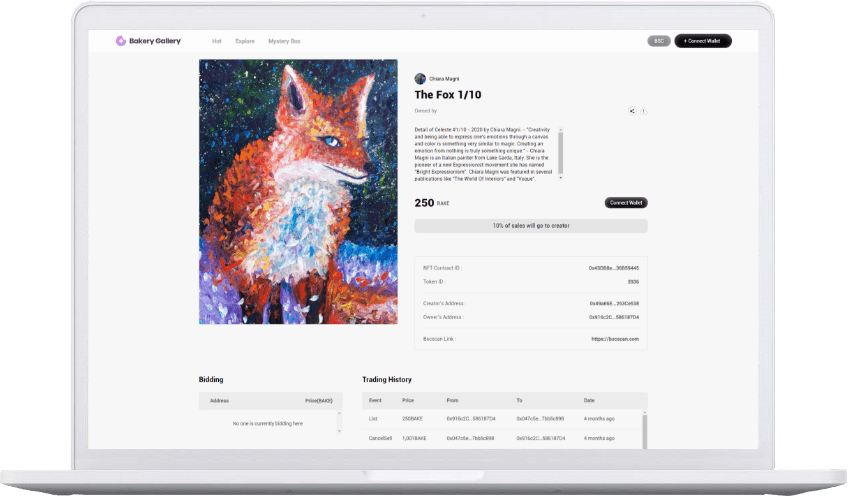 Gamification
BSC game box is a new concept in gamification specifically for $SOCCER and $POKER token holders. They also include big gaming partners like alien world, battle pets and my neighbor alice.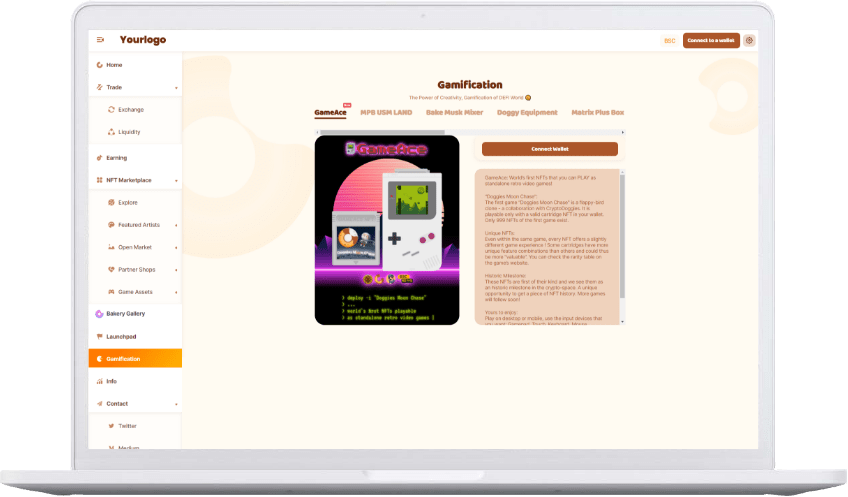 NFT Supermarket
The NFT supermarket is a phenomenal feature that helps in allocating a considerable amount of assets for trading. It extends its valuable service in various domains.Bakery Swap offers two NFT markets whereas one is for all the users and other is specially designed for the selected works, artists and celebrity drops.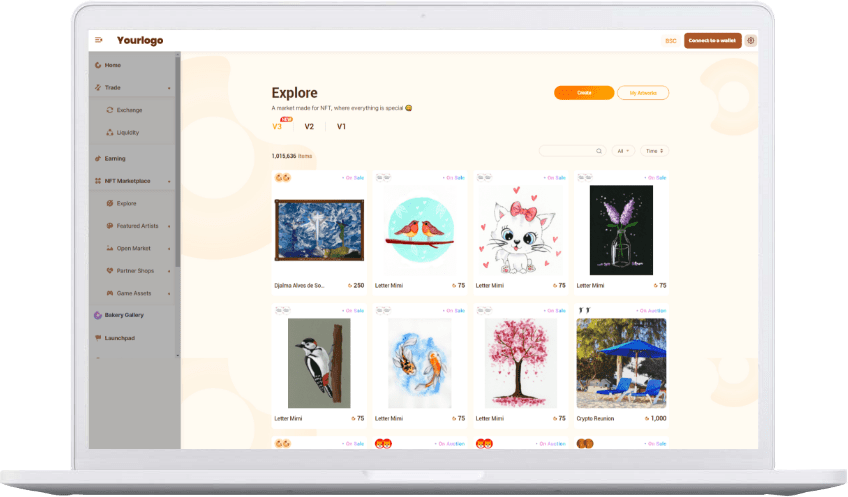 Launchpad
A launchpad is provided which can perform two operational modes including the initial decentralized exchange by gaming modes. It includes battle pets and the blink, which offers an initial decentralized exchange offering.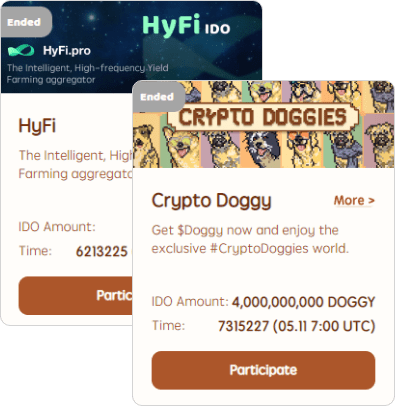 Analytics Info
An option for the latest update about the BNB price, transactions, number of pairs taking part within 24hrs, etc., is offered on the platform so that users can track the records and swap accordingly.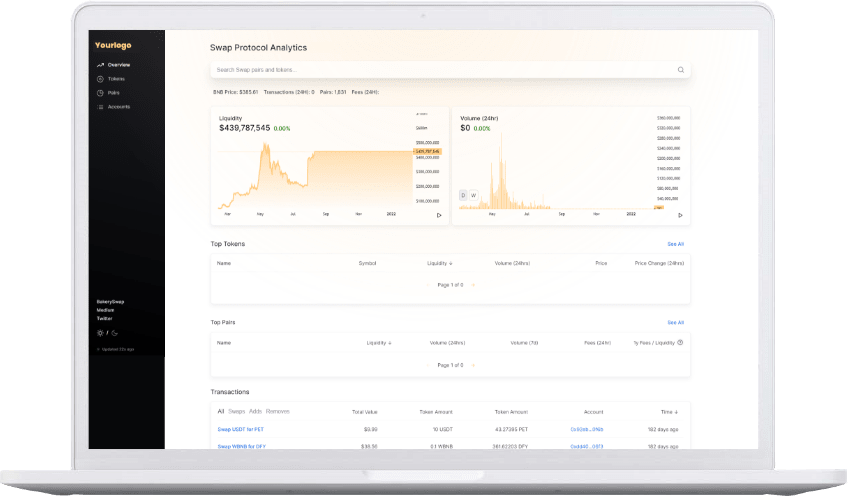 Why Choose

Coinsclone For BakerySwap Clone Script?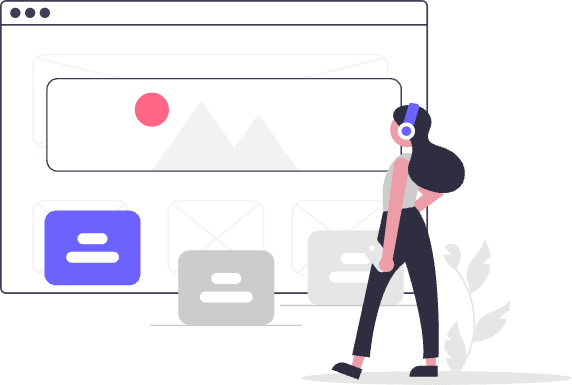 Coinsclone is the well-known and leading DeFi exchange clone script provider in the blockchain industry and we are a pioneer in offering world-class DeFi exchange clone development services. If you are planning to launch a successful food-themed DeFi exchange on the BSC network, then our Bakeryswap clone script is the perfect solution for initiating your dream DeFi business. Our premium BakerySwap clone script comes with 100% customization and it is highly responsive.
The BakerySwap clone script we provide is pre-loaded with the best possible security and the advanced AMM protocol. Staking APIs are inbuilt in the Binance Smart Chain, so they are available as a default functionality when you use our Bakeryswap clone script. Our Bakeryswap clone script has an inbuilt BEP20 token swapping mechanism and eye-catching UI/UX. The script we offer is secure, scalable, glitch-free, and protected with tamper-proof security modules to safeguard your DeFi exchange platform. In addition to these, we have a team of 50+ certified blockchain developers for crafting and delivering all kinds of crypto-based projects as per the needs of clients.
Development Approach

ofOur BakerySwap Clone Script
We at Coinsclone undergo the following procedures for Bakeryswap clone script development.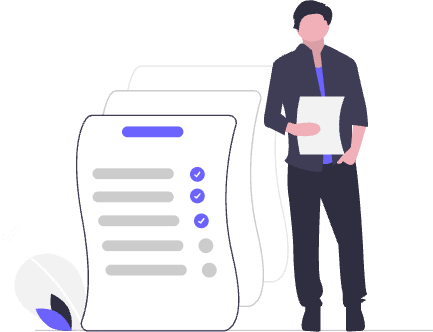 Requirement Gathering
Our development team will sit with you and get a complete clarity about your requirement so that the Bakeryswap clone script can be leveraged to its maximum extent.
Planning
This will give you a visual sense of how the script integrates with your workflow and how one screen leads to the next.
Designing
Based on your input and our analysis, we will start building the interface as well as the back-end code. The Bakeryswap clone script code will be modified, and we may also need to add our own code.
Development
After developing, designing and testing, we will deploy the platform on the web. In case you have an app, we will also deploy the bakeryswap clone script powered mobile app on Apple and Google Play Stores.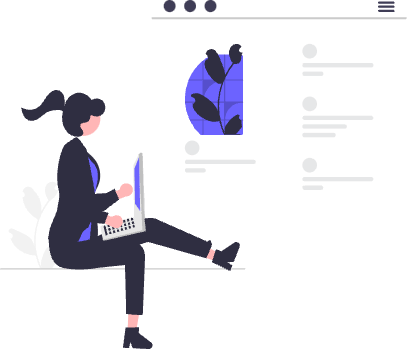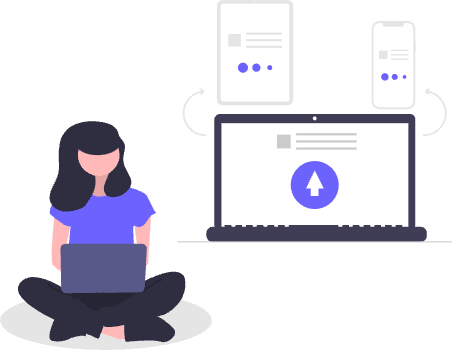 Testing
This is just to make sure that everything works the way it should and there are no kinks.
Deployment
Once the platform is ready, it will be deployed on your web server. The appropriate app will also be deployed in its respective app store.
Our Customers

Love what we do

Customer feedback and reviews are our major concerns! Here we have shared a few feedbacks of our reputed clients.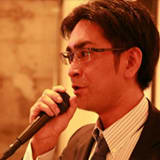 Project Name
MONTEX
The website developed by Coinsclone is user-friendly and the feedback from customers has been positive. Coinsclone met all needs, while their expertise, professionalism, and ability to deliver on promises earned them trust.
Technologies Used

inOur BakerySwap Clone Script
We use updated and cutting-edge technology tools for developing the bakeryswap clone exchange website and mobile application which will be compatible with all major platforms like Android, IOS, and the web.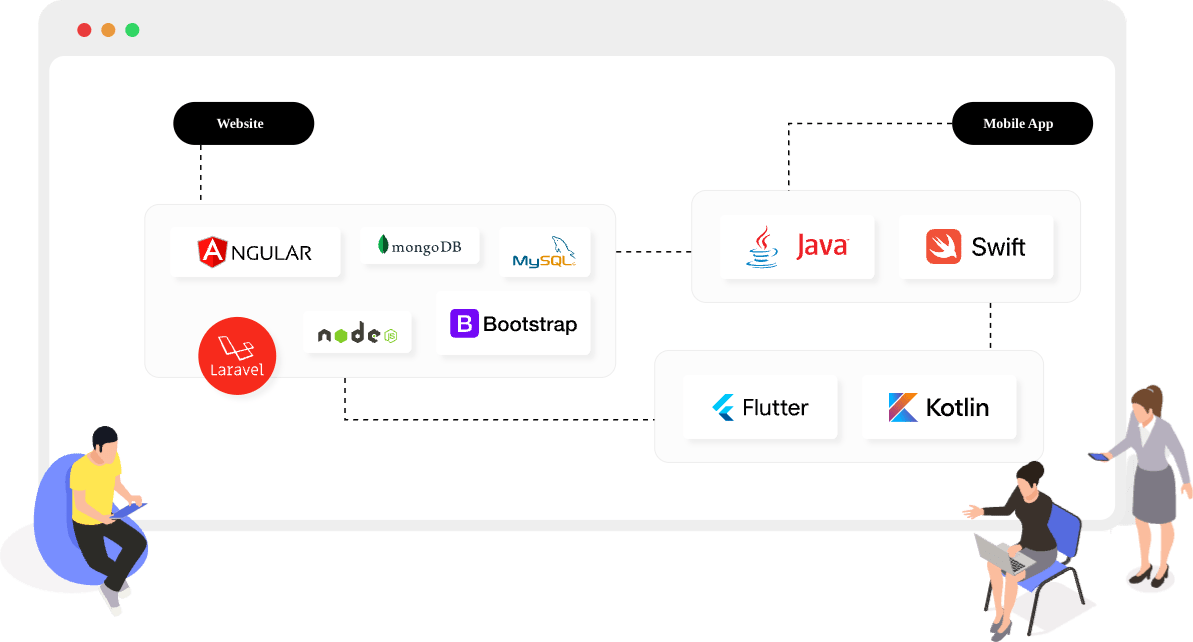 FAQ

Frequently Asked Questions
One of the best benefits of using our clone script is that you are not reinventing the wheel. Most of the framework is already there for you to use. In fact, you can use the script as it is. However, every software needs some level of optimization. Therefore, based on the extent of changes that you want, it can take anywhere between 7 - 10 days to deploy a fully functional DeFi Exchange using our BakerySwap clone software.
Our clone script is a white-label script. This means it is completely customizable and scalable as per the business needs. You can personalize the theme, design, key functions, and more without any hassle. You can hire our well-experienced development team to make customization in the source code. Once you have purchased our Bakeryswap clone script, it is up to you whether you want to use just the 10% of it or 100% of it
Our well-skilled team of developers has extensive experience in delivering crypto-based projects with utmost perfection. We have delivered more than 300+ exchange projects using the respective clone script. We provide you with end-to-end blockchain & crypto solutions from initial prototyping to final deployment and maintenance, and everything in between.
You can yield various advantages by acquiring our clone script such as instant deployment, high customization scope, cost-effective, you can generate high ROI, comes with an impressive dashboard, pre-loaded with outstanding features, and more
Our premium BakerySwap clone software is inbuilt with some extraordinary features such as staking, liquidity pool, AMM protocol, multi-lingual support, transaction history, admin console, analytics info, and the list goes on.
Do you have more queries?
Feel Free to Discuss With Our Team. We are here to Answer your queries
Talk To Our Experts