What is

White Label NFT Marketplace?
White label NFT Marketplace is by far, one of the best methods to start your NFT Marketplace business instantly. By adopting our premium white label services, you will have the luxury to customize and modify the features and functionalities according to your business requirements. With several ways to make revenue, NFT Marketplace development ranks among the top business ideas for entrepreneurs.
White label services mean that the script or code is already pre-developed and it cuts down the development time considerably. Our readymade, secure, and feature-rich NFT Marketplace has been developed by experienced blockchain experts and is designed especially for startups. We provide 24*7 customer support along with the NFT Marketplace service to ensure quality-driven results.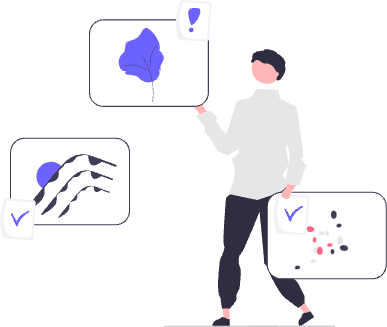 Why Should

You Use White Label NFT Marketplace?

The NFT Marketplace development is a great business to start and has terrific potential to turn you into a millionaire. NFTs or non-fungible tokens are considered the future and many traders are already making hefty money through NFT trading. Several important celebrity names have also entered the NFT industry which means the scope for attracting a wide number of users is huge as well. A massive amount of revenue can be generated if you develop an NFT Marketplace. With our best-in-class white label NFT Marketplace, users can list, mint, and trade NFTs. Acquire a fantastic customized NFT Marketplace at a budget-friendly cost now.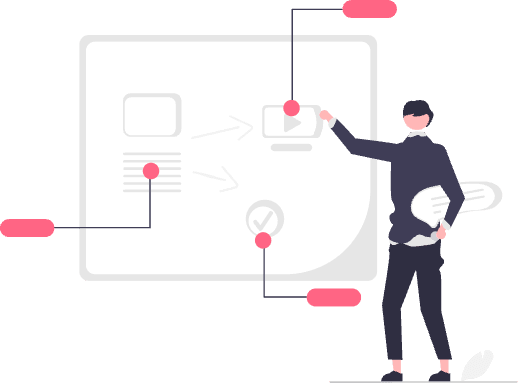 Here are other reasons why you should use white-label NFT Marketplace.
Unlike other complex NFT Marketplaces, white label services provide a simple interface design and features for users to explore.
White label customized NFT Marketplaces offer packed security for their users by incorporating some of the best security features in the platform.
The White label NFT Marketplace software can be deployed in a quick time compared to other methods like development from scratch. The time required to construct an NFT Marketplace from scratch is almost a year.
Customized NFT Marketplaces are cost-friendly and affordable in different ranges. Hence, any startup can start an NFT Marketplace without worrying about the cost factor.
Reaching the Crypto market in a short span is inevitable when it comes to readymade NFT Marketplaces. Businesses can largely profit on the back of this reason.
Diverse

White Label NFT

Marketplace Solutions We Offer

White label of OpenSea
OpenSea white label software is preferred by a lot of startups who look for customizable solutions to build their NFT Marketplace on the Ethereum blockchain. OpenSea has covered most of the top features and has a massive trading volume. Using a white label OpenSea solution, entrepreneurs can reach the market quickly.

White label of Rarible
Rarible white label software is helpful for entrepreneurs who are in search of a P2P NFT Marketplace exactly similar to Rarible. The platform has a tremendous reach and creating one like Rarible on the Ethereum blockchain is a great idea. Acquire white label solution of Rarible from Coinsclone to make millions in a short span of time.

White label of SuperRare
White label SuperRare software focuses on providing a ready-made NFT Marketplace solution based on Crypto art. SuperRare's market cap has gone over $40 million and building an NFT Marketplace just like SuperRare can equally be a profitable business for crypto startups.

White label of Blur
White label Blur NFT Marketplace is a ready-to-launch solution allowing entrepreneurs to create and deploy an NFT marketplace identical to Blur. Since Blur is at the top of the trending NFT Marketplaces, starting a business using white label solution can guarantee success on most occasions.

White label of Binance NFT Marketplace
White label solution of Binance NFT Marketplace offers a different kind of experience for users. Since Binance has a trusted community already, the white label of Binance NFT Marketplace has more benefits than most of the white label softwares.

White label of Async
As a ready made solution, white label of Async NFT Marketplace has got everything that a startup aspires to. Async is a popular and growing platform with excellent potential. Get your NFT business underway with Async white label solution instantly.
Top Features

Of Our White Label NFT Marketplace
Marketplace
The NFT Marketplace we provide is an emerging platform that enables users to mint, bid, and buy the ownership rights to digital works of art via Non-Fungible Tokens (NFTs).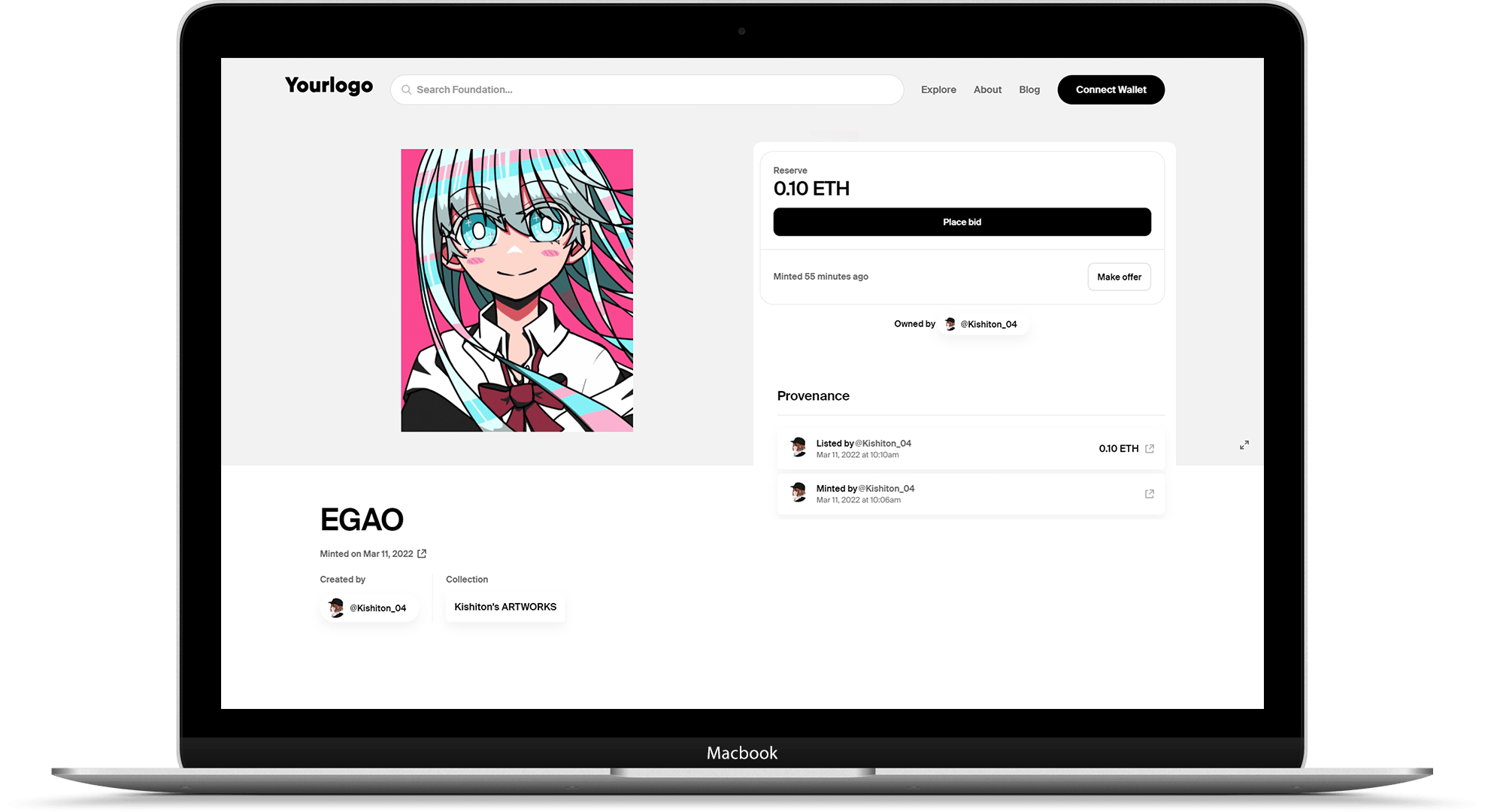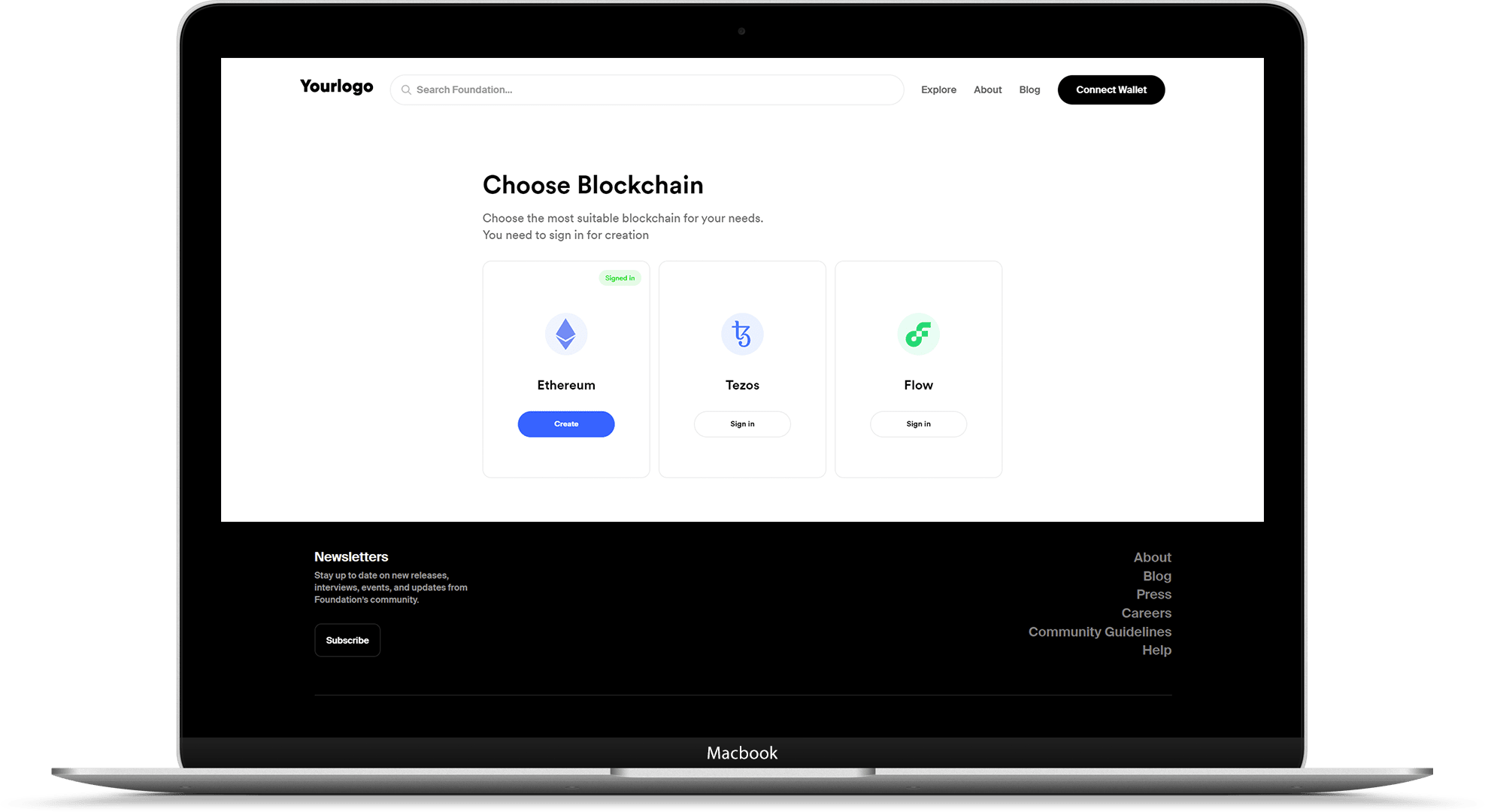 Support Multichain
Our White Label platform supports all the top blockchains which allows your users to choose their preferred chain to mint, buy, and sell popular NFTs.
Crypto Wallets
Choose and connect your preferred digital wallet for minting and buying NFTs. Our NFT Marketplace platform comes with a wide collection of crypto wallets like Metamask, Coinbase wallet, Trust wallet, etc.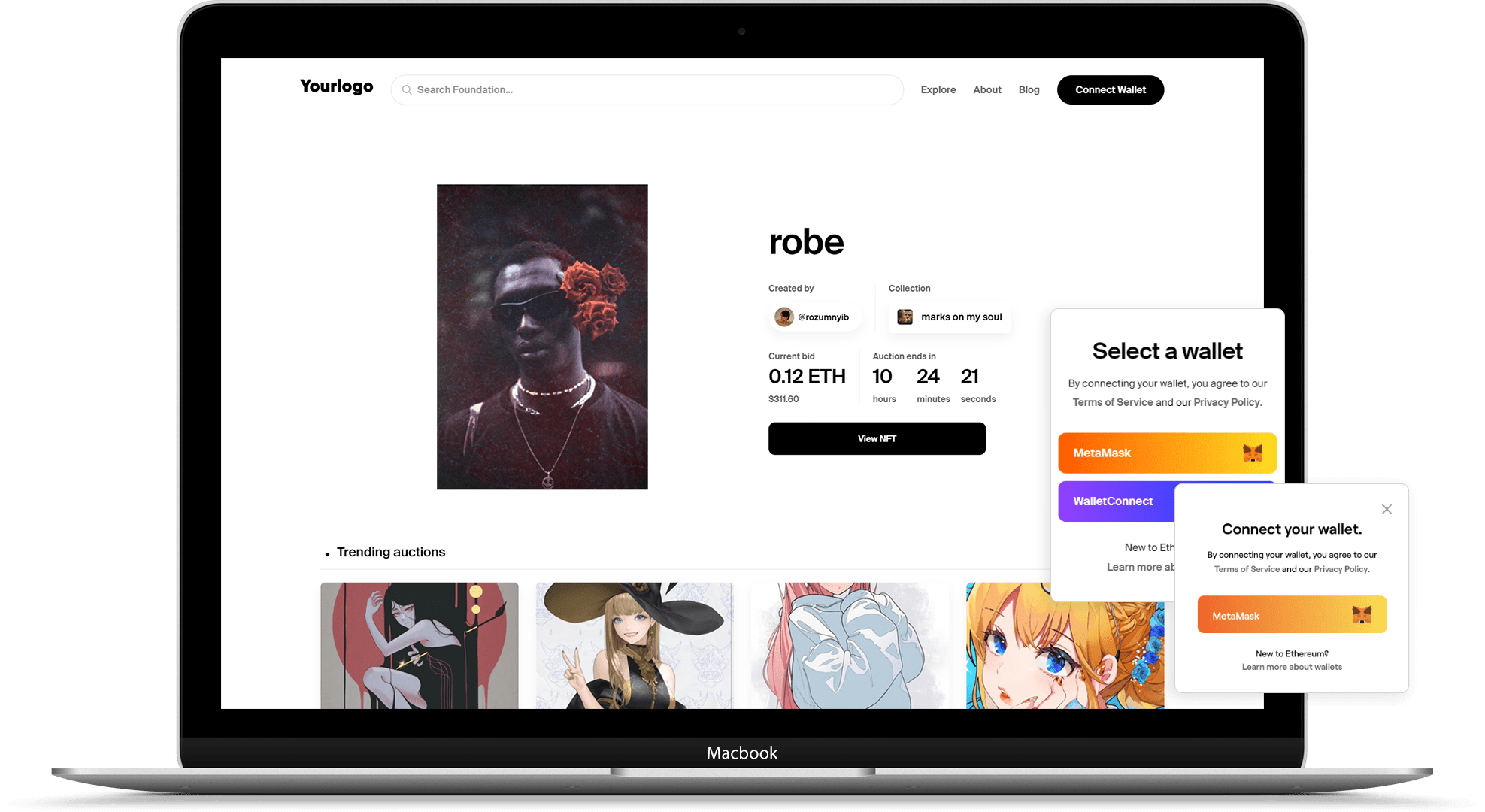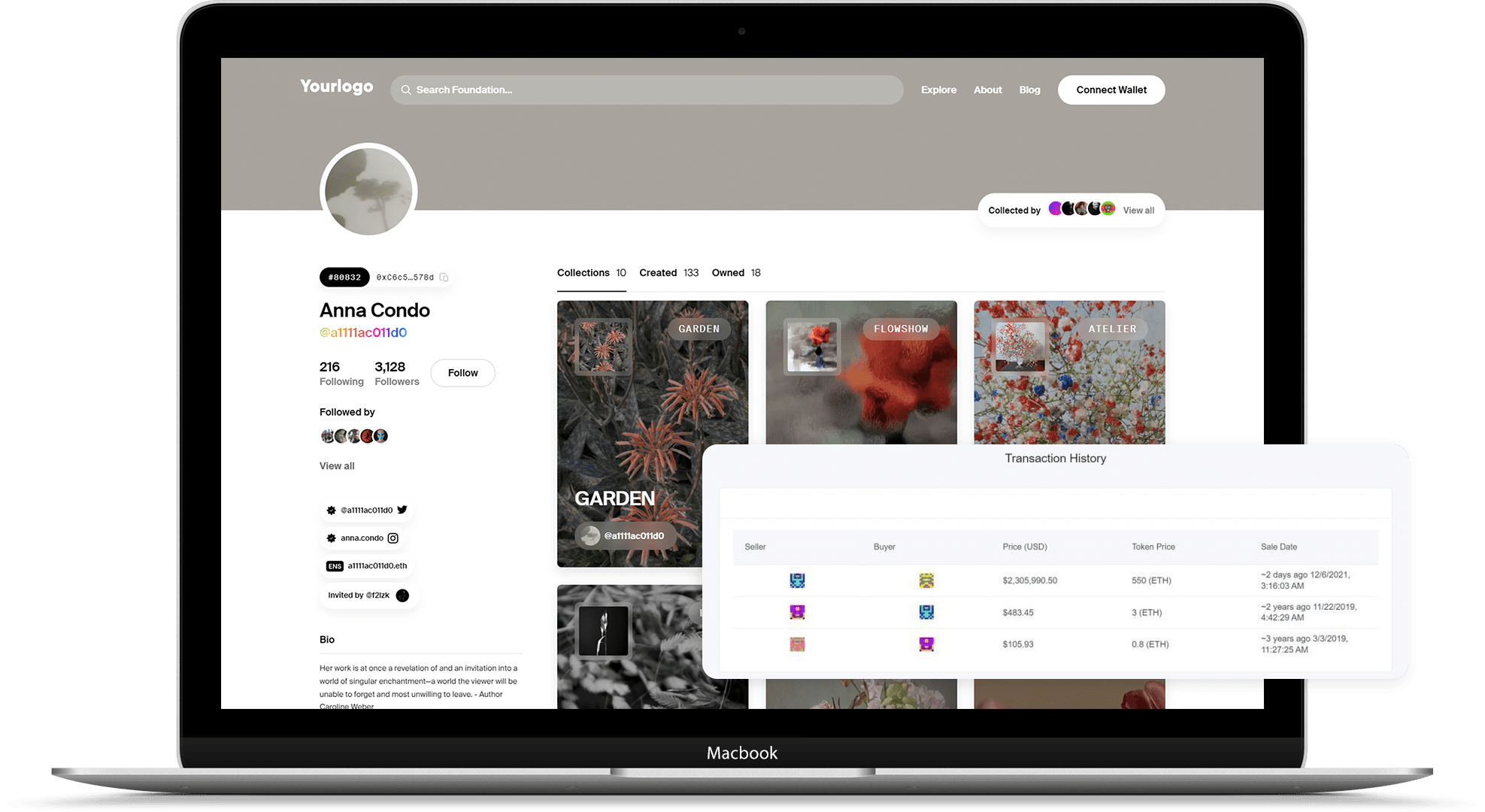 Decentralized protocol
Users can track the transaction details of the listed NFTs in the marketplace through the respective network or chain in which our platform can be designed in a completely decentralized protocol.
Responsive Design
Our software has an outstanding and user-friendly dashboard so that your users can get the best user experience on the platform and explore more.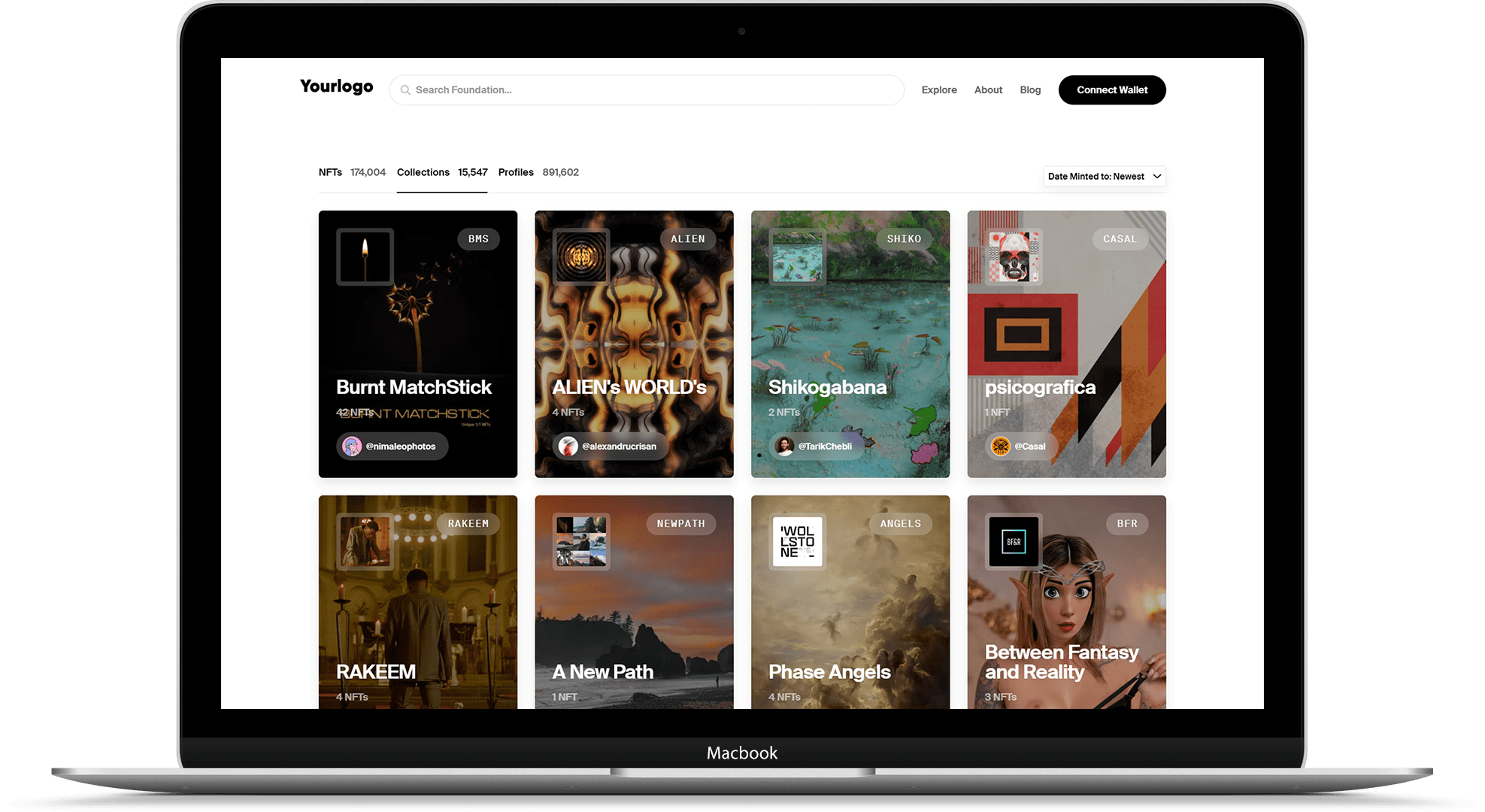 How Does

Our White Label NFT Marketplace Work?
Core Features

of ourWhite Label NFT Marketplace
Create Single and Multiple NFTs
Various Digital Collectibles
Support All File Formats
Claim your Royalties
Day/Night Mode
Creator Ratings
High Security
Fiat Currency Support
Activity Tracking
Social Profiles & Chats
Create Single and Multiple NFTs
Our customized White label NFT Marketplace enables users to create single and multiple NFTs in a hassle-free manner.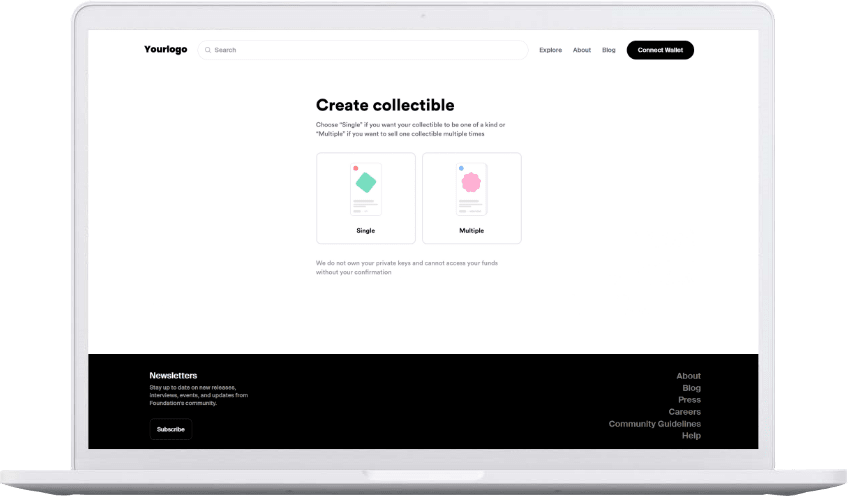 Various Digital Collectibles
Our platform supports various industries which include art, music, video, games, photography, sports, domains, etc…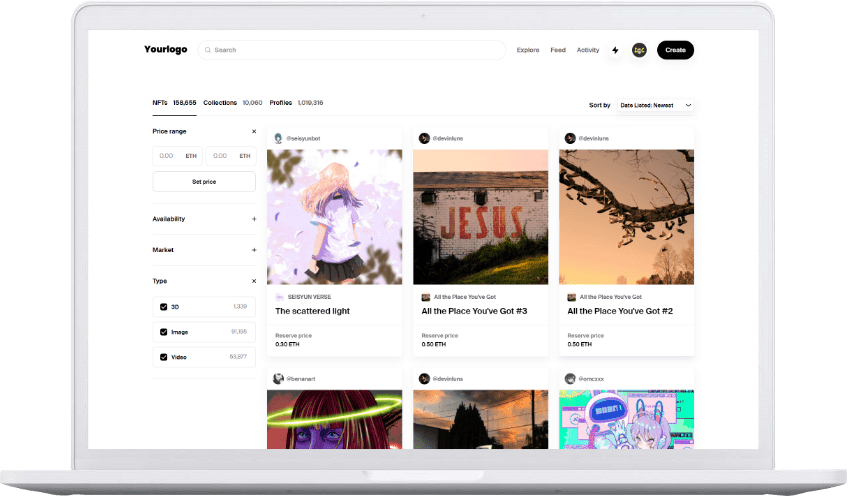 Support All File Formats
The tailor-made NFT Marketplace we provide supports uploading image, video, and audio domain names with different formats such as PNG, JPG, GIF, WEBP, and MP4 as well as 3D model file types.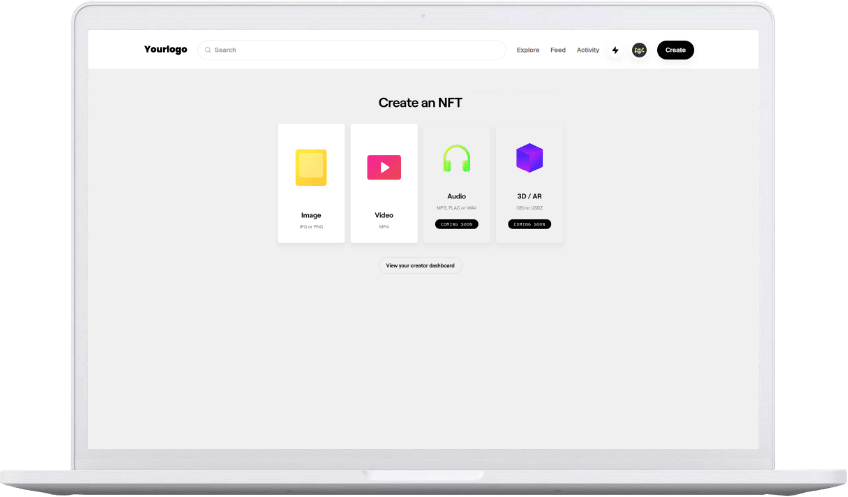 Claim your Royalties
The NFTs minted can be claimed with royalties whenever sold to another user anywhere in the network and our smart contracts automatically credit the royalties to the creator automatically.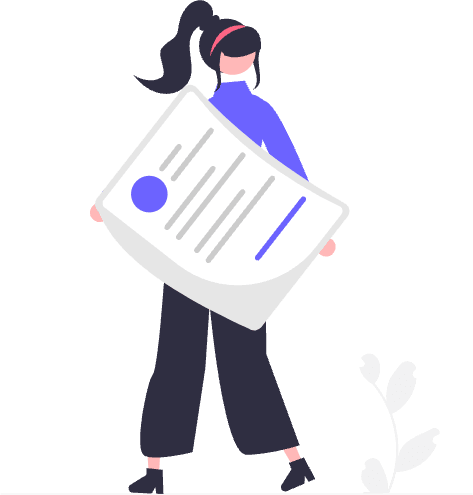 Day/Night Mode
Night mode reduces the luminance emitted by device screens and helps a pleasant viewing experience while users can also use the traditional light mode to get a professional look.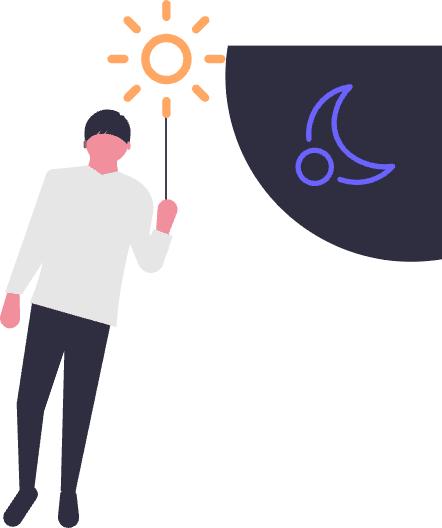 Creator Ratings
Users can rate the creators based on their performance and creativities which helps the buyers to choose the most popular ones.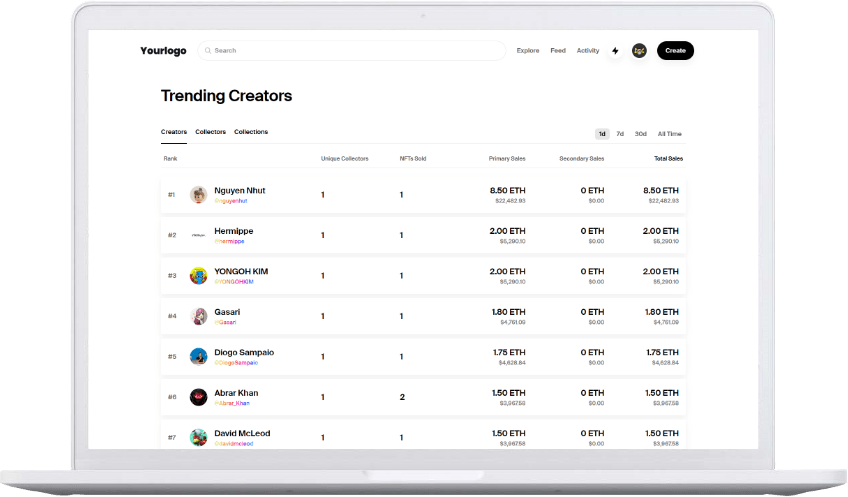 High Security
We supply trackless multilayered security mechanisms that are the official mark of Blockchain technology. Multiple security protocols make it practically impossible to compromise privacy and financial transactions.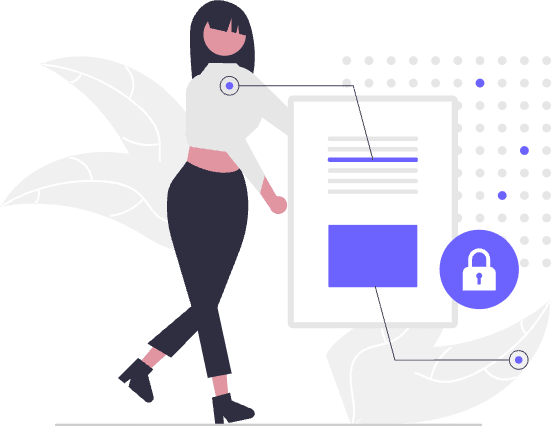 Fiat Currency Support
Users can, not only bid or buy NFTs using crypto payments, but also they can do that using fiat payments that can be done through credit/debit cards, payment gateways, etc.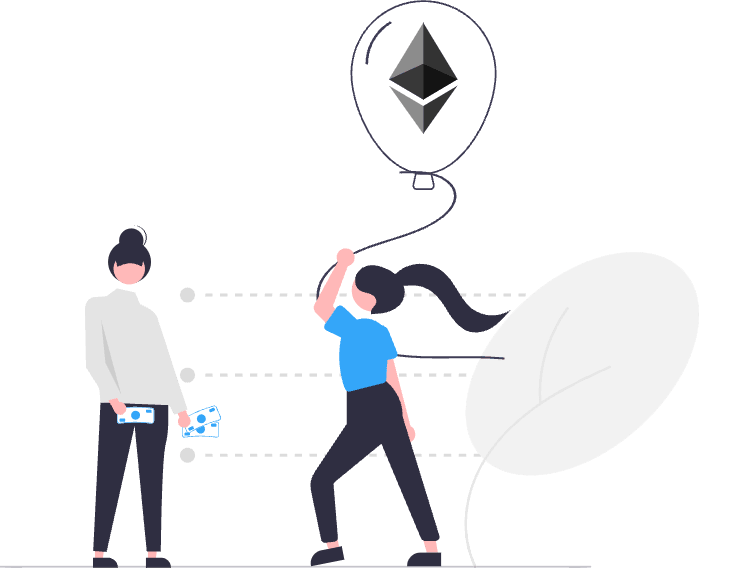 Activity Tracking
Users can track and view all the activities such as their listings, sales, bids, and transfers with a filter option based on the days.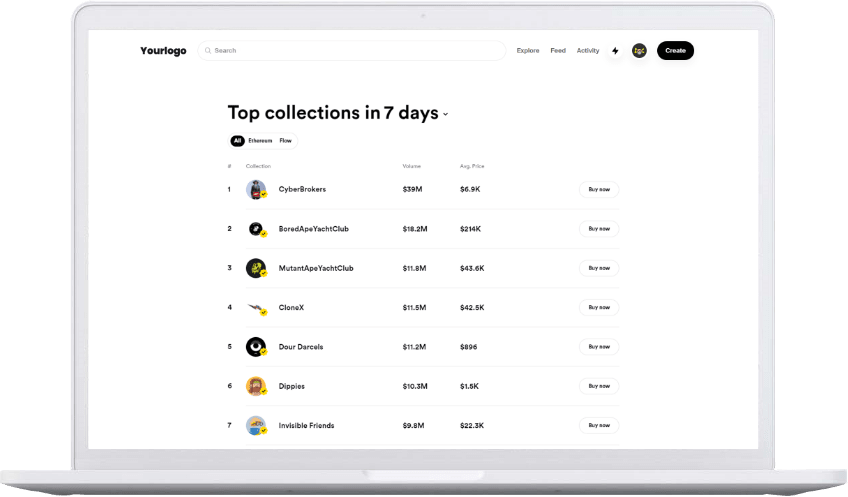 Social Profiles & Chats
Every member gets a profile, messaging system, activity wall, and much more. It serves as a place where they can keep up with all their discussions, reactions, applications, and points.
Security Features

of ourWhite Label NFT Marketplace
Coinsclone always gives priority to security features. We incorporate robust security features to deliver a highly secure custom-made NFT Marketplace.
Tokens that cannot be altered
Security at multiple layers
Encryption at multiple ends
Our Invaluable

White Label NFT Marketplace Development Services

Apart from the NFT Marketplace that we provide, we focus on engaging our clients with other services related to it as well. By connecting with us, you will be entitled to more than one business service.
Consultant services - We provide valuable consultancy services related to white label NFT Marketplace. Whether you have important queries related to it or you want to develop and deploy your own tailored NFT Marketplace, our experts can get the job done.
Perfect Smart Contract - As a top white label service provider, our experts maintain high standards while preparing smart contracts for NFT Marketplace development. We conduct audits and ensure a bug-free, customized solution is presented to our clients.
24/7 Technical Support - Our eminent developers take responsibility for the maintenance of the NFT Marketplace from time to time. We also bring in 24/7 support as a service for our clients once the project is completed and track the performance of the NFT trading platform.
Branding - Branding is an important criterion for businesses to grow consistently and to reach a wider audience. We enhance you to create a strong brand that has more probability of driving success.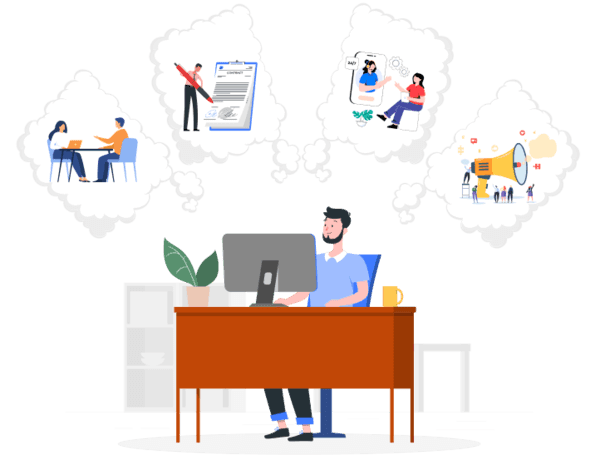 Use Case

of ourWhite Lable NFT Marketplace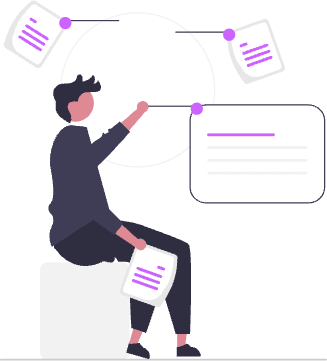 Art auctions - Online auctions are organized to enable digital artists to earn maximum profits on their creations.
Real estate market - Real estate assets can be tokenized and then bought, sold, and traded without losing their intrinsic value, along with all the property rights.
Gaming assets - Gaming coins, gaming screenshots, and gaming tutorials can be sold through the readymade NFT Marketplace we provide.
Sports Memorable events - Videos of famous sports events can be converted into NFTs and traded at a high value.
Celebrity statements - Many famous celebrity statements are being tokenized and traded on the custom-made NFT Marketplace.
Music selling - Many musicians are utilizing NFT Marketplaces not just for copyright regulations, but also to sell them through such platforms.
Why Choose

Coinsclone forDeveloping White Label NFT Marketplace?

Complete solution
You get everything to deploy your NFT Marketplace under a single roof. No need to work with multiple vendors.

Integrated tokens
Tokens can be automatically generated using the inbuilt features of our NFT Marketplace or we can build customized tokens for your unique needs.

Multi-asset
You can create NFTs for multiple assets using our customized NFT Marketplace ranging from digital art to music to real estate.

Multiple opportunities for users
Once we have deployed your NFT Marketplace, your users can sell, buy tokens, trade them, and even organize auctions.

On-time delivery
We stick to schedules and budgets on most occasions. Unless something drastic happens, our budget and time estimates never change with the project.

Experienced developers team
Our expert developer team has vast experience in the blockchain field and we provide instant solutions to any blockchain-related queries.
Our Customers

Love what we do

Customer feedback and reviews are our major concerns! Here we have shared a few feedbacks of our reputed clients.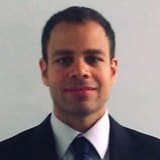 Project Name
P2P TRADING
I have been working with Coinsclone for the past two years. I am really satisfied with their development and technical support as well. I hope to work with them for a long time.
Our Portfolio Powers

more than 350

Crypto Startups Globally
Steps We Follow

in White Label NFT Marketplace Development

Coinsclone follows some standard procedures to create and deploy an NFT Marketplace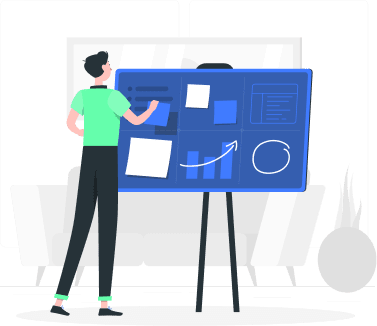 Requirement Gathering
In the initial stage, we would gather the requirements from clients and analyze them with the current crypto market. After the research, we will provide the right solution for starting a NFT Marketplace business.
Planning
Our experts will derive a rough plan for your NFT Marketplace development based on the business requirements of clients.
Designing
Each design that is implemented in the NFT Marketplace we provide will be moved to the next stage after confirmation from both the client side and the designer team.
Development
In this stage, we would develop and customize the entire NFT Marketplace as per the client's needs.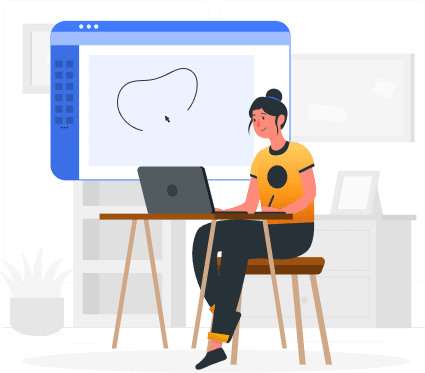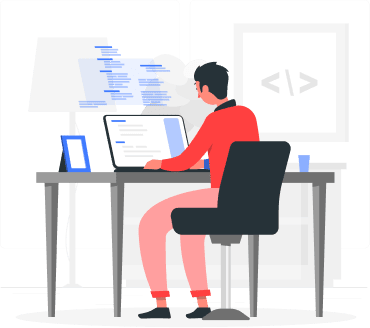 Testing
After the development stage, our testing team will check the quality of the customized NFT Marketplace by conducting various tests. If any functionality doesn't work properly, then our team will rectify the issue immediately.
Deployment
Our development team will deploy the superfine NFT Marketplace to the server as per the client's request.
Technologies Used in

White Label NFT Marketplace Software

We at Coinclone use a set of advanced technologies for creating and deploying an error-free NFT Marketplace.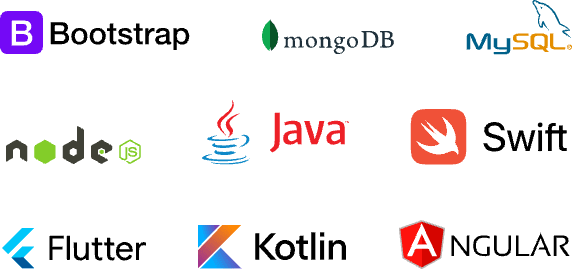 FAQ

Frequently Asked Questions
White label NFT Marketplace is a pre-designed solution for startups to launch a customized NFT Marketplace where users can perform NFT-based trading operations. The term- white label means a readymade product without a brand name and you can alter it to your needs.
The cost of a White label and customized NFT Marketplace ranges from $ 15,000 to $18,000 on average. However, this cost can vary depending on your requirements and the complexities involved in the NFT platform development.
The best white label customized NFT Marketplace solutions in the industry are the clones of popular existing NFT Marketplaces. Opensea NFT Marketplace clone, Rarible NFT Marketplace clone, and Enjin NFT Marketplace have increasingly attracted users since they have built a strong brand already.
In order to build the best white label customized NFT Marketplace, it is important to approach a top NFT Marketplace development company like Coinsclone. We have abundant experience in providing top-notch white-label solutions to entrepreneurs and our experts will guide you to success in the shortest time.
Since our white label customized NFT Marketplace is a readily available solution, it can be deployed in just seven to ten days. However, if you require complex and additional customizations, the time taken could slightly vary.
Do you have more queries?
Feel Free to Discuss With Our Team. We are here to Answer your queries
Talk To Our Experts