Coinsclone -
A Predominant

P2P Crypto Exchange Development Company
To build a hassle-free P2P trading platform, Coinsclone offers top-notch cryptocurrency exchange development services. Our team of experts creates a P2P crypto trading software that is highly safe, dependable, and easy to deploy. Using a smart contract-based escrow system, the user-to-user trading software we create enables fast and secure transactions. We offer comprehensive development services based on the most recent industry standards and cutting-edge technology.
A dedicated and skilled team of developers supports us to build a reliable and highly adaptable P2P trading platform. Our P2P software is multichain-capable and supports various platforms. As a result, smooth crypto trades are made possible across a variety of blockchain networks. Join us and launch your best P2P trading platform in the crypto market.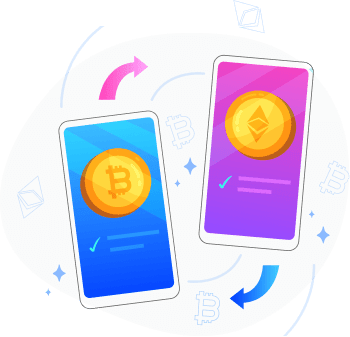 Why should you start

P2P crypto exchange?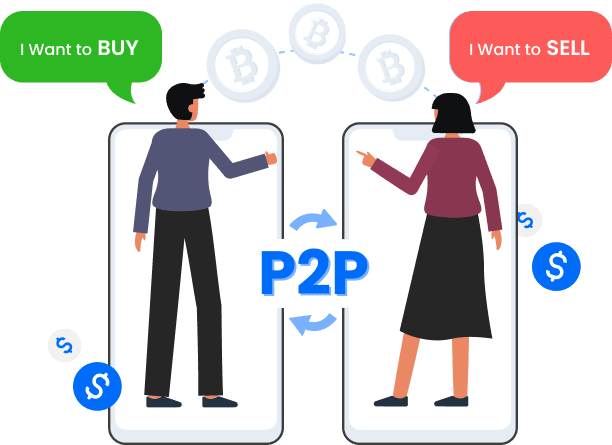 In a peer-to-peer cryptocurrency exchange, verified buyers and sellers can perform hassle-free trading.
P2P engine enables buyers and sellers to get the best combinations and earn maximum profits which constantly add significant margins to your coffers.
It is an open crypto exchange platform where buyers/sellers can directly connect so you can grab more users for your platform.
Since it is open, more transactions take place in a peer-to-peer crypto exchange compared to a conventional exchange, and as a result, it makes more money for you.
In p2p crypto exchanges, users don't need to connect with a bank for crypto transactions. Instead, they can trade cryptocurrencies using PayPal, gift cards, and more.
The popularity of p2p crypto exchanges is rapidly growing every day. So launching a feature-packed peer-to-peer crypto exchange will make you a successful entrepreneur in the crypto sector.
Top Features

Of our P2P Crypto Exchange
Escrow Integration
Due to the integration of a strong escrow system, it helps users carry out transactions without any issues.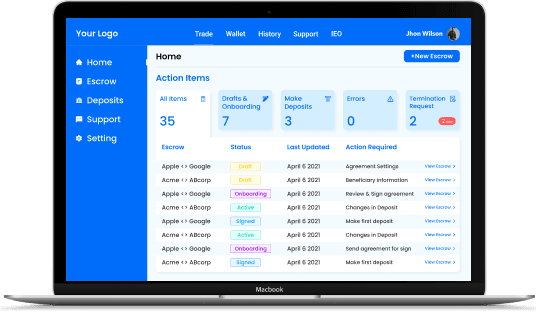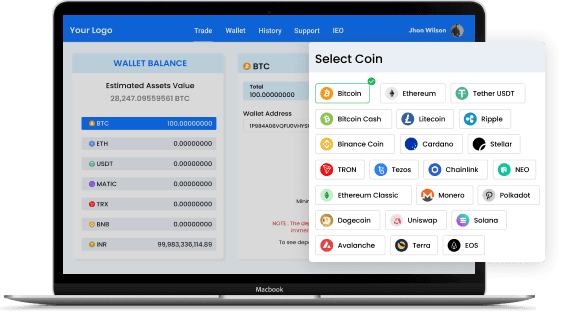 Multi-Cryptocurrency Wallet Integration
The integrated crypto wallet in our P2P cryptocurrency exchange software helps your users to store, receive, and transfer any crypto assets in a hassle-free manner.
Transparency
Due to transparency and openness, more buyers and sellers are eager to trade on the P2P Cryptocurrency exchange software.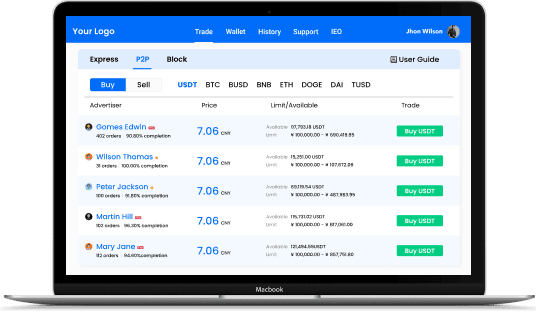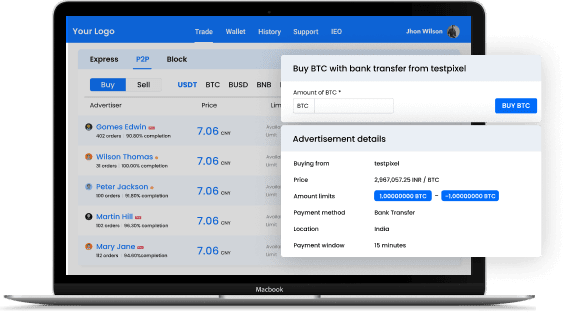 Online/Offline Trading
In online trade, the buyer and seller meet online at any time, anywhere. Offline trading meets face-to-face with the buyer/seller. They meet in a public place and exchange money or any type of payment.
Social Connections
A P2P exchange is like Craigslist or a Facebook Marketplace where buyers and sellers socialize and carry out transactions.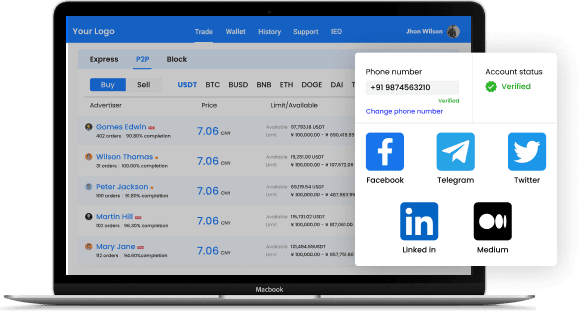 How Does

Our P2P Crypto Exchange Software Work?
Core Features

of ourP2P crypto exchange platform
User Panel
Dedicated Admin Panel
Custom Wallets
Multilingual
Transparent Pricing
KYC and AML
Dispute Management System
Multiple Payment Methods
Support System
Admin Profit Management
User Messaging System
Referral program
User Interface
User Panel
Users can buy, sell, post-trade, deposit & withdrawals, support tickets, and much more in a hassle-free manner.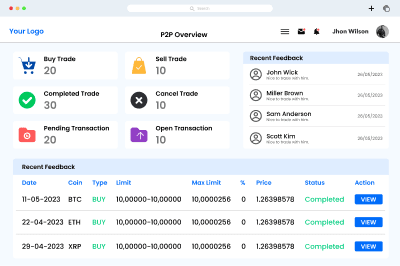 Dedicated Admin Panel
It allows admins to manage & modify trading functionalities, commission fees & other features of the platform.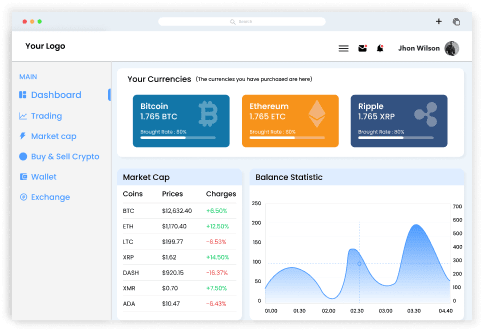 Custom Wallets
The integrated crypto wallet provides more scope of control and flexibility to handle cryptocurrencies for your users.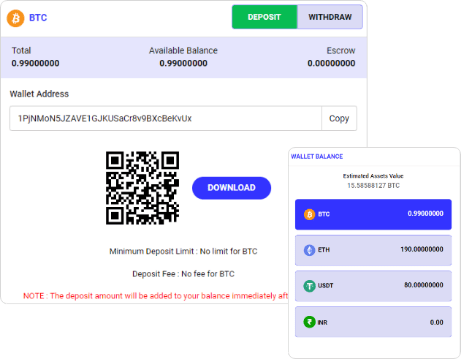 Multilingual
With this feature, users can access the platform in their native language which helps you to attract global traders easily.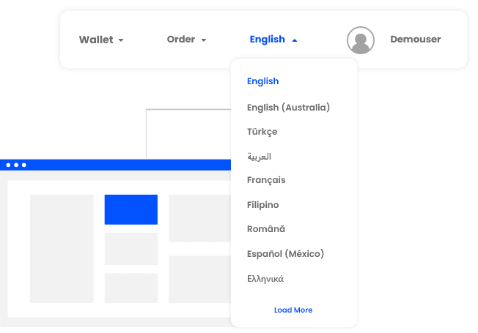 Transparent Pricing
Trading happens between a user to users, so there is complete transparency in the price of cryptocurrencies, maximum limits, percentage, mode of payments, etc.,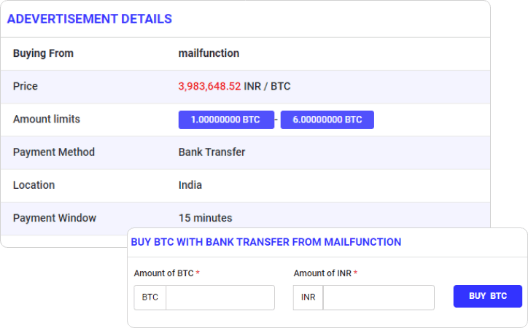 KYC and AML
An intuitive identity verification system accelerates the KYC process to build a base of lawful and authenticated users.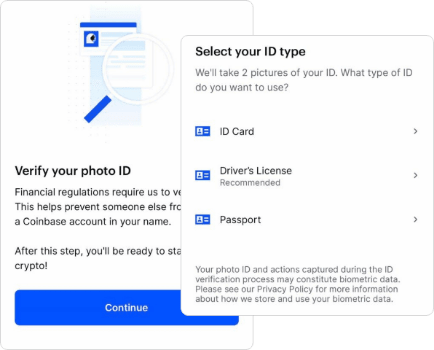 Dispute Management System
When a user is in disagreement over a trade can raise a dispute to intimate a mediation process on the crypto held in escrow.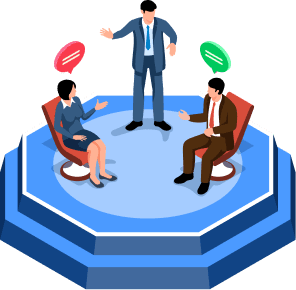 Multiple Payment Methods
Users will have access to a variety of payment options, which may be advantageous to those who prefer in-person transactions.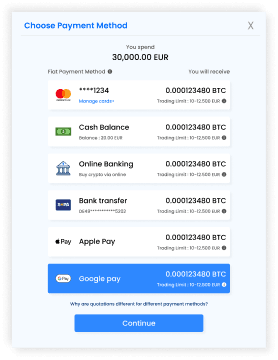 Support System
It helps your users to raise their complaints and queries directly with the admin. The admin can close the inquiry once solved.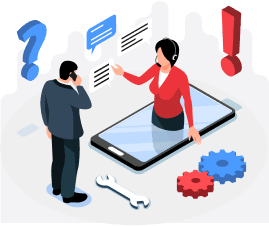 Admin Profit Management
The transparent profit management system helps the admin to calculate and update the commissions for each trading.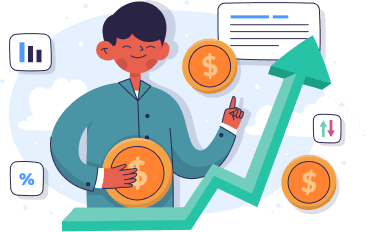 User Messaging System
Users can communicate with others during trade and also they can upload that as proof of payment.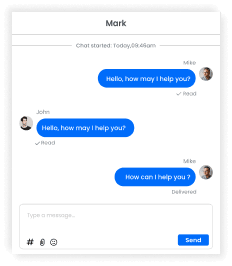 Referral program
Users can refer others to trade on the platform. With that, you can attract and increase the user count quickly.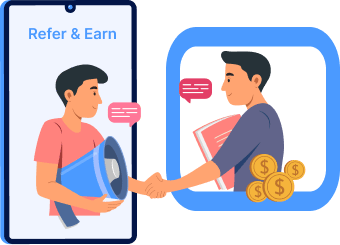 User-Interface
The user-friendly software allows users to register, sign in, and trade on the P2P trading platform easily and securely.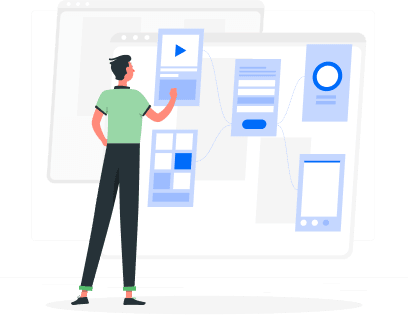 Security Features

of ourP2P Crypto Exchange Platform
We at Coinsclone integrate the latest security modules to protect your P2P trading platform from fraudulent activities.
Multilayered Authentication
Ethereum-Based Smart Contracts
Addon modules

of ourp2p crypto exchange development
Atomic Swap
Staking module
Preferred Trading selection
Two-factor Authentication
Matching Engine
Atomic Swap
By identifying trusted users' transactions, P2P swaps do away with the requirement for a central authority.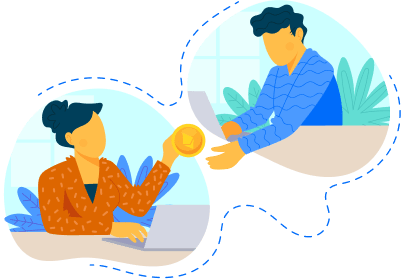 Staking module
It allows users to hold cryptocurrencies and also improves control, security, and liquidity.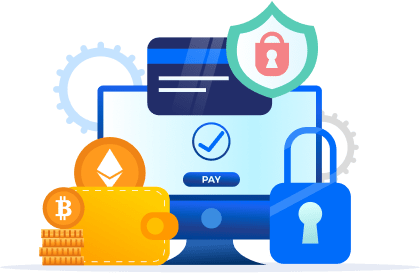 Preferred Trading selection
For a more secure and reliable trading experience, buyers can freely select their preferred vendors and vice versa.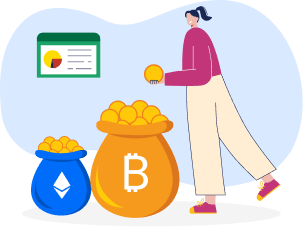 Two-factor Authentication
It guarantees access to a user's account and it prevents the invention of fraudulent activity.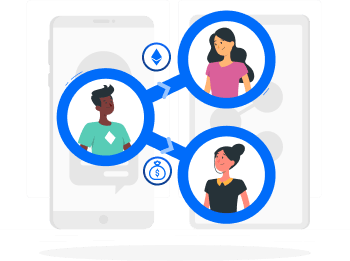 Preferred Trading selection
For a more secure and reliable trading experience, buyers can freely select their preferred vendors and vice versa.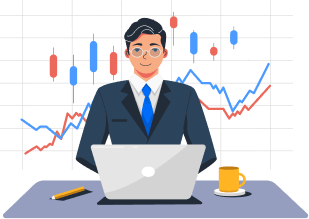 Two-factor Authentication
It guarantees access to a user's account on a cryptocurrency exchange, which prevents the invention of fraudulent activity.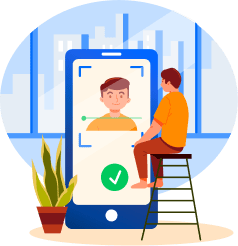 Matching Engine
The crypto exchange is strengthened with a fast engine that quickly matches orders from buyers and sellers.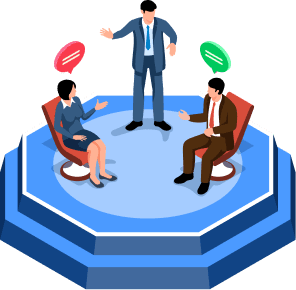 Benefits of choosing

ourP2P crypto Exchange development service
Our team of experts provides P2P crypto trading software solutions with cutting-edge advantages by using their knowledge and experience.
Institutional-grade security
Quick time to market
Transparency
Anonymity & Privacy
Scalability
Customer Support
High Return on Investment
Flawless Customization
Use Case

of ourP2P Crypto Exchange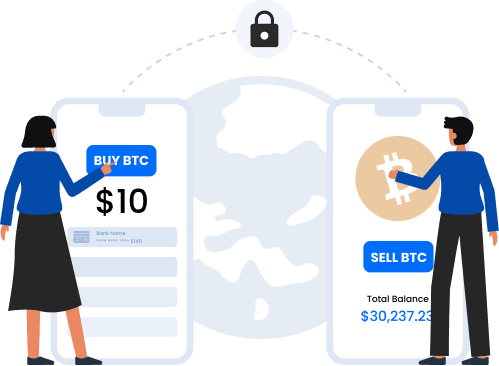 International Transactions - The crypto prices are universal and so are the values of tokens. They can be easily used for cross-border transactions.
Liquidity - Instant liquidity can be raised through P2P Crypto exchange platforms by quickly selling crypto coins and tokens.
Revenue Stream - A passive revenue stream can be established by the owner of the P2P Crypto exchange that generates money literally on autopilot.
Social Commerce - E-commerce can be facilitated among social communities under the P2P Crypto exchange platform.
Tokenization - Real-world high-value assets can be tokenized and then sold on the P2P Crypto exchange platform.
Why Choose

Coinsclone forP2P crypto exchange development?
Coinsclone is a renowned P2P crypto exchange development company in the industry. We have years of experience in delivering best-in-class crypto exchange services for international clients around the world. We help you to develop an ultra-modern P2P crypto trading with a high-quality, eye-catching interface, and peculiar features according to your business requirements.
Based on your business needs and the market upsurge, we assist you in launching a sophisticated P2P crypto trading platform with a better user interface, enhanced security procedures, and distinctive features. Our business development strategies and product development specialists will assist you in launching a cutting-edge P2P crypto trading platform with the help of our feature-rich software.

Complete Branding
You will have a unique and customized P2P trading platform with an exclusive identity.

Ongoing Support
Aside from designing and development we also offer ongoing support so, you are never on your own.

Transparency
There are no hidden costs or surprises when you get your P2P Crypto exchange developed by our team.

Script Ownership
You completely own the script once the platform code has been installed and activated on your server.

Scalable Development
We provide our P2P Crypto trading development and programming services for small, medium-sized, and big businesses.

Custom Add-Ons
We can build custom add-ons with the software we create to extend your existing P2P trading platform.
Our Customers

Love what we do

Customer feedback and reviews are our major concerns! Here we have shared a few feedbacks of our reputed clients.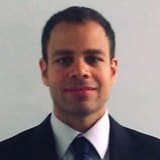 Project Name
P2P TRADING
I have been working with Coinsclone for the past two years. I am really satisfied with their development and technical support as well. I hope to work with them for a long time.
Our Portfolio Powers

more than 350

Crypto Startups Globally
Development Approach

of ourP2P Crypto Exchange Software
We at Coinsclone follow the below-mentioned development process for the clientele project.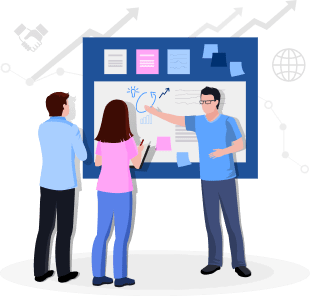 Requirement Gathering
Our team will collect the business requirements of the customer and research them with the current market trends.
Planning
Planning is an important stage. In this phase, our experts will plan objectives, tasks, goals, deadlines of the project, etc.
Designing
Our well-experienced designers will design your p2p crypto exchange software with a breathtaking user interface that provides a smooth trading experience for your users.
Development
In this phase, our development team will modify the features, visuals, and security modules of the P2P trading software according to the client's necessities.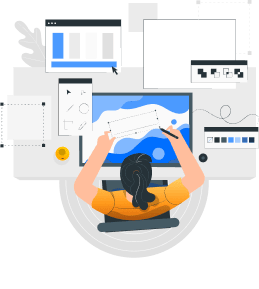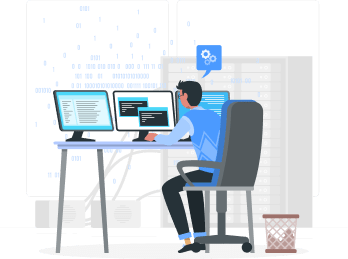 Testing
After the development stage, we would check and verify our software by conducting multiple tests which helped us to deliver a bug-free product.
Deployment
Once the product is tested by our experts, we will deploy the first-quality p2p crypto exchange at the client-server.
Technologies Used in

Our P2P Crypto Exchange

We at Coinclone use a set of advanced technologies for creating and deploying error-free P2P crypto exchange software.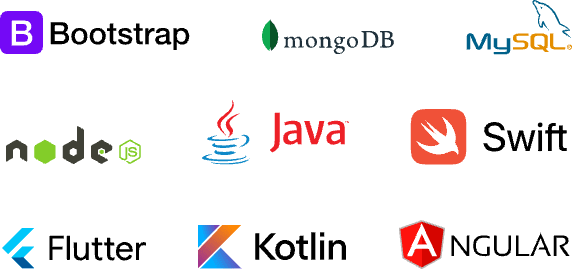 FAQ

Frequently Asked Questions
P2P Cryptocurrency exchange development is the process of creating a person-to-person trading platform that allows users to buy, sell, and trade cryptocurrencies directly with one another. It enables traders to transact directly with one another without a trusted third party to handle all deals because there is no middleman matching orders.
P2P Cryptocurrency exchange is the future of crypto transactions as it enables traders to swap cryptocurrencies without the admin's involvement. It conducts transactions instantly and is decentralized. Because of this, users benefit from greater privacy and security. With this feature, Popular Cryptocurrency exchanges have a massive user base and gain more profit. This is why most startups are eager to develop P2P trading platforms.
KYC/AML Verification

Dispute Management

Referral Program

Atomic Swap

Wallet Integration

Staking module

Escrow System

Two-factor-Authentication
These are the essential features that you need to integrate with your P2P trading platform. We at Coinsclone provide you with a well-functioning P2P trading platform with all the features and security features.
Calculating the development cost is complicated. The cost may depend on some crucial factors like integrated features, the complexity of the project, the testing process, the working module, and so on. Schedule a call with us and get an approximate cost value for P2P Cryptocurrency exchange development.
Like the cost, the exact time taken for P2P Cryptocurrency exchange development is a hectic process to calculate. As you all know the time taken to create a P2P trading platform from scratch will take 6-8 months. If you want to save time and want to launch your trading platform quickly, you can choose our P2P Cryptocurrency exchange script.
Do you have more queries?
Feel Free to Discuss With Our Team. We are here to Answer your queries
Talk To Our Experts