What is

BEP-20 Token Development?
BEP20 is a prominent and well-known token standard that is easily compatible with the ERC20 tokens. The BEP20 token development is a complete process of developing a fully functional crypto token under the BEP20 token standard. These tokens are crafted under the power-packed Binance smart chain network. This technology allows you to have a flexible framework to create a wide range of BEP20 tokens on the Binance smart chain, which is the fastest and the most trustworthy blockchain in the crypto sector right now.
The BEP20 tokens are developed using the latest technology frameworks as per the market standard. Being the best BEP20 token development firm in the industry, we offer the world-class BEP20 token creation service for both startups and entrepreneurs who are looking to stand unique in the market by launching BEP20 tokens. We develop BEP20 tokens as per your business mind with all vital functionalities and API accessibilities. These tokens can be used on a proof-of-stake network which makes them much faster and cost-effective after deploying them on the server.
Why should

you developBEP-20 Token?
Developing a BEP20 Token with peculiar features and unique functionalities in the crypto ecosystem will help you to gain an ample amount of profits in multiple ways. Here we share a few ideal reasons to create BEP20 tokens for your business.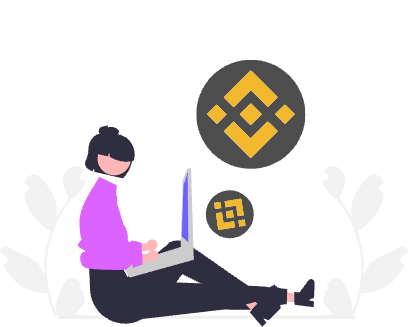 BEP20 tokens are the trendsetter and traders are preferring BEP20 tokens for various purposes. So by creating BEP20 tokens, you can get massive traction for your blockchain project and raise the required funds
With the BEP20 standard, you can create a massive number of crypto tokens without any limitations.
The BEP20 token development procedure is simple and easy.
If you want to leverage the power of the Ethereum Virtual machine as well as the Binance smart chain, you want to get yourself a BEP20 token developed.
Once you get this token developed, you will get immediate access to the vast Binance network chain.
Although the technology is similar in functions and capabilities to Ethereum, a very big difference is that BEP20 tokens function on the proof-of-stake consensus algorithm.
BEP20 tokens are created on dual-chain architecture so they can facilitate faster transactions when compared to other standard tokens.
BEP20 tokens are powered by the Binance smart chain so they are compatible with both BEP 2 and ERC20 tokens.
They can be used throughout the BSC network and BEP20 tokens are supported by all mainstream crypto wallets.
Top Features

Of Our BEP-20 Token Development
Quick Transactions
The fact that BEP-20 token development enables fast transaction speeds and is extremely scalable is one of the primary advantages.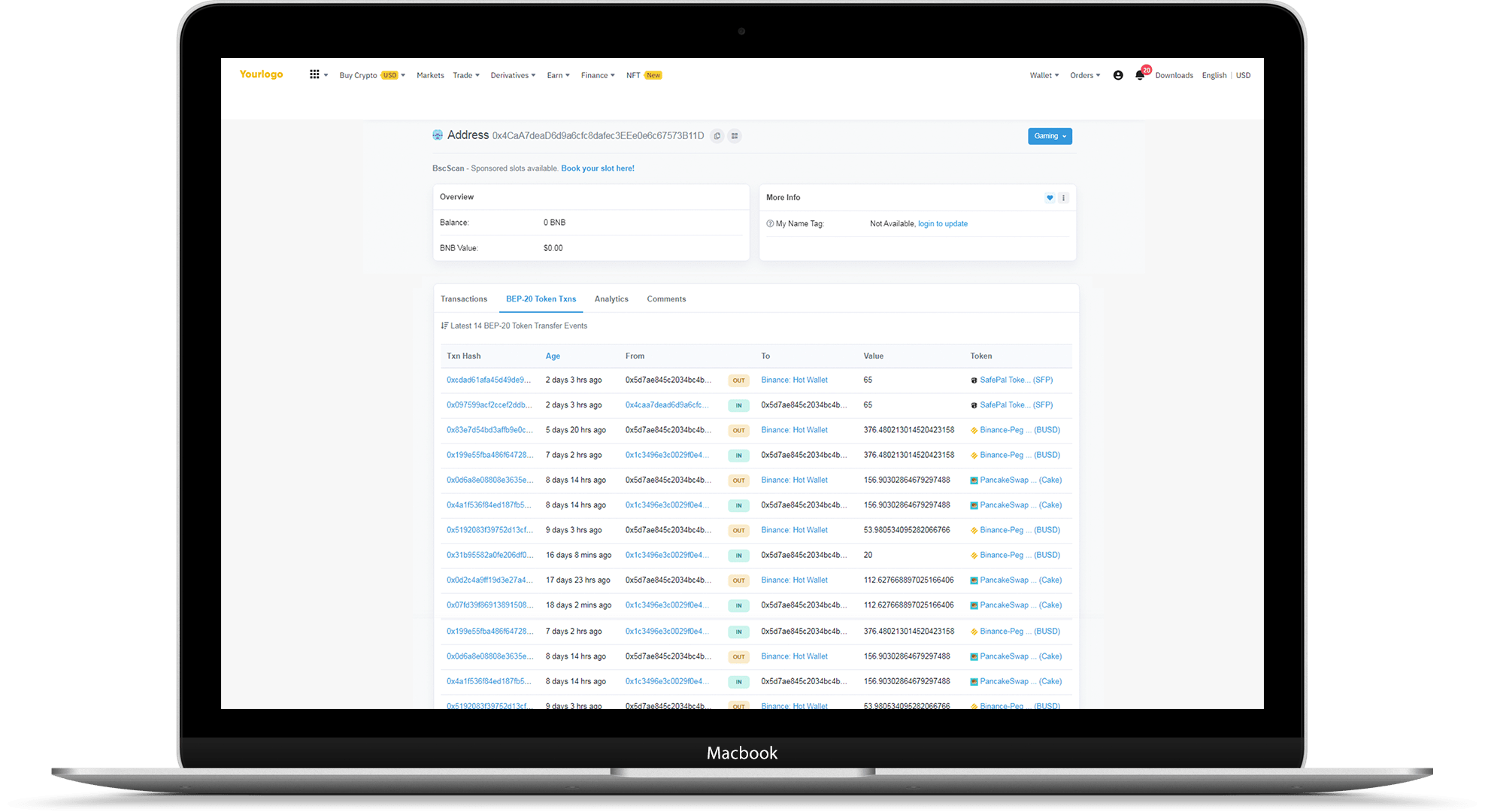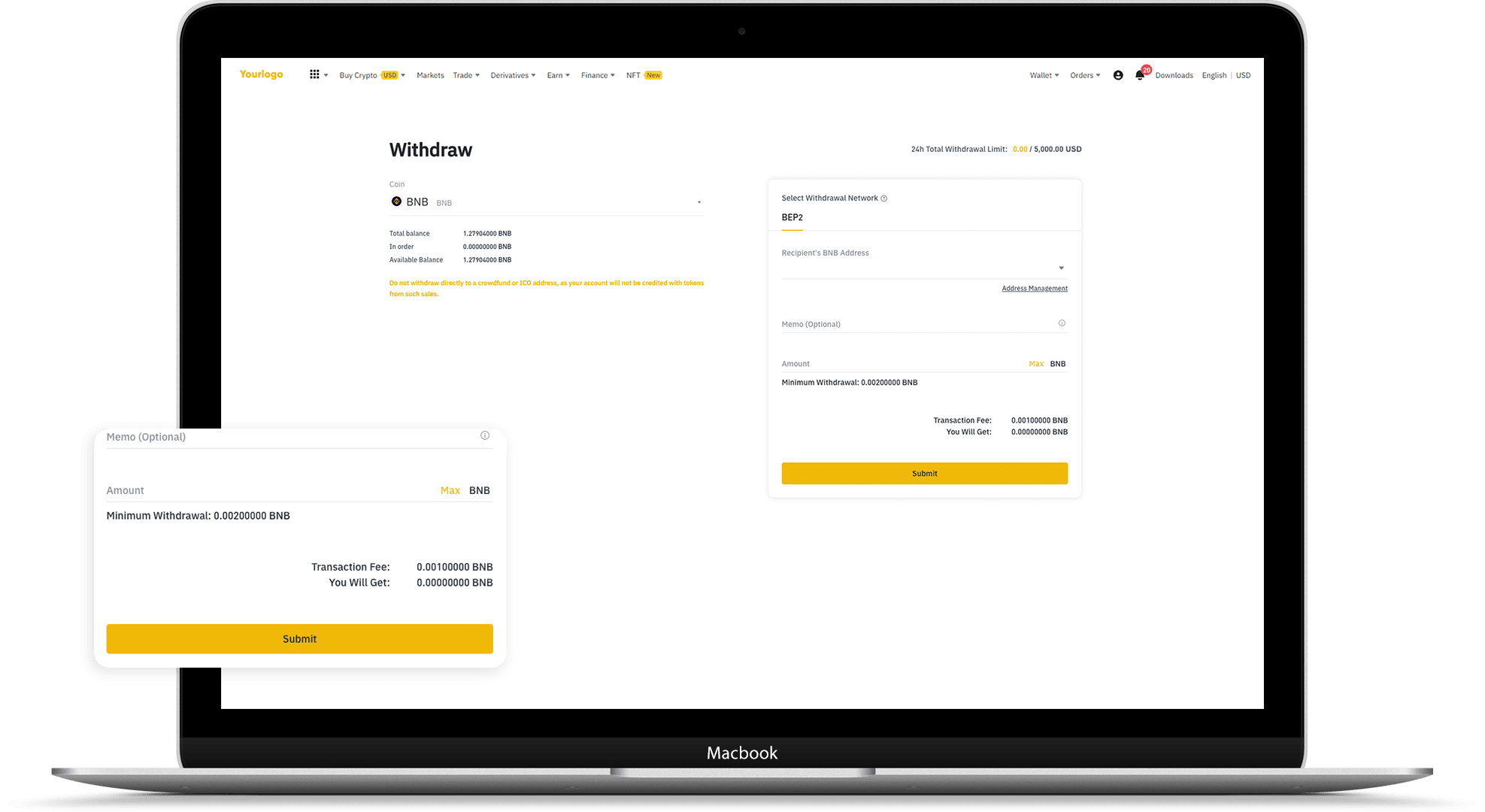 Low Transaction Fees
You may let consumers transact your tokens without paying large gas fees like on Ethereum network by developing a BEP-20 token.
Compatibility Between Chains
BEP-20 coins are compatible with Binance Chain Bep2 coins. Using a basic wallet, you can effortlessly switch between the two networks.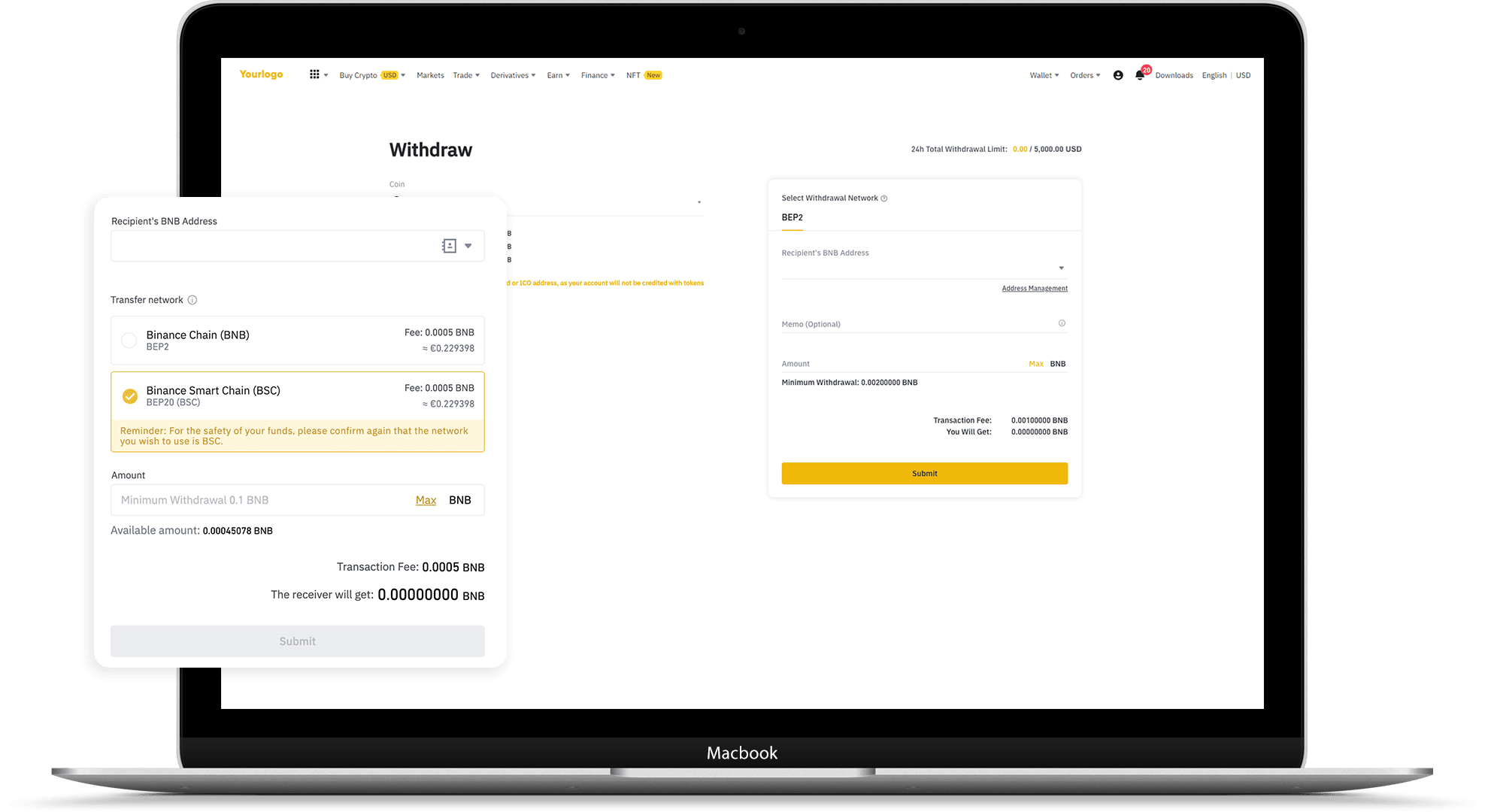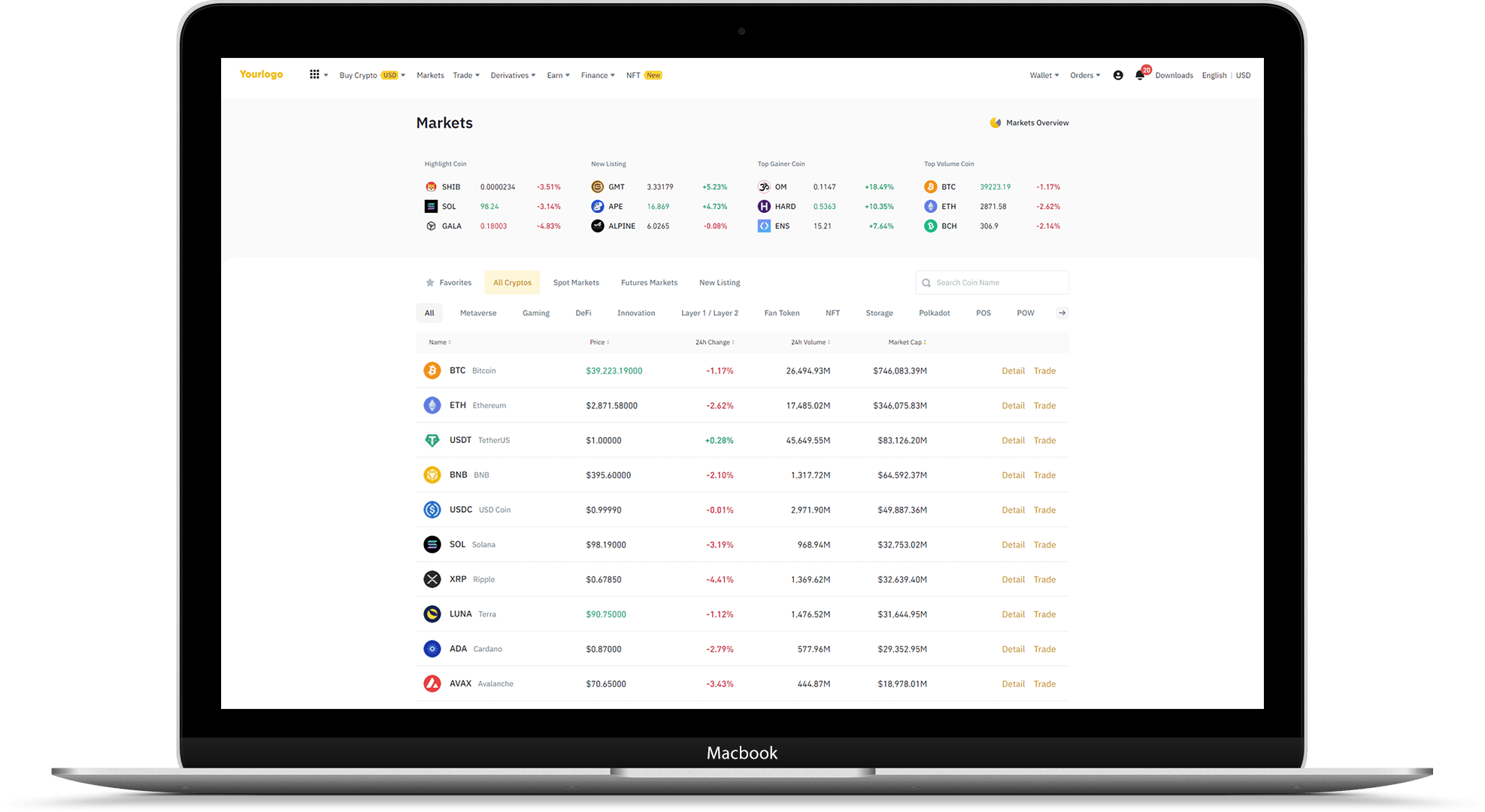 Listing
You may simply list your BEP-20 tokens on Decentralized exchanges with little effort, allowing for quick token sales.
Smart Contract Audit
A smart contract security audit examines and comments on a project's smart contract code.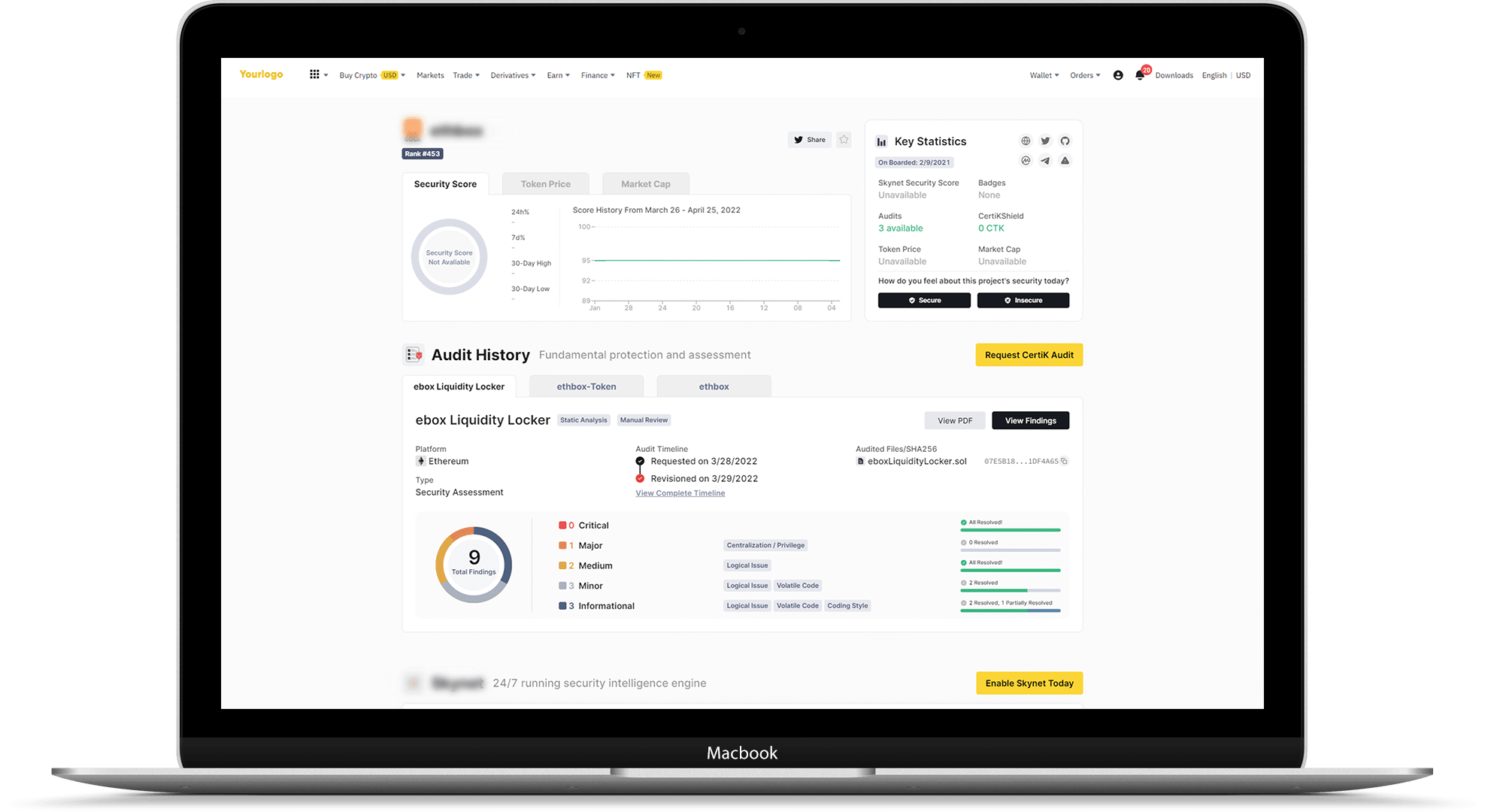 How Does

ourBEP-20 Token Development Work?
Core Features

of ourBEP-20 Token Development
Token Standards
No Intermediaries
Multi-chain Architecture
Token Mint
Referral Program
Maximum Supply
Burn Tokens
Purchase Token
Stages and Progress Bar
Support System
Token Standards
BEP-20 is a Binance Coin (BNB) token standard similar to Ethereum's ERC20 standard. In other ways, it expands on it. BEP-20 sets rules that all tokens created on BSC need to follow. Bep2 is a technical standard for the issuance and implementation of tokens on the Binance chain. This standard defines a set of rules that tokens should follow to function in the Binance chain ecosystem.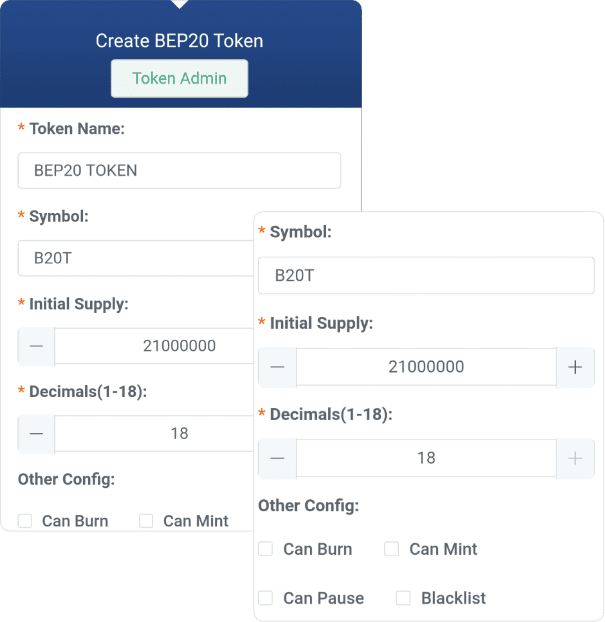 No Intermediaries
Tokens are legal for swapping so it doesn't need any intermediaries for sharing an asset.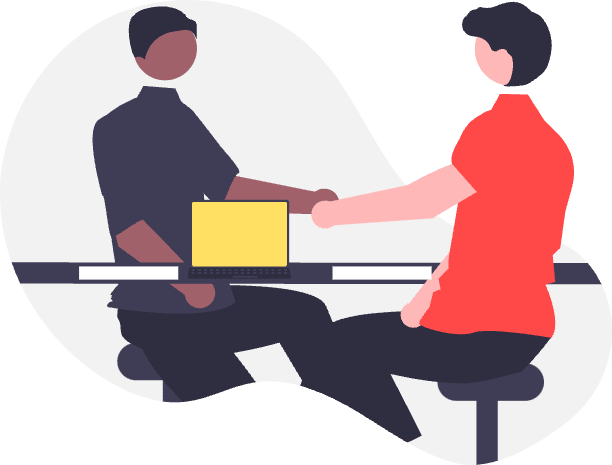 Multi-chain Architecture
The BEP-20 token development can offer assent with both available networks of Binance chain and Binance smart chain.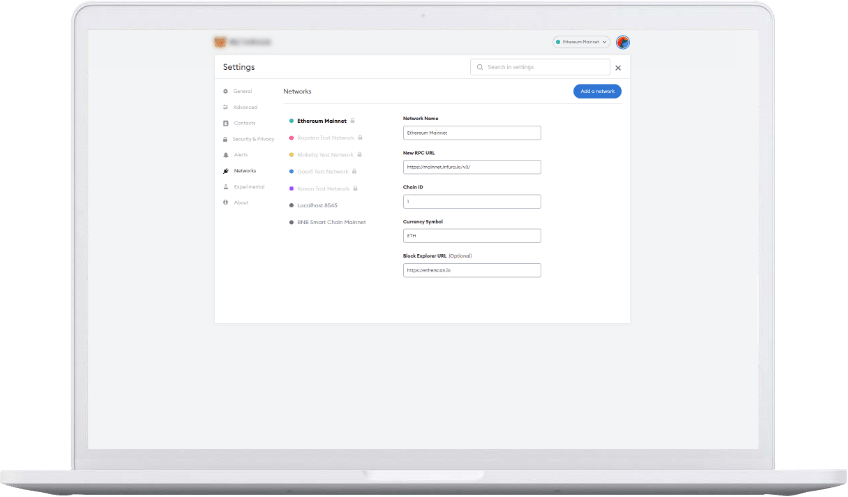 Token Mint
Users can mint BEP-20 tokens designed initially with a non-fixed total supply, allowing the token owner to mint a lot of BEP-20 tokens.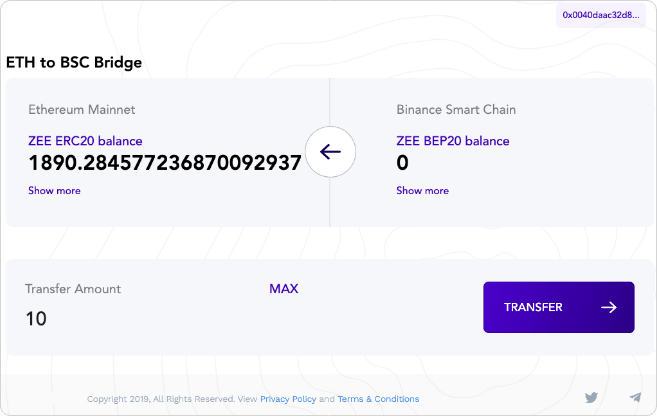 Referral Program
A referral program gets your potential customers to trust your product as it has been referred by a friend or a colleague. Referral program creates more acceptability of your product among users.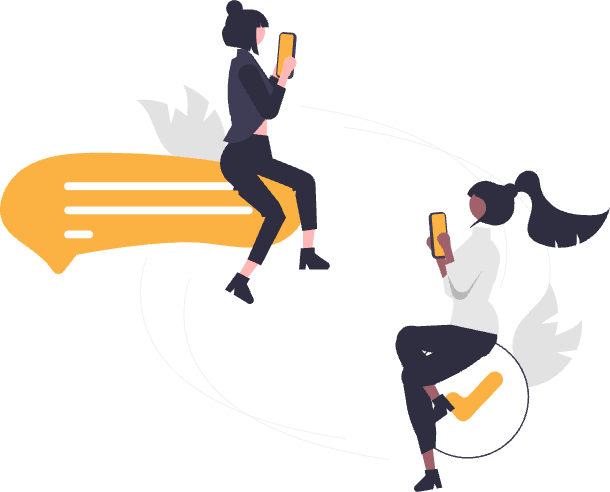 Maximum Supply
The maximum supply of a token refers to the total number of tokens that can ever be minted.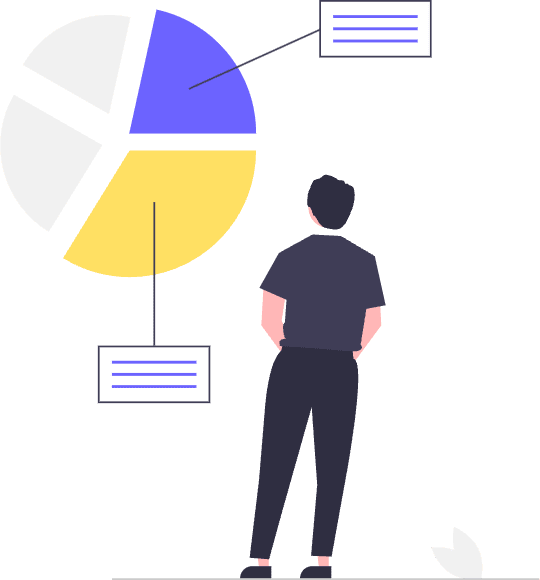 Burn Tokens
Making a burnable token is accomplished by sending tokens to an address whose private keys are not accessible by anyone and subtracting the number from the total supply in our contract.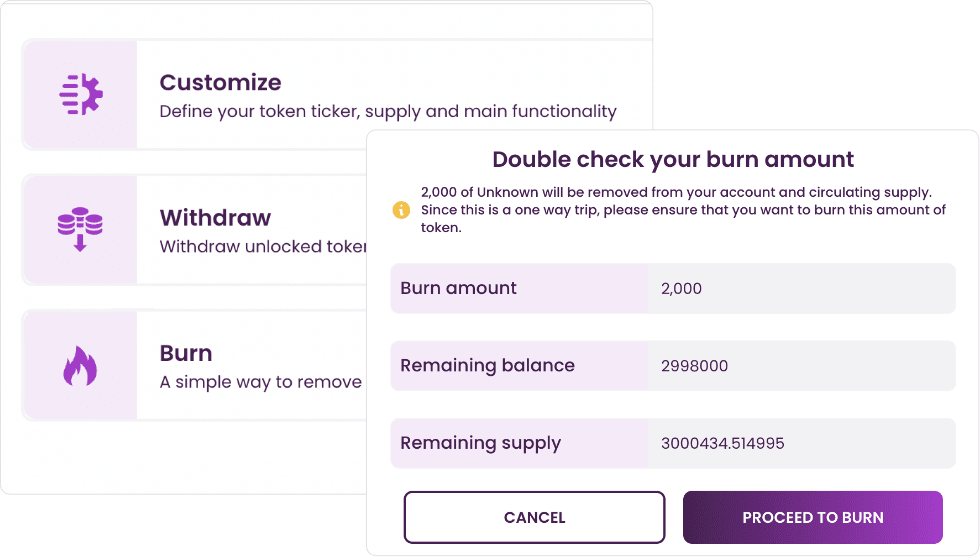 Purchase Token
Users can deposit Crypto/Fiat in their respective wallets from their external wallets through wallet address or by scanning QR code. The tokens will get updated in their wallet equivalent to the amount of crypto they have deposited in their wallet.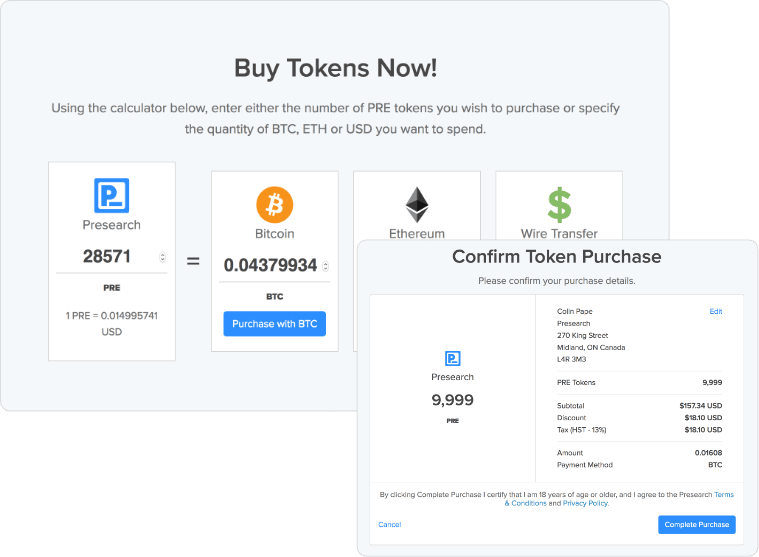 Stages and Progress Bar
Admin can view, add, edit, delete the token sale stages and also can update the progress bar depending on the number of tokens sold from the admin panel.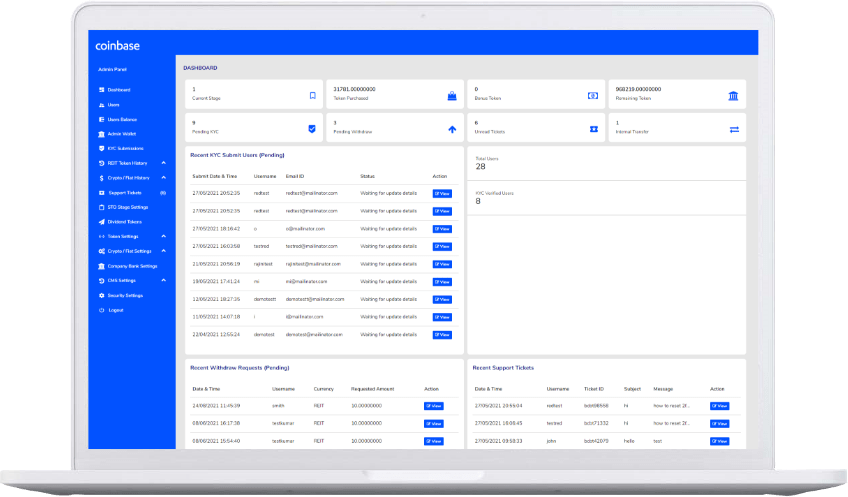 Support System
Instant support system which helps your users to raise queries and also a chat box for them to directly chat with the admin.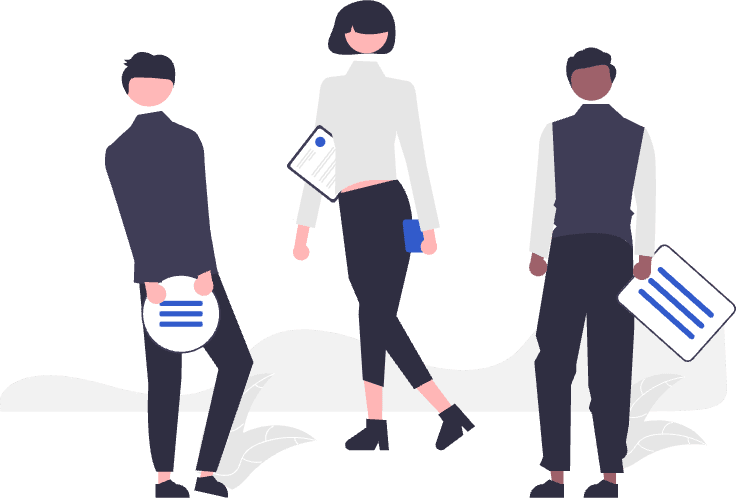 Security Features

of ourBEP-20 Token Development
Coinsclone enables robust security features to create and deliver highly secure BEP20 Tokens.
Device level native security
Additional modules for security features
Smart contacts using Ethereum and Bitcoin technologies
Irreversible tokenization
Use Case

of ourBEP-20 Token Development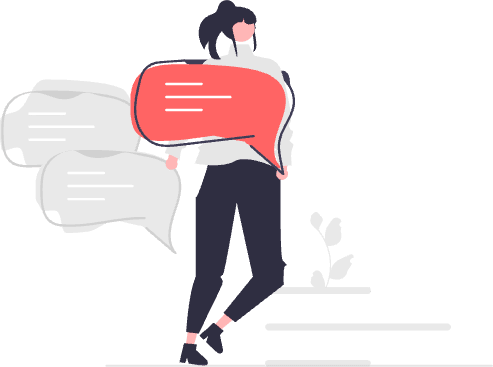 Token Minting - As an owner of the token, you can mint BEP20 tokens whenever you want which helps to enhance the total token supply and inflate the token value.
Micro-payments - Since the transaction fee of a typical BEP20 token is quite low, they can be ideal for micro-payments.
Gaming assets - BEP20 tokens are increasingly being used to purchase gaming assets such as game levels, in-game gadgets, and premium gifts.
Exchange bridging - Transactions can be facilitated between crypto exchanges built on varying technologies in a hassle-free way.
Token Burning - You can burn the BEP20 tokens if necessary. Therefore, you can reduce the circulating supply of your BEP20 tokens in the crypto market.
Peer-to-peer transactions - The BEP20 tokens can be traded directly between individuals which eliminate the need to use conventional monitoring tools.
Our Portfolio Powers

more than 350

Crypto Startups Globally
Why Choose

us forBEP-20 Token Development?
The premium BEP20 Token development service we offer you is the best reliable token creation service that you find in the blockchain industry right now. We offer a complete package as a service in which you can acquire everything that you need for developing a function-rich BEP20 token.

Experience
Coinsclone is a professional BEP20 token development company and we have 5+ years of experience in crypto token development. So far we have delivered 200+ tokens as per the clientele needs which are top-performing crypto tokens in the crypto space.

Faster delivery
Through our wide experience, we can deliver custom BEP20 tokens as per your business requirements extremely fast and with greater efficiency.

Skilled Team
Being a leading token development firm, we have a pool of well-experienced token developers who have in-depth knowledge of the Binance smart chain technology and BEP20 token development process.
Wallet compatibility
The BEP20 tokens that we develop for you will be compatible with all contemporary and popularly used non-custodial crypto wallets.

Full control
Once we have delivered the BEP20 token, you are in full control and also you can make the changes as per your business concepts.

Customer Support
Client satisfaction is our #1 priority so we don't just stop by delivering the product. We have a specialized team of experts for providing first-class technical support through the internet on a 24/7 basis for all our delivered products.
Our Customers

Love what we do

Customer feedback and reviews are our major concerns! Here we have shared a few feedbacks of our reputed clients.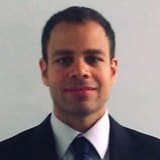 Project Name
P2P TRADING
I have been working with Coinsclone for the past two years. I am really satisfied with their development and technical support as well. I hope to work with them for a long time.
Development Approach

of ourBEP-20 Token Development
Coinsclone always follows some standard procedures to create and deploy BEP20 Tokens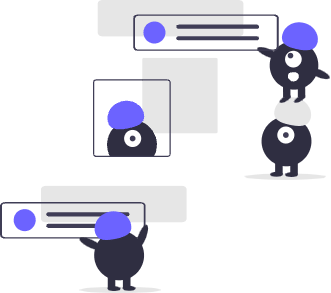 Requirement Gathering
First, we would gather the requirements from clients and analyze them as per the current market trend. After the research is done, we will provide an optimal solution for kickstarting a BEP20 Token business.
Planning
It is a vital phase to create a crypto token over the BSC network. Our experts will understand your needs and derive a rough plan for BEP20 Token Development based on the business requirements of clients.
Designing
Each design that is implemented in the BEP20 Token creation process will be moved to the next stage after the confirmation from both the client side and the designer team.
Development
It is one of the main stages in the BEP20 token development process. Based on the token parameters and the client necessities, the BEP20 token will be developed with the latest technology tools.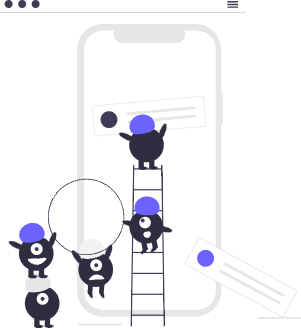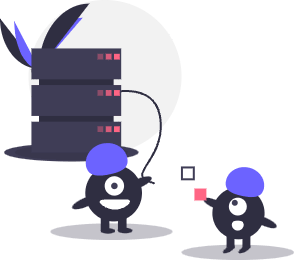 Testing
In this stage, our well-trained testing team will check the quality of the BEP20 Token by conducting various tests. If there is any bug or error, then our blockchain experts will rectify the issue immediately.
Deployment
Once the above phases are perfectly done, our team will deploy the well-performing BEP20 Token on the Binance smart chain network as per the customer's request.
Technologies Used

inOur BEP-20 Token Development
We at Coinsclone use only the latest technologies and advanced frameworks for crafting & deploying fully functional BEP20 Tokens.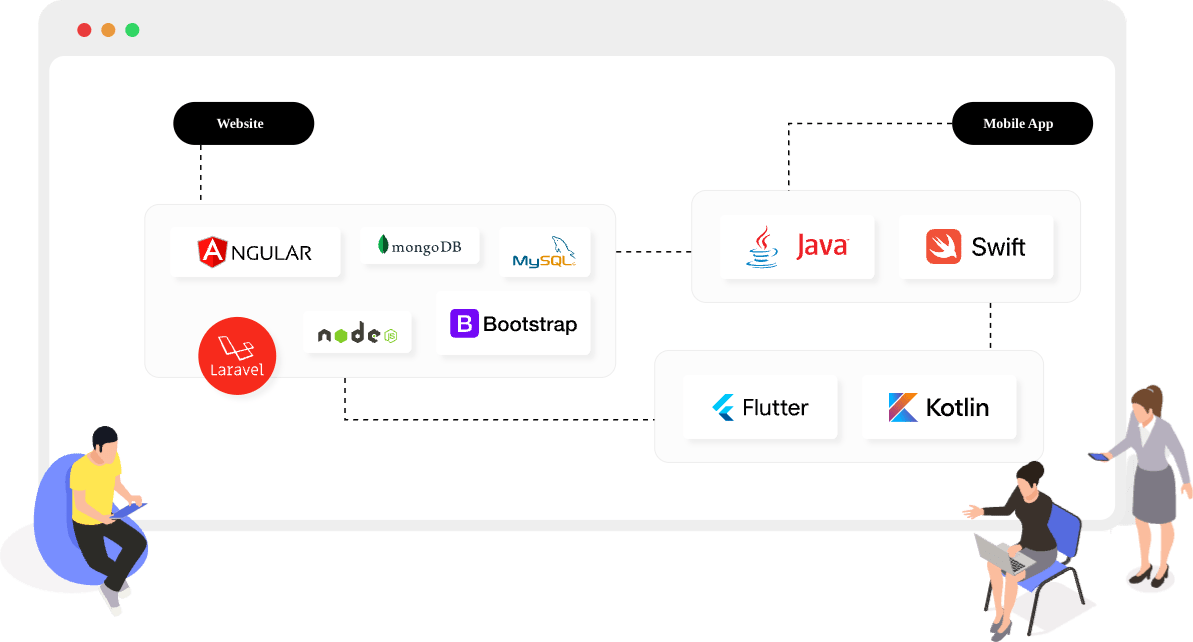 FAQ

Frequently Asked Questions
It is created on the most trustworthy blockchain network - Binance smart chain. The craze for BEP20 tokens is high in the market as they have low transaction fees. All BEP20 tokens can be run on the Ethereum Virtual machine. They have all the capabilities of Ethereum. But they have more benefits such as they can be executed faster, easy deployment, unique architecture, and more.
You can acquire exemplary BEP20 token development services from the reputed BEP20 Token Development Company - Coinsclone. We are masters in creating crypto tokens on the Binance Smart Chain network with ideal features as per the client's requirements at an affordable cost.
We offer the best-in-class BEP20 token development service as a complete package at a moderate cost. The price finalization can be effectively carried out based on the needs and business concepts of the clientele. To know the approximate BEP20 token development cost, you can connect with our team experts right away!
A function-rich BEP20 token can be developed and deployed on the BSC network within a week or even less. Though, ultimately it depends on the simplicity or sophistication of the contracts that you want to incorporate into your BEP20 token.
Since BEP-20 token functions on the DeFi technology, yes, it can be used internationally without getting traditional financial institutions involved. Besides, it can also be used for crypto fundraising and helps to attract a wide range of potential investors for your project.
Do you have more queries ? Feel Free to Discuss With Our Team.
We are here to Answer your queries
Talk To Our Experts