NFT Marketplace

Development Company - Coinsclone
NFT Marketplace Development involves the process of building a platform for users in need of NFT-based operations like trading, minting, listing, bidding, etc. The demand for NFT Marketplaces in the current crypto market is high and soaring. Level up your growth and get involved in a highly revenue-generating business idea in the form of NFT Marketplace development. You can become unstoppable by creating an NFT Marketplace that is bug-free and has extraordinary core functionalities.
We, at Coinsclone are experts in building top-class and secure NFT Marketplaces. Our expert team helps you to build NFT Marketplaces in various blockchains including Ethereum, Polygon, etc. We excel in providing solutions to launch NFT Marketplaces with extensive and customizable features and plugins. In addition to these, we also offer advanced-level security protocols, an attractive UI/UX interface, and add-on modules.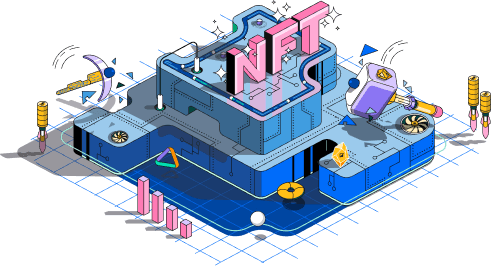 Reasons to Develop

an NFT Marketplace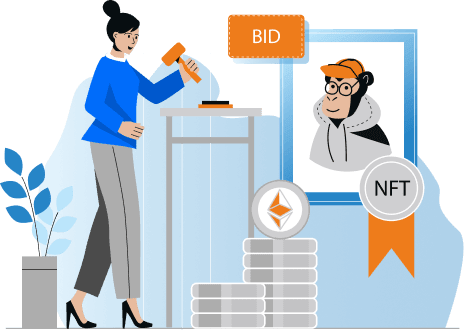 NFT Marketplace offers an innovative and creative platform where users can trade digital collectibles in the form of art, music, etc.
NFT-based projects have a high scope in the long term and act as a useful investment considering the demand.
You can generate massive revenue through the marketplace by collecting minting fees, listing fees, trading fees, auction and bidding fees, etc.
Since NFTs are built on blockchain, the digital assets are safe and secure from any kind of theft or malware attack.
NFT Marketplaces provide a continuous engagement factor thereby, attracting a lot of investors into the digital world.
You can build massive interest in popular communities and build a brand name quickly by starting an NFT Marketplace.
Through NFT Marketplaces, you offer a different mode of money-making strategy for celebrities, artists, musicians, etc.
NFT Marketplace Development
Methods We Offer

Development from Scratch
When you opt to build an NFT Marketplace from scratch, the requirements start from the beginning. We prepare the entire code without the usage of any outside tools and any unique ideas can be implemented. This NFT Marketplace development method is long, complex and requires attention to detail throughout the process.

White Label NFT Marketplace
The white label NFT Marketplace is a ready-made solution for startups who want to launch an NFT-based platform instantly. The software doesn't require much coding knowledge and is already tested. Our white label services for NFT Marketplace development help in creating a brand for themselves without much effort.

NFT Marketplace Clone Script
We offer NFT Marketplace clone scripts for you to create an NFT Marketplace exactly identical to popular NFT-based platforms. Our script is secure and acts as an instant solution to enter the market. Along with its effectiveness, our scripts can replicate the entire features and functionalities of an existing NFT Marketplace.
Our
NFT Marketplace

Development Services

With advanced-level technology, we offer various NFT Marketplace Development services for our clients.

NFT Development
We create valuable NFTs in various categories like art, sports, music, etc based on the client's requirements. Our services can ensure a guaranteed output since experts from our company have extensive knowledge of NFT development tools.

NFT Smart Contract Development
We understand the importance of a reliable and bug-free smart contract during NFT development. The NFT Smart contracts we develop undergo separate design evaluation, internal audits, and optimization strategies.

NFT Marketplace App Development
For enhanced user engagement, providing robust NFT Marketplace apps should be the way to go. On account of that, we offer advanced NFT Marketplace apps on powerful blockchains by incorporating the best-upgraded tools.

NFT Marketplace Website development
Our experts design and develop high-grade NFT Marketplace websites for improved trading experience among users. The NFT Marketplace development websites we create have got everything covered including high-end security in all aspects.

NFT Art Marketplace Development
Our NFT Art Marketplace development is a major boost to digital content creators. These platforms allow artists to convert their unique artwork into Non-fungible tokens and claim ownership by storing it on a blockchain.

NFT Music Marketplace Development
As experts in NFT projects, we help entrepreneurs build their own NFT Music Marketplace platforms. Rare and unique music digital collectibles can be converted into NFTs and traded on these platforms.
Free Trial
Top Features

of our NFT Marketplace Development
Bid and Buy
It is a ready-to-launch smart contract audited NFT Marketplace that executes effective buying, selling, and auctioning of digital Collectibles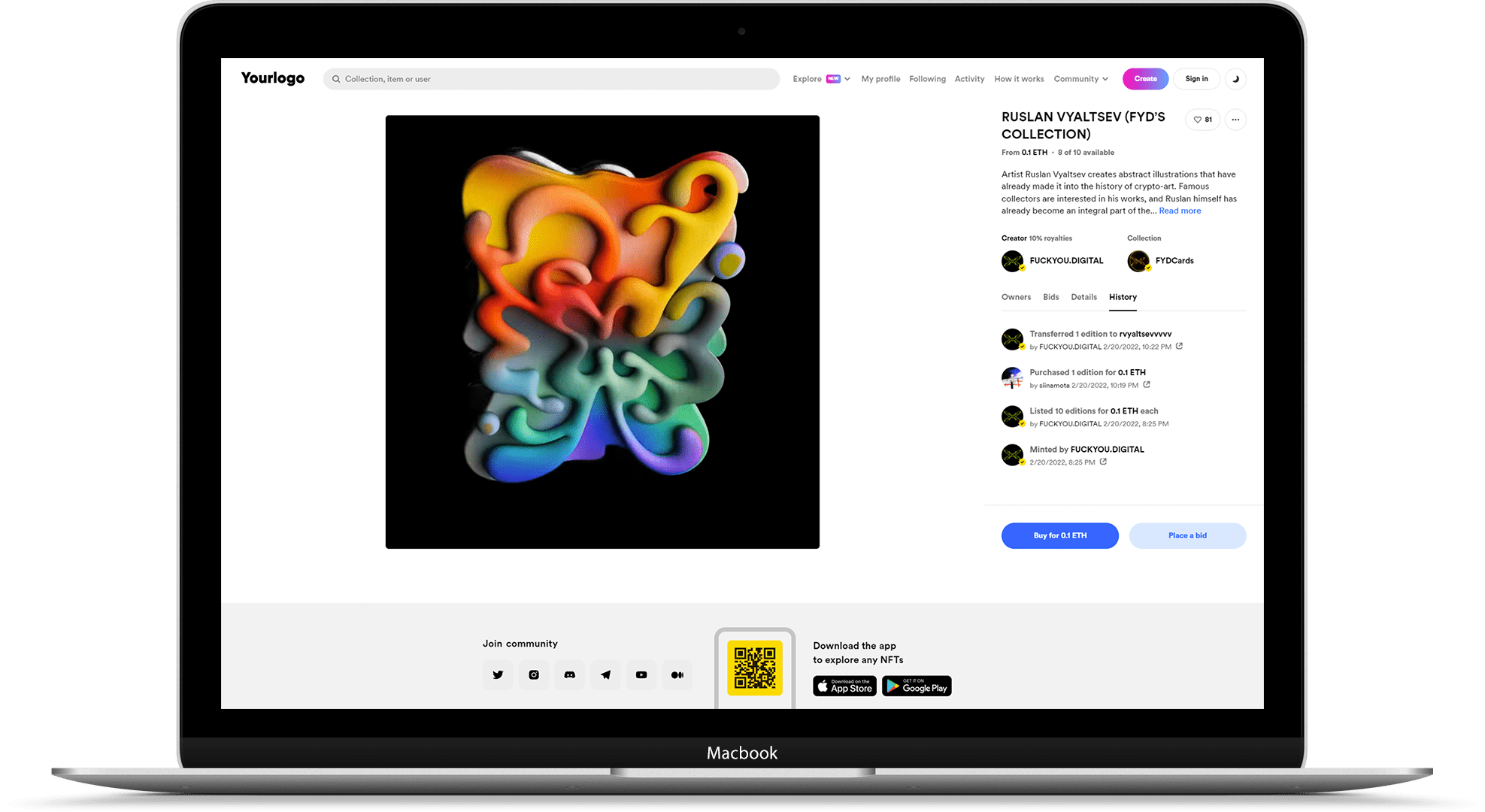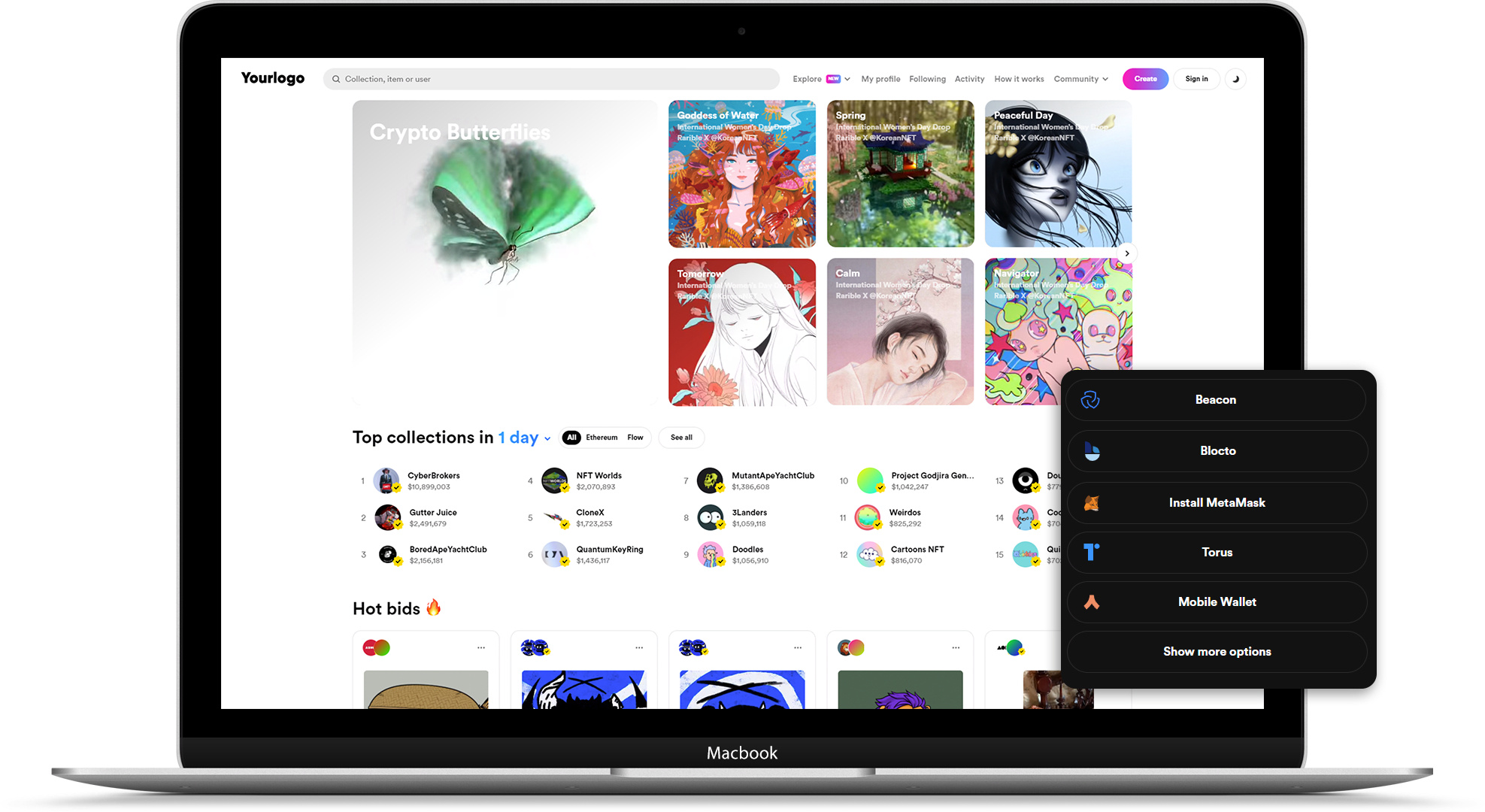 Proven Security
We don't compromise in any part of the security features is a security audit and have successfully passed many advanced security tests to ensure the safety of the customer funds.
Flawless Trading
Our NFT Marketplace development makes sure to provide flawless experience to the participants from step one so that they are connected with the system in a hassle-free manner!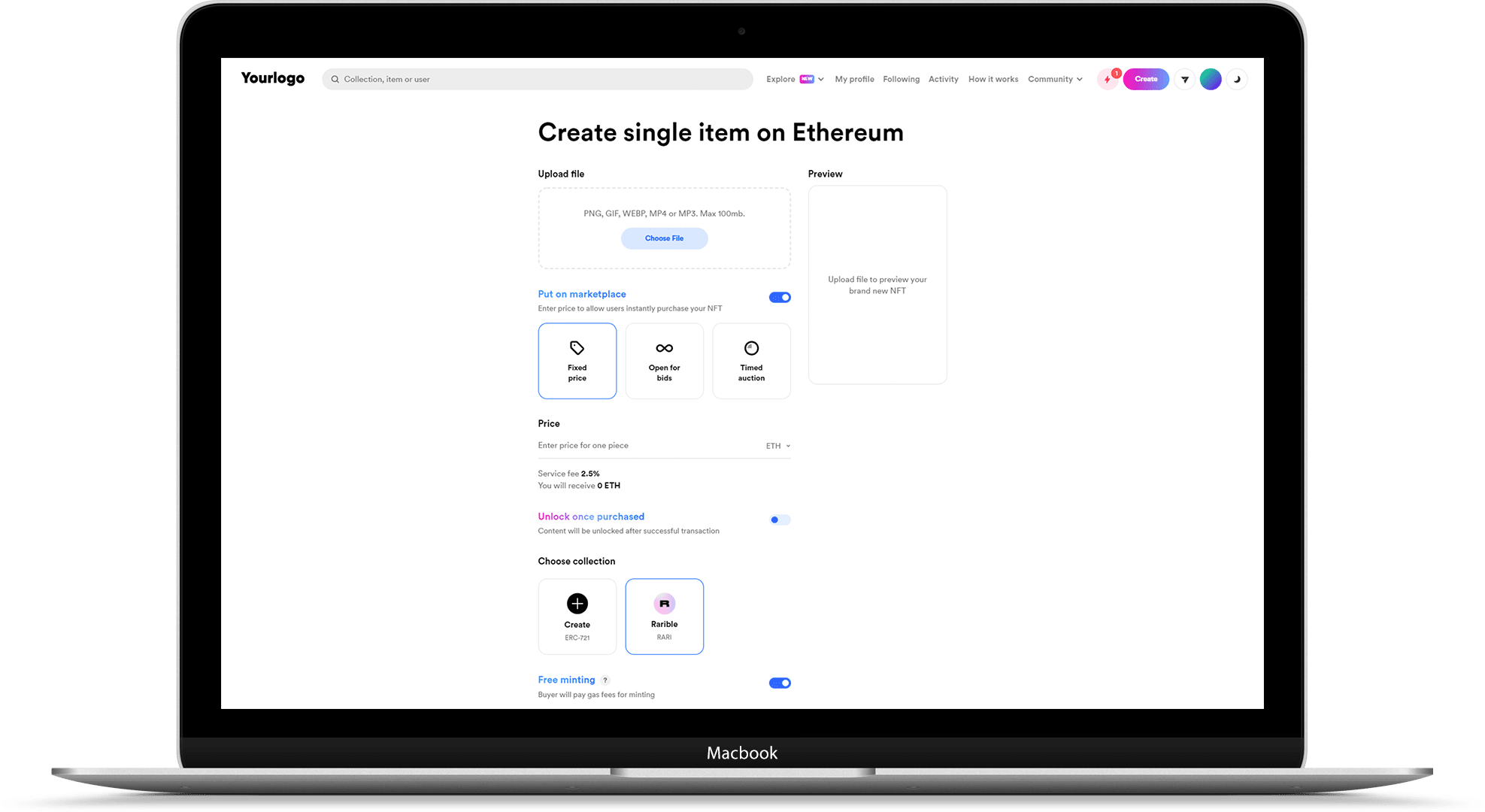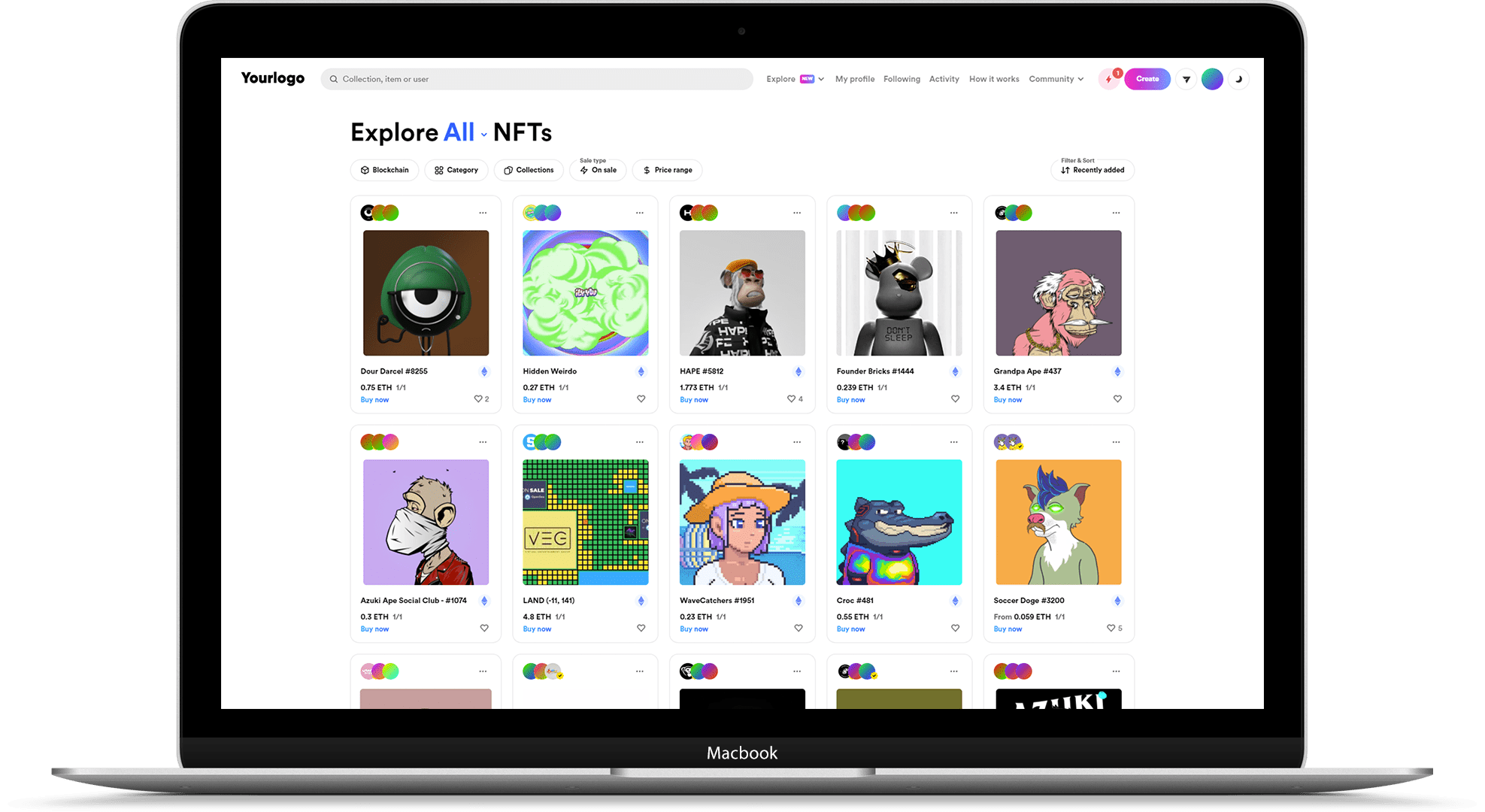 Stunning Dashboard
Our NFT Marketplace user dashboard is easy to use and manage. Users will be drawn to the game-like features and abilities to level up, gain points, and receive awards, by joining in on the discussion.
Custom UI/UX
Our software has a complete and user-friendly dashboard so that your users can get the best user experience on the platform and explore more.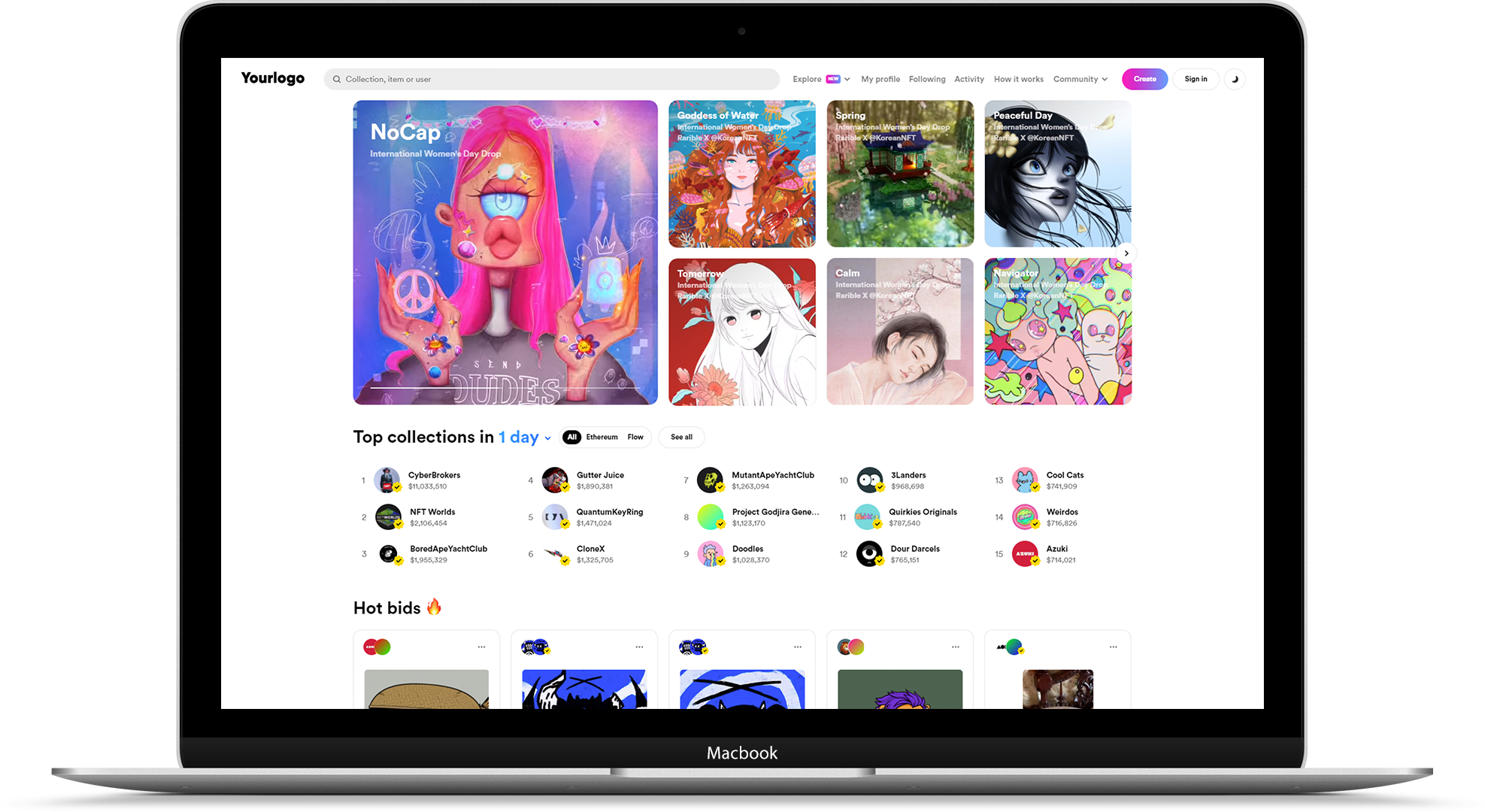 How Does

ourNFT Marketplace Software Work?
Various
NFT Marketplace

Development Solutions

We have 9+ years of experience in offering NFT Marketplace Development-related services with 100% customer satisfaction. We also provide various clone scripts for popular NFT Marketplaces below.

OpenSea like NFT Marketplace
With our agile white label solution, you can launch an advanced-level NFT Marketplace similar to the Opensea platform.

Rarible like NFT Marketplace
The white label solution for Rarible-like platform development that helps you to deploy your NFT trading platform within 7 to 15 days.

SuperRare like NFT Marketplace
The features of the SuperRare NFT Marketplace are replicated in our white label solution and also you can customize it.

NFT Marketplace like Foundation
Highly-secured NFT marketplace like Foundation can be replicated with our white label solution.

NFT Marketplace like Enjin
Launch your NFT marketplace like Enjin and integrate your own add-on modules in the NFT Marketplace.
Core Features

of ourNFT Marketplace Development
Instant Information
Trending Collections
QR Scanner
Features Request
Store Front
Search and Filter
Efficient Listing
Minting NFT's
Ownership Transfer
NFT's for Everyone
Itemize and Trade NFT's
Customer Service
Blogs and Announcements
Different Blockchain Network
Instant Information
Get swift notifications for every deposit, withdrawal, buy/sell, market trend, and other platform-related announcement.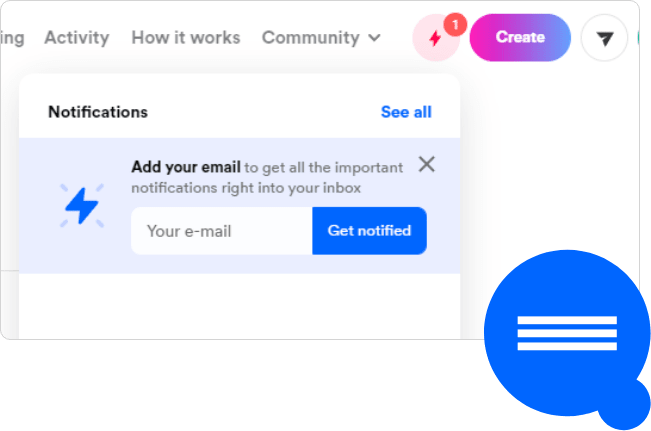 Trending Collections
Using our NFT Marketplace, users will be able to stay updated with the recent and trending digital collectibles in all the available categories.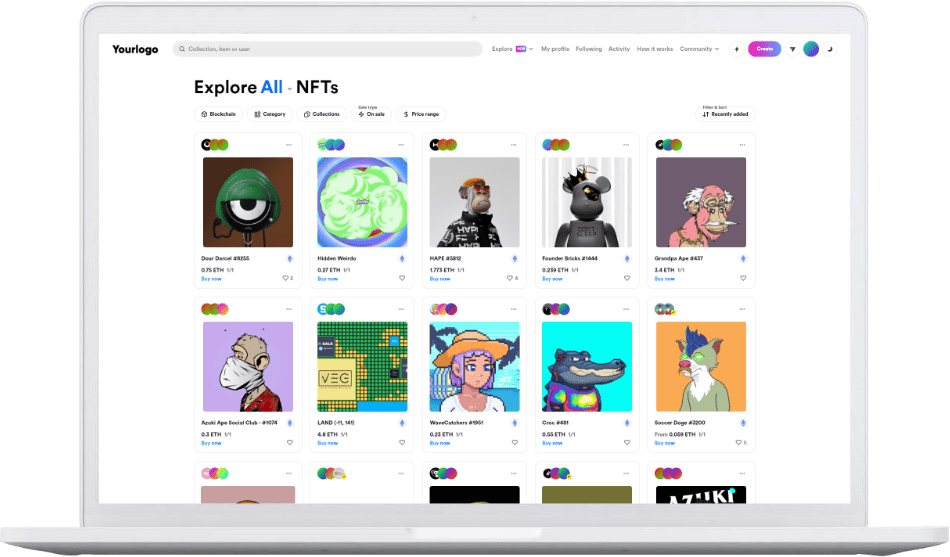 QR Scanner
New users can scan the QR code and install apps on Android & iOS. Once installed, free NFT will be rewarded! Using that, new users can list them on the marketplace for bid. This helps the newbies to get an idea about the NFTs.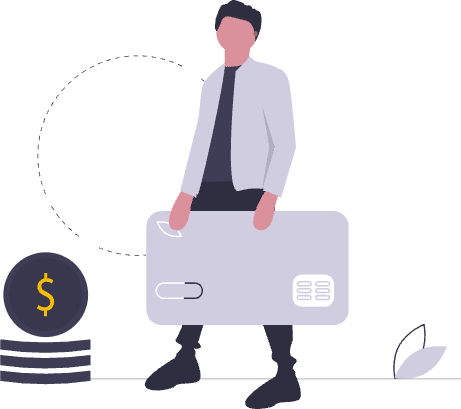 Features Request
Users can suggest to the admin/site owner what features can be added or improved in the current system. Admin can view them and include it if they're suitable. Innovative ideas will be welcomed and rewarded.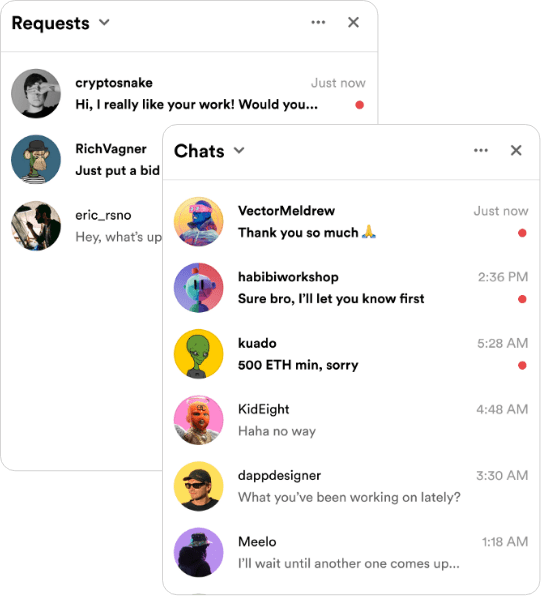 Store Front
Our software comes with an innovative storefront design to showcase the listed NFTs so that users can easily explore the system.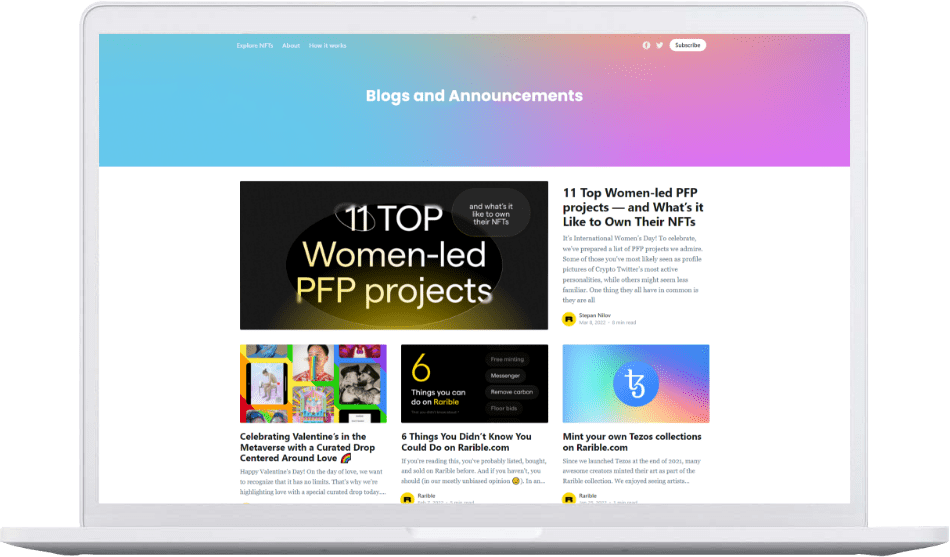 Search and Filter
Our software allows your users to slide through millions of NFTs to filter and search options in order to buy their desired digital collectible.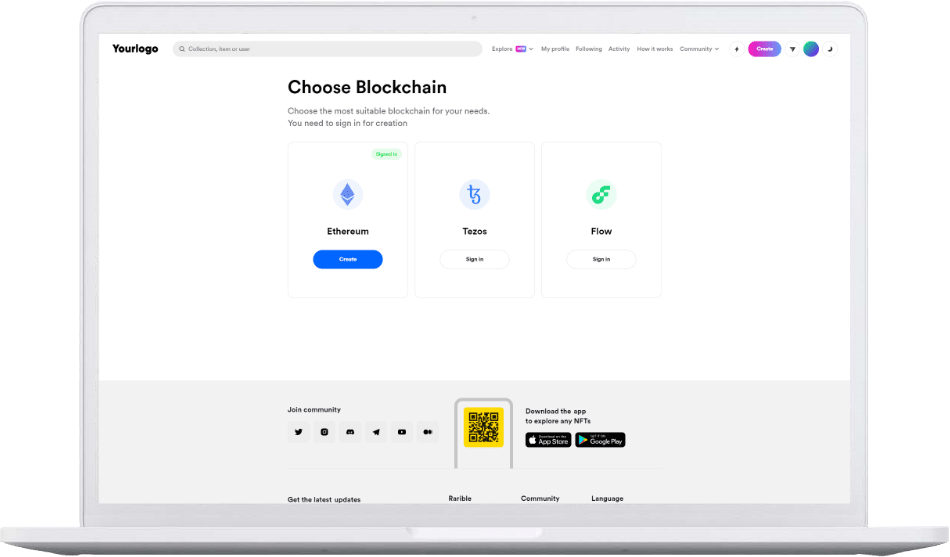 Efficient Listing
Artists can list any of their digital collectibles with files, descriptions, plugin names, and tags.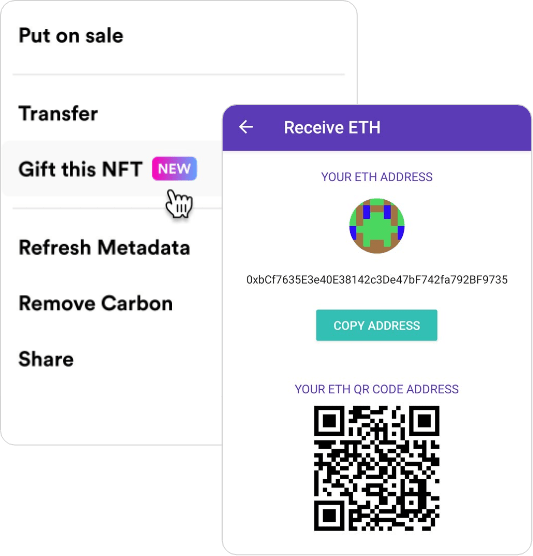 Minting NFT's
Creating own NFT is also defined as Minting NFTs and this minting is available to establish digital ownership of the collectibles and artworks by the users.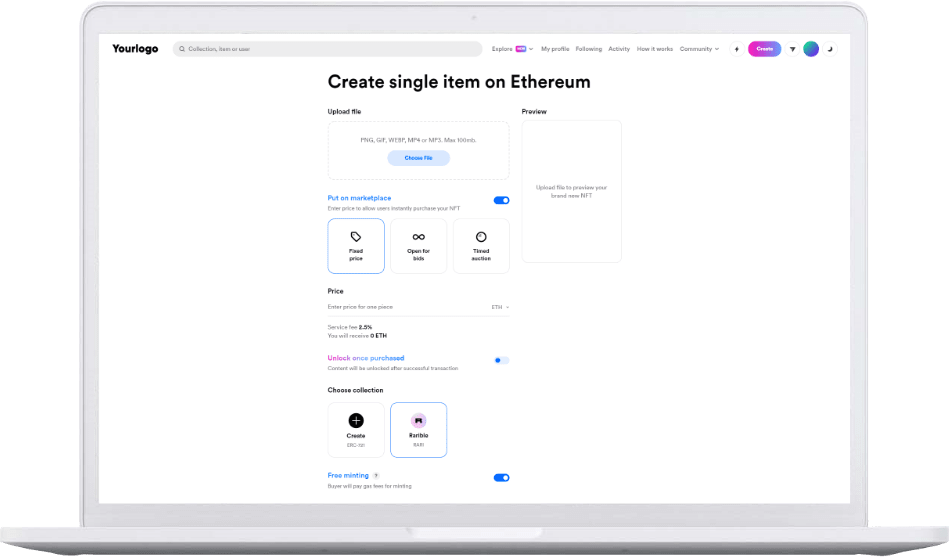 Ownership Transfer
Our software is developed in a way where the creators will get their royalty payment support and ownership proof for creating new NFTs.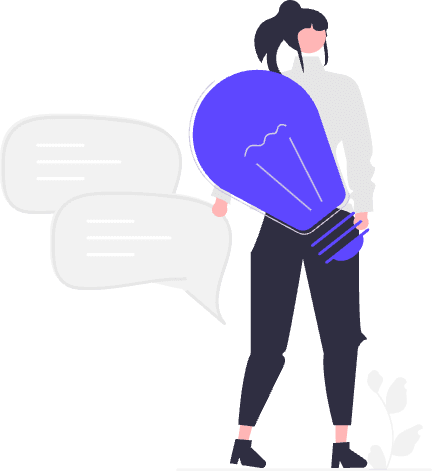 NFT's for Everyone
The use cases of our NFT Marketplace development software are open to all industries like arts, sports, music, real estate, digital collectibles, gaming, etc.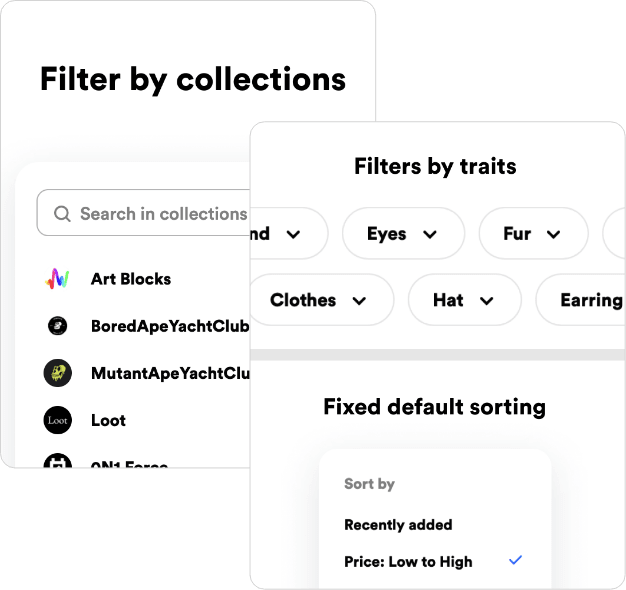 Itemize and Trade NFT's
The created or deposited NFTs can be listed in the marketplace for auction or a fixed price for sale with the details of the NFT to sell instantly for a better deal.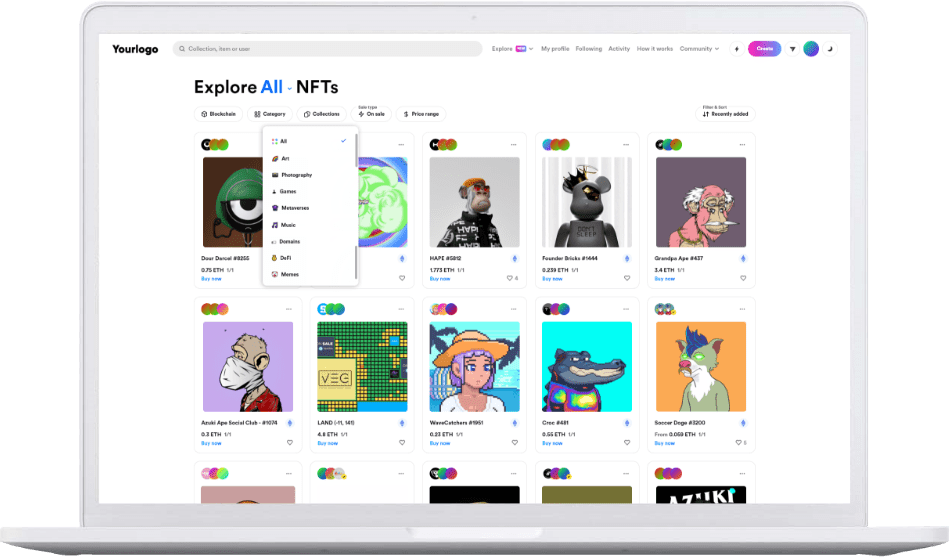 Customer Service
Our NFT Marketplace provides live chat support, where your users can initiate a chat with the admin. Even when the admin is not available our chatbots can provide automated responses.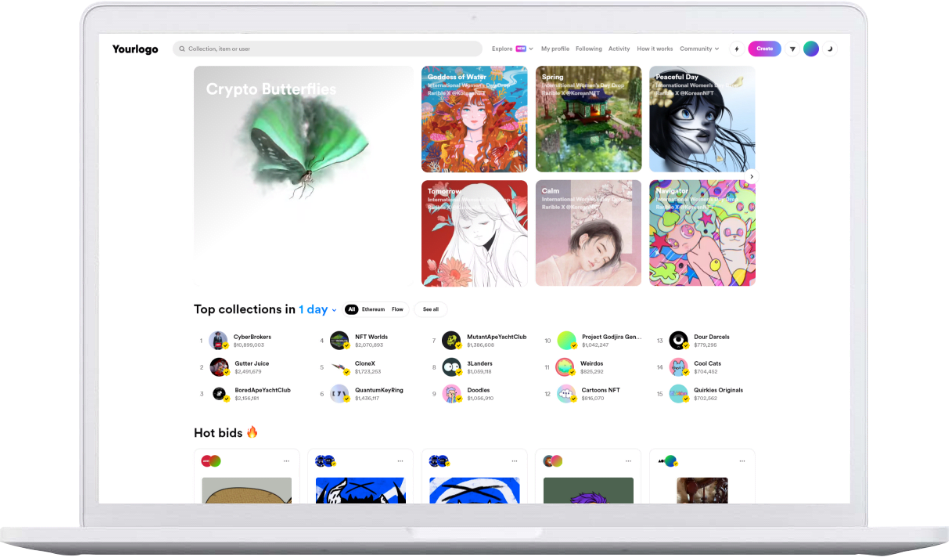 Blogs and Announcements
Engage your users by posting the latest news, and articles related to crypto markets. Also as an admin, you can notify users of important announcements such as a new feature integration, upcoming server maintenance, and much more.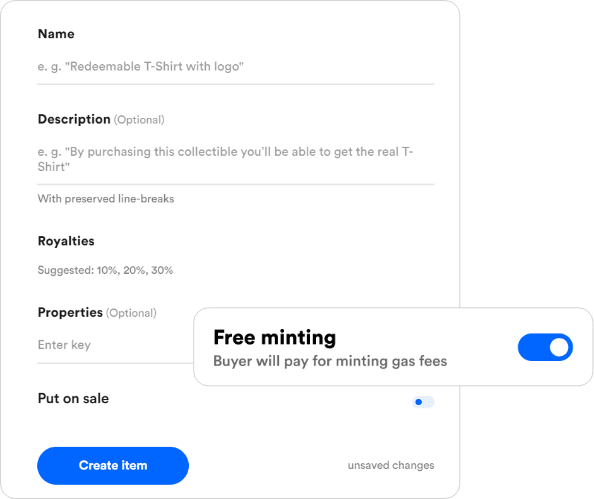 Different Blockchain Network
Our NFT Marketplace software is capable of supporting dynamic networks like Tron, polygon, Polkadot, etc.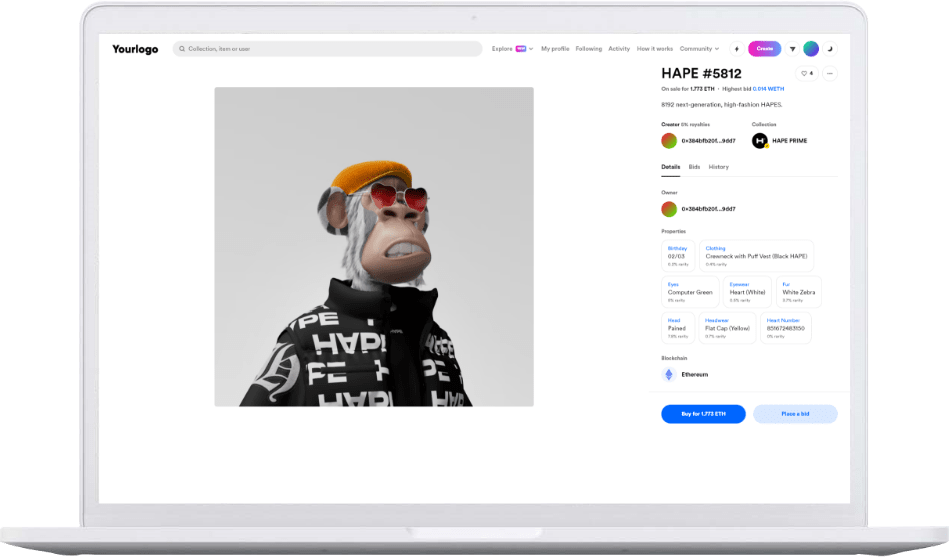 Security Features

of ourNFT Marketplace Development
Coinsclone always gives priority to security features. We incorporate robust security features to deliver a highly secure NFT Marketplace
Multilayered Authentication
Ethereum-Based Smart Contracts
Blockchain Platforms

for NFT Marketplace Development
We specialize in offering the NFT Marketplace Development in various networks. Our expert team offers multi-compatible NFT Marketplaces also.

Ethereum

Tron

Binance Smart Chain

Polygon

Solana

Waves
Use Cases

of Developing an NFT Marketplace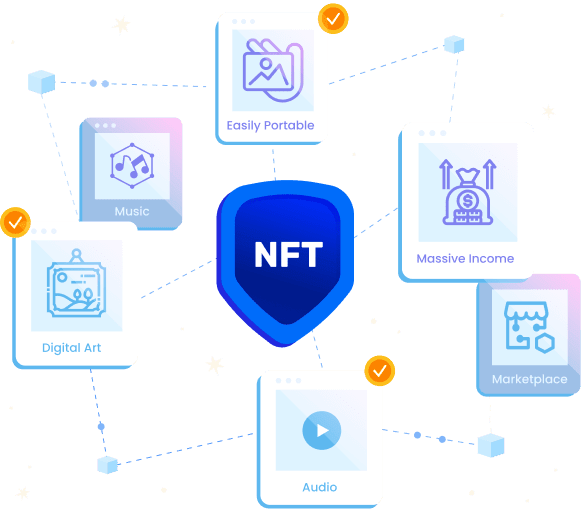 Easy portability - Digital and real-world assets can be mined into non-fungible tokens and traded using the platform.
Massive income potential - Your income can be on autopilot as the members of your NFT Marketplace increase and they trade in non-fungible tokens with greater frequency.
Transforming digital art - The greatest impact of NFT Marketplace has been felt in the arena of digital art may it be graphics, gaming elements, videos, and documents. Art can be sold, bought, and curated in the form of NFTs.
Music and audio - The NFT Marketplaces have had a huge impact on the music industry with various artists directly selling their creations through non-fungible tokens.
NFT Marketplace for Fintech - With micro-payments and smart contracts the fintech industry has made long strides in NFT-based financing and loans.
Why Choose

Coinsclone forNFT Marketplace Development?
Coinsclone is an exemplary place for developing an NFT Marketplace with agile features and functionalities. We have pioneer expertise and experience in creating an NFT Marketplace for various clients worldwide. Our developer team is ready to customize your NFT Marketplaces with anti-phishing protocols, database encryption, and threat protection. As we have delivered nearly 250+ blockchain projects successfully, we have a strong reputation in NFT Marketplace Development services. Our developer team uses a cutting-edge technology stack to create a seamless user dashboard, tamper-proof smart contracts, and cybersecurity for storing crypto assets. So, to ensure your success in the crypto space, contact our developer team and generate substantial revenue.

World-class experience
When you work with our developers for your NFT Marketplace development you get unparalleled experience because we have worked on multiple marketplace development projects.

Customizable code
Our code will be easy to customize. Once we have deployed your marketplace on the server, you can always modify it through us, or by yourself.

Full support
From programming to design to deployment and ongoing support, you get everything under the same roof.

Auctions and trading
Your NFT Marketplace users will be able to use multiple forms of transactions in tokens, including auctions and direct trading.

Predefined costing
We don't believe in catching you by surprise. All our estimates and costing are already predefined by our experts.

Scalable solutions
Whether you start from the base or you are a multi-national company, we can easily scale our services according to your budget.
Our Customers

Love what we do

Customer feedback and reviews are our major concerns! Here we have shared a few feedbacks of our reputed clients.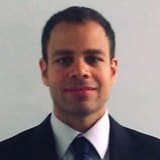 Project Name
P2P TRADING
I have been working with Coinsclone for the past two years. I am really satisfied with their development and technical support as well. I hope to work with them for a long time.
Our Portfolio Powers

more than 350

Crypto Startups Globally
Steps We Follow

inNFT Marketplace Development
Coinsclone follows some standard procedures to create and deploy an NFT Marketplace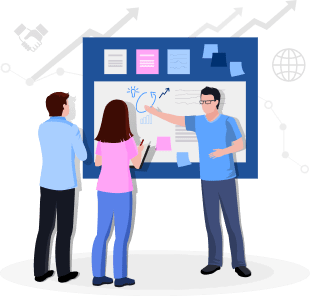 Requirement Gathering
In the initial stage, we would gather the requirements from clients and analyze them with the current crypto market. After the research, we will provide the right solution for starting a NFT Marketplace business
Planning
Our experts will derive a rough plan for your NFT Marketplace Development based on the business requirements of clients.
Designing
Each design that is implemented in the NFT Marketplace we provide will be moved to the next stage after confirmation from both the client side and the designer team.
Development
In this stage, we would develop and customize the entire NFT Marketplace as per the client's needs.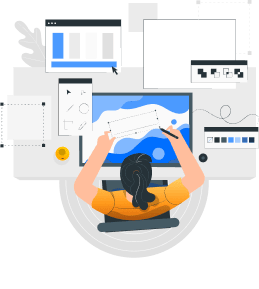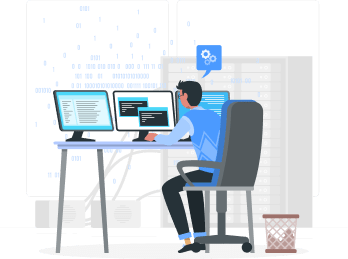 Testing
After the development stage, our testing team will check the quality of the customized NFT Marketplace by conducting various tests. If any functionality doesn't work properly, then our team will rectify the issue immediately.
Deployment
Our development team will deploy the superfine NFT Marketplace to the server as per the client's request.
Technologies We Use

in NFT Marketplace Development

We at coinsclone use a set of advanced technologies for creating and deploying an error-free NFT Marketplace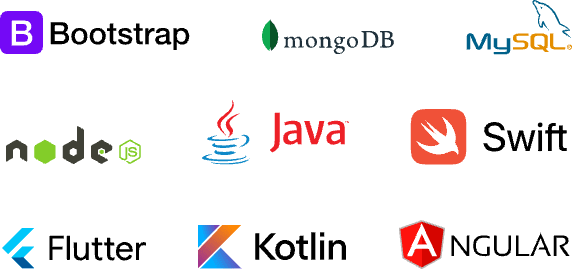 FAQ

Frequently Asked Questions
NFT Marketplace Development is the process of designing and launching a digitalized platform where users can store, buy & sell NFTs. It is one of the best revenue business ideas in the current crypto market.
To create an NFT Marketplace, there are two popular development solutions. Entrepreneurs can either develop from scratch or use a clone script to create an NFT Marketplace.
The NFT Marketplace development through a clone script costs in the range of $30,000 to $50,000 based on features and functionalities. Instead, if you develop from scratch, the cost comes to around $1,00,000.
Requirement gathering, Planning, Designing, development, Testing, and deployment are the steps involved in the creation of an NFT Marketplace. These steps can be followed to build a highly valuable NFT Marketplace.
The best NFT Marketplace development company should be selected based on factors like Industry experience, Developers team, Client reviews, number of projects, reputation, and the benefits they offer to entrepreneurs.
Our NFT Marketplace is supported on different extensions including web browsers, mobile apps, tablets etc. Additionally we offer NFT Marketplace for other extensions based on Client's requirements.
The NFT Marketplace we develop supports multiple blockchains including popular ones like Ethereum, Binance Smart Chain, Polygon, Tron and Hyperledger. The cost can vary based on the blockchain you choose to create tokens.
Do you have more queries?
Feel Free to Discuss With Our Team. We are here to Answer your queries
Talk To Our Experts