What is

White Label Crypto Exchange Software?
White Label Crypto exchange software is a prefabricated software that holds all the basic and latest features that are needed to start a successful crypto exchange business. By using this crypto white label software, you can create and deploy a stunning cryptocurrency trading platform within a week as per your business requirements.
Our bug-free white label cryptocurrency exchange software supports all the major virtual crypto coins & tokens which enables your users to trade a wide range of crypto assets as per their wish. You can launch the desired type of crypto exchange platform with our ultra-modern white label Exchange Software.
Our software is highly responsive, secure, error-free, and has several customizable options. You can customize the theme, trading features, design, color, name, logo, and other add-ons as per your business concepts without any trouble. Our crypto white label software comes with a user-friendly dashboard and works without any glitch which helps to provide the smooth & best crypto trading experience for your users.
Why should you start

Crypto Exchange by using a White Label Crypto Exchange Software?

You can get various advantages by using our best white label cryptocurrency exchange software to kickstart your flourishing cryptocurrency exchange business.
Highly customizable
Bug-free & secure
Cost-effective
Faster deployment
Easy to use platform
No need for technical expertise
High ROI
Eye-catching and user-friendly dashboard
Top Features

Of Our White label Exchange Software
Advanced Trading Engine
Our upgraded white label crypto exchange software comes with the powerful Trading Engine which enables your users to match the buy and sell orders without any delay. Our super-fast trading engine contains in-built order types.
Multi-Cryptocurrency Wallet Integration
The integrated crypto wallet in our white label exchange software helps your users to store, receive, and transfer any crypto assets in a hassle-free manner. Our multi-currency crypto wallet provides secure storage and smooth transactions for all listed cryptocurrencies on your platform.
High Transactions per Second
Our best white label cryptocurrency exchange software provides an exemplary performance by handling several crypto coins or token transactions per second without any latency. Thus, it offers a first-class trading experience to your users on the platform.
Security Ready
Our whitelabel crypto exchange software is robust, fully tested, verified and will last forever without giving possibilities for unprotected security attacks.
High Liquidity
Your users can convert crypto to fiat or fiat to crypto instantly. It will help to upsurge the order flow & filling system for crypto trades placed. You can connect the API of other prominent cryptocurrency exchanges which helps you in achieving higher liquidity.
How Does our White Label Crypto exchange

Software Work?
Core Features

of ourWhite Label Exchange Software
User Dashboard
Admin Dashboard
Different Order Types
Crypto and Fiat Support
Advanced Chart Tools
KYC/AML
Support System
Admin Profit Management
API Documentation
Multi-lingual
Referral System
Margin Trading
Futures Trading
IEO Launchpad
User Dashboard
The stylish user dashboard in our software comes with all basic & important features to assist your users in trading, viewing the trading charts, viewing crypto prices, depositing funds, and withdrawing the funds in a risk-free manner.
Admin Dashboard
Our software has a user-friendly admin dashboard where you can manage all the trading functions, commissions, and security features of your exchange. As the admin of the software, you can make the modifications quickly and manage them in a hassle-free way. Apart from this, you can view all the important information. Such as user transactions history, completed trade, withdrawal history, crypto wallet transactions, and more.
Different Order Types
We enable Limit Orders, Market Orders, and Stop Orders in our white label crypto exchange software which helps your users to buy or sell crypto coins instantly as per their preference based on the price movement.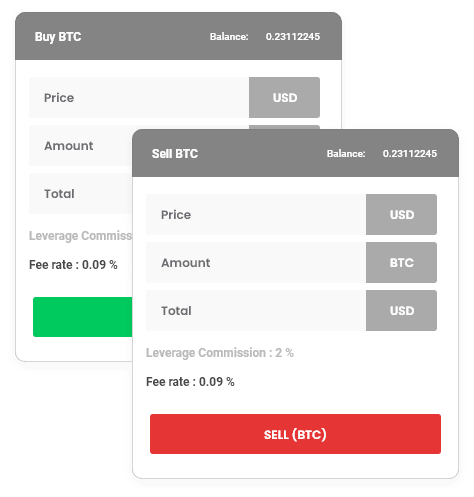 Crypto and Fiat Support
Our premium white label Cryptocurrency exchange software comes with multi-currency support. So that your users in the platform can use both fiat and cryptocurrencies for trading. The architecture in our software helps to integrate any fiat currency or crypto in your exchange in the future.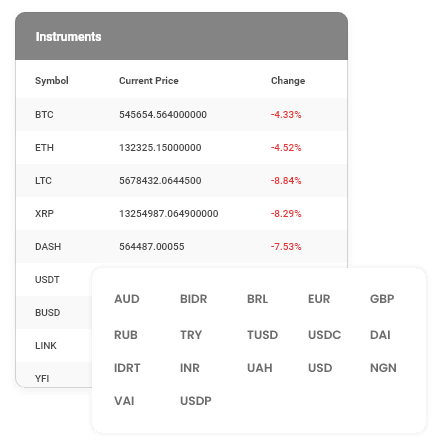 Advanced Chart Tools
Our software comes with the latest trading chart which enables your users to view orders, positions, crypto prices as per the market. By integrating an advanced trade chart, your users can get a smooth graphical trading experience that makes them stay active on the platform.
KYC/AML
Our exchange software comes with the KYC/AML feature where your users have to submit their identity documents for verification. You can analyze those documents and give permission for trading cryptos. This helps you to filter the anonymous and unwanted users from trading in your exchange.
Support System
Instant support system which helps your users to raise queries and also a chat box for them to directly chat with the admin.
Admin Profit Management
Our exchange software comes with a transparent profit management system for Admin where the commissions would be calculated and displayed.
API Documentation
We provide a clear API documentation that helps other platforms to connect with your exchange.
Multi-lingual
We provide multiple language support in our white label crypto exchange software. So that you can create and deploy a superfine crypto exchange with multi-lingual support. It helps in upsurging the user count as well as grabbing the attention of many users from various countries.
Referral System
The referral option is the most trending module right now and we enabled this feature in our bug-free white label bitcoin exchange software. It helps to grab more users on your crypto exchange platform. Your users can invite their friends or other crypto users so that they can earn rewards or bonuses.
Margin Trading
Your users can use borrowed funds from a third party to lever up a crypto trade. Besides, they can open a larger position with fewer funds by using margin trading.
Futures Trading
Advanced and key feature in our binance clone script where users can buy/sell assets at predetermined price on a specific date or without any expiry date. Our software comes with perpetual (no expiry date) and quarterly contracts (expire every quarter) where users can hold their position accordingly by speculating the cryptocurrencies future price.
IEO Launchpad
IEO is the simplest and easiest way to raise funds for crypto projects. We at Coinsclone integrate the secure IEO launchpad in our exchange software which helps your users to list their token for sale.
Security Features

of ourWhite Label crypto Exchange Software
Here we list the tamper-proof security features that you can get in our white label crypto exchange software.
Two Factor Authentication
Anti Denial Of Service DOS
Cross-Site Request Forgery CSRF Protection
Server-Side Request Forgery SSRF Protection
Anti Distributed Denial Of Service
Why Choose

Coinsclone forWhite Label Crypto Exchange Software
By joining hands with Coinsclone, you can get a bug-free and feature-packed White label exchange software.

Award-winning cryptocurrency exchange software provider
Being a pioneer in the crypto field, we are masters in crafting outstanding white label crypto exchange software with impeccable outcomes.

One-stop solution for all crypto exchange services
We at Coinsclone offer end-to-end crypto business software solutions for all budding startups and entrepreneurs who are willing to start a crypto exchange business & reap profits.

Delivered more than 200+ projects
As we are the leading white-label exchange software provider in the crypto industry, so far we have successfully delivered more than 200+ projects to our international clients (crypto exchange, crypto payment gateway, and crypto wallet)

On-time product delivery
Our crypto white-label software developers will customize the software according to the client's requirements and deliver them to the client within the given time frame.

A dedicated team of experts
We have a team of skilled and professional developers for handling all sorts of crypto exchange projects.

24/7 customer and technical support
Coinsclone offers productive technical and customer support through the internet on a 24/7 basis for all our services/products.
Our Customers

Love what we do

Customer feedback and reviews are our major concerns! Here we have shared a few feedbacks of our reputed clients.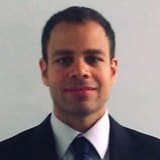 Project Name
P2P TRADING
I have been working with Coinsclone for the past two years. I am really satisfied with their development and technical support as well. I hope to work with them for a long time.
Our Portfolio Powers

more than 350

Crypto Startups Globally
Development Approach

of ourWhite Label Cryptocurrency Exchange Software
The below-mentioned process will be followed by our experts for developing a superfine white label cryptocurrency exchange software.
Requirement Gathering
Gathering the requirements from our clients is the initial step that we follow for creating a crypto exchange. We analyze the needs of our clients and provide them with the best solution.
Planning
Our team will set the goals and objectives of the project. Besides this, we would set project deadlines and establish a budget for the project.
Designing
Our skilled designers will obtain a skeletal design of the exchange interface to be designed. Our unique and promising design of the software will help you to increase the user base.
Development
The architecture of our white label crypto exchange software is developed for all crypto audiences right from beginner to advanced level. The software will be completely developed and customized as per the client's needs.
Testing
In this stage, our well-experienced testers will check the quality of the exchange software by running all types of tests.
Deployment
After completing all these stages, we would deploy the exchange software on the server as per the request of the client.
Technologies Used in

Our White Label Bitcoin Exchange

We at Coinsclone use upgraded and new-fangled technologies for developing and designing the white label crypto exchange software.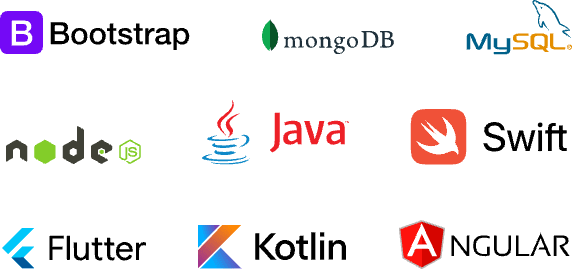 FAQ

Frequently Asked Questions
When people search for the best & bug-free white label exchange software, they naturally end up with Coinsclone. We offer a highly customizable white label crypto exchange software solution with outstanding features and an extraordinary user interface to ensure a smooth trading experience for your users.
You can make money in multiple ways by starting a crypto exchange business with the best white label crypto exchange software. Such as withdrawal fees, transaction fees, deposit fees, margin trading, stacking, and integrating the IEO launchpad into your exchange.
The answer is big 'Yes'. The entire concept of cryptocurrency and crypto exchange is based on a blockchain architecture. Therefore, we build a secure crypto exchange using blockchain technology as per the client's business requirements.
If you are a startup or an entrepreneur willing to create your own crypto exchange platform immediately, then you can use our ideal white label cryptocurrency exchange software. So that you can deploy a fully functional crypto exchange as per your business needs in just 7 days.
The premium white label cryptocurrency exchange software development cost will be mostly dependent on some essential factors. Such as trading features & security modules you integrate and the type of crypto exchange you choose for your business.
We craft our tailor-made software with enabling robust security features such as HTTPs authentication, Jail login, Data encryption, Two-factor authentication, SQL injection prevention, Anti Denial of Service(DoS), and more. You can also add extra security features based on your business necessities with the help of our professional blockchain developers.
Do you have more queries ? Feel Free to Discuss With Our Team.
We are here to Answer your queries
Talk To Our Experts