What is

White Label SuperRare Clone Script?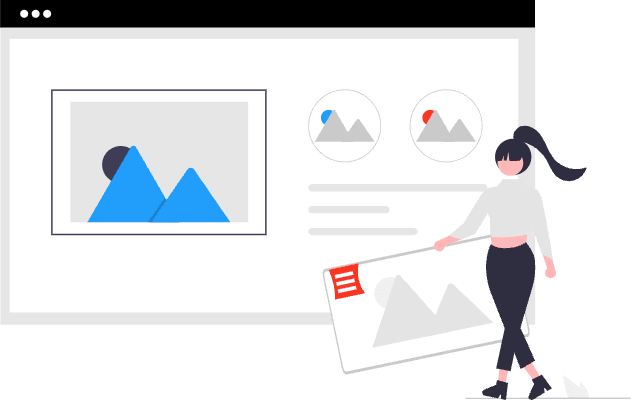 SuperRare clone script is a pre-designed NFT Marketplace clone script that is trending in the global crypto marketplace. It is completely an optimizable clone script that is specially introduced for budding entrepreneurs who wants to enter the NFT world by launching an NFT Marketplace in a cost-effective way. It is a feature-packed white-label NFT Marketplace software that is crafted on top of the Ethereum blockchain network. The SuperRare clone script is completely designed, developed, multi-tested, and ready for launch.
By using the premium SuperRare clone script, you can build an NFT Marketplace on the Ethereum blockchain within 7 days which looks 100% similar to SuperRare. Besides, the workflow of this clone script will be the same as the existing platform - SuperRare. Your users can trade any digital items in the name of NFTs. Digital items can exist in the form of animations, 3D artwork (for example photoshop), GIFs, mash-ups, videos, or documents. Therefore, with our SuperRare clone script, you can create a social network type of NFT Marketplace platform that acts as a hub for creators and NFT enthusiasts.
Quick View

of Our SuperRare Clone Script
How our

SuperRare Clone Script work?
Why should you start a

NFT Marketplace using a SuperRare clone script?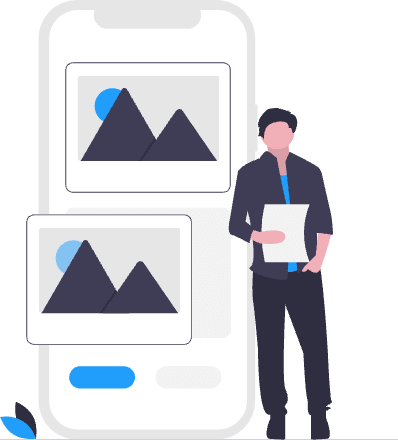 Quick deployment
Art appreciators can purchase NFTs instantly and securely by connecting crypto wallets.
A smart and effective solution to start an NFT Marketplace business.
Built on the Ethereum network
The SuperRare clone script offers multi-currency support.
Supports multiple transactions such as direct purchases as well as auctioning and bidding.
Your users can get live updates on the latest and trending NFTs.
A powerful user-friendly admin dashboard that enables you to manage all activity.
Your NFT Marketplace will be entirely secure based on smart contracts and it is practically impossible to steal NFTs from the repositories created by our SuperRare clone script.
SuperRare clone script helps to make revenue with every transaction, minting NFTs, bidding, and trading NFTs.
Top Features

of Our SuperRare Clone Script
Collect Digital Art
Our super Rare clone script is built on Ethereum based platform that allows users to mint,buy,sell ownership rights to the collectors via Non- fungible token.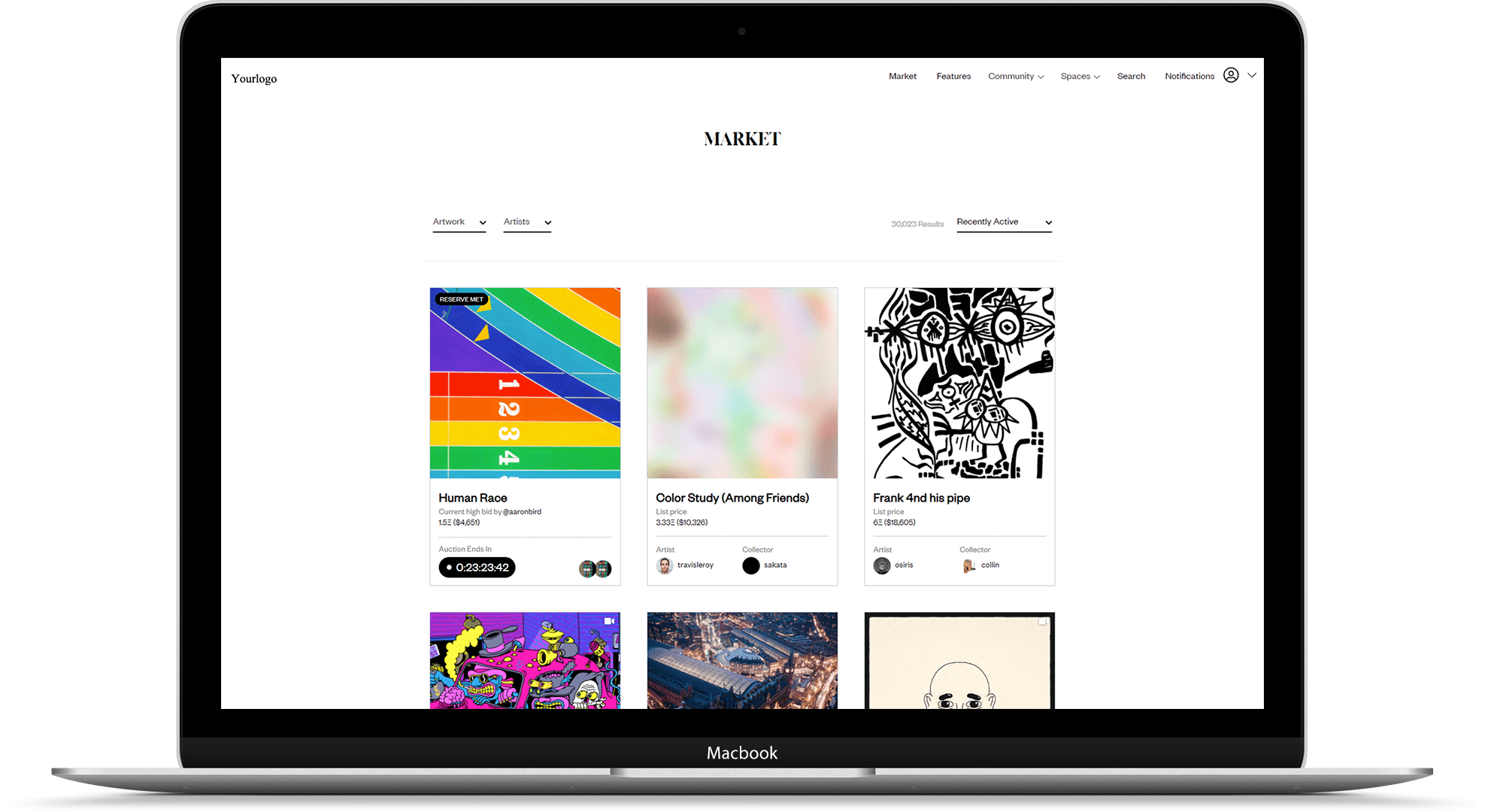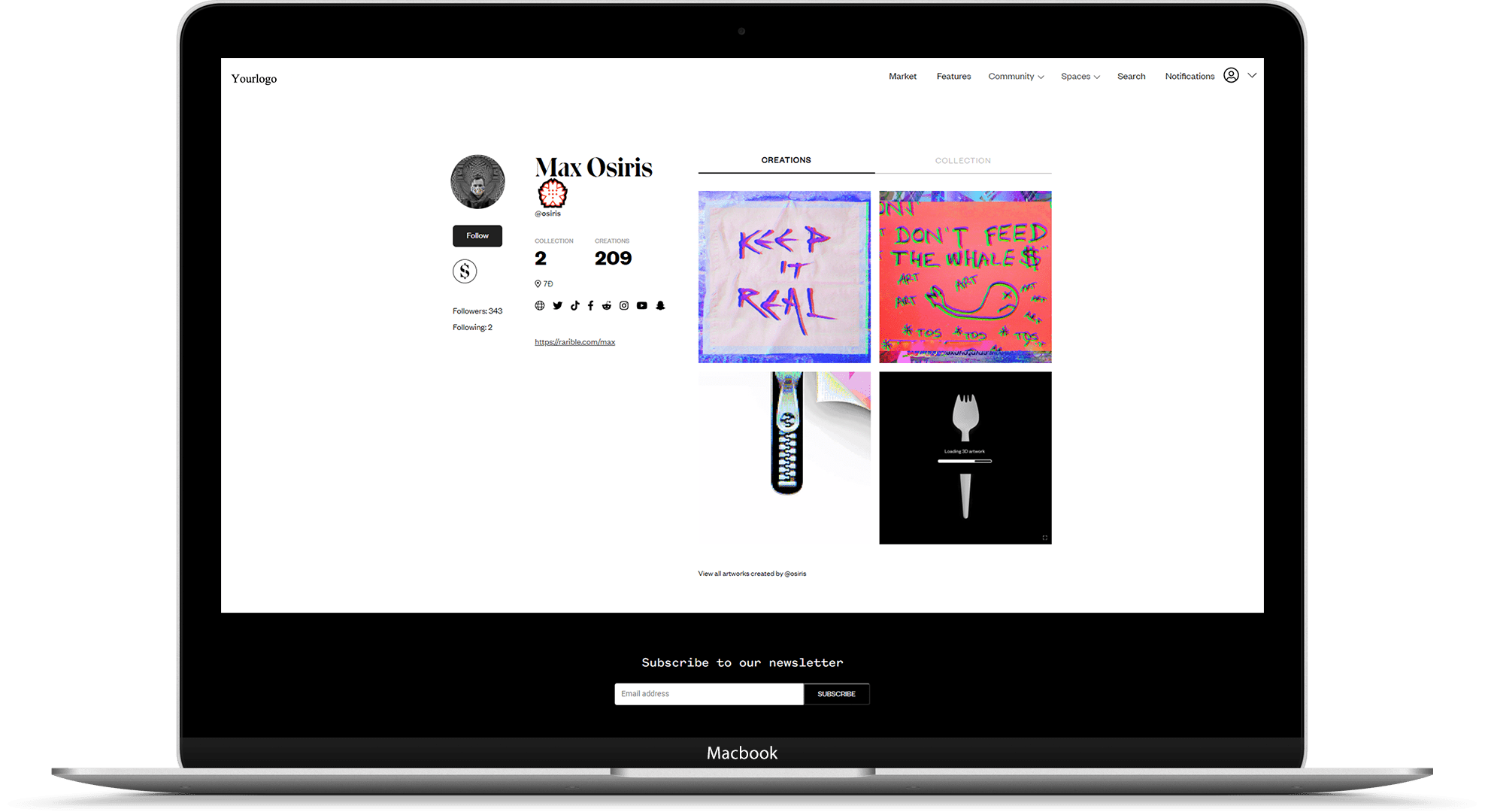 Follow Top Artists
Our super rare clone script allows users to follow their favorite artist / owner and receive updates from them on their latest works and they can buy their collection and creation.
Decentralized protocol
Users are able to track the transaction details of the listed NFTs in the marketplace through the Ethereum block chain in which our clone script can be designed in completely decentralized protocol.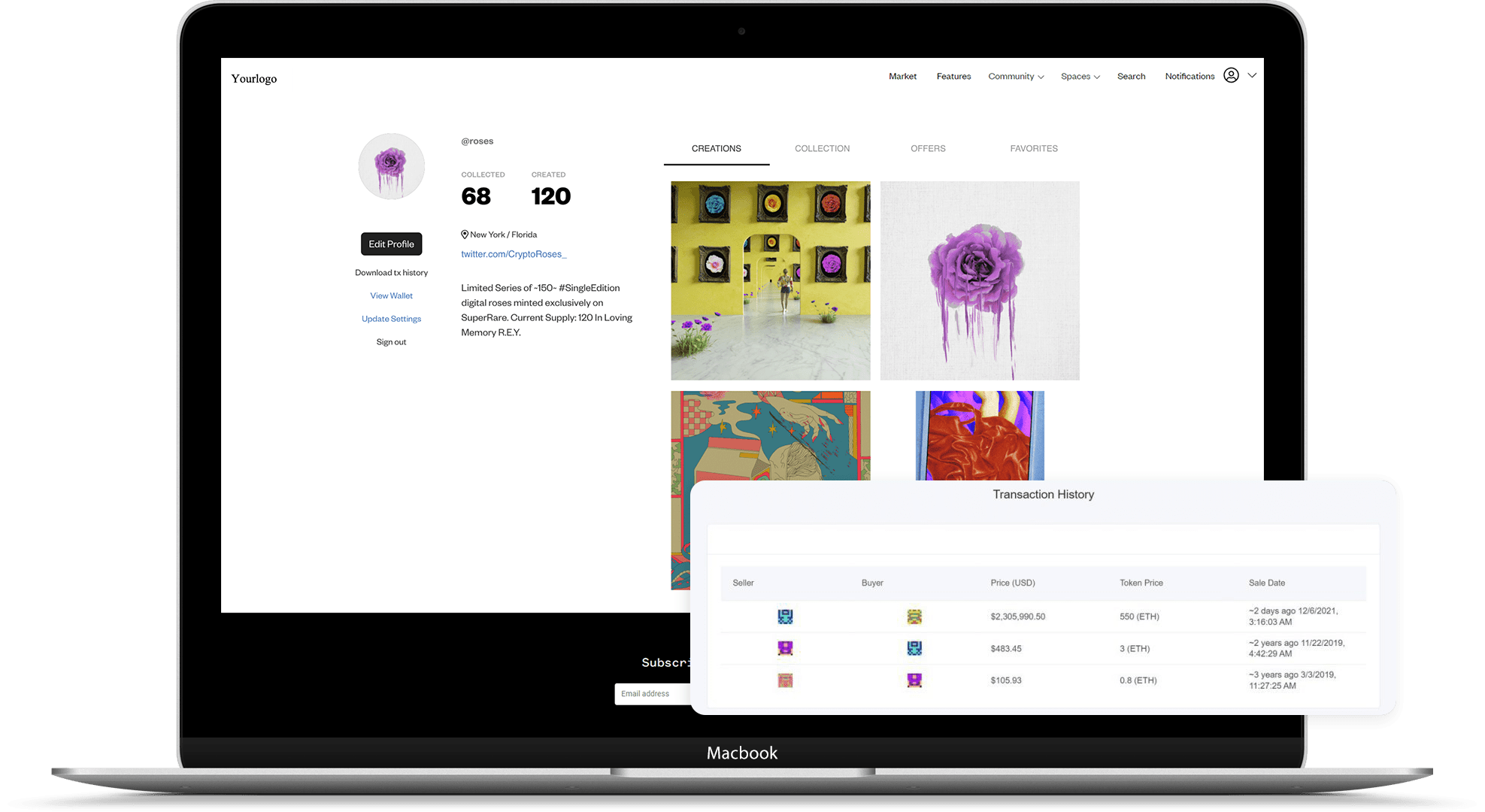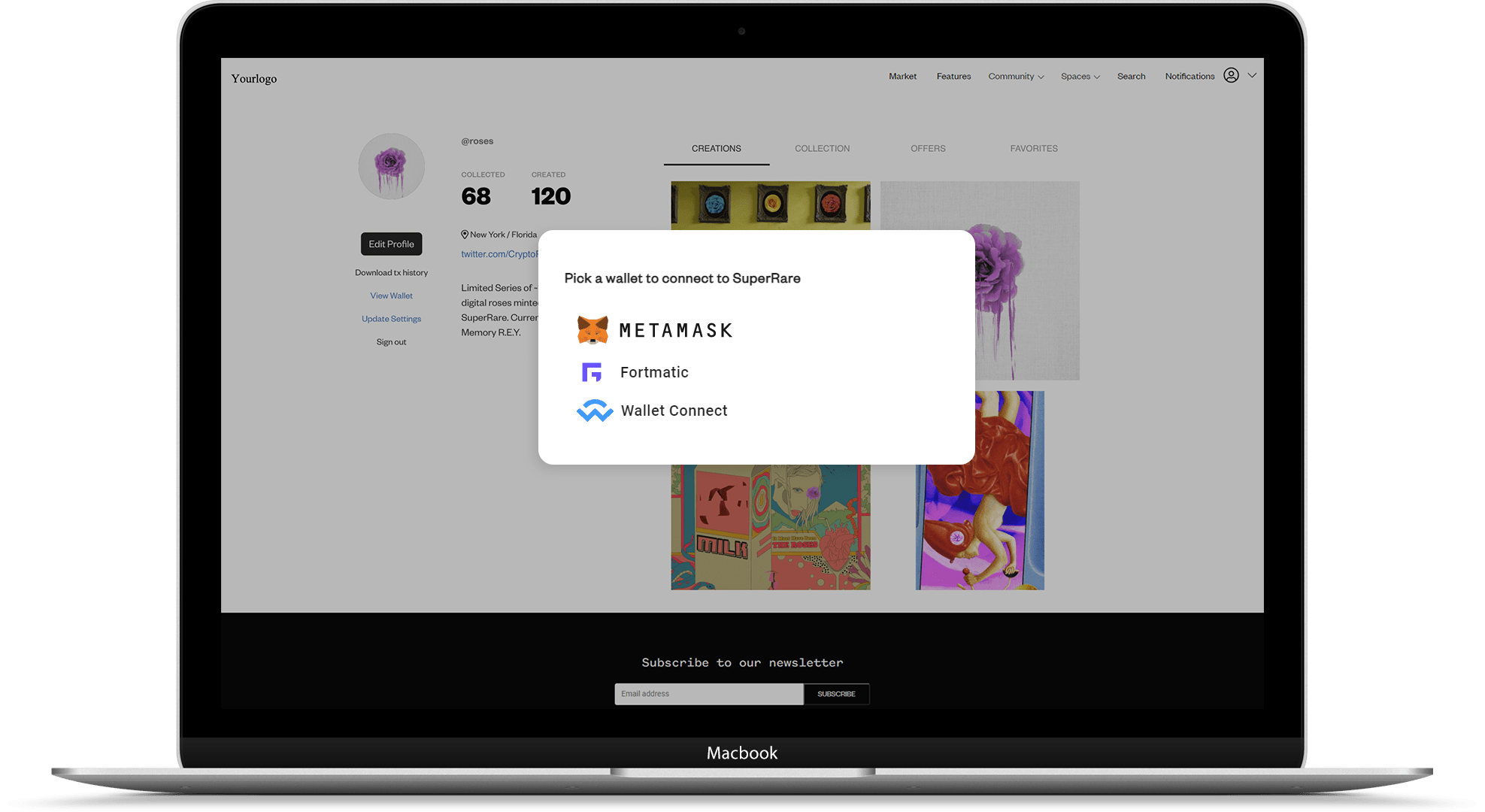 Multi-wallet Support
Our clone script supports all ethereum based wallets such as Metamask, Atomic wallet and scalable to support other chain wallets.
Unified Interface
Our super rare clone script provides users with rich viewing experience and optimal viewing across various devices such as mobile,desktop and tablet.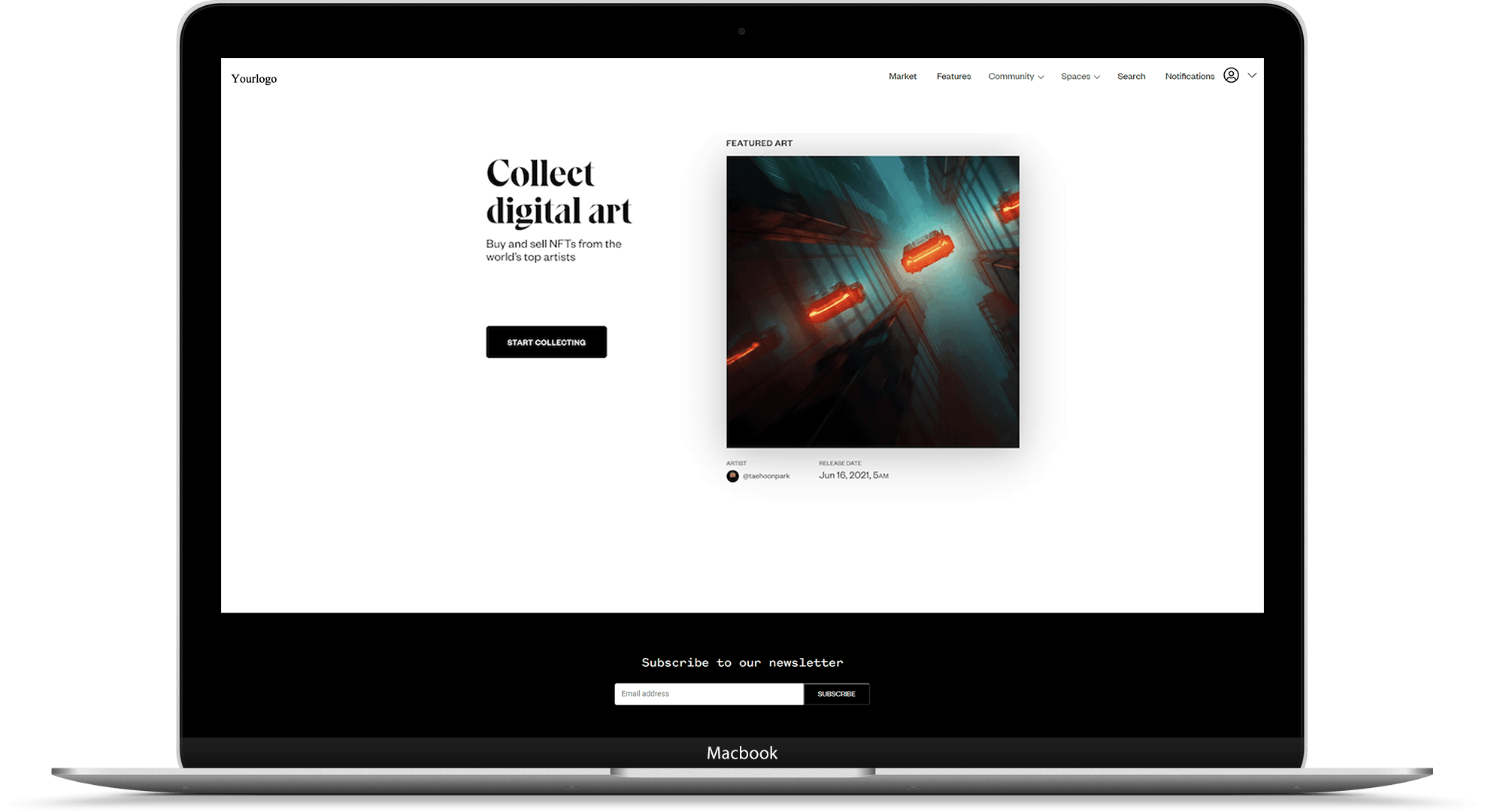 Core Features

of Our SuperRare Clone Script
Mint and List your own NFTs
Narrow down your search
Manage Listed Collections
Join as an Artist
Claim your Royalties
Curated Gallery
Bid and Buy
Voting System
Admin Profit Settings
Multi-currency Support
Mint and List your own NFTs
Our clone script facilitate user to mint their own NFTs on ethereum network by uploading collectible which include images,video,gif,audio,domain and names etc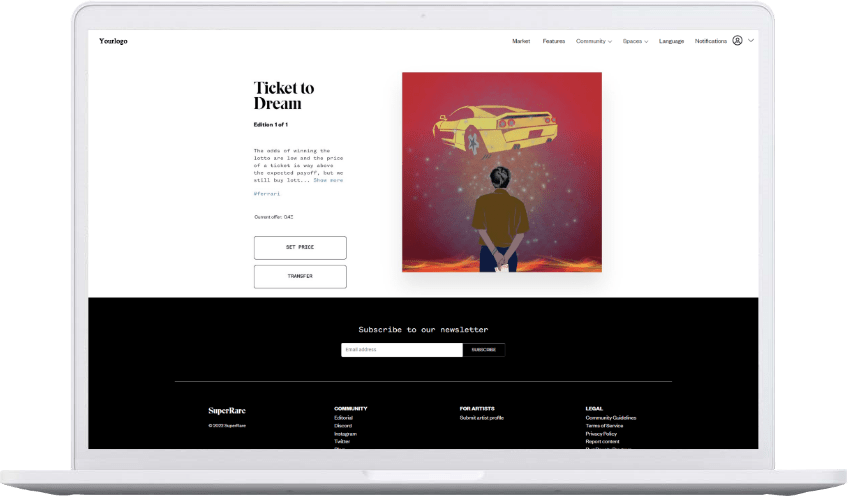 Narrow down your search
Our filter option lets you show collectibles based on interest and quickly filter between artist, filetype, price range,and date minted.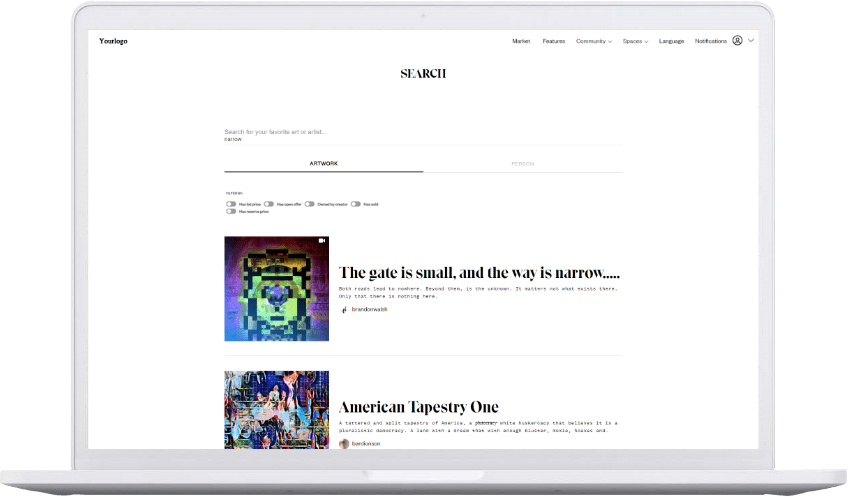 Manage Listed Collections
The admin console facilitates to manage, approve/reject the listings done in the platform. The collectibles can be activated or deactivated any time from the admin panel.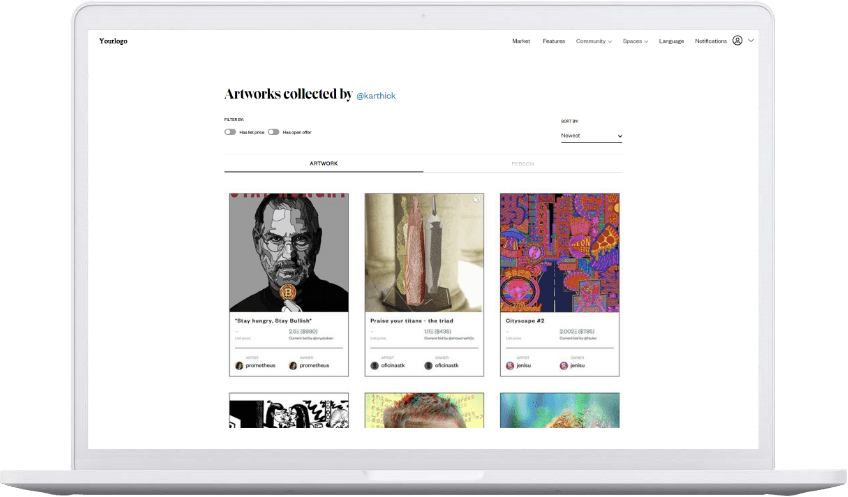 Join as an Artist
The SuperRare clone script provides an option for the users to sign in as an artist to have a specialized access to get a wide range of followers and help in building celebrity profiles.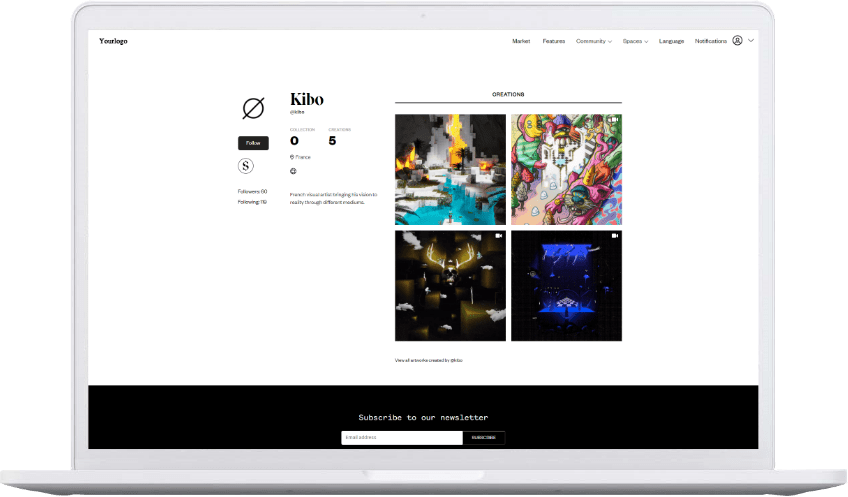 Claim your Royalties
The NFTs minted can be claimed with royalties whenever sold to another user anywhere in the network and our smart contracts enables to credit the royalties to the creator automatically.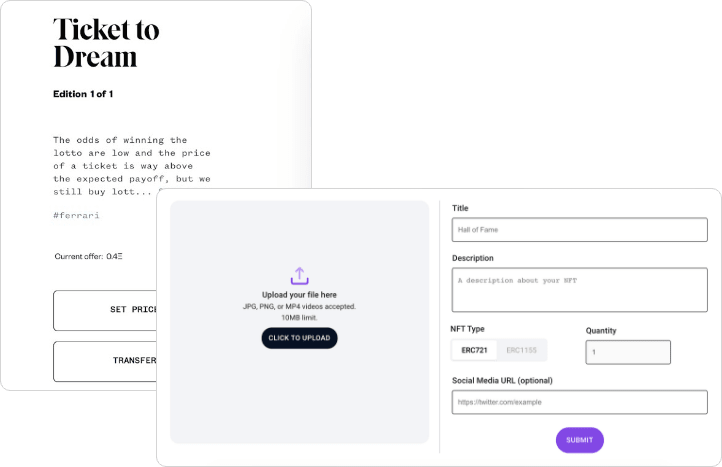 Curated Gallery
Our clone script provides with gallery to showcase various collectible from artist and collectors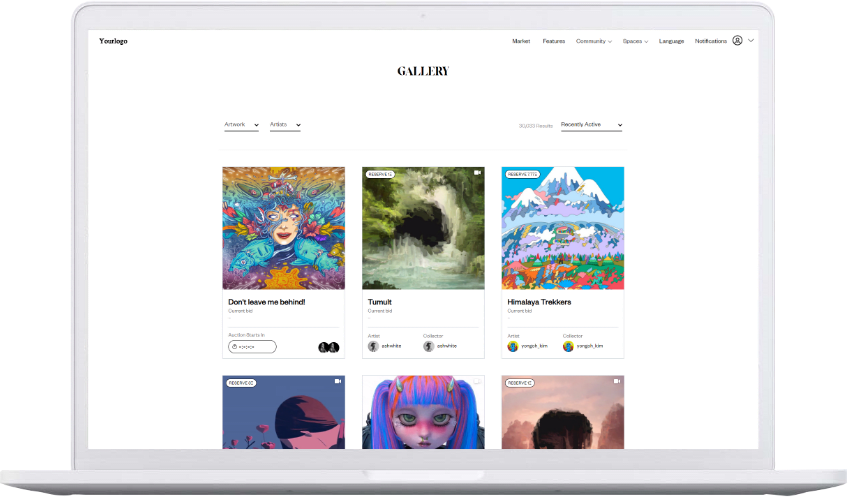 Bid and Buy
The SuperRare clone software facilitates Bid and participate in live auctions and can buy their desired NFTs for a convenient price which can be tracked with open source marketplace.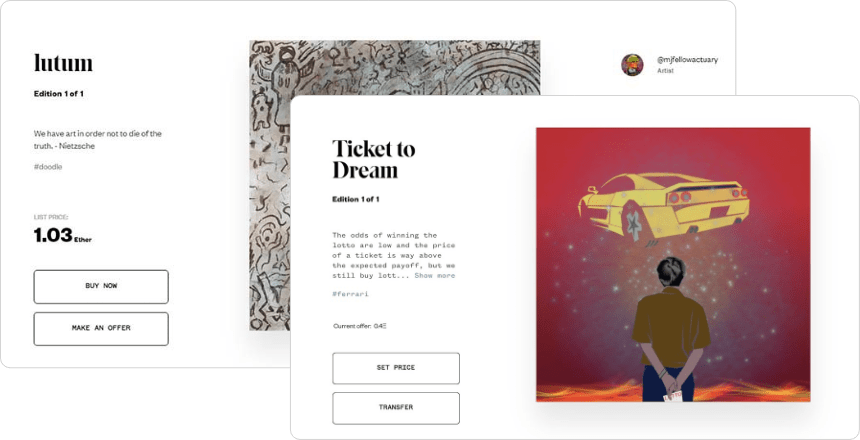 Voting System
Our superRare script allows user to cast vote for their favorite artist ,collectible and governance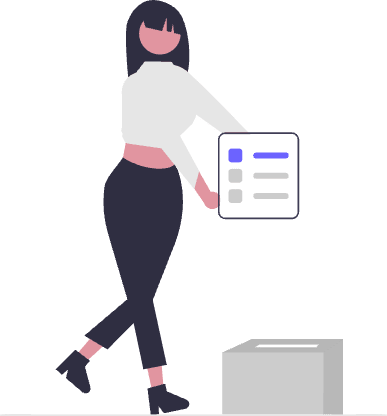 Admin Profit Settings
Our superRare readymade clone script lets you modify the commission settings for minting, bidding and withdrawal of the NFTs from the admin panel.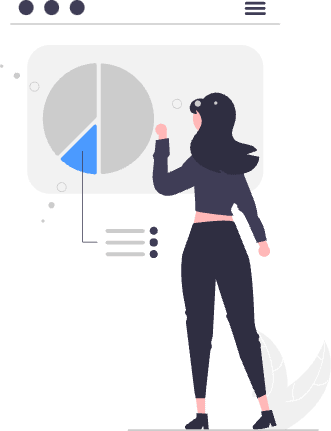 Multi-currency Support
Our superRare clone script supports various currencies and lets your customer buy collectibles around the world even with fiat currencies.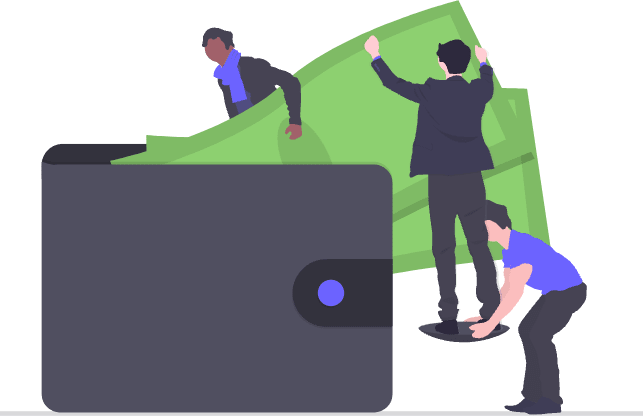 Security Features

of Our SuperRare Clone Software
Being built on one of the most secure blockchain architectures, our SuperRare clone script delivers unmatched security for your platform.
Security features of native
Support for SSL protocols
End to End Secure transactions
Incoming and outgoing API security
Complete protection for Digital arts
Encryption and decryption of Digital arts
Secure crypto wallet integration
Add on Modules

of ourSuperRare Clone Script Software
Build your community
Live Customer Support
Blogs
Multi-language Support
Sub - Admin access
Build your community
Our script lets the admin build a community for the user as well as for the developers to be engaged with the platform updates and gather suggestions to be implemented for improving the platform.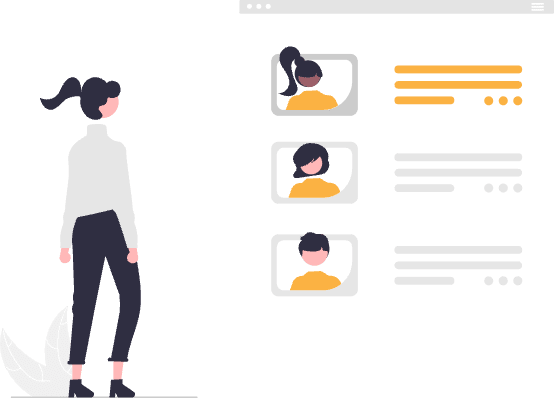 Live Customer Support
Our clone script comes with live customer support to assist your customers instantly resolve the issue that occurs in the platform.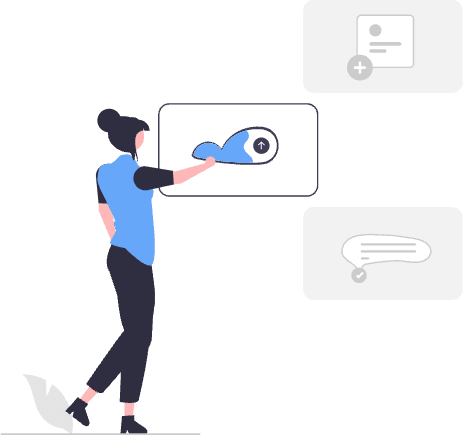 Blogs
Our super rare clone script provides you with blogs to attract new customer and keeps your audience engaged while building a brand with solid reputation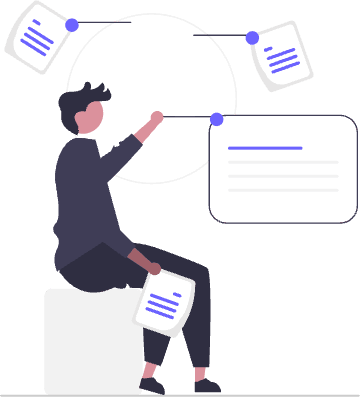 Multi-language Support
Our Super rare clone script offers multi language support to reduce the language barrier and reach the customer around the globe.while offering a better experience to the global customers.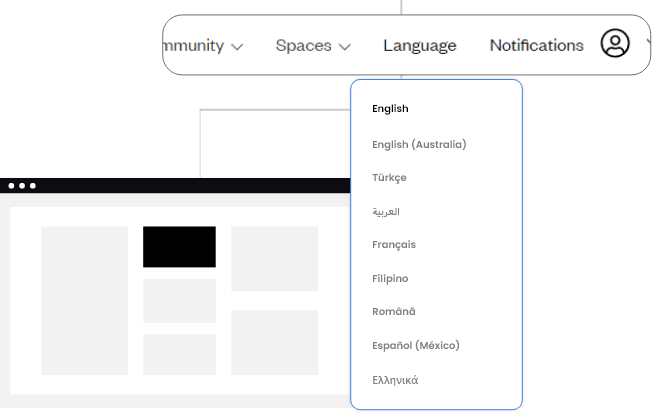 Sub - Admin access
Our Super Rare clone script can be integrated with sub admin panel to provide access for a specific task to multiple support staffs and sub admin for managing the approval of the articles and tracking the transactions, solving the disputes in the platform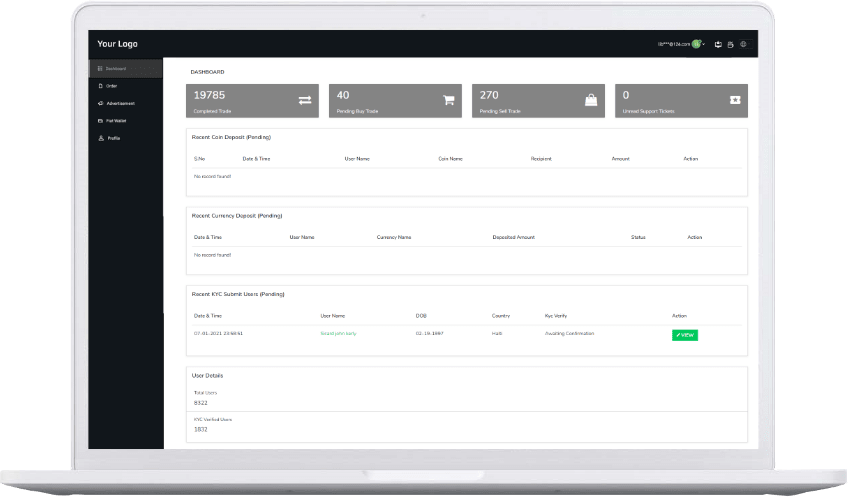 Our

Android & iOS App

For SuperRare Clone App Development
Launch a user-friendly and eye-catching cryptocurrency trading mobile app like SuperRare
Create and deploy an eye-catching NFT Marketplace mobile app like SuperRare with our white label SuperRare clone script. We offer quality-rich NFT Marketplace clone app development services with impeccable outcomes. Our premium SuperRare clone script can be used as a powerful back-end platform to build a high-performance NFT Marketplace mobile app similar to the SuperRare app.
You can create both an NFT Marketplace website and a mobile application by using our SuperRare clone script. The SuperRare clone app we offer will help your users to showcase all the booming digital collectibles for bidding and trading. Our clone app is completely optimizable so you can alter the design, core functionalities, and other add-on modules based on your business necessities and concepts. Additionally, our SuperRare clone app is highly responsive and comes with high-end security aspects which helps you to provide a glitch-free environment to your users.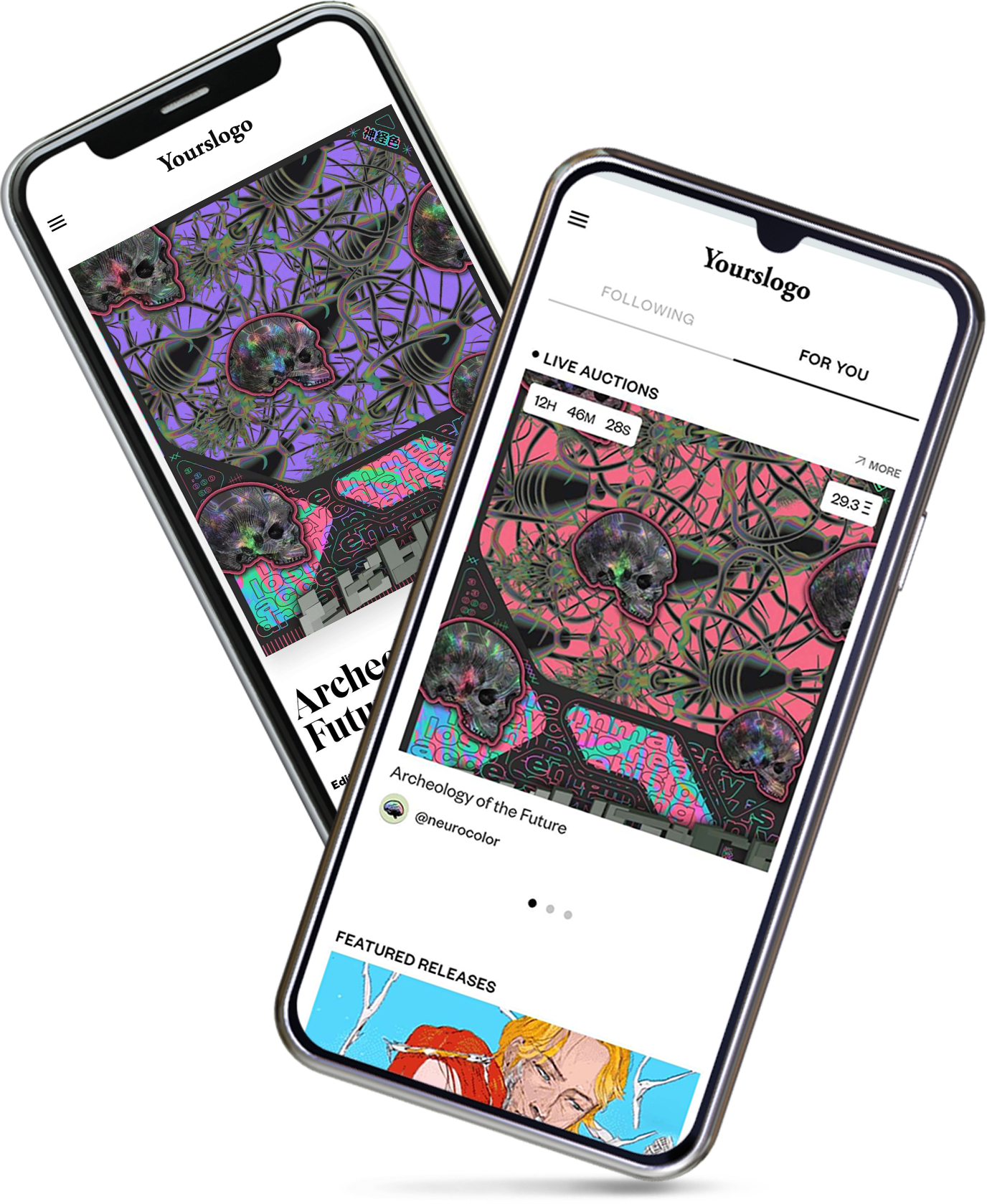 Platforms Developed

Android

ios
Why Choose

Coinsclone For SuperRare Clone Script?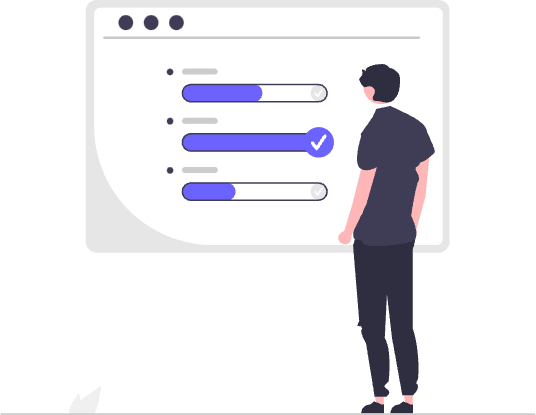 Coinsclone is recognized as the finest NFT Marketplace clone script provider in the crypto industry. If you want to run an NFT Marketplace that makes lots of money for you? And also want to add a social networking twist to create and maintain buzz around your business and consequently, generate more revenue? Then our SuperRare clone script is the best option for you. Our clone script gives you all the needed features you're ever going to need. Whether you want to run your marketplace on a web-based interface or a mobile app, our premium SuperRare clone script can easily jell into every kind of environment.
Our SuperRare clone script comes with robust security features and top-notch technical features. Besides, our clone script supports multiple digital collectibles in the name of NFTs such as videos, graphic files, animations,3D images, audio, and more. Once these digital assets are converted into NFTs, your users can easily trade non-fungible tokens between different wallets.
Another reason to buy your SuperRare clone script from us is that we are one of the pioneers in the blockchain field and have a pool of skilled blockchain developers. We know this script from the inside out. We have deployed multiple NFT Marketplace platforms using our bug-free SuperRare clone script. So far we have successfully delivered 350+ crypto and blockchain projects to our reputed global clients.
Development Approach

ofOur SuperRare Clone Script
We at Coinsclone undergo the following procedures for Superrare clone script development.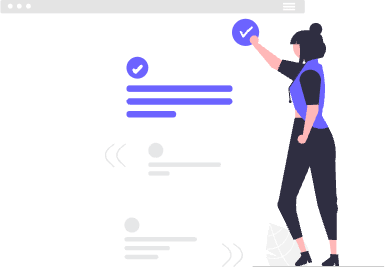 Requirement Gathering
Once you contact us with your idea, we will run it through our analysis. We are an experienced team of developers who can immediately assess the feasibility of the project. Once we have worked out the nitty-gritty, we can present you with our plan to use our SuperRare clone script to build your NFT platform.
Planning
We will do this in the form of wireframing and prototyping. This will give you a visual idea of how your web interface for your mobile interface will flow and how your users and digital artists will use and interact on your platform.
Designing
Based on the analysis and the approval of the prototype, we will design and develop your NFT platform using our Superrare clone script. This includes coding and UI/UX design as per your preferences and branding needs.
Development
Once you have your representation, we will get down to building the application. This includes customizing the SuperRare clone script, integrating it with the overall application that we build and making the necessary database connections. It also includes building a highly attractive user interface.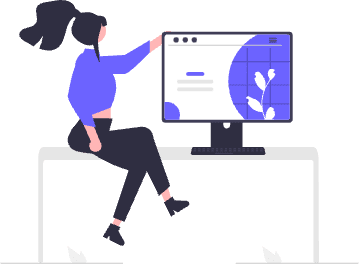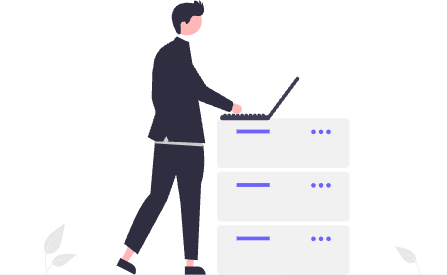 Testing
This is just to make sure that everything works the way it should and there are no kinks.
Deployment
Once we have programmed and tested your platform and social network, we will install it on the web. If we have built a mobile app, we will also deploy the mobile app in the appropriate app store.
Our Customers

Love what we do

Customer feedback and reviews are our major concerns! Here we have shared a few feedbacks of our reputed clients.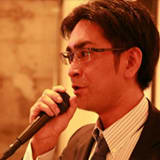 Project Name
MONTEX
The website developed by Coinsclone is user-friendly and the feedback from customers has been positive. Coinsclone met all needs, while their expertise, professionalism, and ability to deliver on promises earned them trust.
Technologies Used

inOur SuperRare Clone Script
We use updated and cutting-edge technology tools for developing the Superrare clone exchange website and mobile application which will be compatible with all major platforms like Android, IOS, and the web.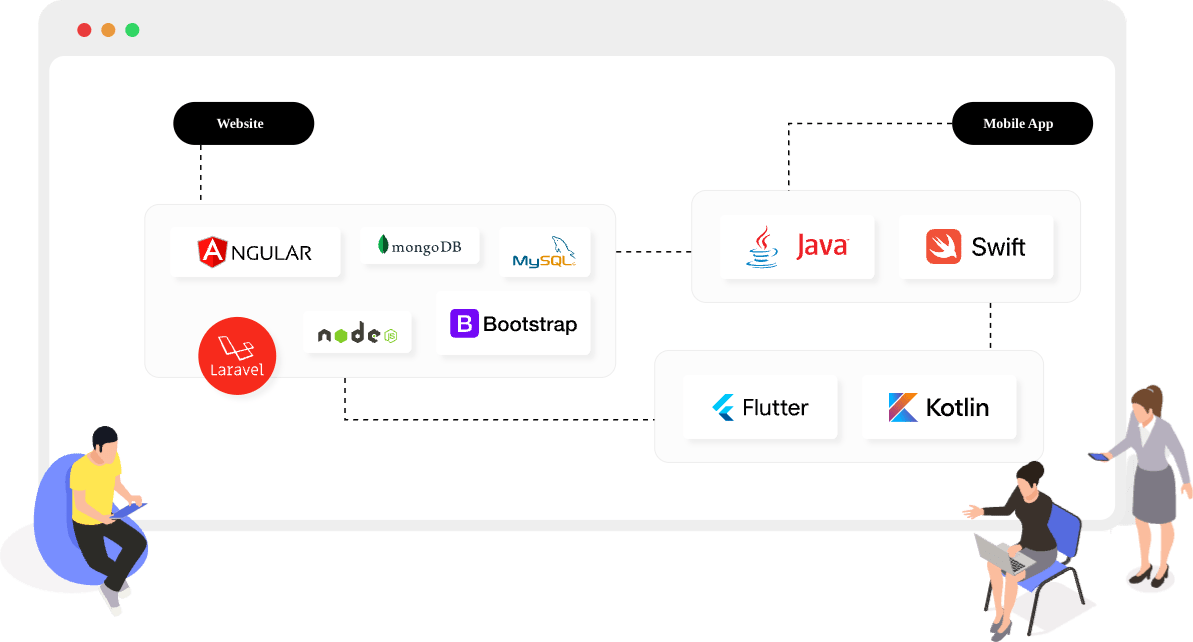 FAQ

Frequently Asked Questions
You can use this clone script to build a decentralized NFT Marketplace like SuperRare within a few days. The SuperRare clone script primarily caters to entrepreneurs who want to set up an NFT Marketplace at an affordable cost. It also comes with a social networking feature that allows your users to interact with each other and exchange opinions about various pieces of NFTs.
It is not. In fact, the entire purpose of using the SuperRare clone script is that you don't need to spend as much money as you would spend on the scratch method. You will get all the essential features in the SuperRare clone script but at a much lower rate.
Yes, of course, you can customize the clone script according to your business needs in a stress-free way.
There is no fixed time for developing an NFT Marketplace as it varies based on customization and integration of features you want. However, we guarantee that we would deliver the project within the given time frame.
The cost to create a non-fungible token marketplace will be completely based on your business requirements and the customizations you make on this script. You can contact our team of experts and get the exact cost estimate for your project.
Do you have more queries?
Feel Free to Discuss With Our Team. We are here to Answer your queries
Talk To Our Experts