What is

Remitano Clone Script?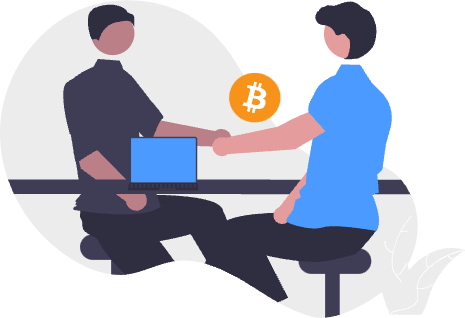 Remitano clone script is a ready-made peer-to-peer crypto exchange software that holds all the existing features of Remitano. This script has a p2p trading option that helps your users to trade cryptocurrencies without any interruption. The error-free Remitano clone software comes with a strong dispute management system to clarify the issues regarding the crypto trade. By using the premier remitano clone script, you can build and launch a p2p bitcoin exchange similar to Remitano within a matter of days. Our script is enabled with Blockchain technology so it stores the transaction information in the distributed ledger system.
Coinsclone offers the first-quality Remitano clone software which has an attractive and well-designed user interface to provide the best trading experience for the users. Our clone script comes with all the latest features and security mechanisms which is key to build a p2p crypto exchange like remitano successfully. You can customize the themes, color, designs, features, and other add-ons as per your business needs. With an eye-catching user interface and assisting API, our Remitano clone software is one of the best products in the crypto marketplace. We at coinsclone will assist you to launch a superfine peer-to-peer cryptocurrency exchange like remitano and earn considerable profits.
Why should you Create a

p2p Cryptocurrency Exchange Like Remitano?

Remitano exchange is considered as the top-notch peer-to-peer crypto exchange and best revenue-generating exchange business model in the crypto space. The revenue streams involved in Remitano made several startups to launch a p2p crypto exchange similar to Remitano. Below are the valuable reasons to develop an exchange like Remitano.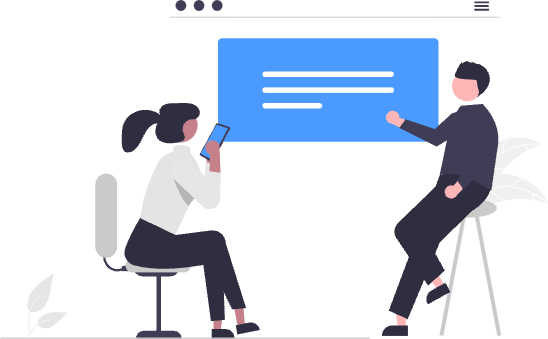 Most traders are now preferring popular p2p exchanges for trading cryptos and one such prominent peer-to-peer crypto exchange is Remitano. It is one of the major reasons to build an exchange similar to remitano.
Remitano exchange allows global users to buy, sell, or trade-in all virtual crypto assets without any regulations or third-party interference.
This p2p crypto exchange comes with an admiring escrow service and is equipped with tight security functions. So buyer and seller can perform direct trade securely.
Bitcoin trading will be faster in the remitano exchange. Admin panel will be efficient so they earned the best name for their site management and dispute resolution.
Even though the Remitano platform is not a regulated p2p cryptocurrency exchange, it is recognized as a 'no scam' exchange to buy/sell cryptos with low transaction fees.
One can generate a lucrative amount of money through multiple streams in a short time by launching a p2p crypto exchange like Remitano.
Building a peer-to-peer crypto exchange platform like Remitano for your business is a great option because most people are showing interest in trading in p2p exchange platforms compared to traditional exchanges.
Top Features

of Our Remitano Clone Script
Post BUY/SELL Advertisements
When buying/selling any crypto like Bitcoin or Ethereum on our Remitano clone script, many users often choose to Buy Now or Sell Now. It is a quick and convenient kind of transaction.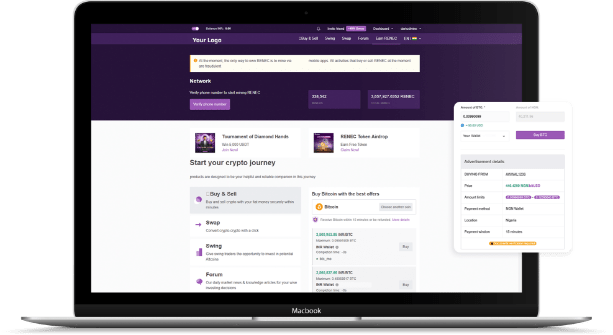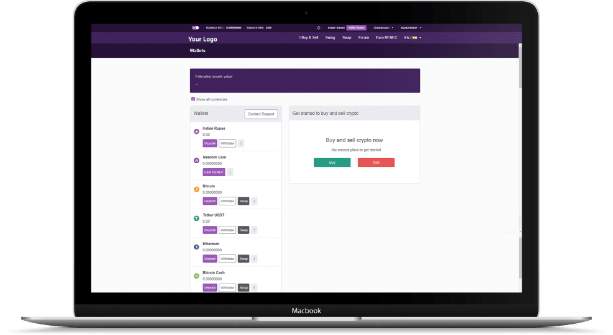 Escrowed Trade
When you open a trade, the specified amount of cryptos you wish to buy are transferred from the seller's wallet and held locked on Remitano's clone script escrow service.
Endless fiat payment options
Our Remitano clone script has wide range of payment options such as ADV cash, International wire transfer, Credit card, Moneygram etc.,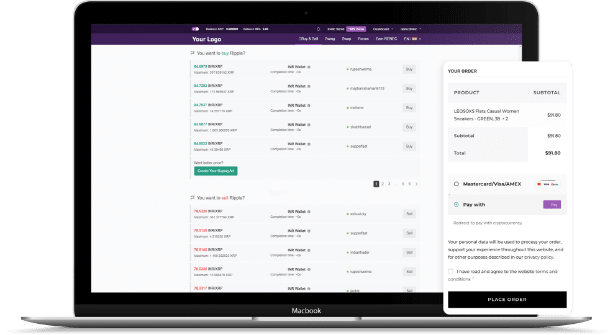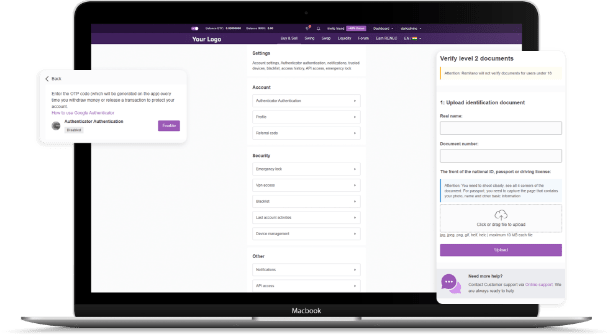 High Security
Our script is secured with high and tight security layers such as Escrow service, Email notification, 2FA authentication, etc.,
Advanced chart tools
Users can speculate the price movements of cryptocurrencies using the charts shown in our Remitano clone script and trade smartly to gain profits.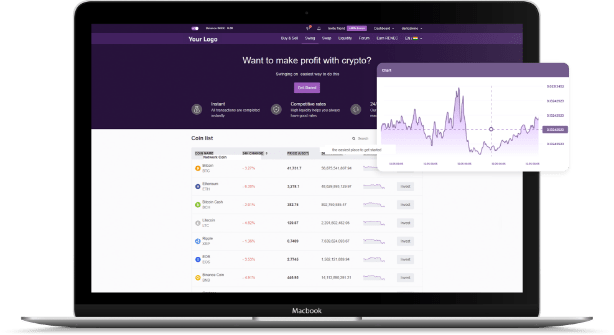 How our

Remitano Clone Script work?
Quick View

of Our Remitano Clone Script
Core Features

of Our Remitano Clone Script
User Dashboard
Admin Console
KYC Verification
Multisig Wallet Integration
Overall Transaction History
Device Management
Multilingual
Sub Admin
Admin Commission Settings
Content Management System
Support Tickets
User activity
User Dashboard
Users can outlook the payment options, live prices, transactions, account activities, trade history, wallet balances, advertisements which includes BUY/SELL, Disable, Cancel and completed trades.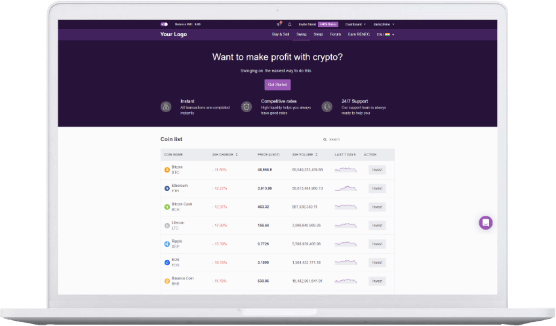 Admin Console
Our remitano clone script comes with an impressive interface. You can control all the functions and security modules of your exchange by using the admin panel.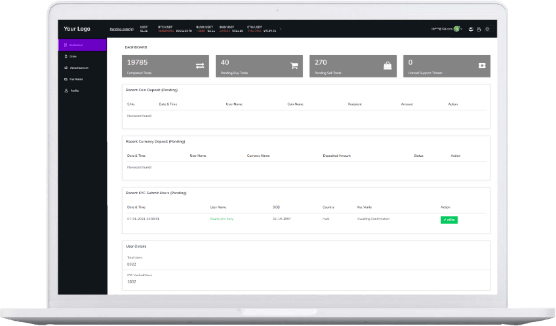 KYC Verification
One of the core features of our Remitano clone script is Know Your Customer. A new user subscribing to a cryptocurrency exchange needs to provide their personal data such as full name, date of birth, country of origin, and country of residence. Once this information has been supplied from the exchange perspective, there is no way to know it's true.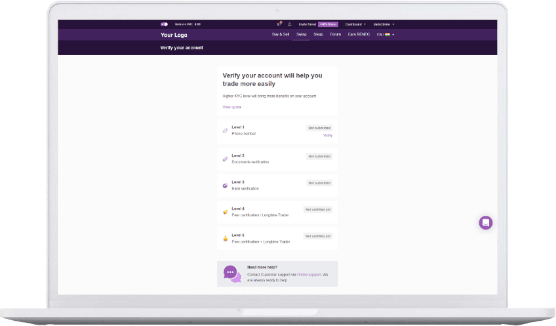 Multisig Wallet Integration
Multi signature wallets are cryptocurrency wallets that require two or more private keys to complete the transaction.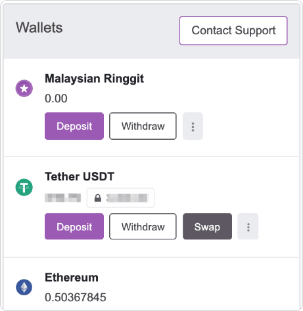 Overall Transaction History
The customers can reckon the overall transactions such as trade history, deposit history, withdrawal history and so on.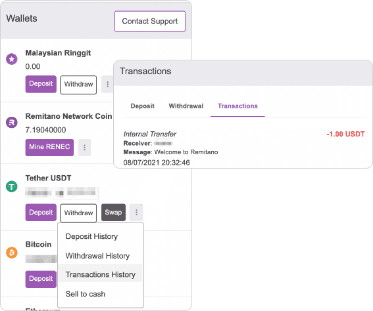 Device Management
Device management enables users to control device access, as well as view device information and access records.