What is

White Label 1inch Exchange Clone Script?
1inch exchange clone script is the ready-to-launch DeFi exchange software that is trending on the crypto marketplace right now. This clone script comprises all the existing technical features and security protocols of the well-known DeFi exchange - 1inch exchange. Our premium 1inch exchange clone script is one of the rare scripts that help to build a DeFi exchange with smart routing and liquidity aggregation just like the 1inch platform. The workflow and other functions of this clone script are the same as the 1inch exchange.
In simple words,This script is a 100% replica of the 1inch exchange. The 1inch exchange clone software enables your users to swap tokens quickly and securely without any delay. This clone script is built using the most trustable blockchain network - Ethereum. So, users can swap all types of ERC20 tokens in a hassle-free manner. You can easily gain more yields by starting your own DeFi exchange using our 1inch exchange clone script. It supports a wide range of platform compliances with highly advanced usability and scalability.
Quick View

of Our 1inch Exchange Clone Script
How our

1inch Clone Script work?
Why should

you Create aDeFi Exchange using 1inch Exchange Clone Script?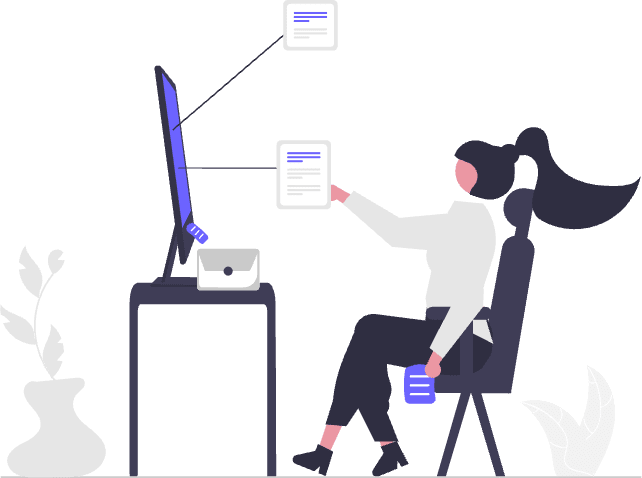 Your users can begin token swapping instantly by merely linking the crypto wallet.
Developed using the most secure blockchain network - Ethereum.
Instant deployment. This means that you can launch a DeFi exchange in the minimum possible time.
The cost-effective and modern solution to build a DeFi-based DEX aggregator platform.
100% bug-free and highly responsive.
1inch Exchange clone script supports multi-crypto wallet connection.
No risk from hackers because this script is built with top-rated security features.
Comes with versatile functionalities to attract new customers.
High liquidity is available.
Secured API integration is available.
Top Features

of Our 1inch Exchange Clone Script
Trading Mechanism
The 1inch clone script provides Limit Order Protocol facilitates the most innovative and flexible swap opportunities along with limit order in DeFi. The protocol's features, such as dynamic pricing, conditional orders, enables various order types.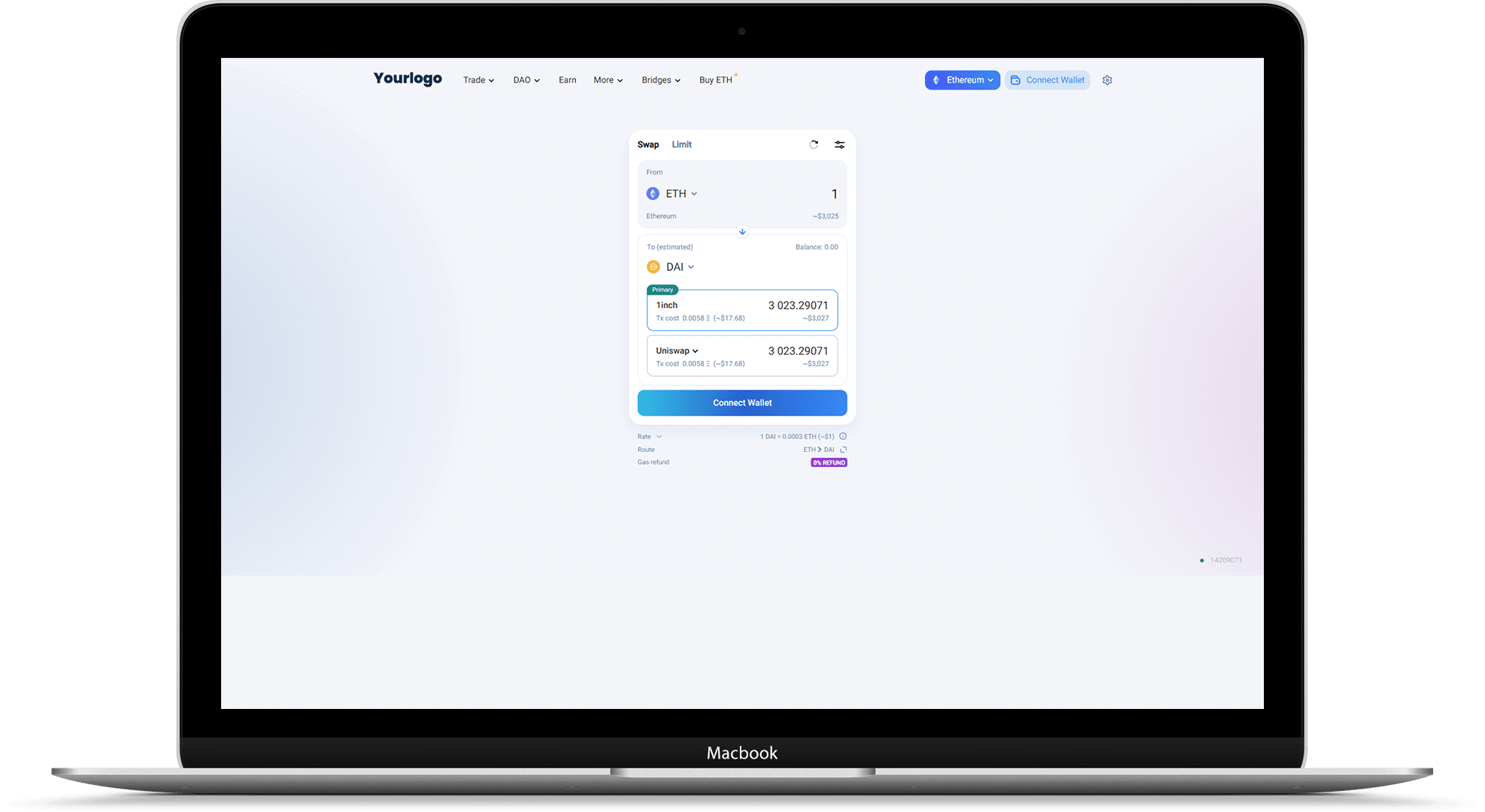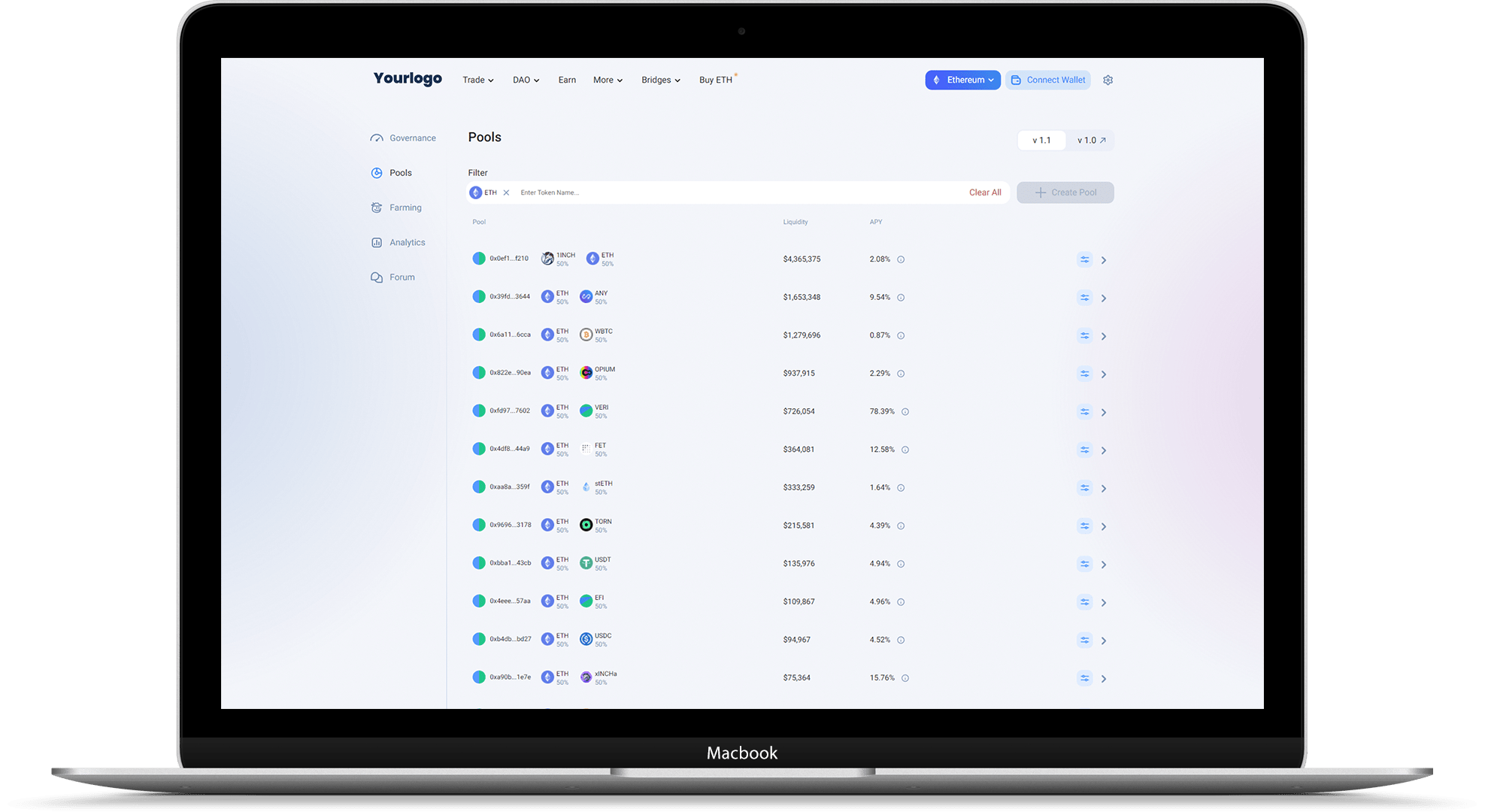 Liquidity Pools
Our 1inch clone script enables users to add liquidity with the tokens they hold and it will be blocked on a smart contract. The liquidity providers earn a share of the transaction fee which is proportionate to their share of tokens in the pool.
Place Limit Orders
The users can place limit orders to buy or sell their desired tokens for their convenient price.using our 1 inch clone script users can even place an order without sufficient balance in their wallet.the limit order will be valid for fixed period of time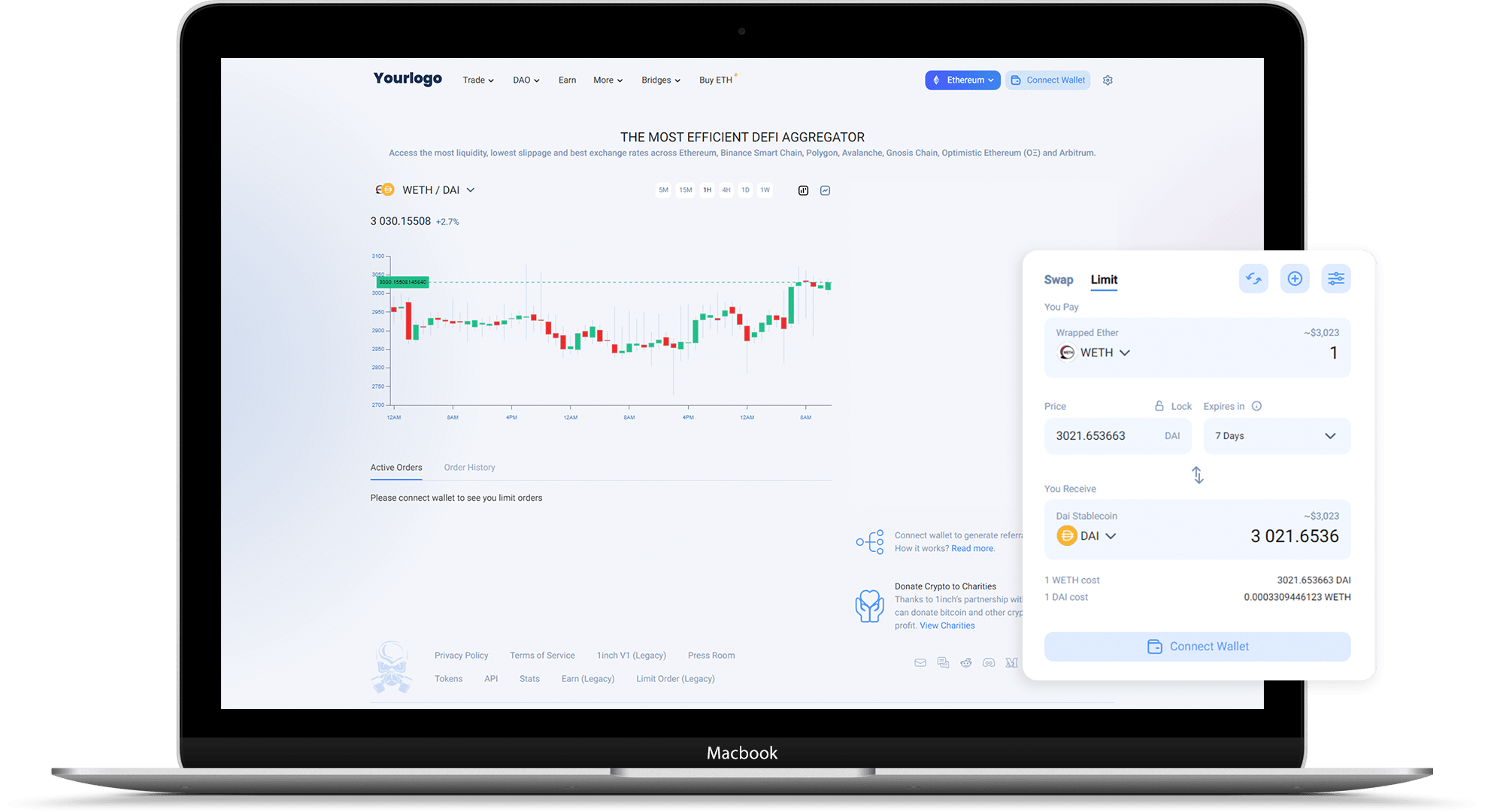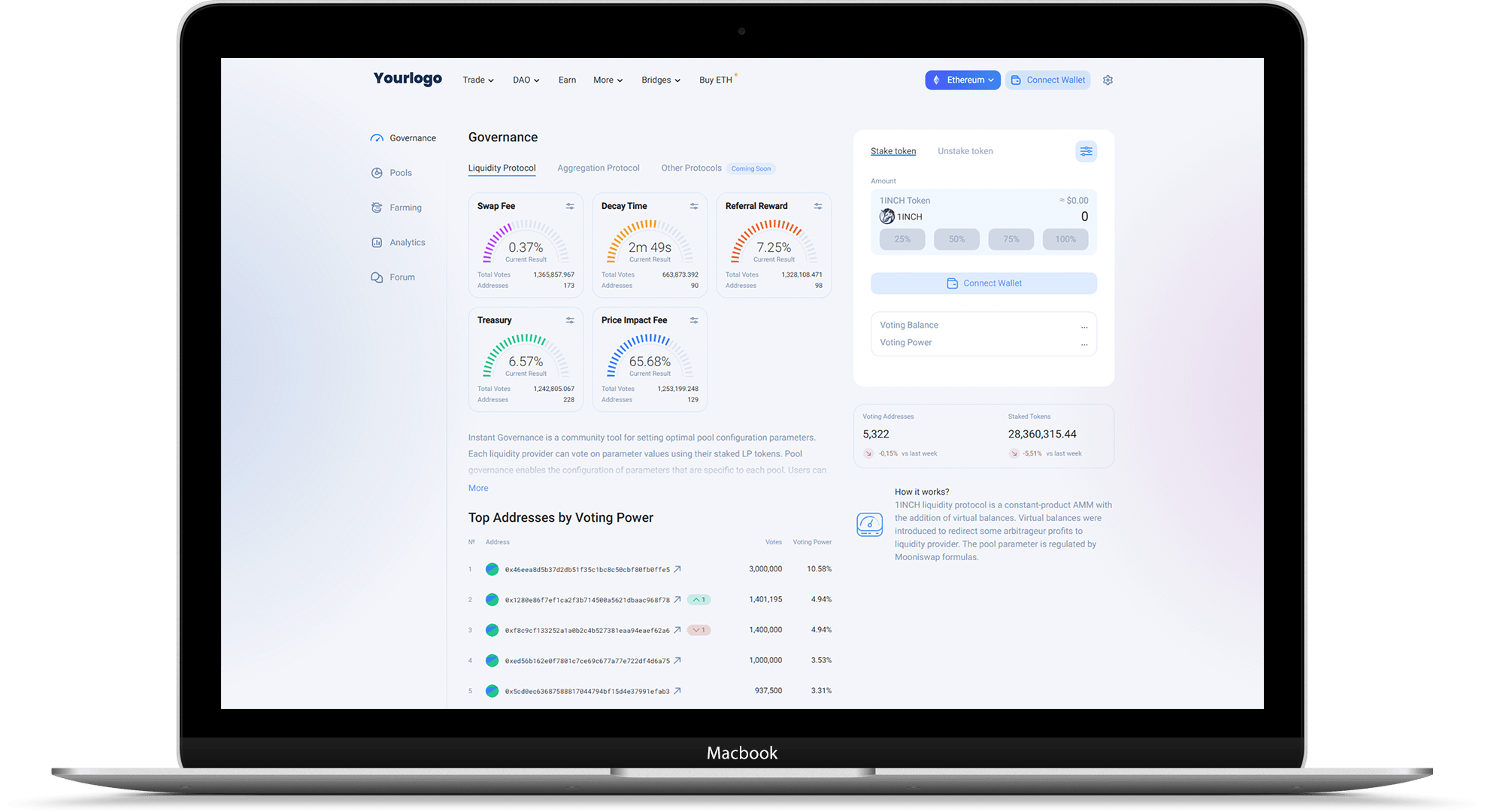 Decentralized Autonomous Organization (DAO)
The LP token stakers can vote for network governance with the 1 inch clone script.It is an open source protocol where stakers can join the protocol whenever they need. There are no barriers for joining and the stakers can vote for various protocol settings.
Integrated Trading charts
Our clone script comes with trading charts to analyze the right time to enter or exit the market.These charts can give highs and lows for various time frames.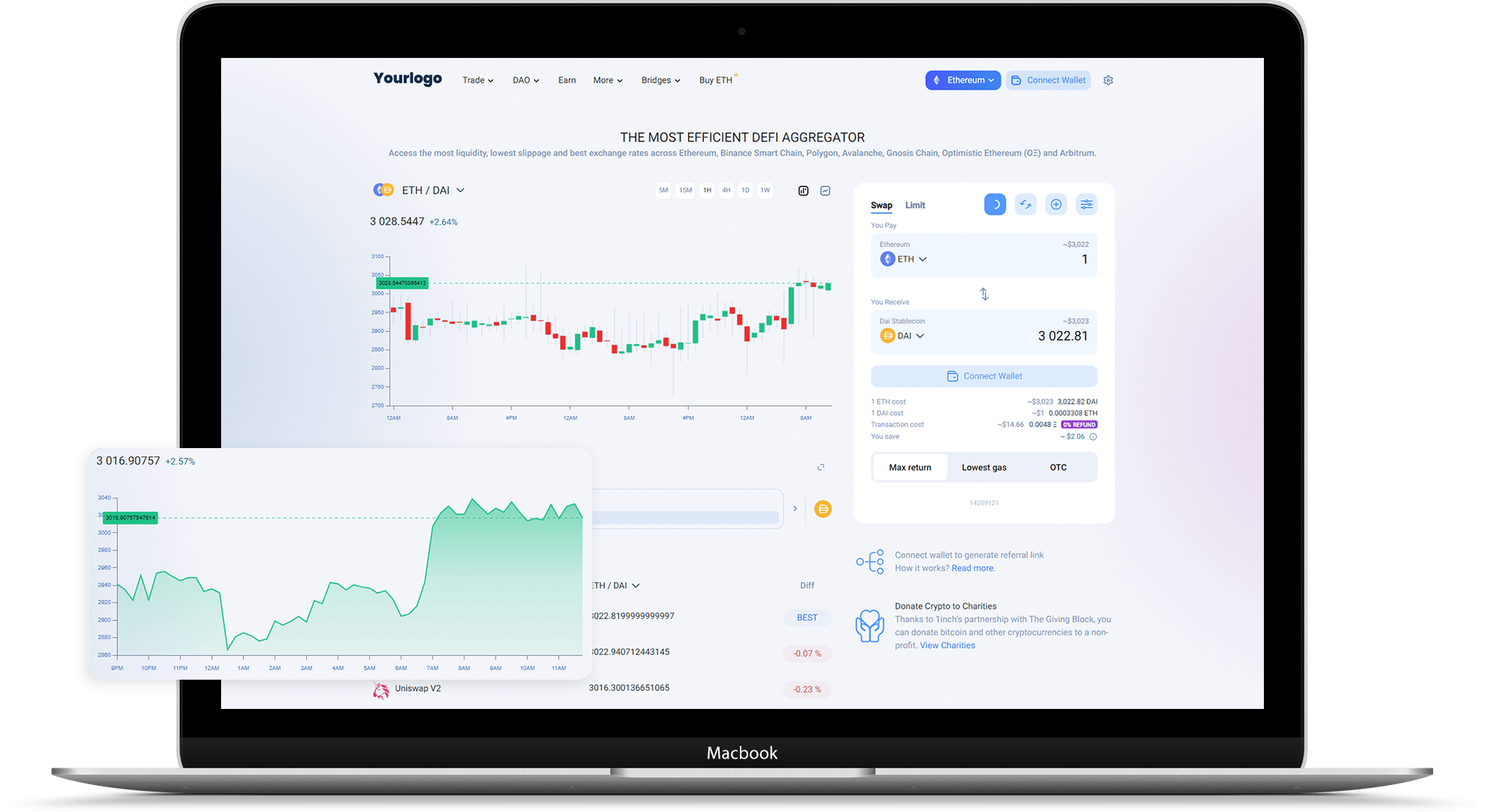 Core Features

of Our 1inch Exchange Clone Script
Best Dex Agrregator
Multi chain support
Stake and Earn Rewards
Reduced Slippage
Supports a wide range of Digital wallets
OTC Swap with Zero Slippage
Manage Staking Pools with Admin Console
Admin Revenue Settings
Swap history
Analytics
Best Dex Agrregator
Dex Aggregator combines the liquidity and the exchange rates of numerous Dex platforms and filters the best value for the crypto traders.Our 1 inch clone acts as a best Dex aggregator platform which can be scalable to access over the wide range of liquidity sources with Ethereum, Binance and polygon networks.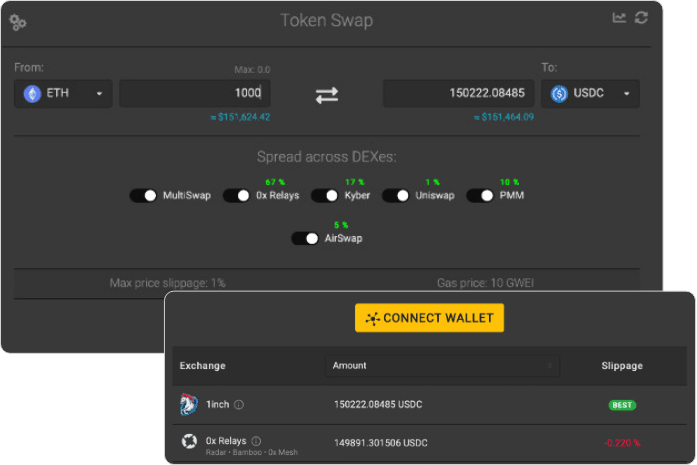 Multi chain support
The 1 inch clone software allows users to swap the leading network tokens such as Ethereum (ERC-20), Binance Smart Chain (BEP-20), Polygon, Optimism, Arbitrum, Avalanche, or Gnosis / xDAI.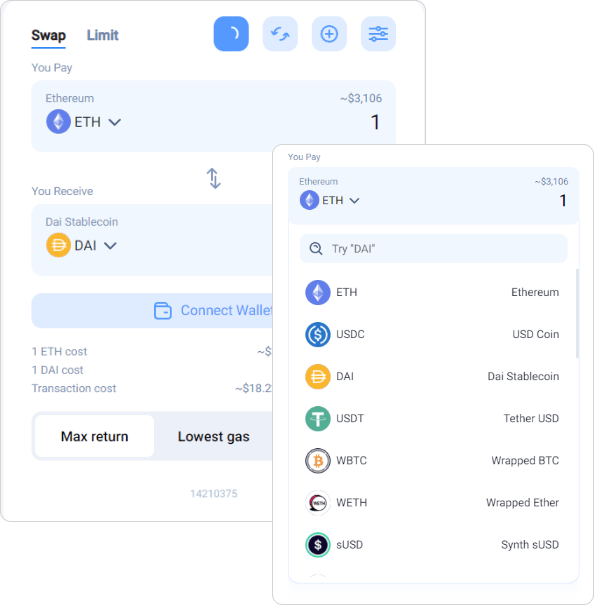 Stake and Earn Rewards
Our 1 inch clone script allows users to stake tokens available in the liquidity pool with the ratio of 1:1with a specific locking period and earn LP tokens as reward once the staking period is completed.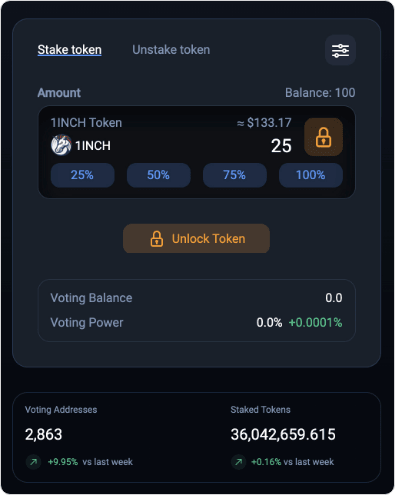 Reduced Slippage
With the wide range of connectivity in liquidity pools in different networks the 1 inch clone script helps in acquiring a lower slippage tolerance in comparison with other swap exchanges.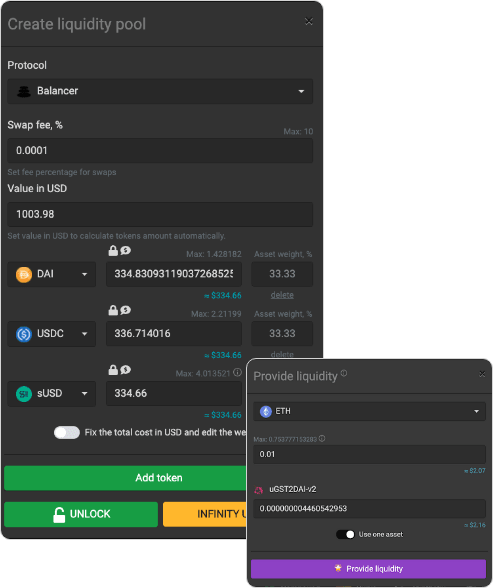 Supports a wide range of Digital wallets
Our readymade 1 inch clone software ensures scalability and feasible nature whereas it supports various kinds of Web3 wallets such as Metamask, Walletconnect, Coinbase wallet, Polygon, Arbitrum and so on for the users to swap in a hassle free manner.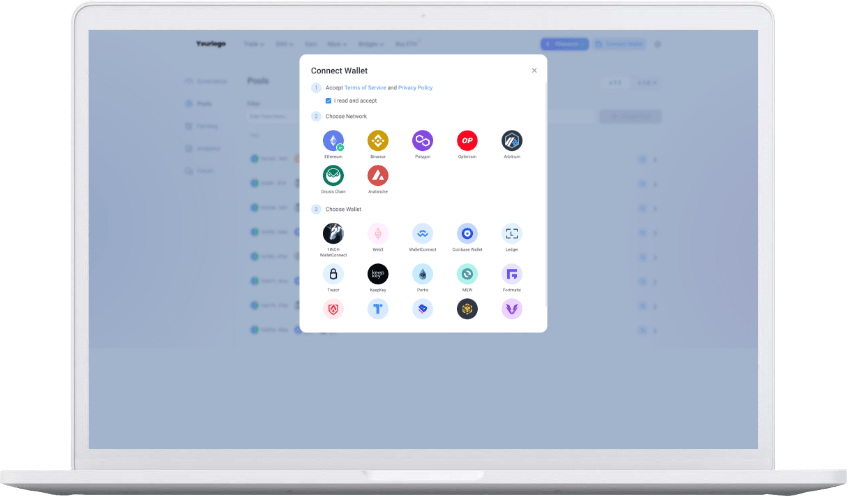 OTC Swap with Zero Slippage
Our clone script allows users to execute trade through Private Market Makers. This feature allows users to trade with 0% slippage and users can receive an exact amount of tokens on the confirmation window.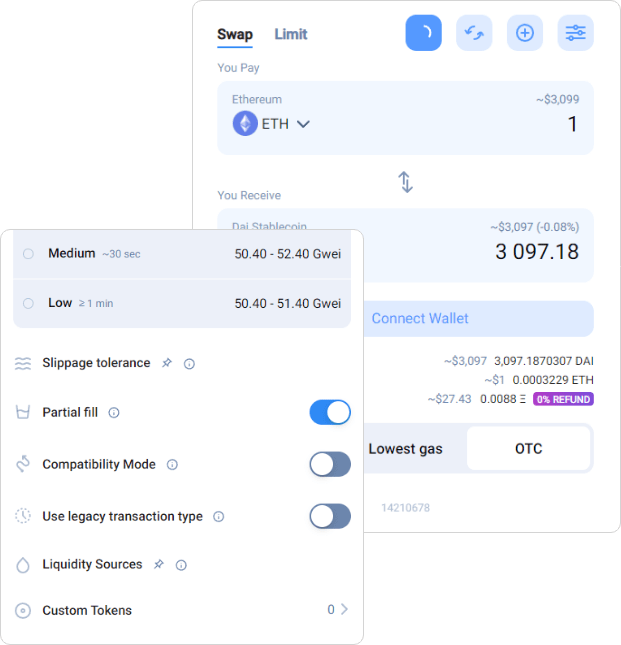 Manage Staking Pools with Admin Console
An exclusive admin console will be provided with the 1 inch clone script where the admin can track and manage users transactions taking place in the platform in addition the admin can add or delete the staking pools and locking period accordingly.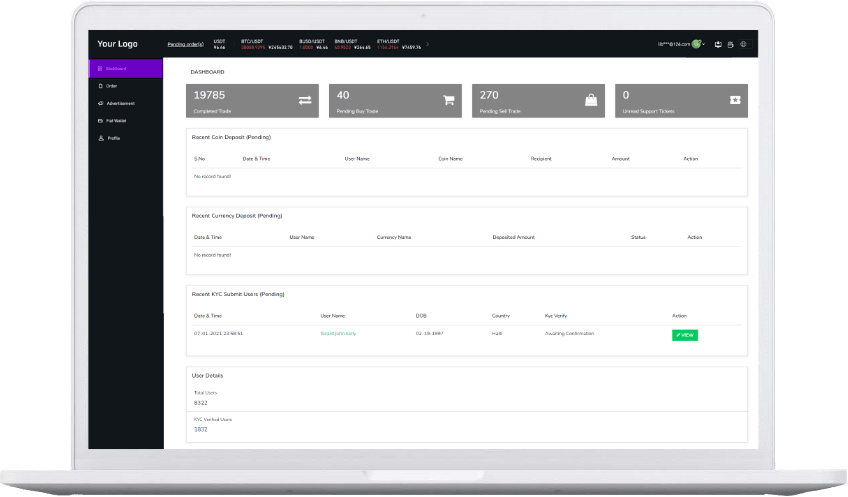 Admin Revenue Settings
The Admin console facilitates managing the admin revenue for the actions taking place in the platform such as swap, liquidity pool and staking farms.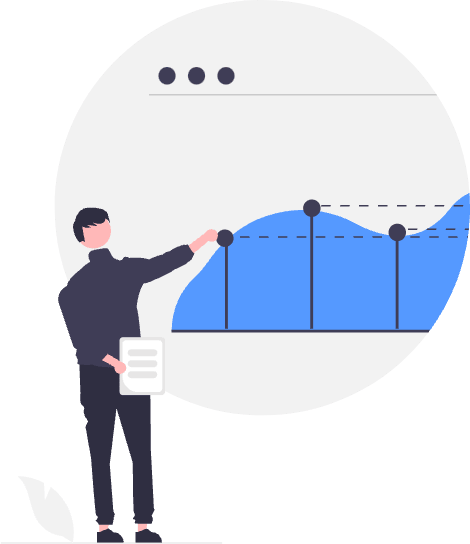 Swap history
Our 1 inch clone script offers the users to look into their swap history which shows wide range of informations by just connecting their wallets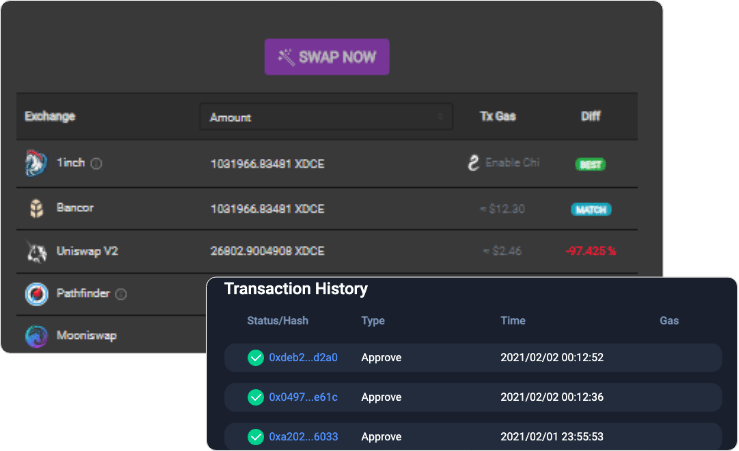 Analytics
The analytics module shares the statistics of the total liquidity,total volume available in the platform and also let us know the total rewards earned by the users with staking pools and referrals.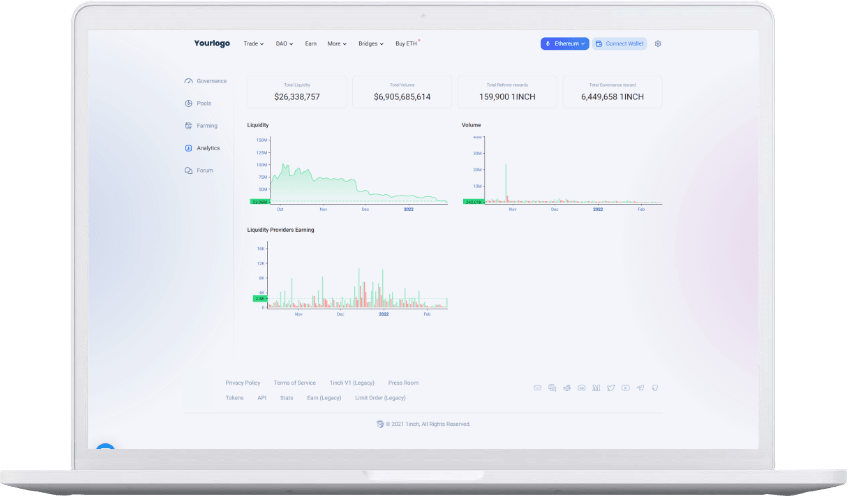 Security Features

of Our 1inch Exchange Clone Software
Being built on one of the most secure blockchain architectures, our 1inch Exchange clone script delivers unmatched security for your platform.
Tokens are saved in individual wallets
Anonymous trading with no KYC
Multilayered API integration
Anonymous wallet exchange
Multilayered authentication
Built over Ethereum blockchain
No reliance on third parties
Add on Modules

of our1inch Exchange Clone Script Software
Referral Program
Multilingual support
Forums
Enhanced interface
Support center
Referral Program
Our 1 inch clone script can be integrated with referral program in ethereum network to reward affiliates.the referral link can be generated by simply connecting the wallet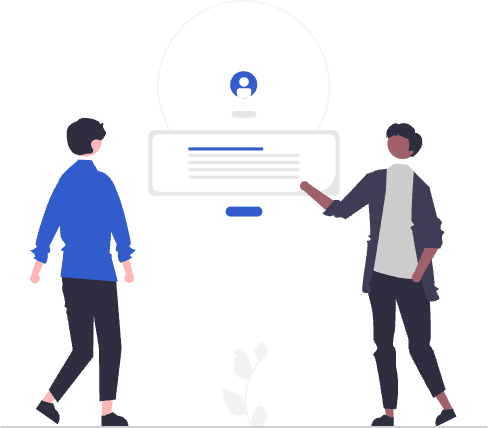 Multilingual support
Our clone script comes with multilingual support where users can switch between languages of their choice and offer a better experience to the users.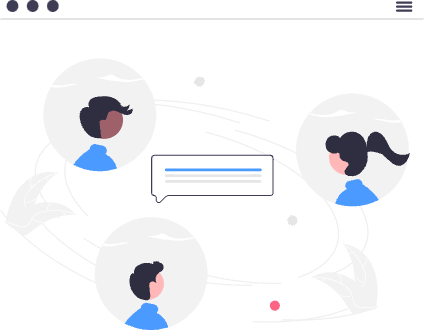 Forums
The forums paves a way to build a community and interact among the users with the healthy topic and our clone script provides an option to integrate it and access it easily by filtering the topics and tags.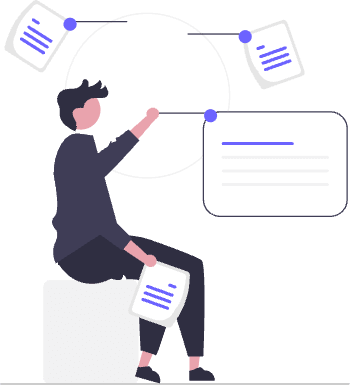 Enhanced interface
The user can customize the swapping interface by hiding/showing the transaction cost,chart,changing themes such as day and night mode with available settings.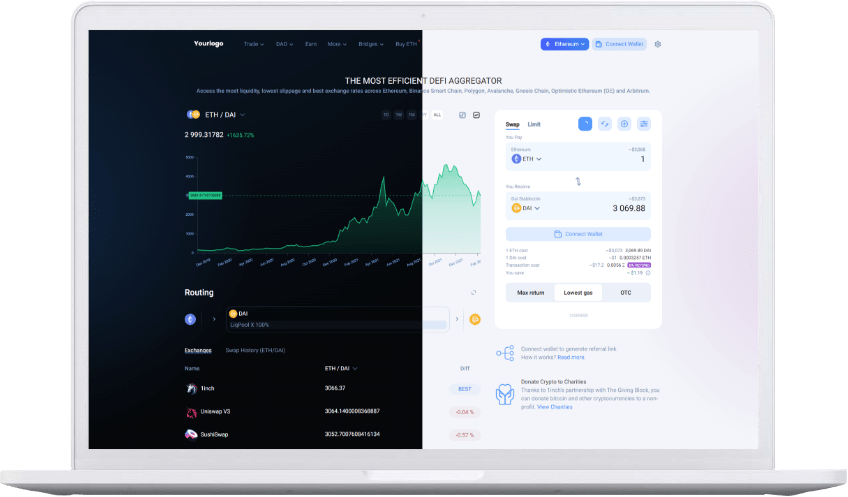 Support center
Admin and user interaction can be provided where as the users can contact the admin directly from the support panel for issues that aries the platform and troubleshooting the issues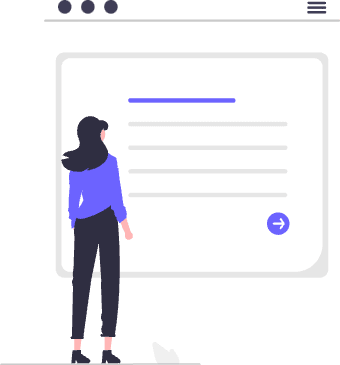 Why Choose

Coinsclone For 1inch Exchange Clone Script?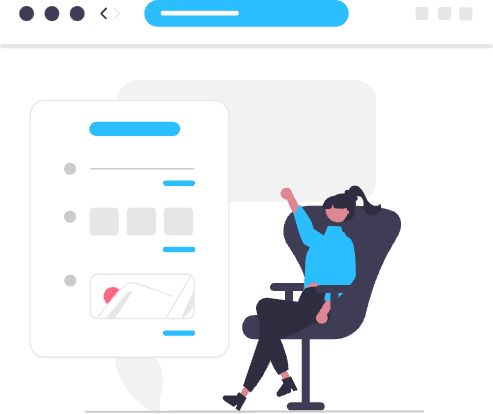 Coinsclone is a professional and reputed DeFi exchange clone script provider in the global crypto marketplace. Being a leading clone script service provider, we have great experience in developing and delivering high-quality script services with impeccable outcomes. Our 1inch Exchange clone script offers highly improved liquidity as it was built under the Ethereum blockchain and its optimized algorithm allows your users to swap ERC20 tokens securely.
Our premium 1inch clone script maintains an accurate transaction ledger in real time that can be accessed 24 x 7. Our clone script seamlessly integrates with your existing UI/UX and even a brand interface. The script we provide makes a way for more liquidity which eliminates an atmosphere of volatility that plagues the other DEX platforms. We have a dedicated team of blockchain experts to provide implementation support and for making customizations in the script. Besides, we have qualified designers, skilled blockchain developers, mobile app developers, and quality analysts to shape the script as per the client's input. This statement clearly shows our product outcome will be a phenomenal one.
Development Approach

ofOur 1inch Exchange Clone Script
We at Coinsclone undergo the following procedures for 1inch Exchange clone script development.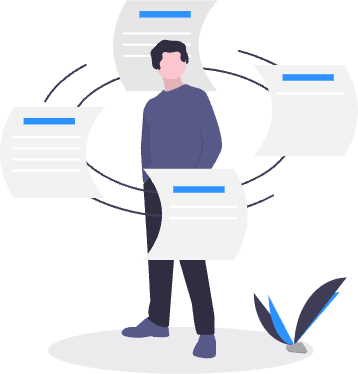 Requirement Gathering
Although you can use the script out of the box, our team can help you build an entire exchange application.
Planning
Before we proceed, we will present you a graphical and dynamic version of your platform to play around with.
Designing
Based on the analysis and the approval of the prototype, we will design and develop your NFT platform using our 1inch Exchange clone script. This includes coding and UI/UX design as per your preferences and branding needs.
Development
After developing, designing and testing, we will deploy the platform on the web. In case you have an app, we will also deploy the 1inch clone script powered mobile app on Apple and Google Play Stores.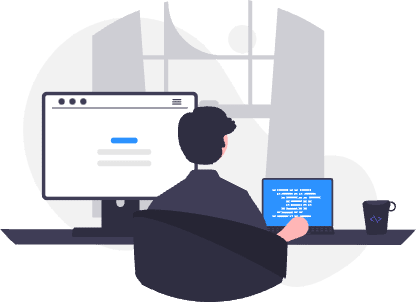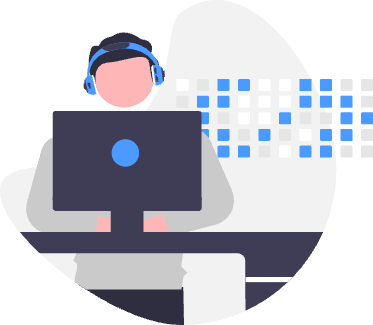 Testing
The trading platform powered by 1inch Exchange clone script will be deployed and subjected to real-time testing.
Deployment
After designing and developing, the platform will be subjected to rigorous testing and when all the kinks have been ironed out, we will deploy the platform on your web server, and it will be ready to use.
Our Customers

Love what we do

Customer feedback and reviews are our major concerns! Here we have shared a few feedbacks of our reputed clients.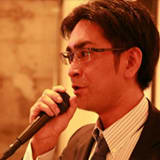 Project Name
MONTEX
The website developed by Coinsclone is user-friendly and the feedback from customers has been positive. Coinsclone met all needs, while their expertise, professionalism, and ability to deliver on promises earned them trust.
Technologies Used

inOur 1inch Exchange Clone Script
We use updated and cutting-edge technology tools for developing the 1inch exchange clone script website and mobile application which will be compatible with all major platforms like Android, IOS, and the web.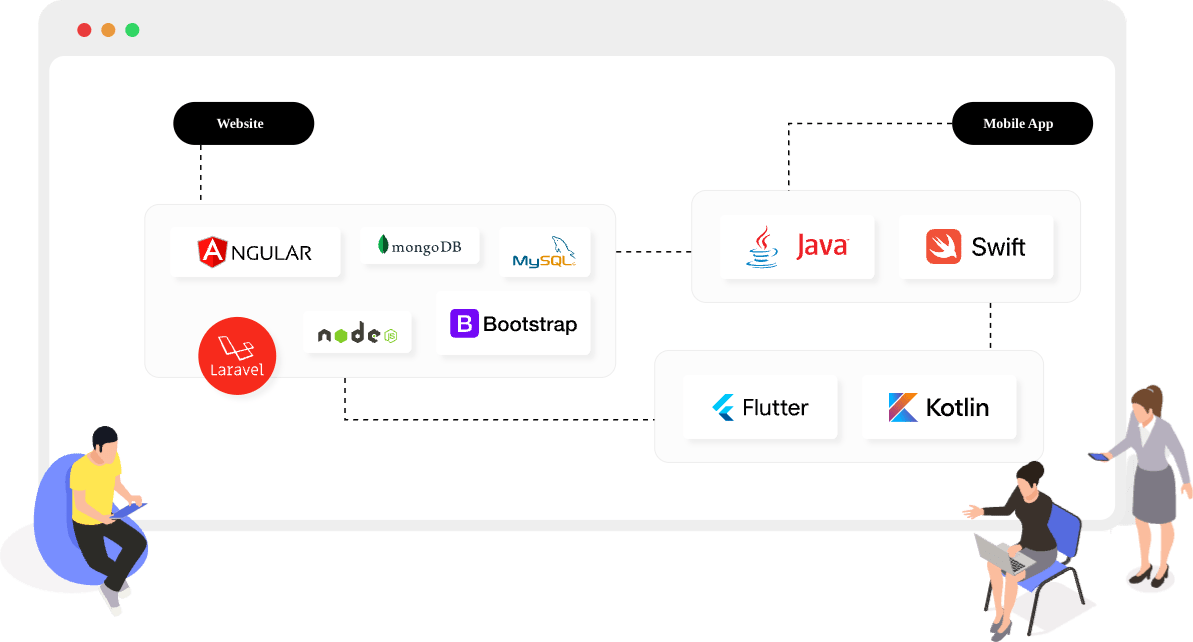 FAQ

Frequently Asked Questions
It is completely a white-label DeFi exchange clone script. So once you have purchased it, you're free to change its source code, appearance, add-ons, and other key functions in whichever way you feel like. We have a team of skilled developers who will implement the changes that you want. Therefore, we will completely customize the script according to your business goals.
Our answer will be a big 'YES'. We will offer you the effective customer support and technical assistance you need on a 24/7 basis.
Developing a DeFi exchange like a 1inch exchange from scratch is quite expensive. But if you purchase our 1inch Exchange clone script it comes at a budget-friendly cost. If you want us to customize and implement unique functionalities, then the development cost would vary. Therefore, we can give you an estimated cost of our 1inch clone script after the initial consultation.
Our clone script has many notable highlights. Such as faster deployment, highly responsive, comes with peculiar features, attractive UI/UX, multi-tested by first-class quality analysts, works on Ethereum blockchain, white label solution, high customization scope, and more.
You can launch a fully functional DeFi exchange like a 1inch exchange within 7 days by using the premium ready-to-launch 1inch exchange clone script. You can get this clone script from the outstanding DeFi exchange clone script provider - Coinsclone. Our experts will gather your requirements, analyze your necessities, and provide ready to launch solutions
Do you have more queries?
Feel Free to Discuss With Our Team. We are here to Answer your queries
Talk To Our Experts